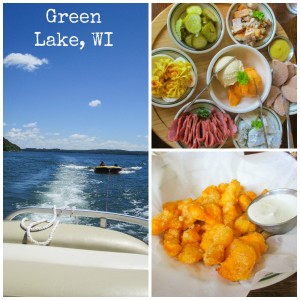 It feels like it has been forever since I have done a blog post…..maybe because it has been forever. Well, at least a week and a half!
I was pretty drained after Bobstock last week so it was good timing that we had planned a trip to Wisconsin! My mom has always wanted to rent a house by a lake in Wisconsin and have all her side of the family stay there and hang out. It worked out that we could all make it there this year, so 14 of us stayed in a house by Green Lake.
We relaxed most of the trip which was fantastic. Donny & my dad drove out there together so they took a bunch of meat from our freezer to cook while we were there… I'm talking brats & brat burgers, hamburgers, an entire New York Strip, a cooked prime rib, sausage patties, and bacon. We ate pretty much all of it too!
Besides our trip to Madison, I believe I only ate out twice which is awesome. Everything else we were able to make at the house!
I think it is safe to say that our drink of choice for the trip was a Moscow Mule. We ate lunch at a place called the Goose Blind and their Moscow Mules were fantastic! We drank quite a few of them with lunch. They are quite refreshing when it is hot out!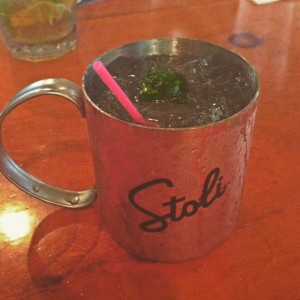 Donny & my two year anniversary was on Monday of last week so we decided to go to Madison and play around for a day. Lindsey & Cody joined us and we met up with one of my good friends from college for dinner.
The first thing we did when we got to Madison was eat of course. Well, technically we were on a wait list to get into The Old Fashioned so we walked around the Capital building until our table was ready. But other than that, we started eating immediately.
We heard The Old Fashioned was good and their cheese curds were featured on Best Thing I Ever Ate, so we knew what we were ordering!
They were fantastic! They were lighted breaded and then fried. Delicious. We also ordered a meat and cheese platter, which included deviled eggs, pickles, smoked trout, picked herring, salami, two types of spreadable cheese, some type of pate, and then bread and crackers. It was really good! We never would have ordered some of those things, but they were definitely worth trying.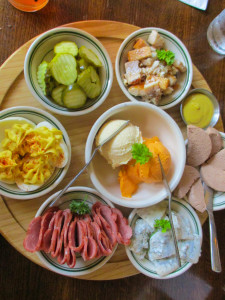 Cody is a huge fan of macaroni and cheese and Wisconsin is big on their cheese (duh). So he ordered mac 'n cheese everywhere we went. The Old Fashioned had a version with bacon on it. Easy choice!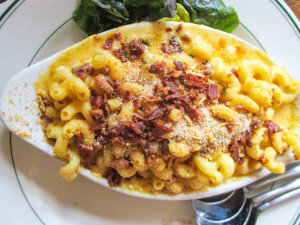 We looked up another restaurant we wanted to try and realized it closed at 3pm, which was only an hour away! Donny & Cody walked down the street to get a drink and table while Lindsey & I walked around a little while to digest. Yes, we ate lunch and then ate a second lunch. Or appetizers immediately followed by more appetizers. The second lunch at Graze included cheese curds too.
I don't eat a lot of dairy in my day-to-day diet, but we ate a ton of it on this trip! The day we went to Madison also happened to be National Ice Cream Day, so we ate ice cream (more dairy…) later that afternoon. The quote on the cup made me laugh…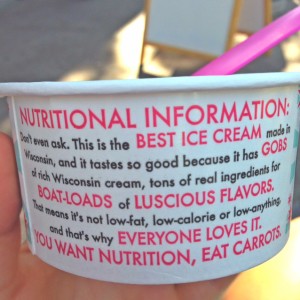 We wandered around Madison for a while and then met up with my friend Nicole and her boyfriend for dinner at Cooper's Tavern. We shared three appetizers (poutine, homemade pretzels, and hummus) and then Lindsey & I were still pretty full so we shared a steak. It was a really fun place! I definitely recommend going there if you are in Madison.
After dinner we wanted to hang out for a little while longer so Nicole took us to University of Wisconin's campus. Apparently they have a program there that teaches you to make ice cream and they sell it on campus. Genius. We went for round two of ice cream (go big or go home on National Ice Cream Day, right?!?!). Nicole told me her favorite was Blue Moon, which is a flavor popular in the Midwest. I went ahead and got it… it tasted like Fruit Loops!
The campus is beautiful there. It sits right up by a lake so we went and ate our ice cream by the water.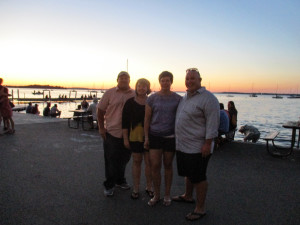 It was beautiful out that night and there was a DJ on campus playing some music. Sorry for the blurry picture…it was a great sunset though.
The next day was our actual anniversary, so we celebrated by going golfing together! Donny loves golfing and I golfed in high school so we went out with my dad and uncle, Fred. It was fairly windy that day, but luckily the course we played had a ton of trees so it didn't cause us too many problems.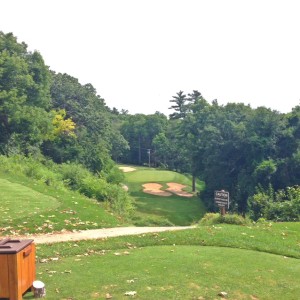 One of my favorite parts about the trip was being able to lounge around the house at night. We would go for bike rides or walk and then just hang out. Of course we ate and drank while at the house, but it was really low-key….exactly what I needed.
Tuesday we rented a pontoon boat and went out on Green Lake. It was so fun. It came with a tube that two people could ride in, which was a blast.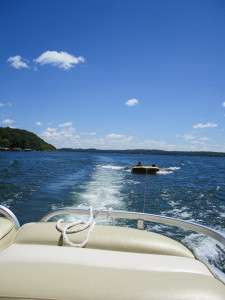 Imagine that, more drinking…. Wayne can multitask — drink a beer and steer the boat!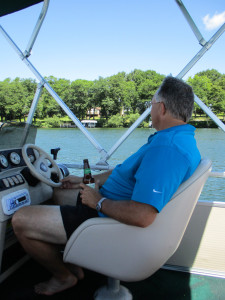 It was the perfect day to go out on the water. One of my favorite parts was being able to look at all the houses on the beach… holy cow they were fancy!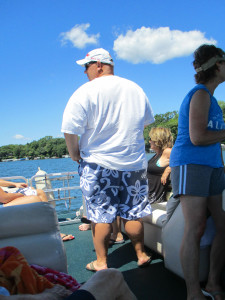 We woke up Wednesday morning and went on a nice long walk. Then my dad drove us to Milwaukee. We hung out there for a few hours before we had to go to the airport.
Sorry for the lack of pictures. If I am being honest I just tried to stay away from most technology and didn't think about getting my camera out!
The good news is that I have two new recipes I want to share with you! I made from granola and also some brownie bites. They will be heading your way soon! I also kicked my own a** at the gym yesterday and want to share with you that lower body workout. I promise it won't be another two weeks before I post again.
Have you been to Wisconsin? Did you try the cheese curds?!?!