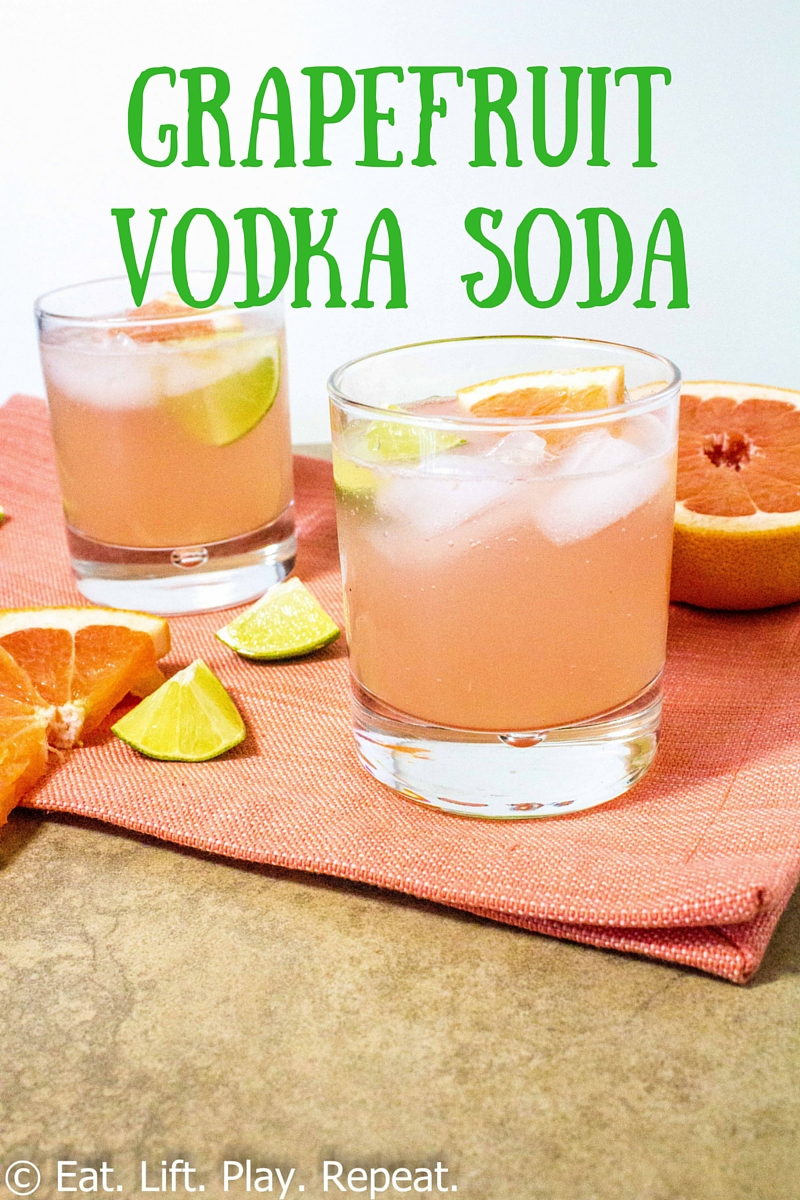 In my Anything & Everything Friday post last week I had a link with some better-for-you-summer-cocktails. It got me thinking about what I like to drink when I sit on the back porch to relax. Occasionally I'll grab a beer and enjoy that, but some nights I want a cocktail! Like a Grapefruit Vodka Soda.
Is vodka clean eating? Is alcohol in general clean eating? Not so much. It is called balance, right?!?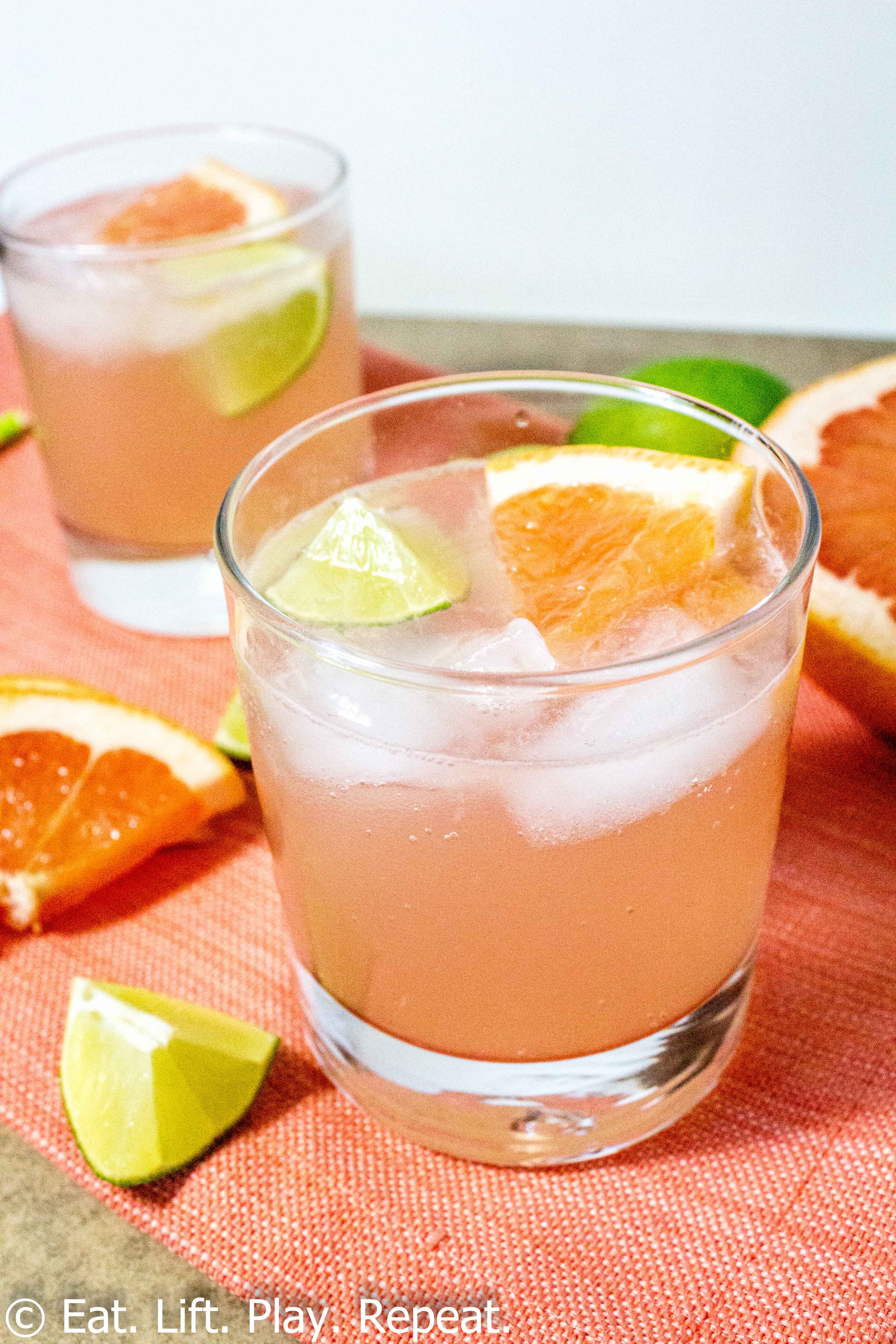 My go-to cocktail at a restaurant or at home is a vodka soda. They are low calorie and aren't quite as sweet as some drinks, which I prefer. Over the years I've started mixing up my vodka sodas to include flavored vodkas, rather than plain vodka.
When we were in Austin, TX for our girls' trip a couple years ago we actually went to the Deep Eddy distillery and hung out. We didn't take the tour, but we walked around and tried some of their cocktails. That trip was the first time I'd tried Deep Eddy vodka and I've been hooked every since! It is not quite as popular as some of the other vodka brands, but one of our local liquor stores does carry it. Try it out, they have a few different flavors to choose from and they also have plain vodka.
I really like the Deep Eddy Ruby Red vodka and have been making vodka sodas with it when we are home for a little while now using LaCroix grapefruit sparkling water, rather than club soda. This time I decided to jazz it up slightly by adding actual grapefruit juice! I love the combination of grapefruit and lime – I definitely recommend a squeeze of fresh lime juice. It completely changes the taste of any vodka soda, so don't skip it!
What else is great about this Grapefruit Vodka Soda recipe? It is only 80 calories! I love when cocktails are under 100 calories. Sit on your back porch on a hot day and sip on one of these babies…. you won't regret it.
Disclaimer: DO wear sunscreen while doing so. My sister & I decided to day-drink outside over Memorial weekend and apparently were so distracted by how delicious this cocktail was that we forgot to put on sunscreen. We ended up looking like lobsters!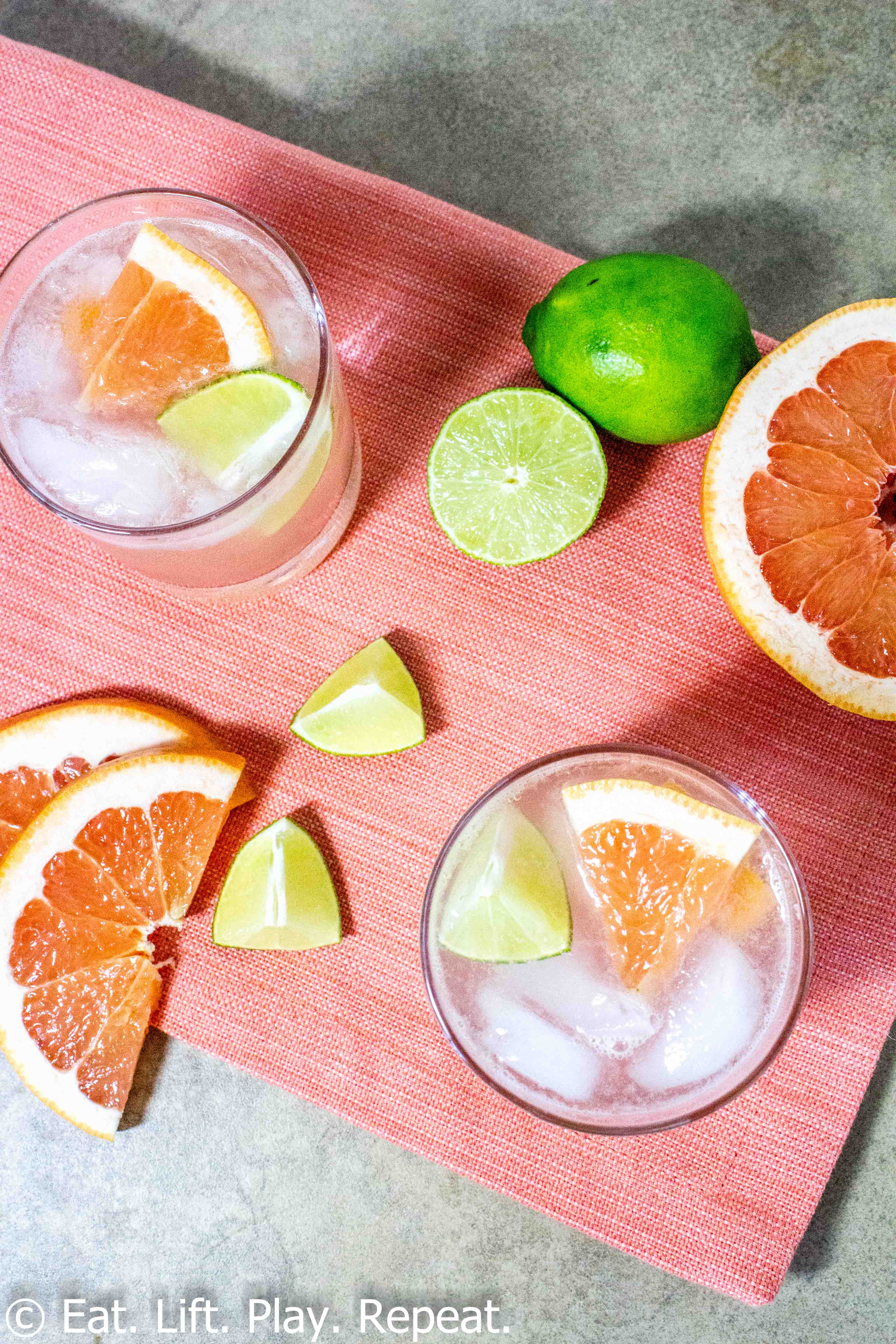 I am not really a blended cocktail type of gal, but this would be really good blended too! I like my drinks on the rocks, but on a REALLY hot day I might be persuaded……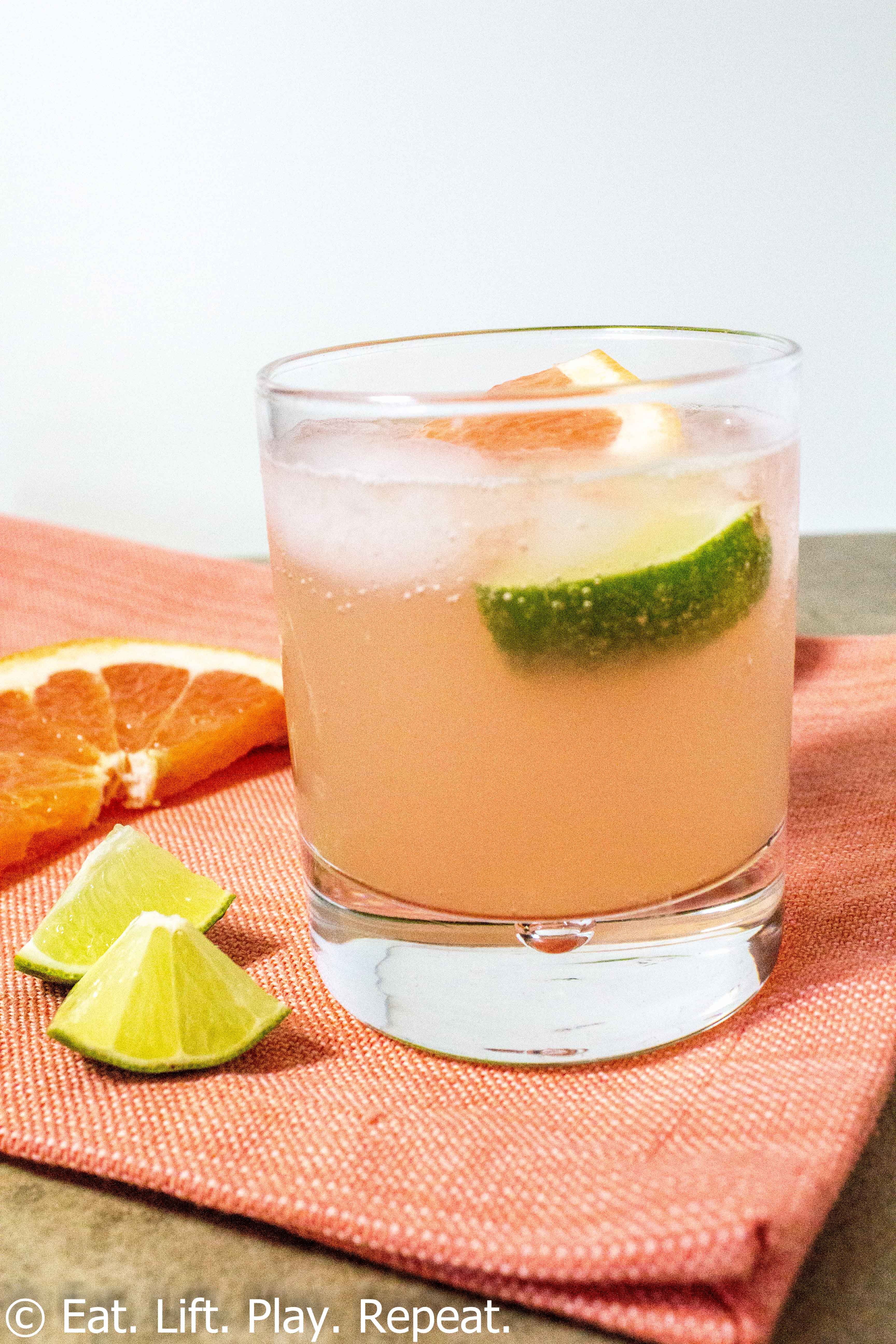 Grapefruit Vodka Soda
2016-06-24 19:28:48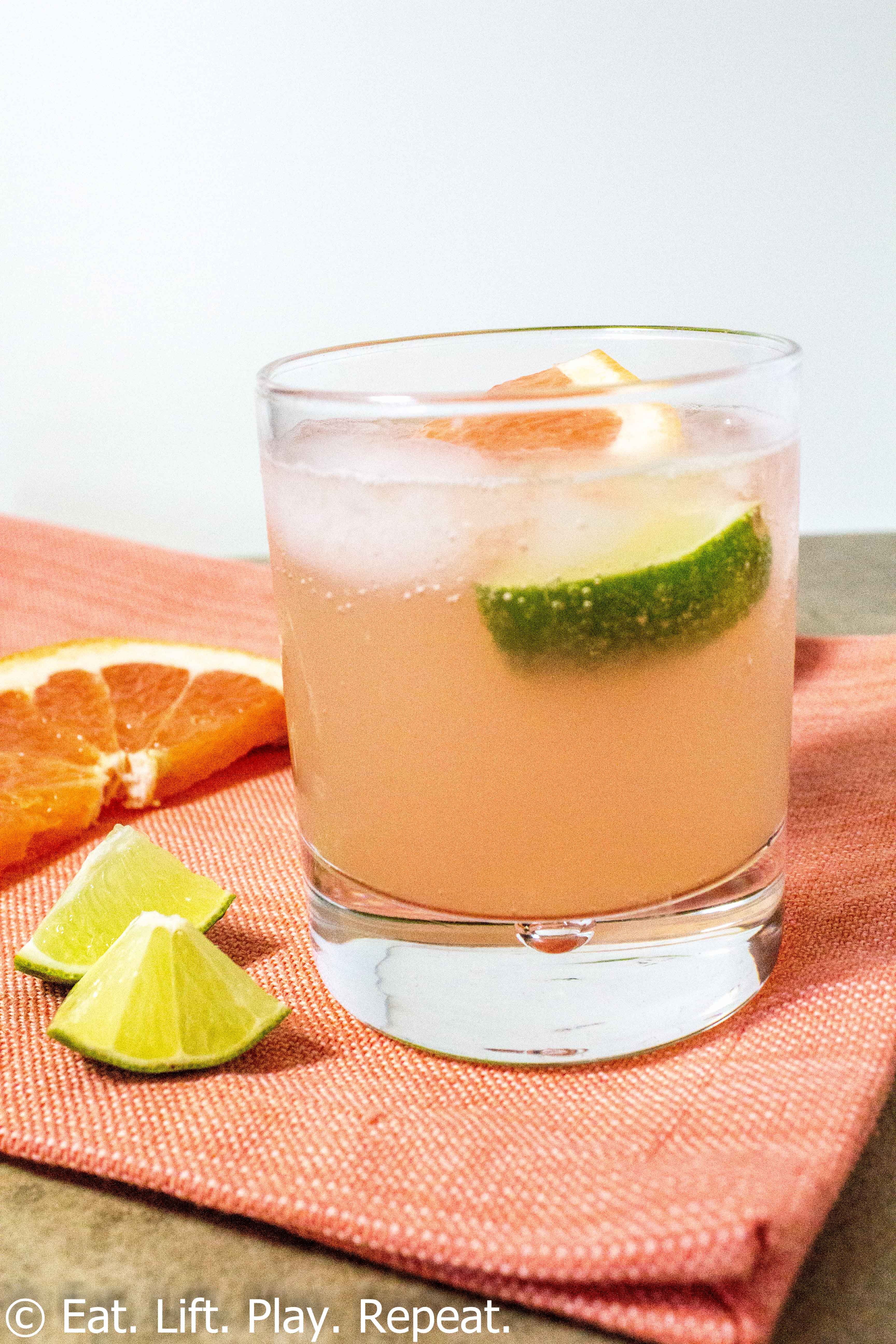 Serves 1
A fun twist on the typical vodka soda that is perfect for sipping on the back porch! Plus, this citrusy cocktail comes in at only 80 calories per serving.
Ingredients
1oz grapefruit-flavored vodka, such as Deep Eddy Ruby Red
1oz grapefruit juice, fresh squeezed
4oz grapefruit flavored sparkling water, such as LaCroix Grapefruit
1-2 lime wedges
Instructions
Pour vodka, grapefruit juice and soda into rocks glass over ice. Stir gently. Garnish with 1-2 lime wedges.
Eat. Lift. Play. Repeat. http://eatliftplayrepeat.com/
What is your go-to summer cocktail?!