Choosing the right post-workout meals throughout the week can really help you reach your fitness goals. It is important to replenish what is lost when you exercise.
You need a good dose of protein, as well as healthy carbs to replace the glycogen that was used during your workout. When you weight train, you tear your muscle fibers. You need protein and carbs in your post-workout meals to heal those tears, aka build muscle.
I usually go to the gym early in the morning on weekdays. Personally, I like to get my workout in first thing so that I don't skip out on it later in the day. I'm definitely a morning person, so this works well for me.
Typically by the time I get home from the gym I'm ready for food! I don't eat very much before leaving because I don't have a ton of time. I try to eat within 30 minutes of getting home from the gym. My goal is to get 25-30 grams of healthy, lean protein plus 25-20 grams of healthy carbs to accompany the protein.
So what do I eat once I'm home from an early morning workout? Here are some of my favorite early morning post-workout meals.
Eggs. Eggs are a great protein source, plus an inexpensive food! In terms of nutrient density, eggs are one of the healthiest foods! One egg is only 70 calories and is loaded with vitamins, nutrients, protein and healthy fats.
I will almost always have one whole egg, plus some egg whites. Sometimes I'll make an egg scramble or egg omelet using 1 egg +5 egg whites. This combo is only 156 calories, yet has 24 grams of protein! If I am REALLY hungry or I know it will be a while before I can have a snack or meal, then I'll have two whole eggs + 4 egg whites. This combination is 210 calories with 26 grams of protein!
Personally, I find that eggs keep me satisfied longer than other breakfast foods. I can usually wait longer to eat my next meal of the day after a breakfast containing eggs, compared to other breakfast options.
In terms of carbs, eggs go great with fresh fruit, whole wheat bread, a whole wheat bagel or even a whole wheat English muffin.
Protein oatmeal, aka "proats". Surprisingly, oatmeal has a good amount of protein for a grain. It doesn't have enough to eat as a protein source alone, but it has more protein than a lot of other carb options.
When I have oatmeal for breakfast I make sure to mix in egg whites and/or protein powder into the oatmeal. "Proats" or "protein oats" are a great post-workout meal and are quite versatile!
There are two ways that I make "proats". One is to cook the oats either on the stovetop or in the microwave until they are fully cooked (using water or milk, whatever you prefer). Then after the oats are cooked, mix in protein powder. One full scoop of protein powder is generally too much and gives the oats a weird consistency. I'll usually mix in 1/3-1/2 scoop of protein and mix the rest with milk or water to drink on the side.
The other way to make "proats" is to cook some eggs whites in with the oats. I am most familiar with doing this using a microwave. First, I whip 1-2 egg whites in a microwave safe bowl using a fork. Then I'll add the liquid (water or milk) and the oats to the bowl and will stir it all together. Then I microwave the oats and egg whites, stirring about halfway through the cooking process.
I have found that I have to cook the oats longer when I add egg whites than without. It will take 2-2 1/2 minutes to fully cook the egg whites and oats. This is compared to about 90 seconds without the egg whites added.
Once the oats are cooked I'll mix in 1/2 scoop of protein powder and then add some toppings to make the bowl of oats more interesting! Some of my favorite toppings include fresh fruit, nuts or nut butters.
Waffles or Pancakes. Whole wheat waffles and whole wheat pancakes are great carbohydrates options for post-workout meals.
When I have pancakes or waffles as a post-workout meal then I will get my protein from egg whites or yogurt. If I choose egg whites then I'll eat those on the side. If I choose yogurt as my protein source, then I'll throw a dollop on top of the waffle or pancake!
I like to use Greek yogurt, but any type of yogurt will do. If I have plain Greek yogurt, then I'll mix in a small amount of protein powder to add a touch of sweetness and to cut down on the bitterness a little bit. You could do the same thing by adding honey or maple syrup to the yogurt.
After I put a dollop of Greek yogurt on the waffle or pancake, then I'll add other toppings like fresh fruit, nuts/seeds, maple syrup, honey, etc.
Yogurt. Yogurt bowls are a great protein source and don't take long to prepare after a workout. Add healthy toppings to your yogurt bowl such as chia seed, flax seed, fresh fruit, granola, low-sugar cereals, etc.
Greek yogurt is my favorite type of yogurt, because I like the thickness. Any type of yogurt will work for after a workout, but be conscious of the sugar content. Some flavored yogurts are LOADED with added sugars.
Plain Greek yogurt is one of my go-to protein sources for healthy post-workout meals and snacks. I prefer 2% Greek yogurt over nonfat, because it keeps me full longer. Plain Greek yogurt is fairly tart and tangy, so I add either protein powder, honey or maple syrup to it beforehand.
My favorite way to cut down of the tartness is to add a little vanilla protein powder. I'll add 1/4 of a scoop of protein powder to 3/4 cup plain Greek yogurt. It adds a touch of sweetness and flavor to the yogurt, while also cutting down on that tang.
Protein Shake/Smoothies. The most well known post-workout meal is probably a protein smoothie. Powdered protein is a very convenient way to get protein into your diet and it works great after a workout.
Most protein powders contain protein that will be delivered to your muscles quickly, which is why it is a popular post-workout meal choice.
I like protein smoothies, but they don't fill me up quite as much as I'd like in the morning. Each person is different so smoothies might be perfect for you. If I am short on time then I'll make a protein smoothie but I'll also have something on the side, like toast with peanut butter.
When I make a protein smoothie I made sure to add protein powder and some type of fruit. Fruit adds flavor and natural sweetness, but is also a healthy carb for after a workout! I keep frozen fruit in our freezer to use for smoothies, because I prefer THICK smoothies. I want to be able to eat my smoothie with a spoon, not drink it from the glass.
Some other healthy items you can add to your smoothie include chia seeds, flax seeds, oats or leafy greens such as kale or spinach (I prefer spinach).
Those are my favorite early morning post-workout meals.
Post-workout meals are very important when it comes to reaching your goals. The right food intake after a workout can help replenish the energy that you lost and build muscle.
Make sure to feed your body with lean protein and healthy carbohydrates after a workout. Eggs, oatmeal, yogurt and protein powder are all good options for post-workout meals. Plus, each one can be customized to fit your preferences and dietary needs.
Here is a look at some of the post-workout breakfasts I like to eat: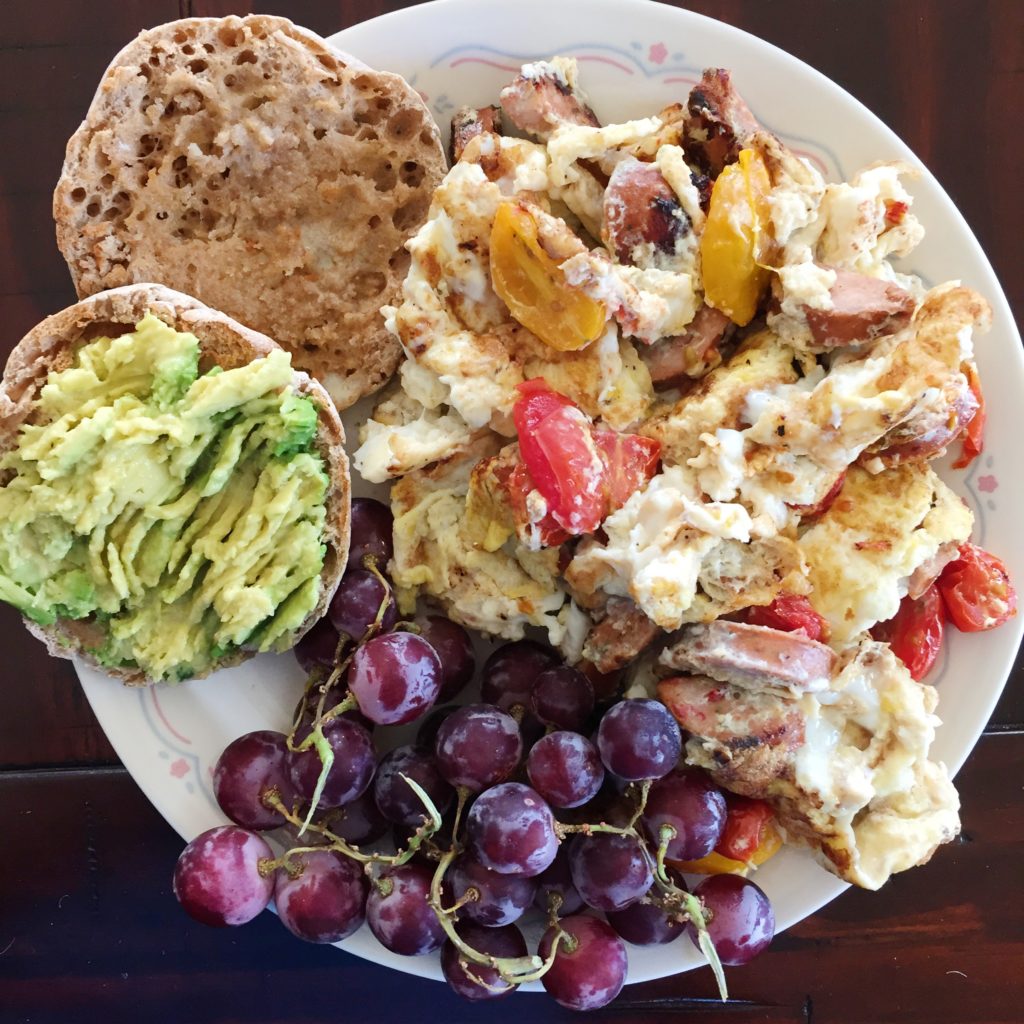 Egg/egg white scramble with veggies & chicken sausage, plus an English muffin & grapes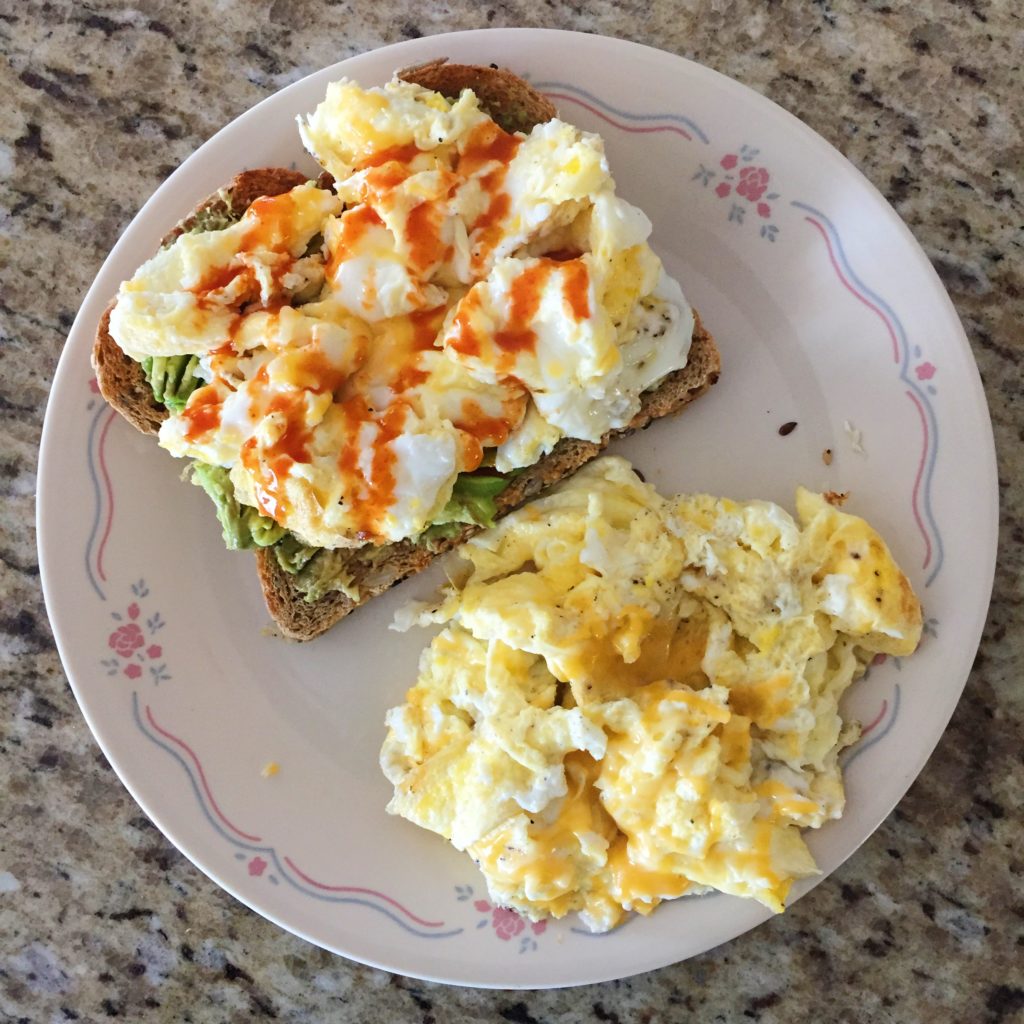 Avocado toast topped with scrambled eggs, cheddar cheese and hot sauce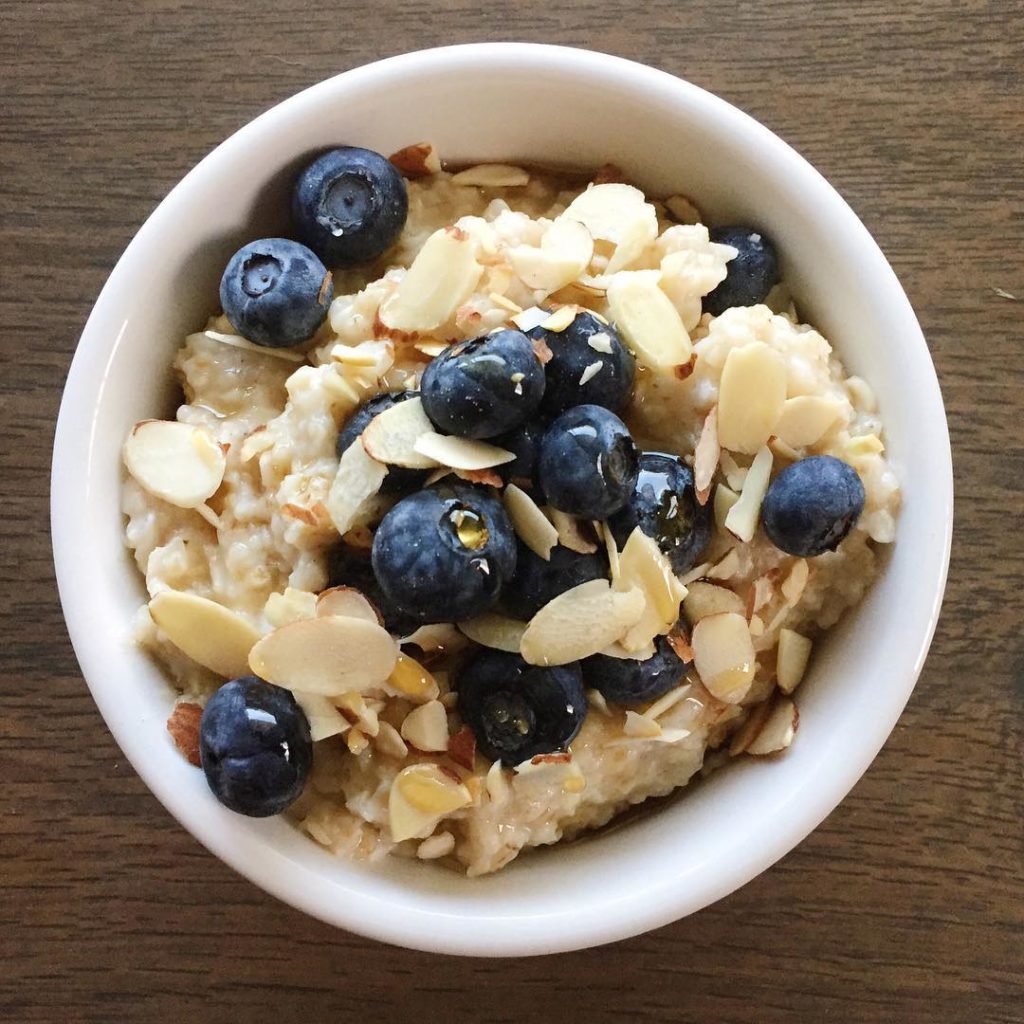 Oatmeal mixed with vanilla protein and topped with blueberries, sliced almonds and maple syrup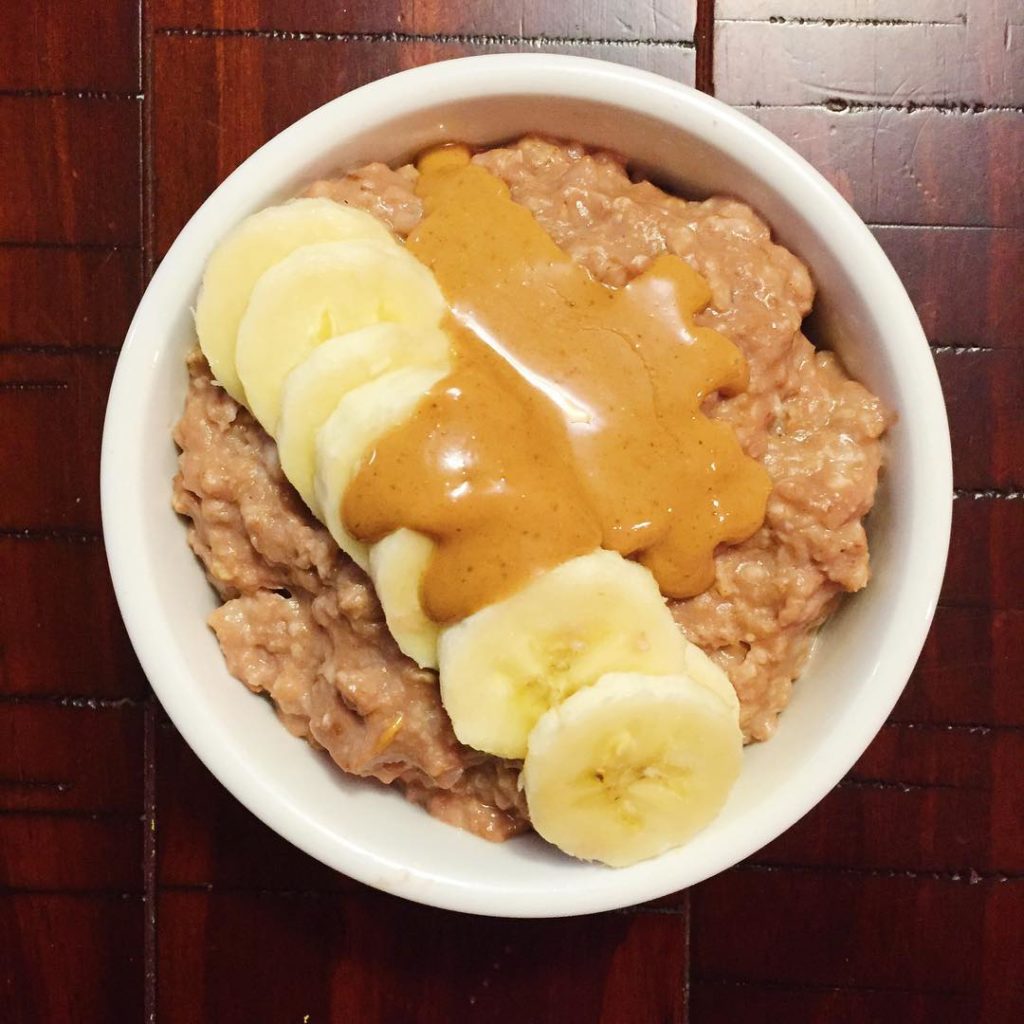 Oatmeal mixed with chocolate-peanut butter protein and topped with sliced banana and peanut butter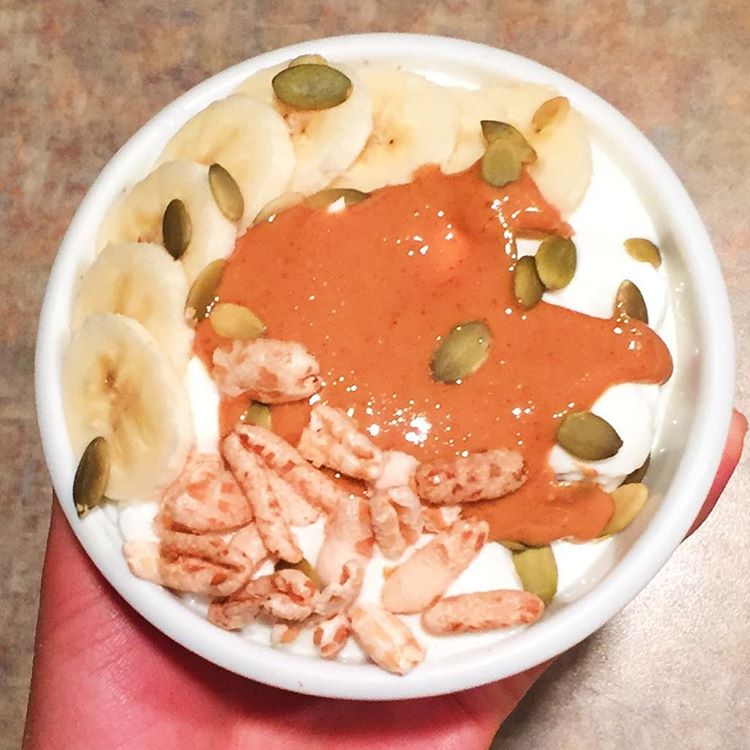 Greek yogurt mixed with vanilla protein and topped with sliced banana, pepitas, puffed kamut and peanut butter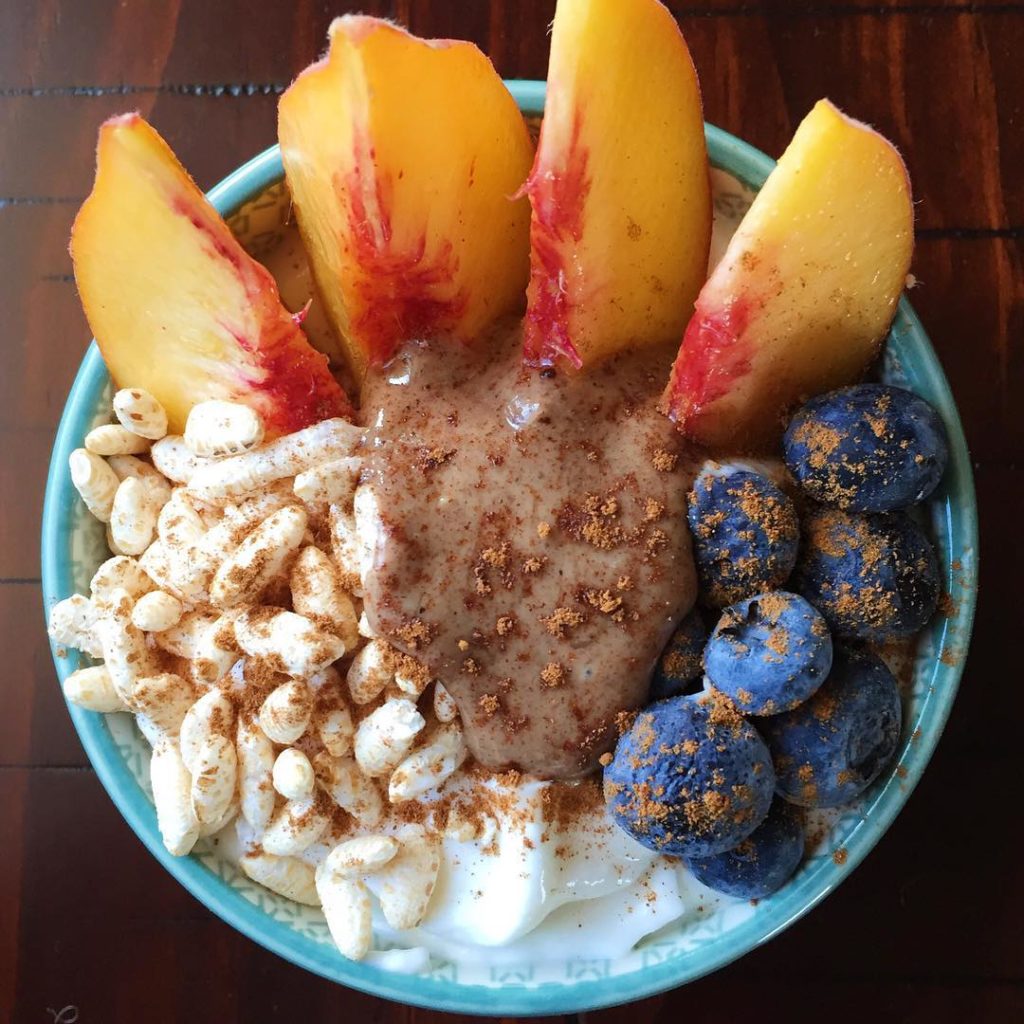 Greek yogurt mixed with vanilla protein and topped with peaches, blueberries, puffed brown rice, almond butter and cinnamon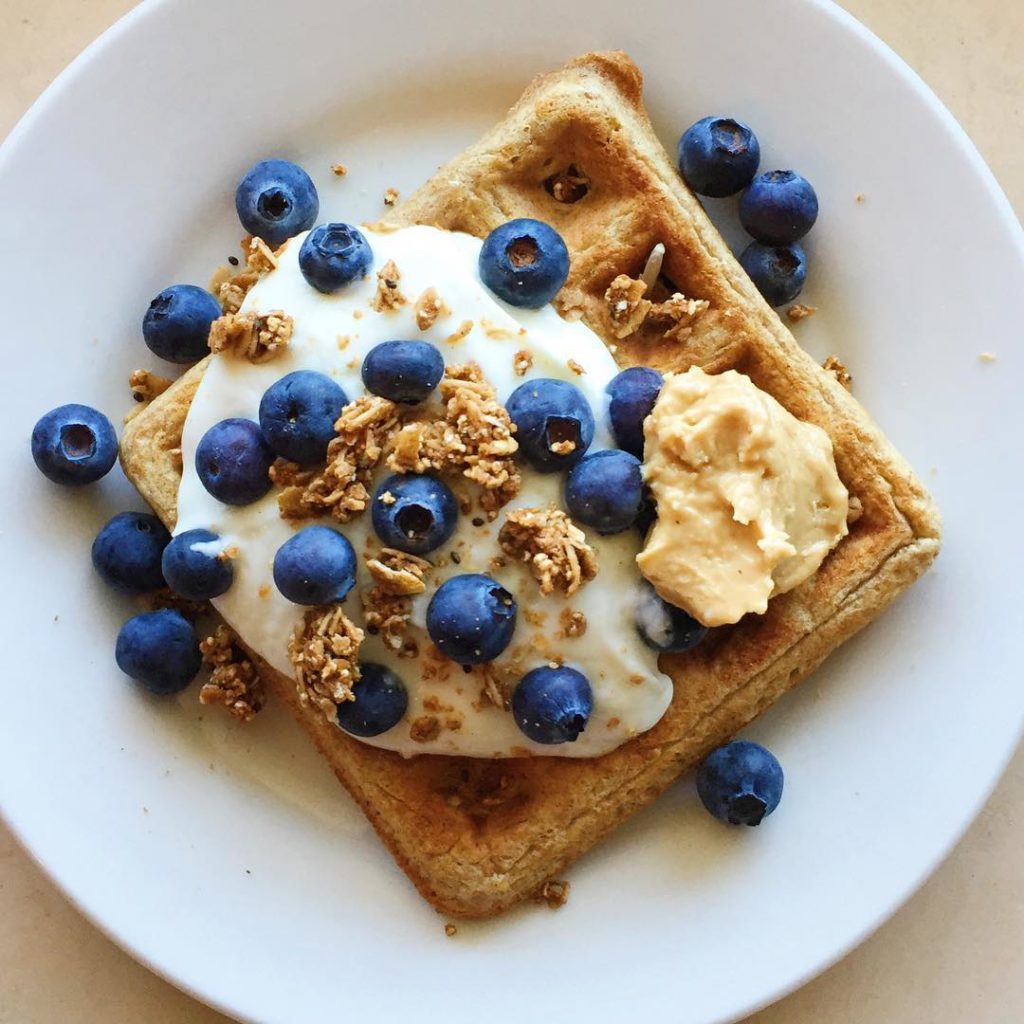 Whole wheat waffle topped with yogurt (mixed with vanilla protein), blueberries, granola and peanut butter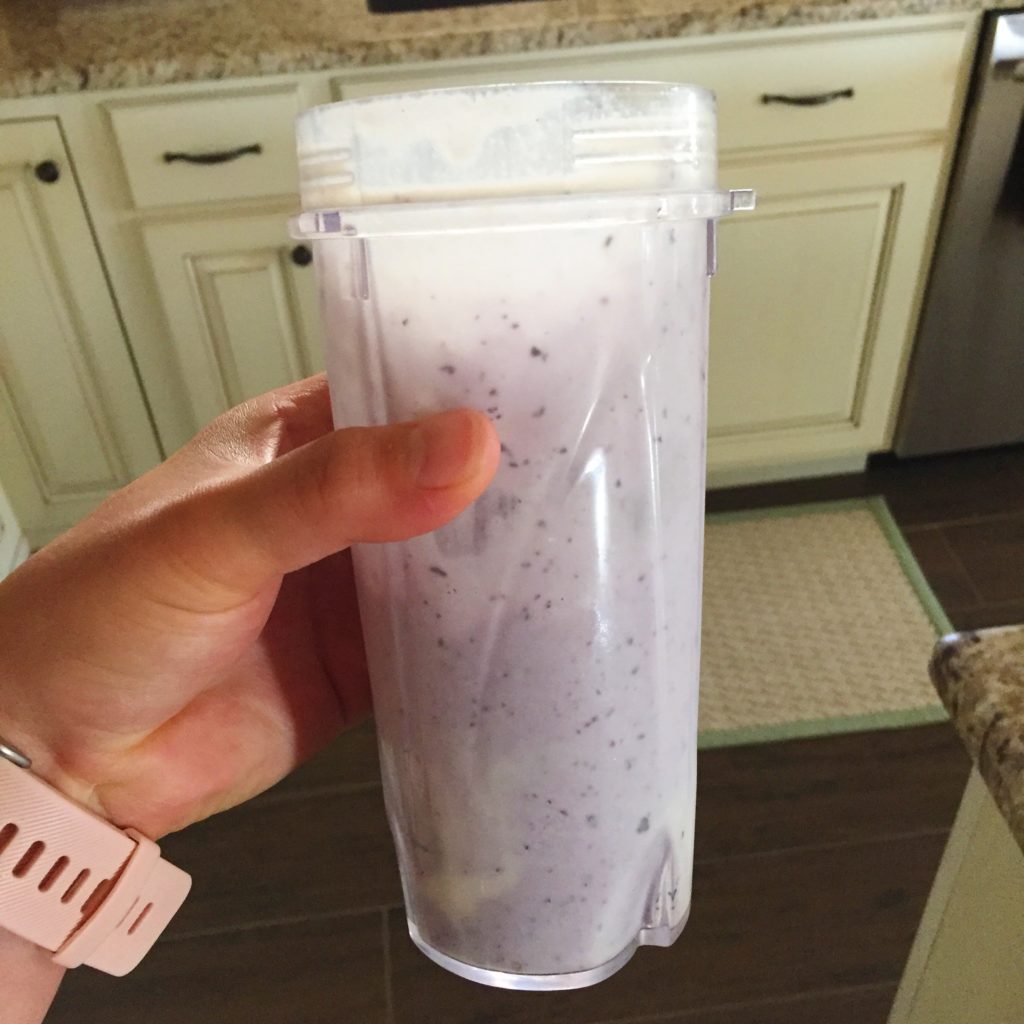 Protein smoothie made with 1% milk, vanilla protein powder, frozen banana, frozen blueberries and chia seeds