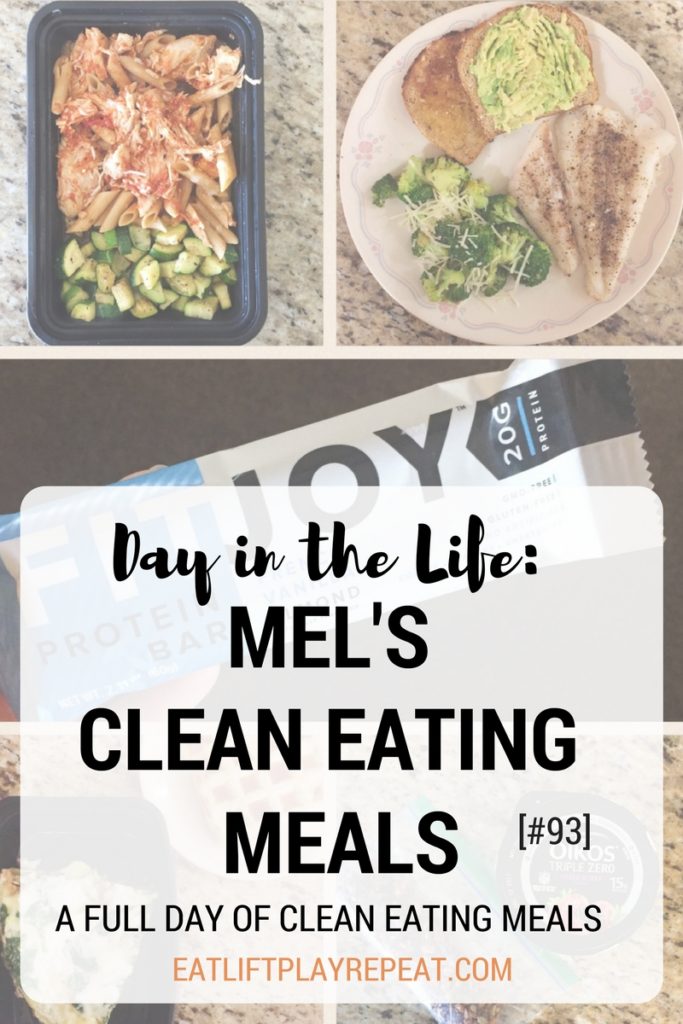 Day in the Life: Mel's Clean Eating Meals is intended to show you the simple, yet healthy meals that I prepare throughout the day.
Meal prep honestly helps me a TON when it comes to healthy eating. I have clean eating meals already prepared for the day, which makes it easy to stick with a healthy diet.
I've been back to tracking my food intake each day with My Fitness Pal. The app is great and allows me to track calories that I consume throughout the day. I haven't started tracking macros again, but I do watch my calorie intake and focus mostly on keeping my protein intake high.
If you have question about Mel's Clean Eating Meals then please email me at eatliftplayrepeat@gmail.com or comment below!
4:30am – Pre-workout:
As always, I started my morning by drinking roughly 1 liter of water. I also needed a little energy for the gym, so I had one medium banana.
Calories: 95
6:30am – Breakfast: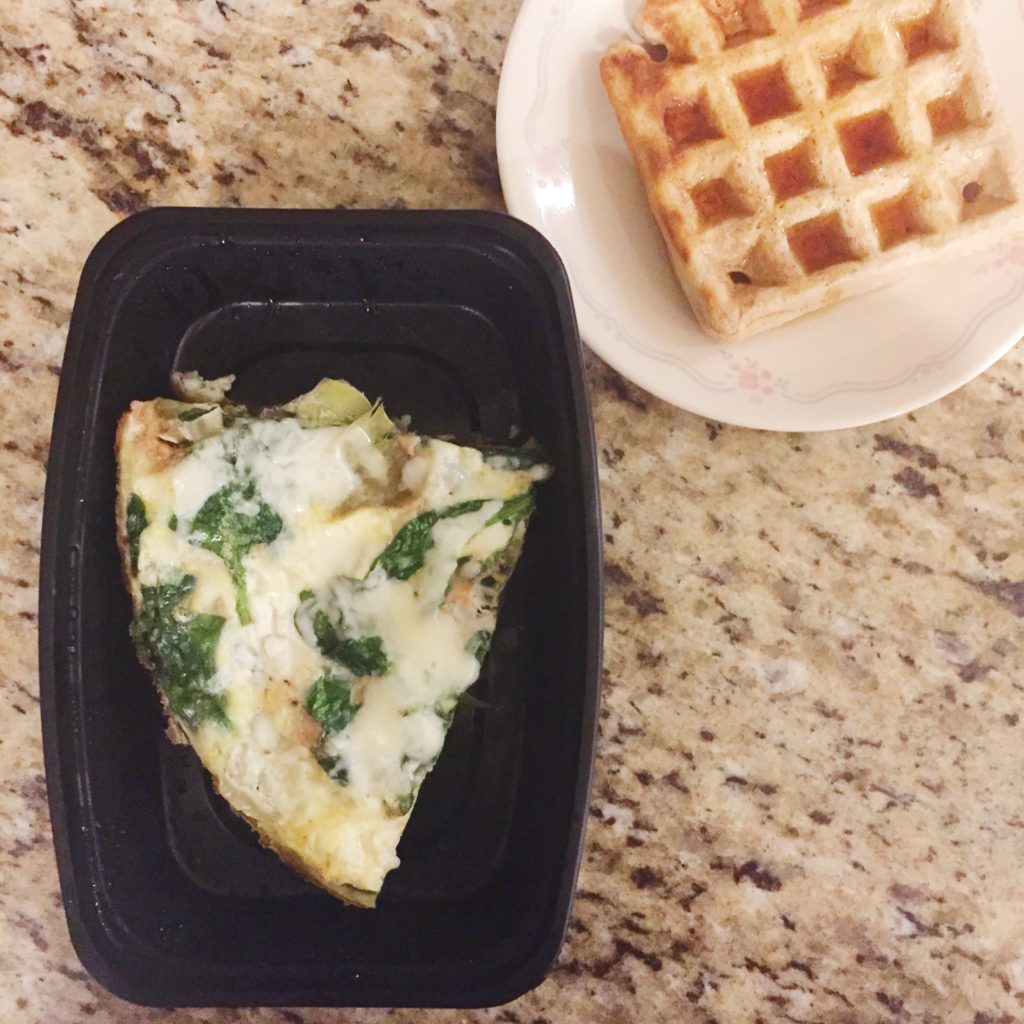 Breakfast for the day was 1/5 of the spinach artichoke frittata I made during meal prep. I heated that in the microwave for roughly 90 seconds. We were out of bread, so I toasted a Whole Wheat Waffle that I'd made and kept in the freezer. I don't put these in the microwave to defrost, I actually just toast them twice on level 3.
We had Donny's parents over last week for dinner and had waffles, eggs & sausage. Instead of making one batch of waffles, I made two and kept any leftover in freezer bags in the freezer! They have come in very handy this week.
On the waffle I drizzled 1 tsp maple syrup. I also had a cup of coffee as I was getting ready for work and I added 2 Tbsp Half & Half.
Calories: 375
10:30am – Snack:
I was glad I had a somewhat easy snack to eat because both girls were awake most of the day. My snack was a mixed berry Oikos Triple Zero Greek yogurt with a serving of Purely Elizabeth Coconut Cashew Grain Free Granola.
Calories: 290
12:45pm – Lunch:
My mom came over during her lunch break to help with the girls. I was so glad because it gave me a few minutes to sit down and eat!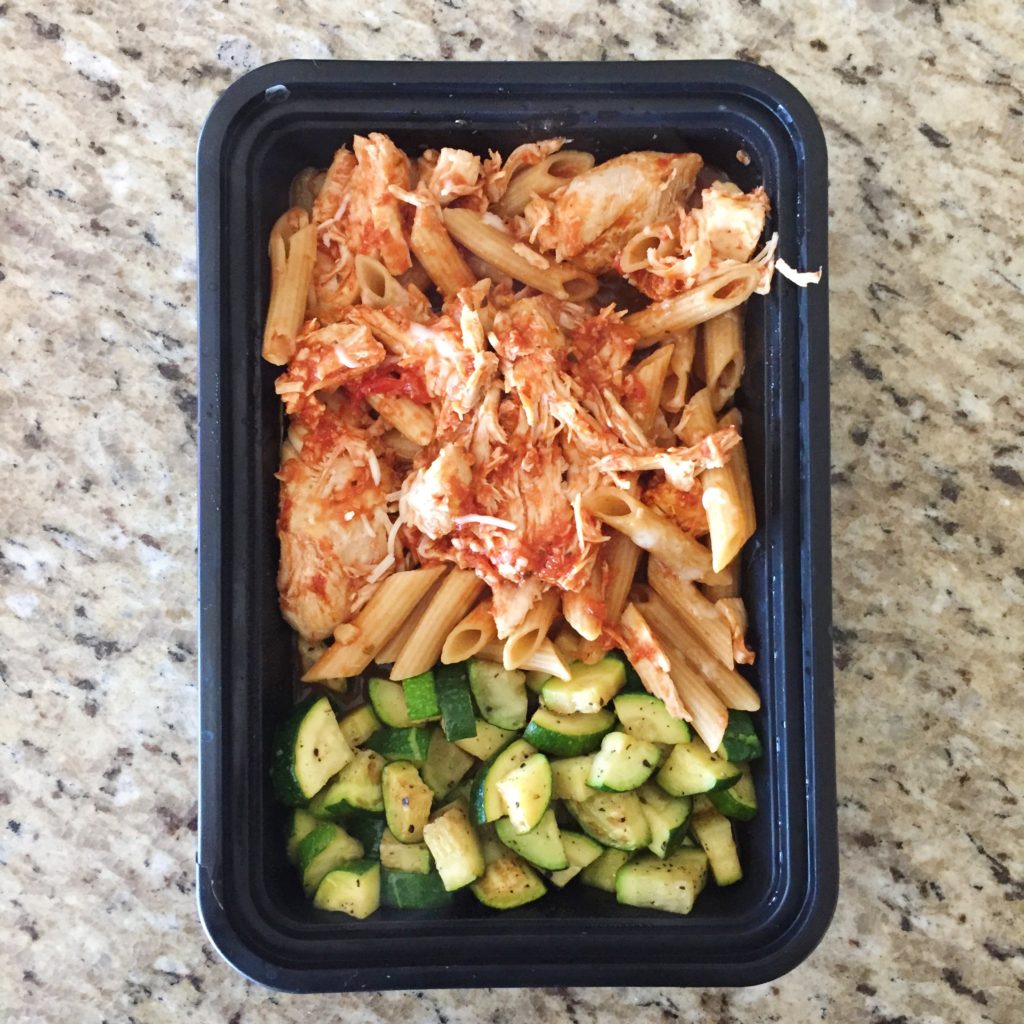 I had a serving of Italian chicken with whole wheat pasta that I'd made during meal prep. On the side I had 100 grams of sautéed zucchini.
Calories: 410
3:30pm – Snack: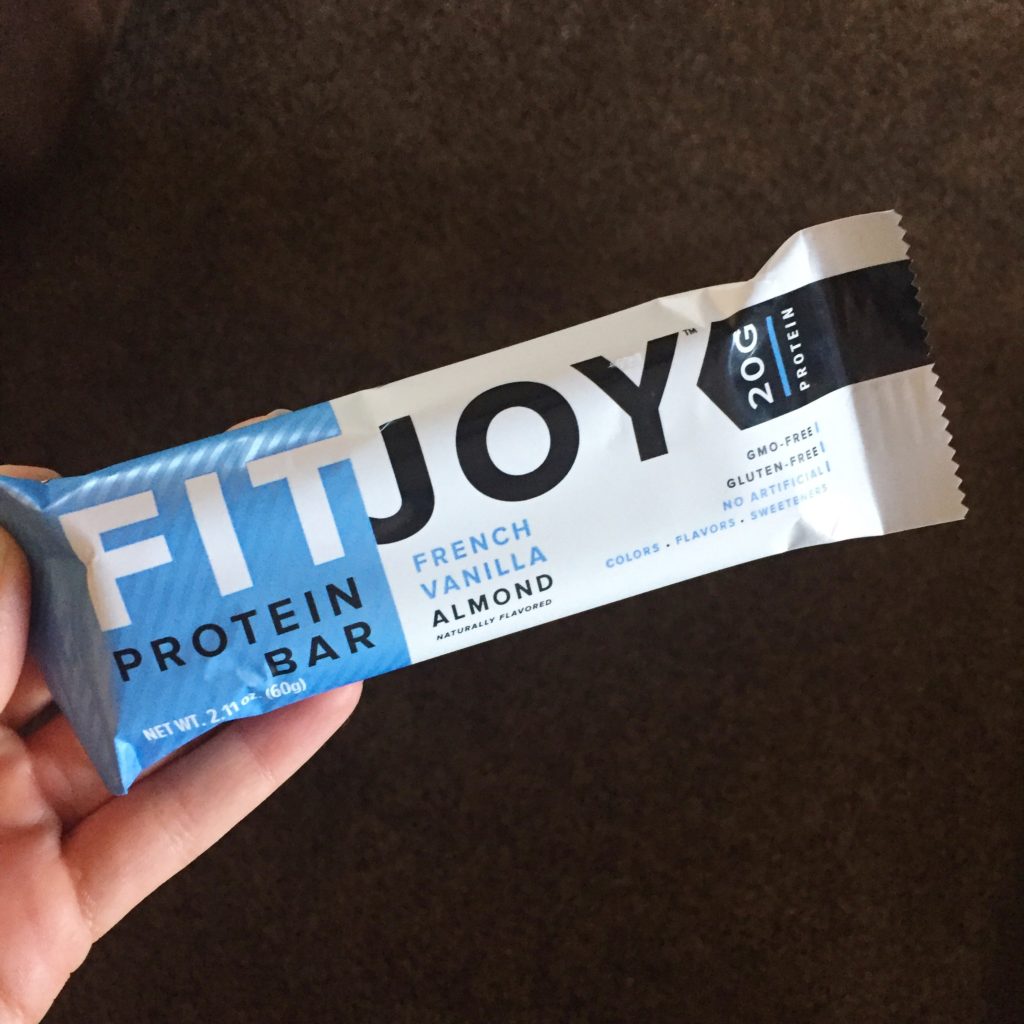 Mid-afternoon I needed a snack, so I grabbed a French vanilla almond FitJoy bar. Honestly, not my favorite protein bar of all time, but it was edible.
Calories: 220
6:00pm – Dinner:
We made a pretty good dinner and it was healthy! First, I steamed some broccoli that Donny had picked up at the store. I didn't steam it all the way, but about half the normal time so that it was still slightly crisp. Then I sautéed in extra-virgin olive oil and some garlic. As it was cooking I added salt, black pepper and red pepper flakes.
As I was sautéing the broccoli I also cooked the fish. I took cod and patted it dry, sprinkled the top with salt and pepper, then put it under the broiler for about 10 minutes. It turned out great.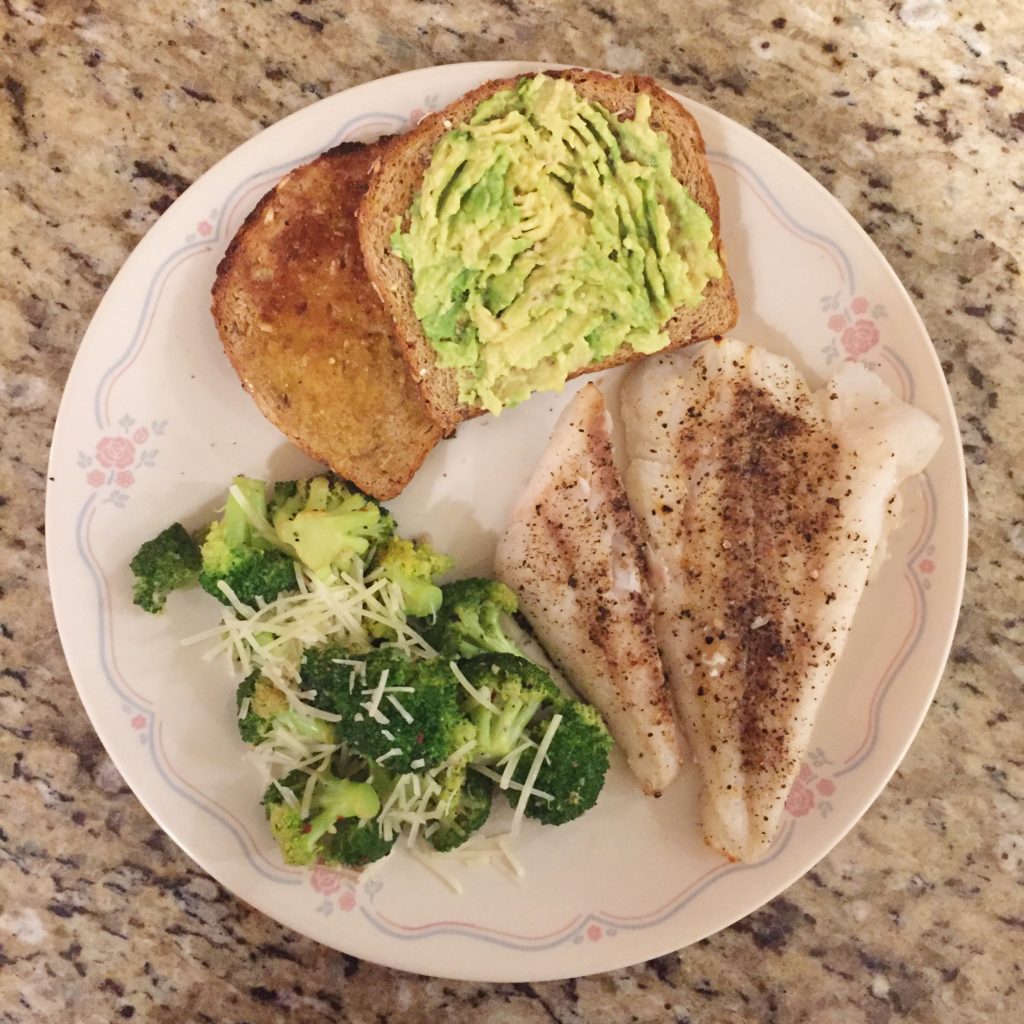 I had 4.25 ounces cod, 100 grams broccoli with 1 tsp parmesan cheese and two slices of Dave's Killer Bread (thin sliced). I topped 1 piece of toast with 1 ounce mashed avocado and the other with about 1/2 tsp butter. It was quite the delicious meal!
Calories: 415
Well those were the clean eating meals that I ate throughout the day! If you have questions about Mel's Clean Eating Meals then please ask! Email me anytime or comment below.
Don't forget to check out this week's Grocery Shopping & Meal Prep Ideas post to see how I made some of these foods ahead of time.