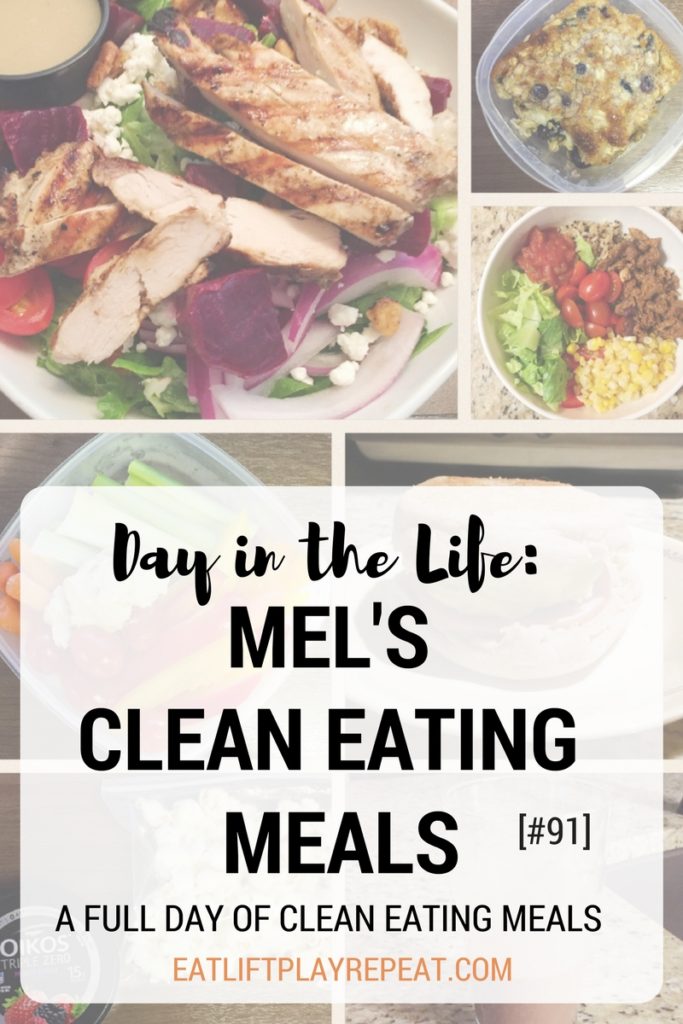 I'm starting to get back into a routine of meal prep and clean eating! It's obviously more difficult with an infant. However, Donny & I are pretty good at figuring out how to make an easy, yet healthy dinner on a tired weeknight.
My meals are getting more consistent and a couple weeks ago I started tracking everything in the My Fitness Pal app again. Of course, Thanksgiving happened and my schedule was strange for a few days. I still managed to do pretty good!
Check out this edition of Day in the Life: Mel's Clean Eating Meals. If you have questions about these clean eating meals then please ask. Email me at eatliftplayrepeat@gmail.com.
6:30am – Breakfast: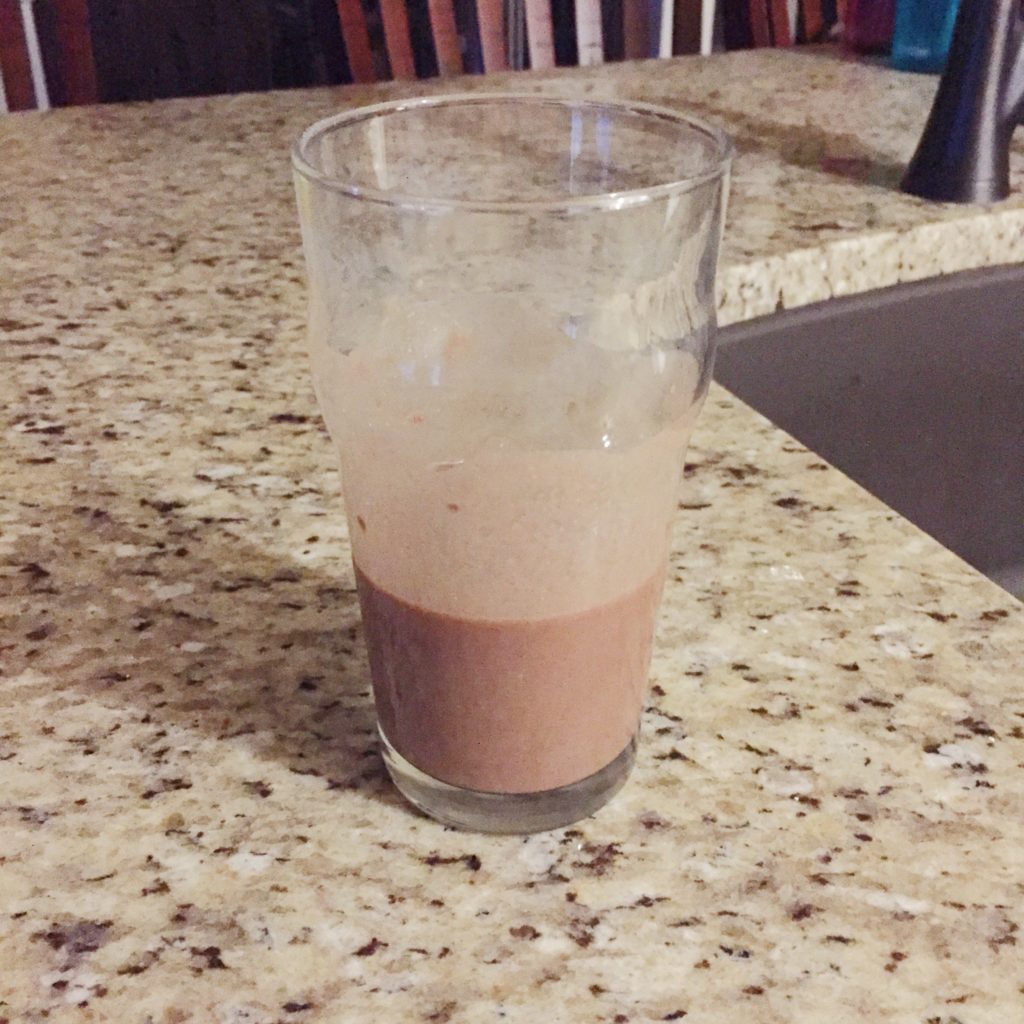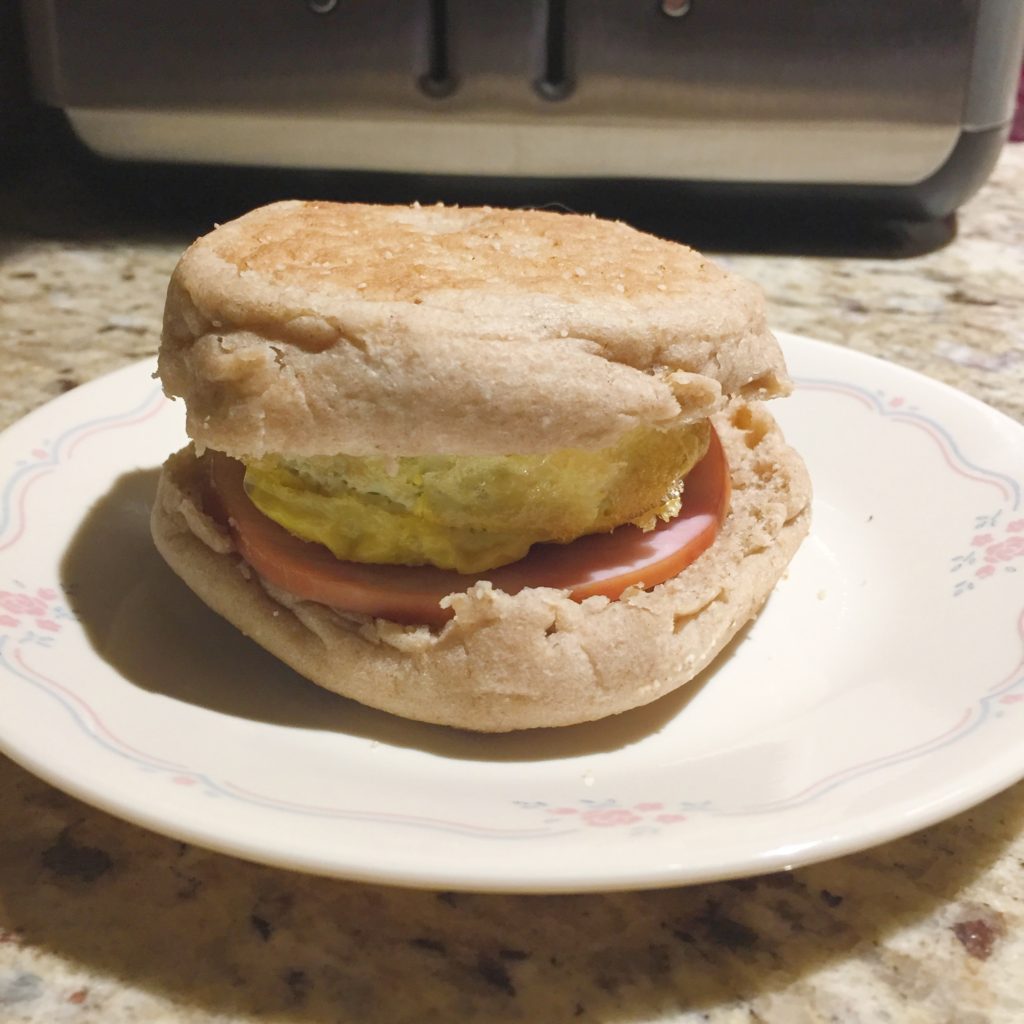 Breakfast was a protein shake mixed with water along with an egg sandwich. I made three egg sandwiches during meal prep and they had eggs & Canadian bacon on a whole wheat English muffin. I heated the sandwich in the microwave for about 1 minute and it was good to go! I added a little Cholula before eating.
9:45am – Snack: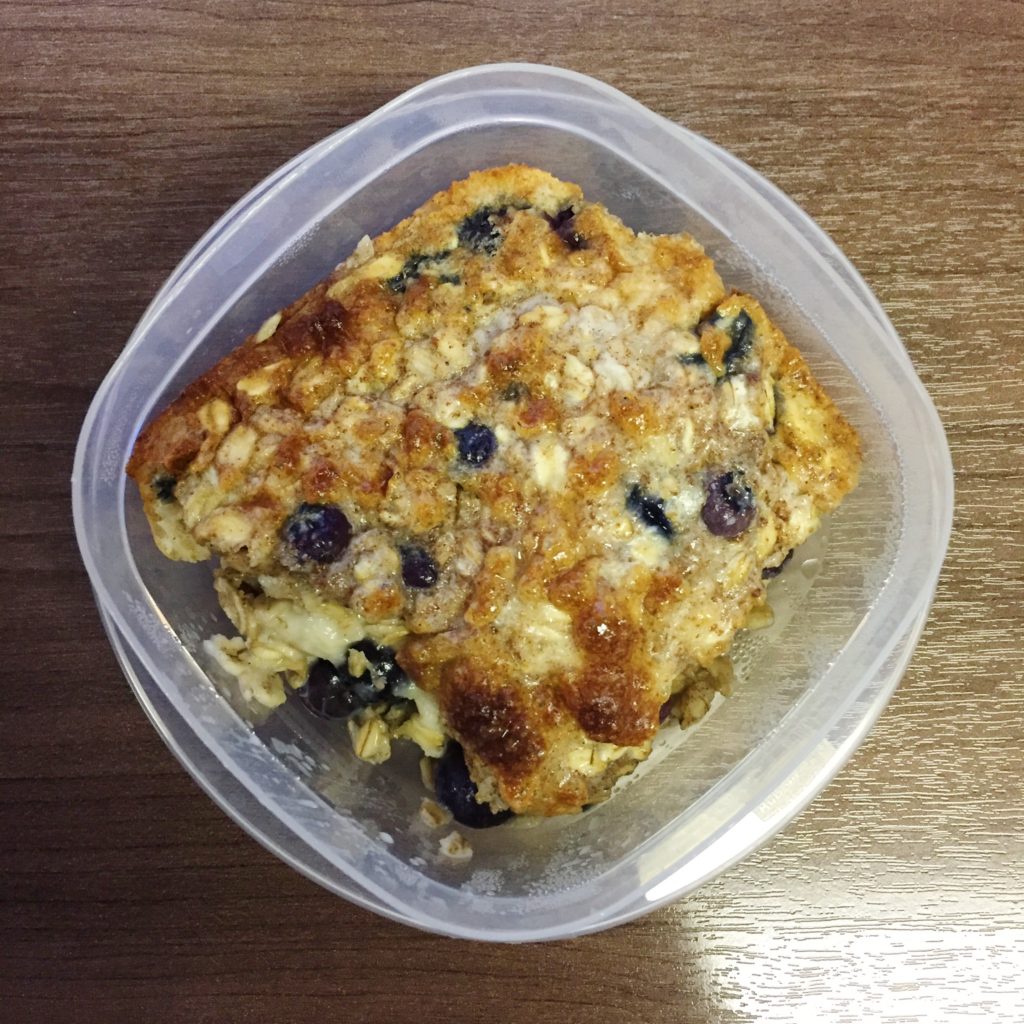 My mid-morning snack was a servings of blueberry baked oatmeal. Check out how I made it at Grocery Shopping & Meal Prep Ideas Week 77.
12:30pm – Lunch:
Donny & I had a lunch meeting and I ordered a salad. I'd never had this one before and it was really good! It had beets, red onion, cherry tomatoes, candied walnuts and goat cheese on top. For some protein I added chicken and they gave me a lot more than I expected. I was impressed!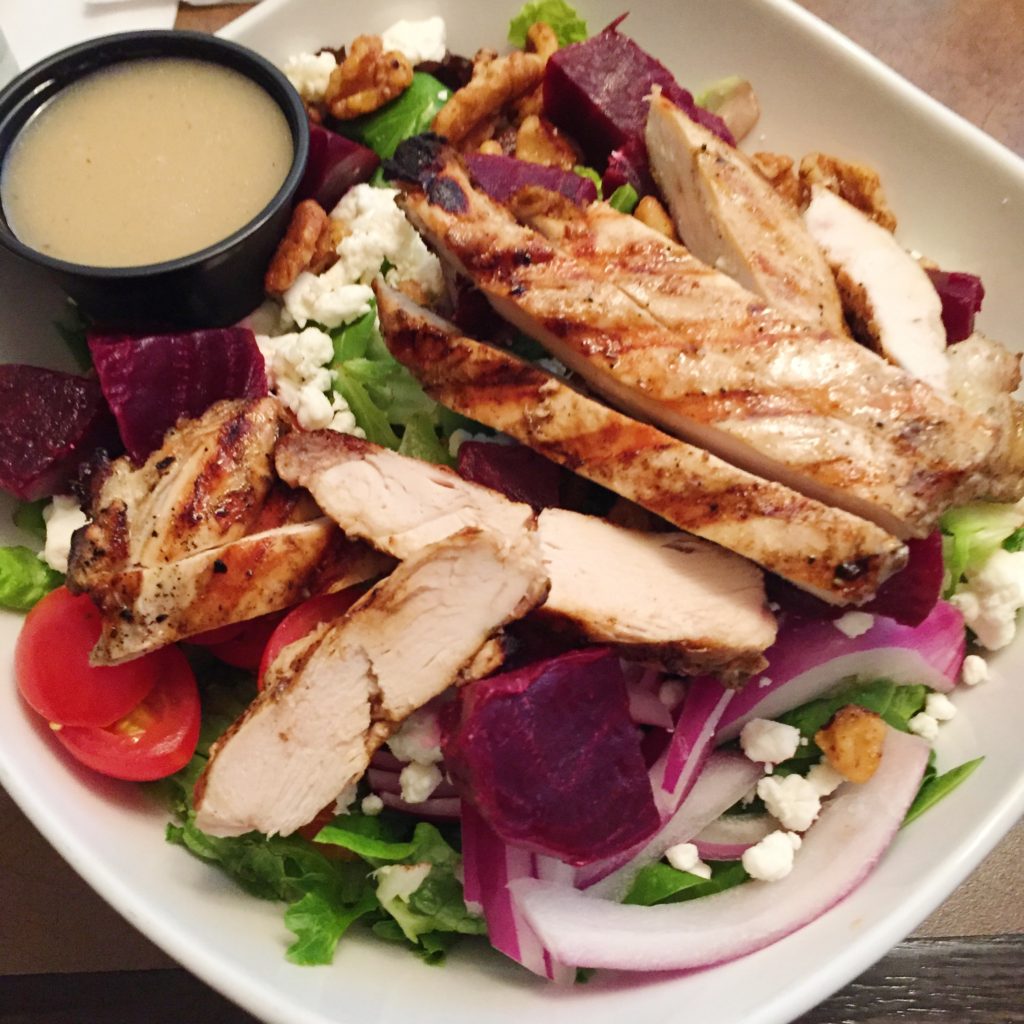 I took a lot of the cheese and candied walnuts off before eating. There were a ton and since both have a lot of flavor you don't need that much. I would guess I used about 1-2 teaspoons of the champagne vinaigrette. I almost always keep the dressing on the side and dip my fork in it with each bite. Saves on a ton of calories and each bite has dressing!
2:20pm – Snack: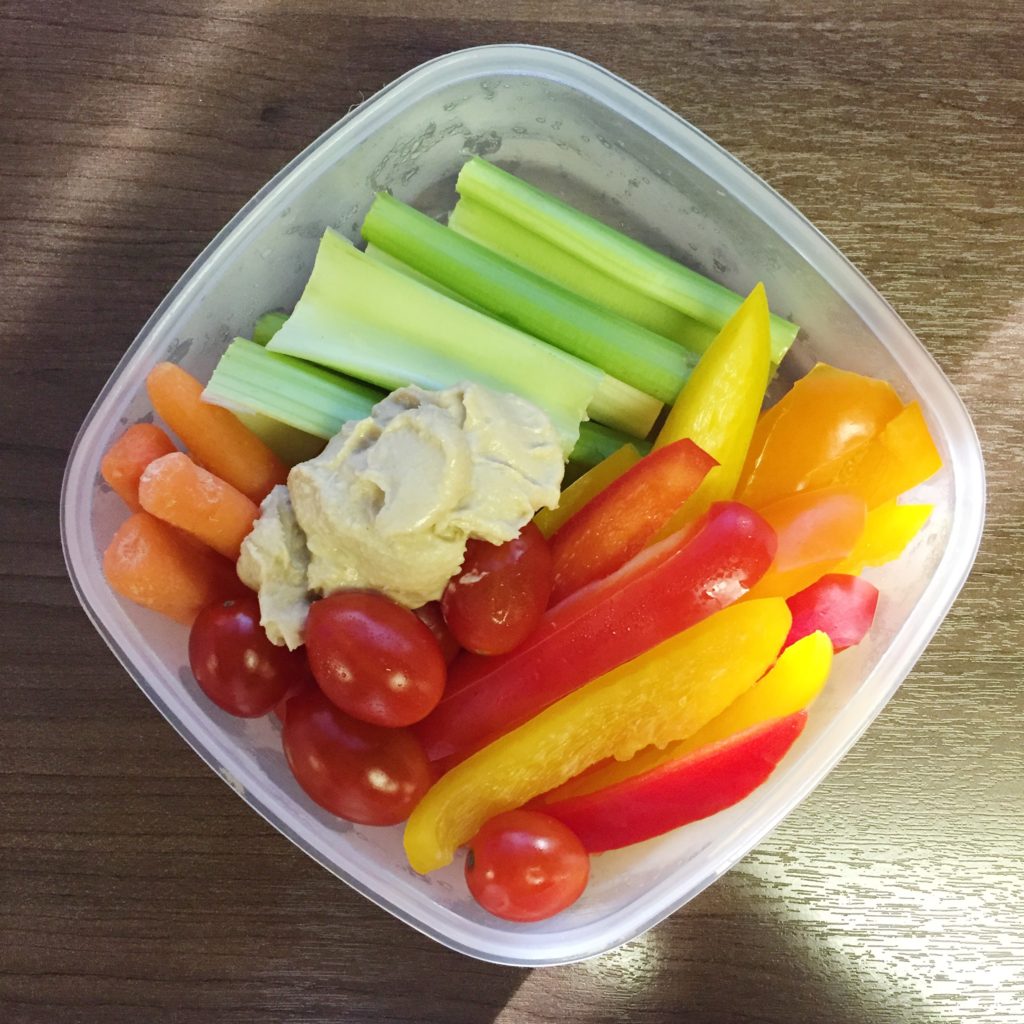 A little while after lunch I had some raw veggies and hummus. I had baby carrots, celery, bell peppers and cherry tomatoes with 2 Tablespoons of regular hummus.
3:45pm – Snack: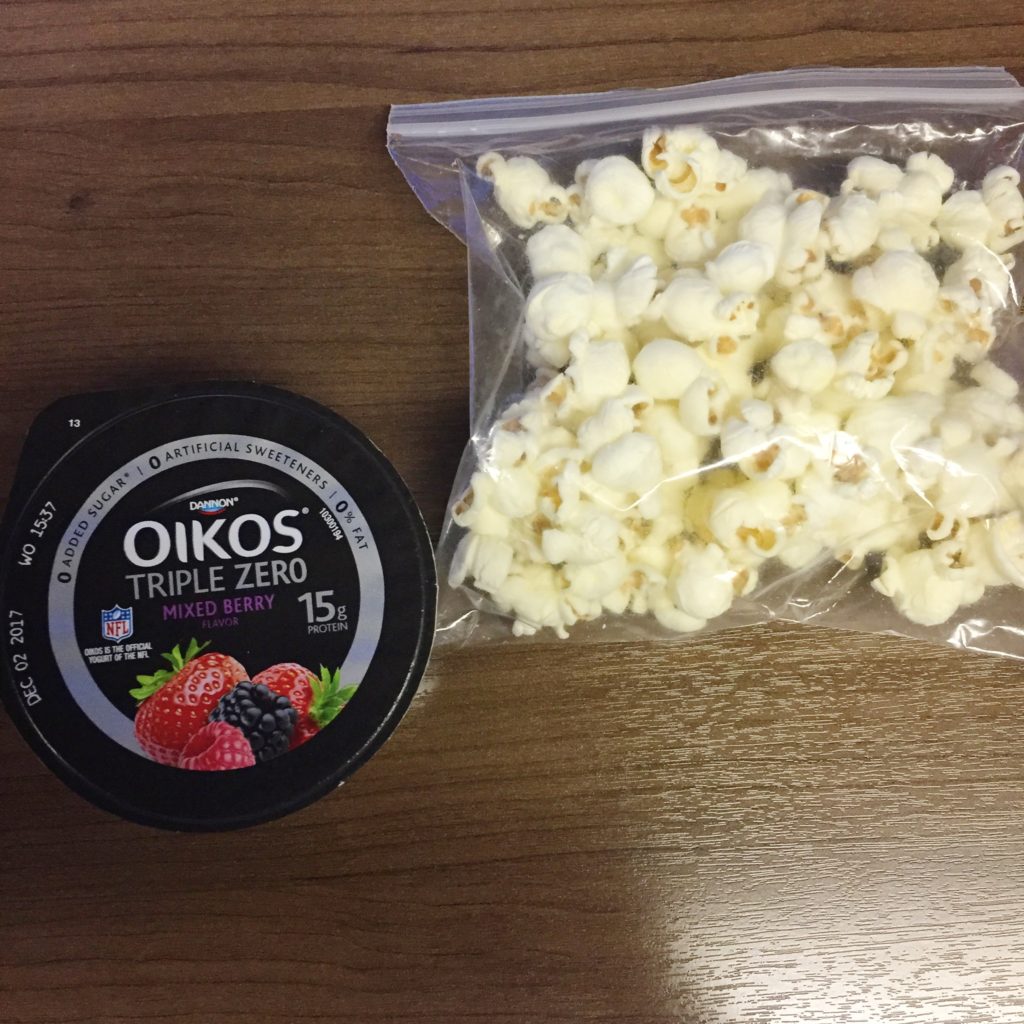 When I was pregnant I got used to snacking all the time. I'm still in that mode these days. Later in the afternoon I had 1/2 ounce Quinn Sea Salt Popcorn and a mixed berry Oikos Triple Zero Greek yogurt.
6:15pm – Dinner: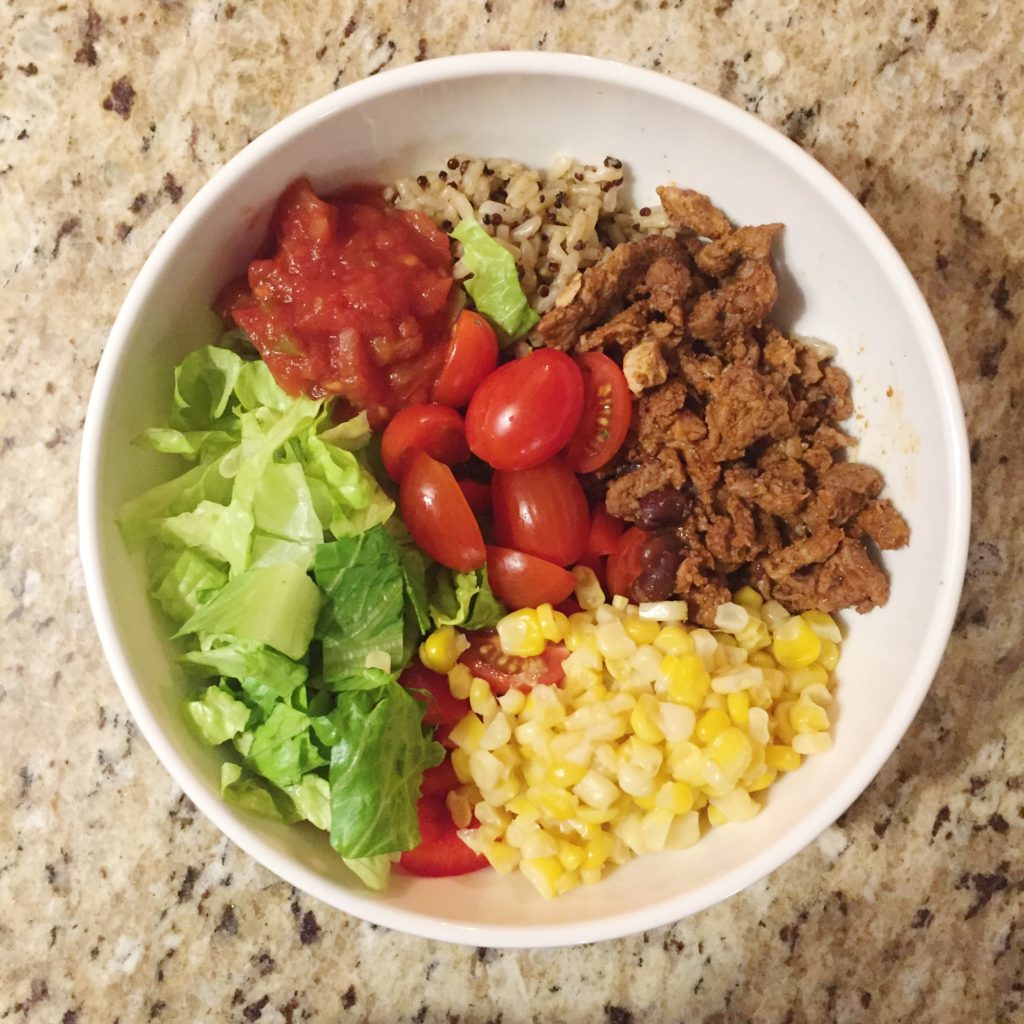 Like I said before, Donny & I are really good at throwing together quick, yet healthy dinners. we made some easy burrito bowls using some leftovers and random stuff we had on hand. Underneath all this goodness is some chili black beans from can. On top there is seasoned pork loin (leftover from the taco bar Donny made for his family), sweet corn, tomatoes, salsa, shredded romaine and some Seeds of Change Quinoa & Brown Rice.
Honestly, this bowl was super easy to throw together, full of protein and less than 450 calories!
Well that wraps up this edition of Mel's Clean Eating Meals. Again, if you ever have questions about these clean eating meals then please ask! I'm always open to discussing food!