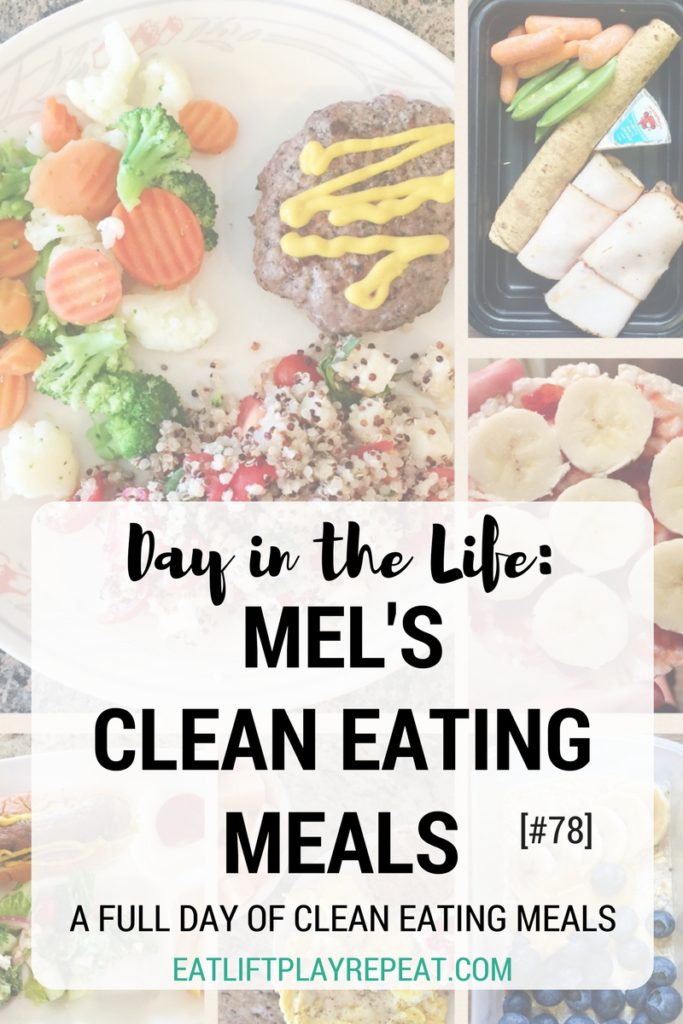 Day in the Life: Mel's Clean Eating Meals is meant to show you how easy it can be to make healthy, clean meals throughout the week!
The majority of my cooking is done during meal prep on the weekends. I cook extra foods to make it easy to throw together healthy meals in a matter of minutes!
If you have any questions about these clean eating meals then please email me at eatliftplayrepeat@gmail.com. Don't forget to check out how I made some of these foods with Grocery Shopping & Meal Prep Ideas Week 64.
4:30am – Pre-workout: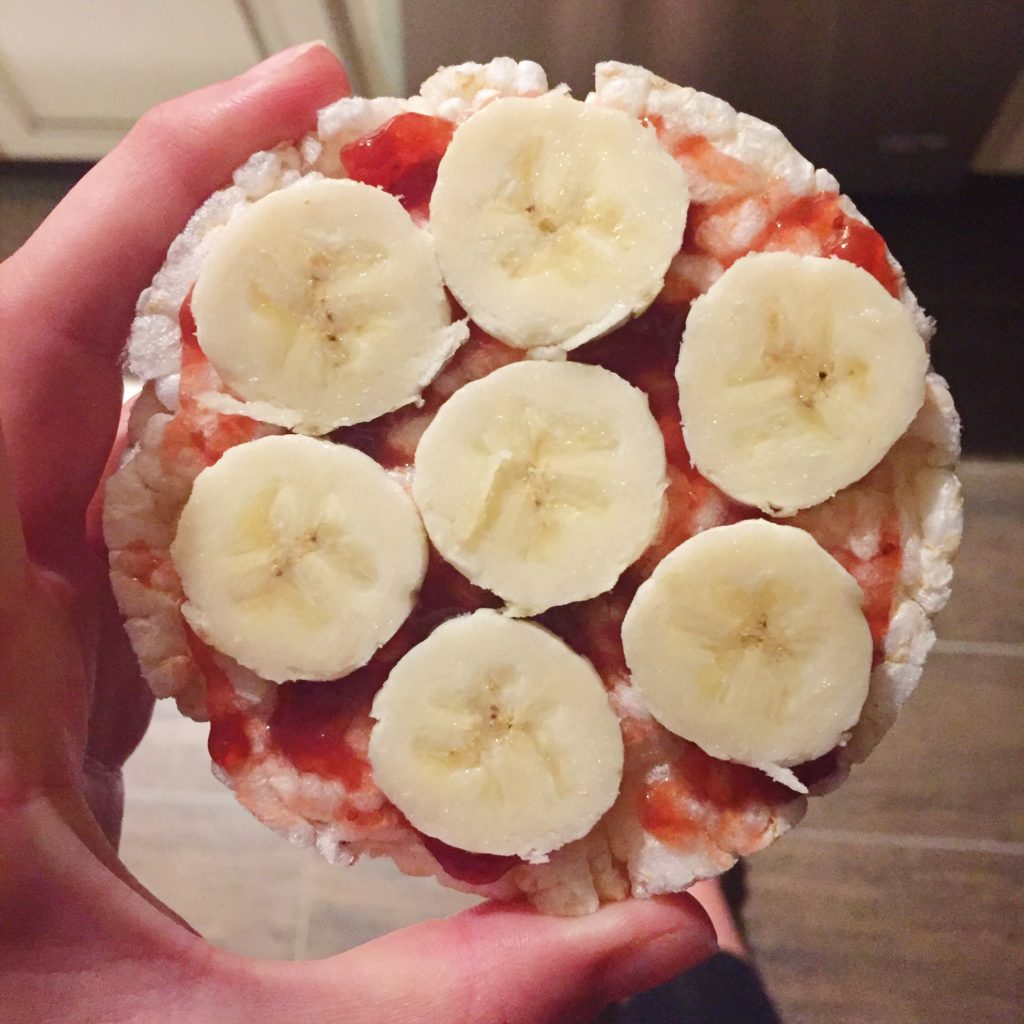 I typically try to start the day by drinking one full liter of water. It has been quite a challenge for me since I've been pregnant. If I drink too much at one time then my belly gets feeling yucky! I try to drink as much as I can before leaving for the gym, which is usually 3/4 of the liter. Once I return from the gym I finish the rest.
Along with water I also had a plain rice cake topped with strawberry jelly and a few slices of banana. The rice cake and the banana give me some quick energy for my workout without weighing me down. The jelly ads some moisture so it isn't quite so dry and also extra flavor!
6:30am – Meal #1: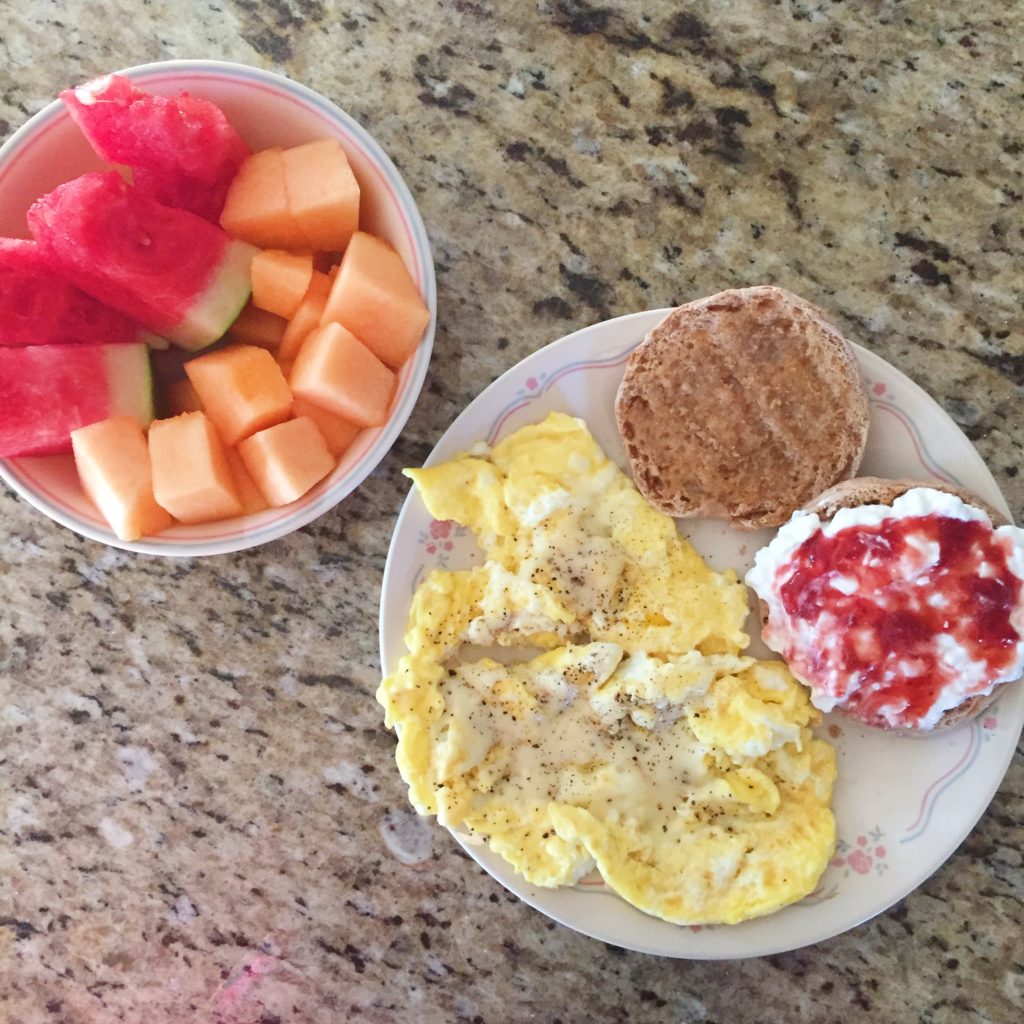 My breakfast consisted of 2 egg whites + 2 whole eggs scrambled together and topped with a little mozzarella cheese, salt and pepper. On the side I had an English muffin. Half was topped with butter and half was topped with 1% cottage cheese and strawberry jelly.
I also had some fresh fruit for breakfast. Melon has been great for me during this pregnancy – it is hydrating and sits well in my stomach. I had some watermelon and cantaloupe at breakfast.
8:30am – Snack #1: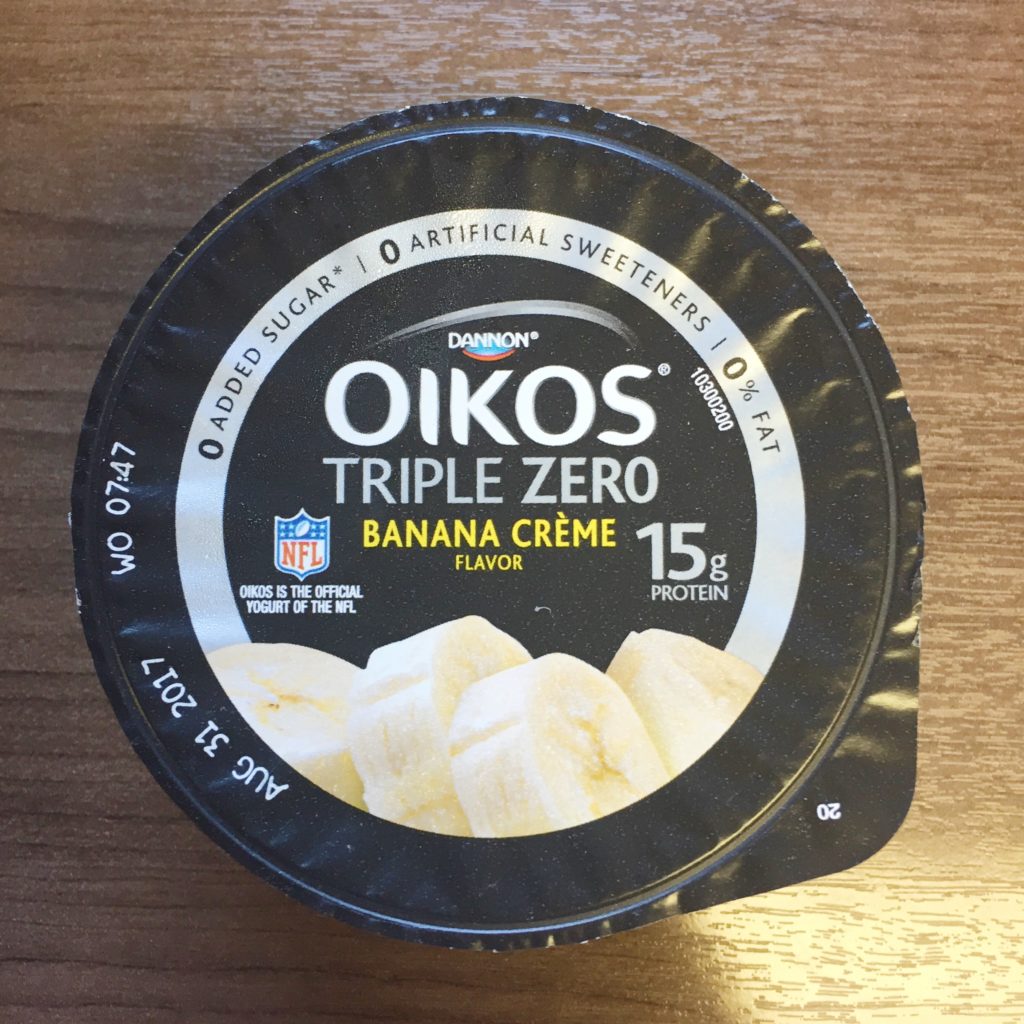 A little while after arriving at work I had a banana crème Oikos Triple Zero Greek yogurt cup.
10:30am – Meal #2: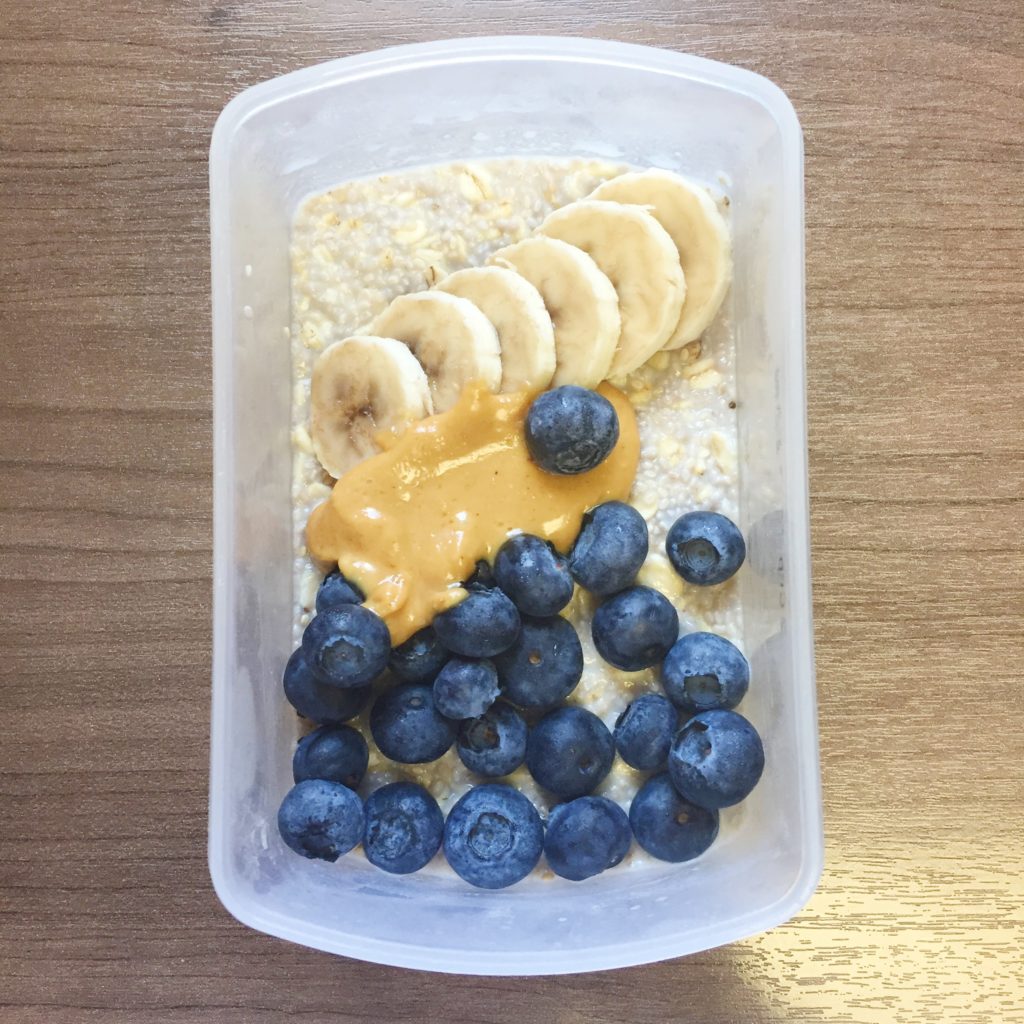 My mid-morning meal was overnight oats that I made during meal prep. I topped them with blueberries, banana and peanut butter.
While I was eating them I realized I added 1 Tbsp chia, rather than 1/2 Tbsp of chia. It tasted fine, but it was SUPER thick. I think I'll go back down to 1/2 Tbsp next time.
12:15pm – Meal #3: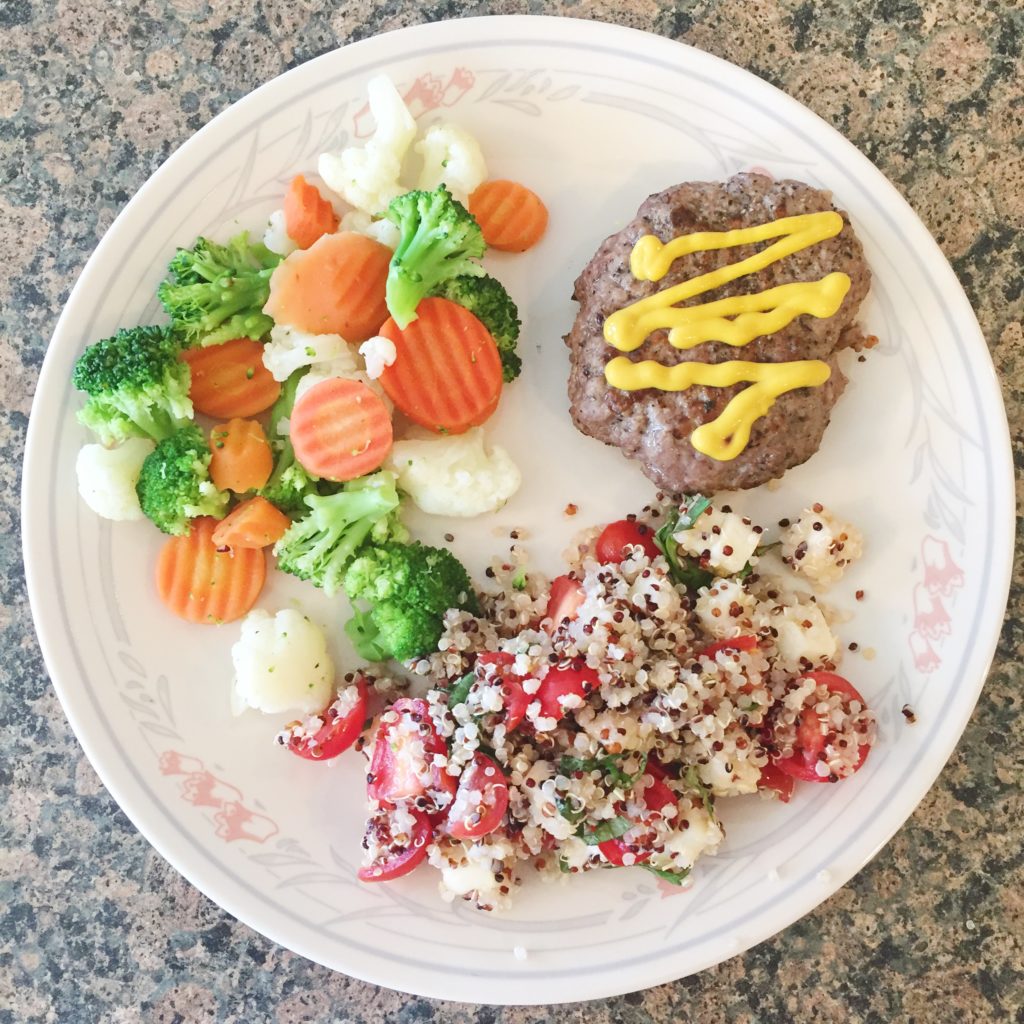 My lunch consisted of a lean hamburger (homemade with 93% lean beef), caprese quinoa salad that I made during meal prep and steamed broccoli, cauliflower and carrots.
2:00pm – Snack #2: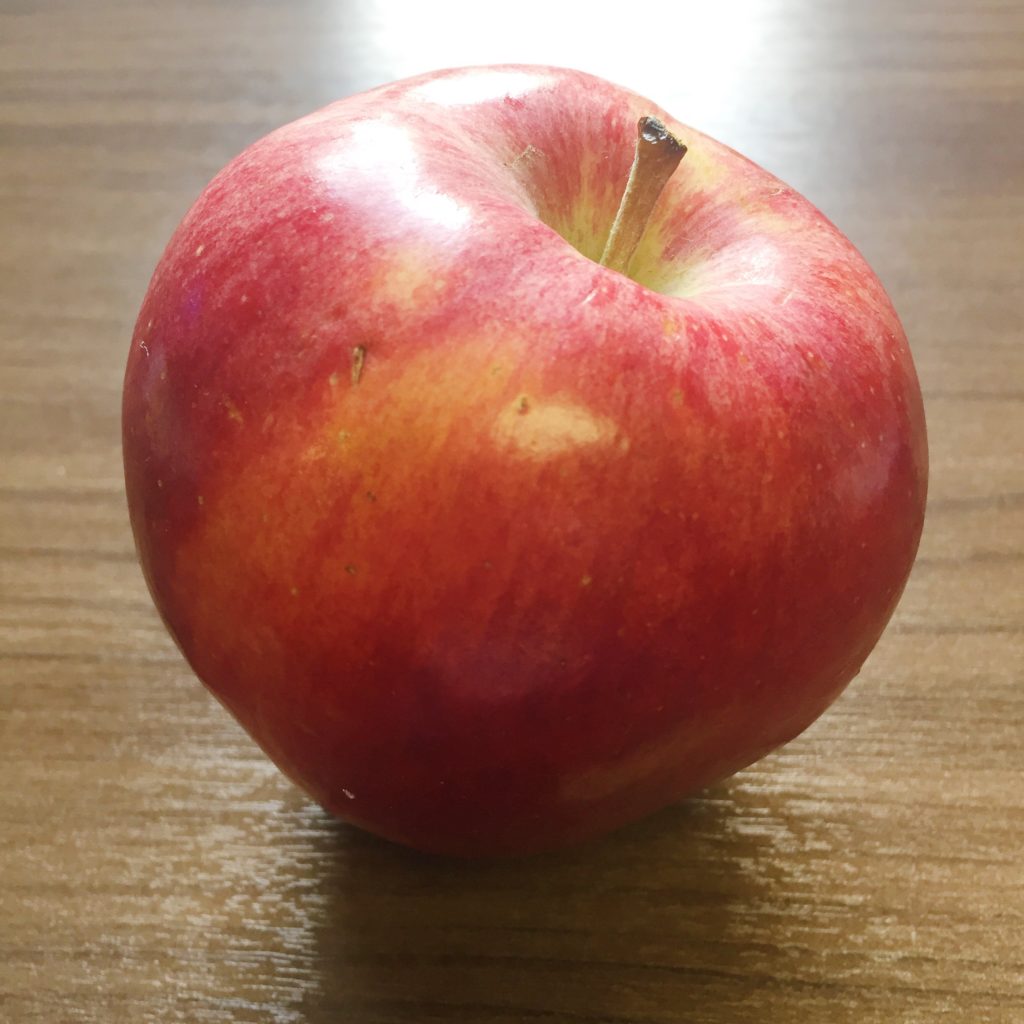 A little while after lunch I had an apple at my desk.
4:00pm – Meal #4:
Mid-afternoon I made a turkey-cheese wrap. I spread a white cheddar Laughing Cow cheese wedge on a Flat Out Wrap and layered some Cajun turkey on it. Along with the wrap I had some baby carrots and sugar snap peas.
6:30pm – Meal #5: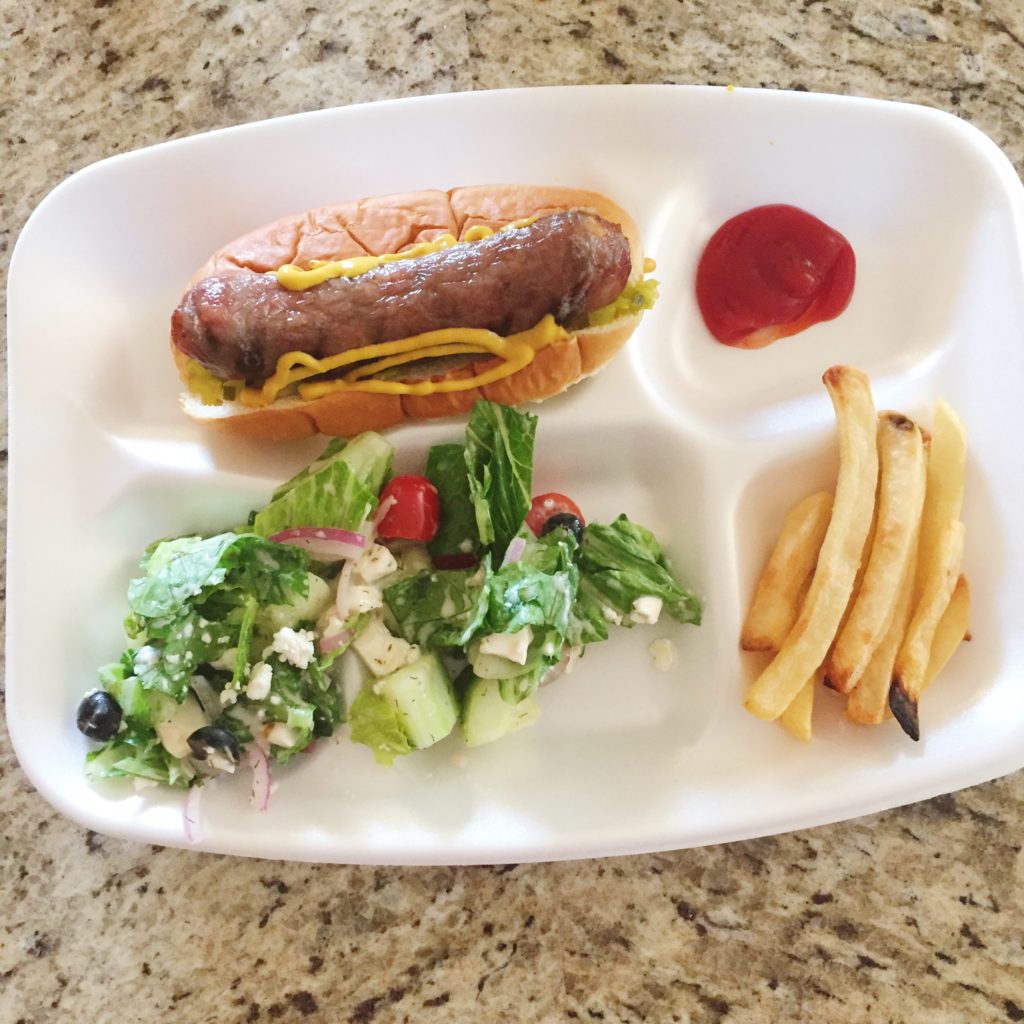 We had some friends over for dinner and it was quite "clean eating" friendly. I had a cheddar bratwurst on a Hawaiian hotdog bun topped with yellow mustard and dill relish. On the side I had a few French fries with ketchup, plus some Greek salad. Our friends had brought the salad and it had tomatoes, red onion, two different kids of olives, romaine, cucumber and feta in it. It was really good!
7:00pm – Dessert: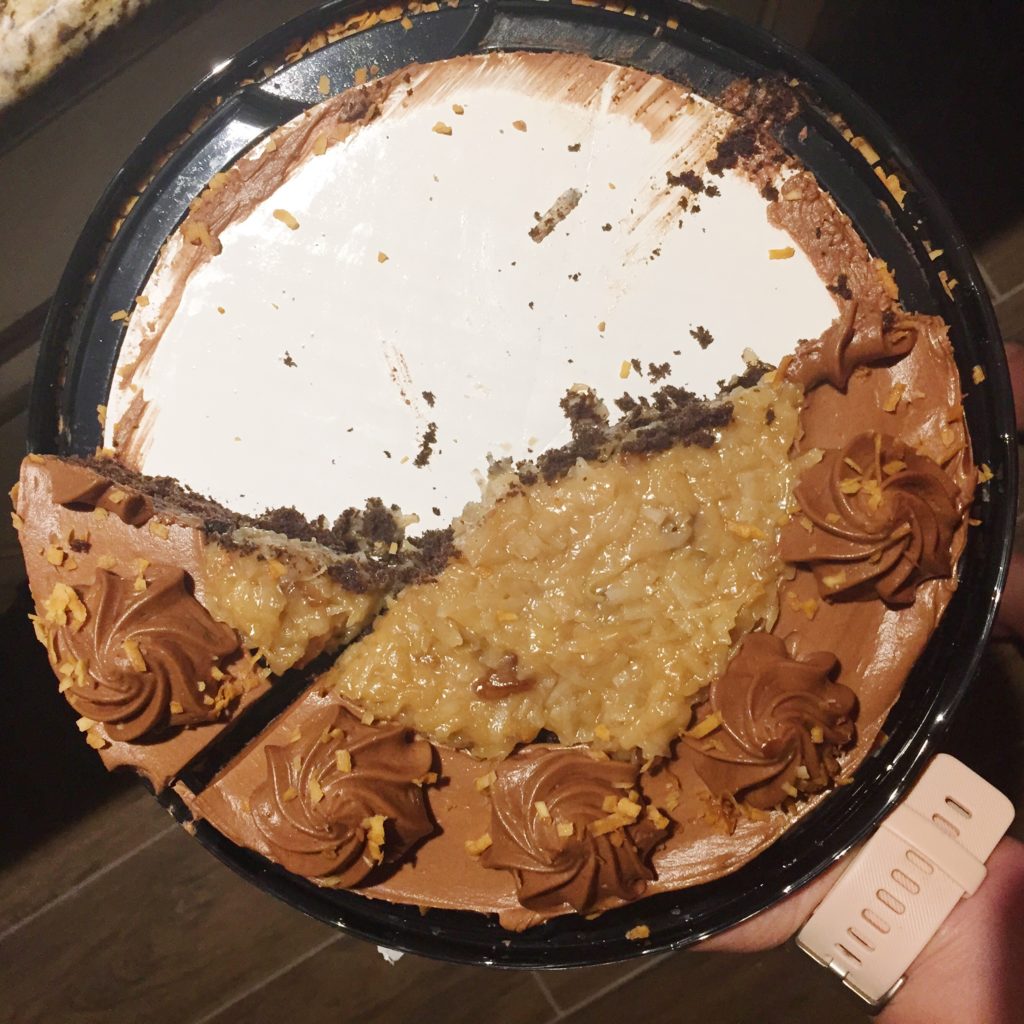 Donny's favorite type of cake is German Chocolate cake and he picked one up at the grocery store "for our friends". Hahaha I knew it was for him.
Late into this pregnancy I've been hungry, but I can't eat very much or else I get really sick. I had a couple bites of the cake, but didn't want to be miserable so I didn't even have a full piece. If only that type of will power continued after the pregnancy!
Well that was everything I ate in terms of Mel's Clean Eating Meals. If you have any questions then please email me at eatliftplayrepeat@gmail.com or comment below.
Don't forget to check out this week's Grocery Shopping & Meal Prep Ideas Week 64 post to see how I made these foods for my clean eating meals.