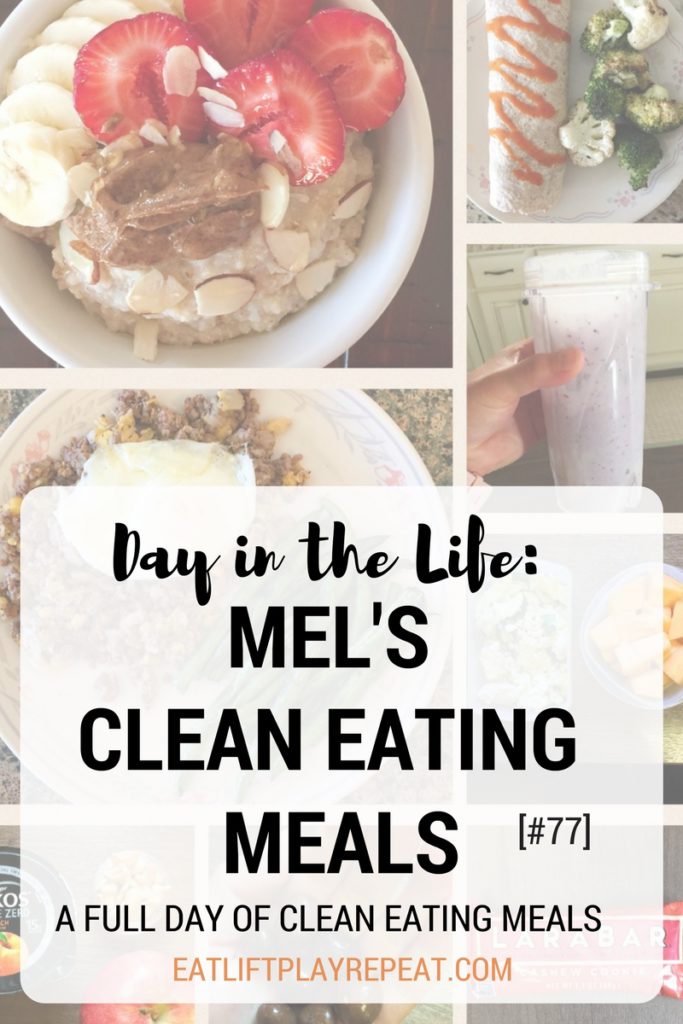 My clean eating meals lately have been more frequent and less "clean", if you will. I'm now 8 months pregnant (32 weeks officially) and definitely needing to eat often!
I've been trying to keep my meals clean eating friendly, but I indulge in sweets a little more often than before. The thing about sugar is that the more you eat it the more you want it! Its a rough cycle, but I feel like if I want to indulge right now I can!
If you have questions about these clean eating meals then please ask. Email me at eatliftplayrepeat@gmail.com. Don't forget to check out this week's Grocery Shopping & Meal Prep Ideas Week 63 post. I make most of my clean eating meals ahead of time during meal prep so find out how with that weekly post.
4:30am – Pre-Workout:
My morning started by drinking 1 liter of water (or pretty dang close to a full liter). I'm still trying to drink a ton of water, but this pregnancy has changed the timing of my water consumption a bit. I can't drink quite as much at one time, or else I get nauseous. Honestly this was not something I thought would effect me when it came to pregnancy. I'm getting along just fine now that I've figured out a new system.
Along with water, I also had one small banana before heading to my workout.
6:30am – Meal #1: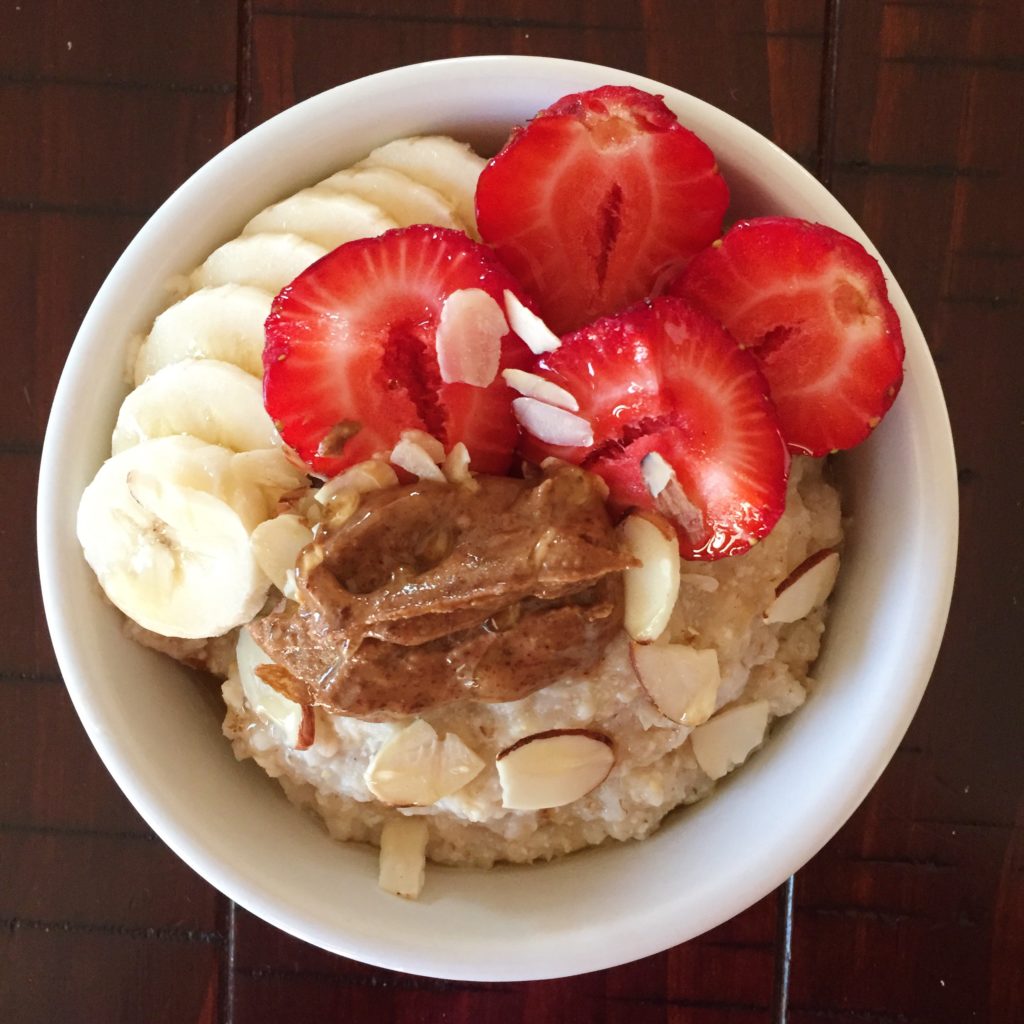 Breakfast was a bowl of hot oats. I don't usually eat hot oats in the summertime, but I was having eggs as my mid-morning snack so I didn't want eggs and then eggs again!
I had 1/2 cup quick oats cooked in water. Then I mixed in 1/2 scoop vanilla protein powder after the oats were fully cooked. I topped the oats with sliced banana, strawberries, sliced almonds and a little almond butter.
I know, I know – almonds AND almond butter… I'm crazy like that.
8:00am – Snack #1: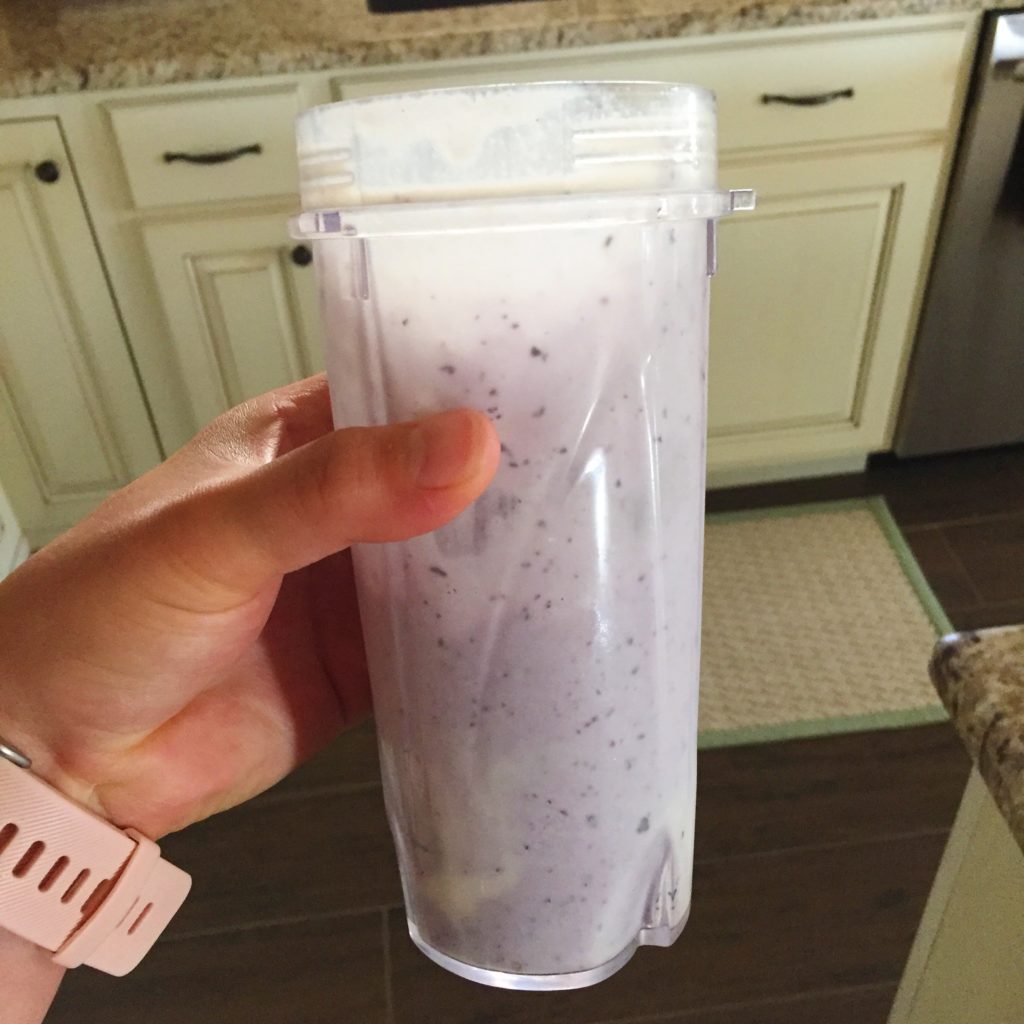 Before I left home I whipped up a blueberry-banana protein smoothie. It was made with 1% milk, vanilla protein, frozen banana and frozen blueberries. I like my smoothies super thick and frozen fruit helps gets that nice consistency for me.
I took this with me to the office at ate it at my desk first thing.
10:00am – Meal #2: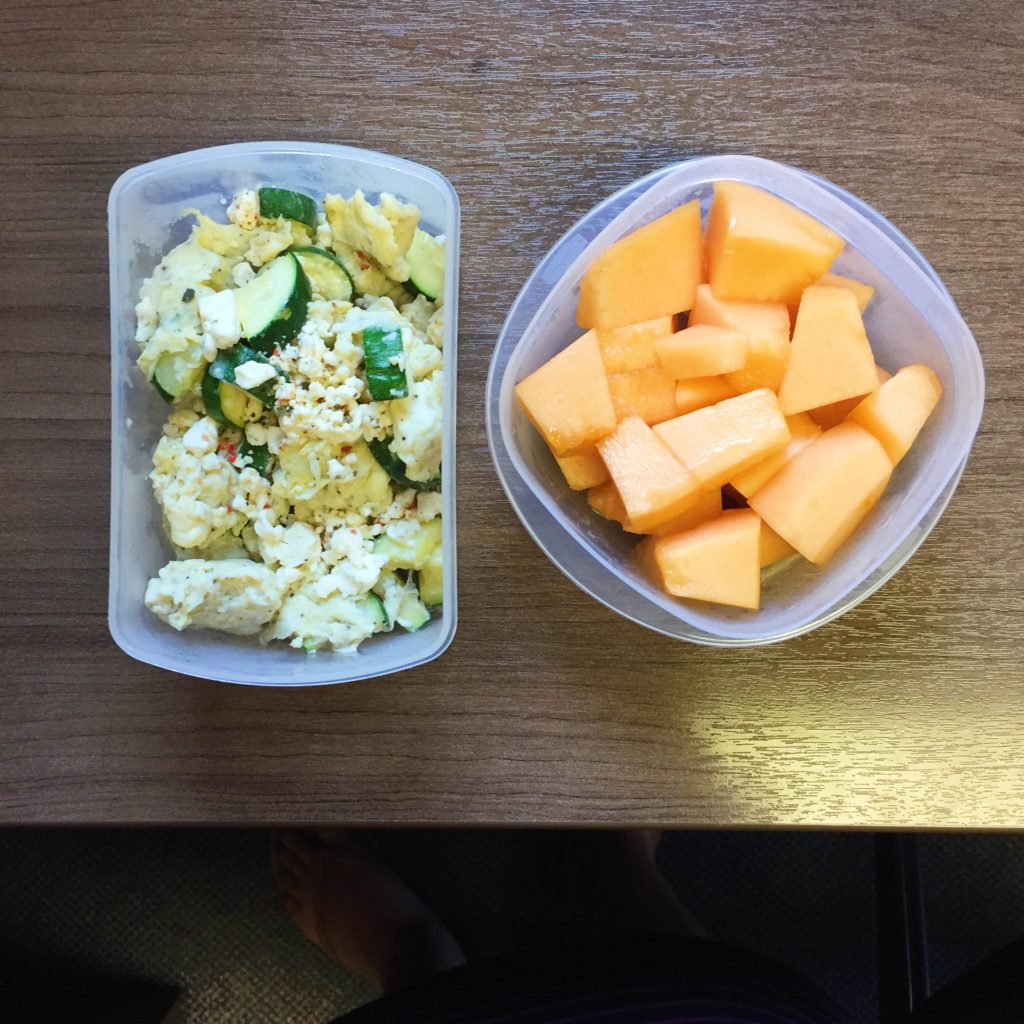 My mid-morning meal was the egg scramble that I made during meal prep. It had eggs, egg whites, zucchini and feta cheese in it. You might think I'm weird, but I don't mind eating eggs cold. I don't heat these in the microwave or anything… just eat them cold out of this container!
Along with the eggs, I had some fresh cantaloupe. Watermelon, cantaloupe and grapes have been a go-to for me while I've been pregnant. I've been eating them a lot….
11:00am – Snack #2: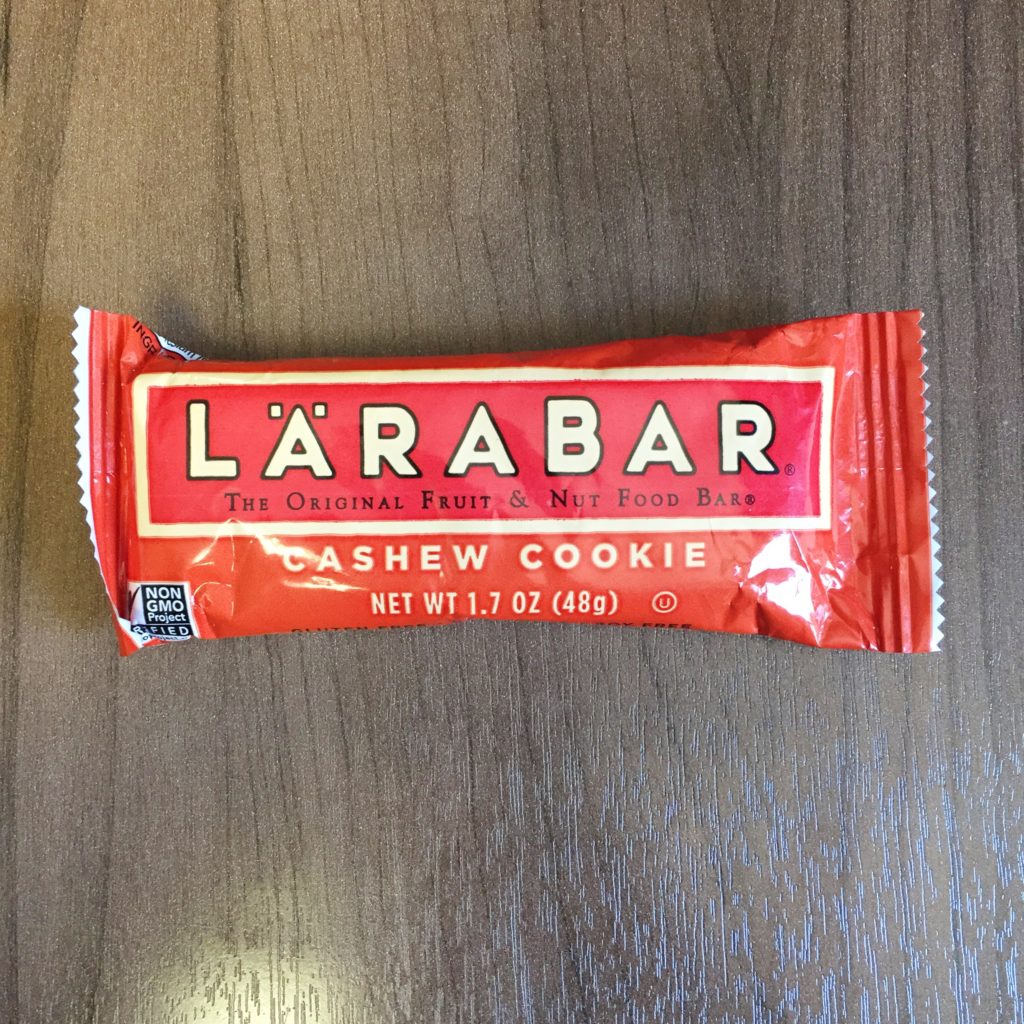 I've noticed that the egg scramble and fruit isn't holding me over as much as I'd like in the morning. I tend to eat a million times in the morning and don't need quite as much in the afternoon/evening. It's been quite the learning process with Baby E!
I tried to drink water and distract myself to make sure I was actually hungry and not bored. After a little while I realized I was really hungry. Luckily I had a Larabar in my purse for moments like this!
12:30pm – Meal #3: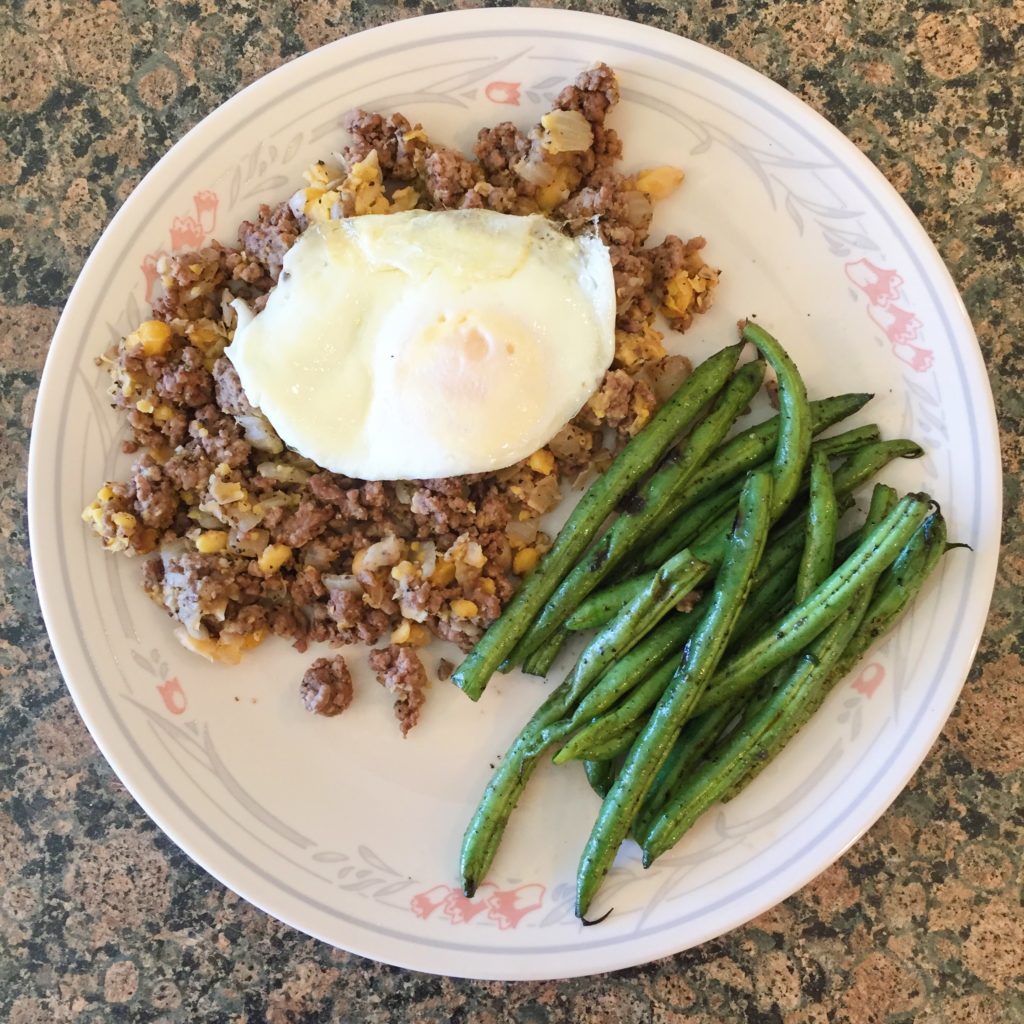 Lunch was the chickpea hash that I made during meal prep topped with an over-easy fried egg. The runny egg adds SO much to the dish! If you like over-easy eggs then definitely try it out.
Along with the chickpea hash I had some grilled green beans.
1:30pm – Chocolate Break: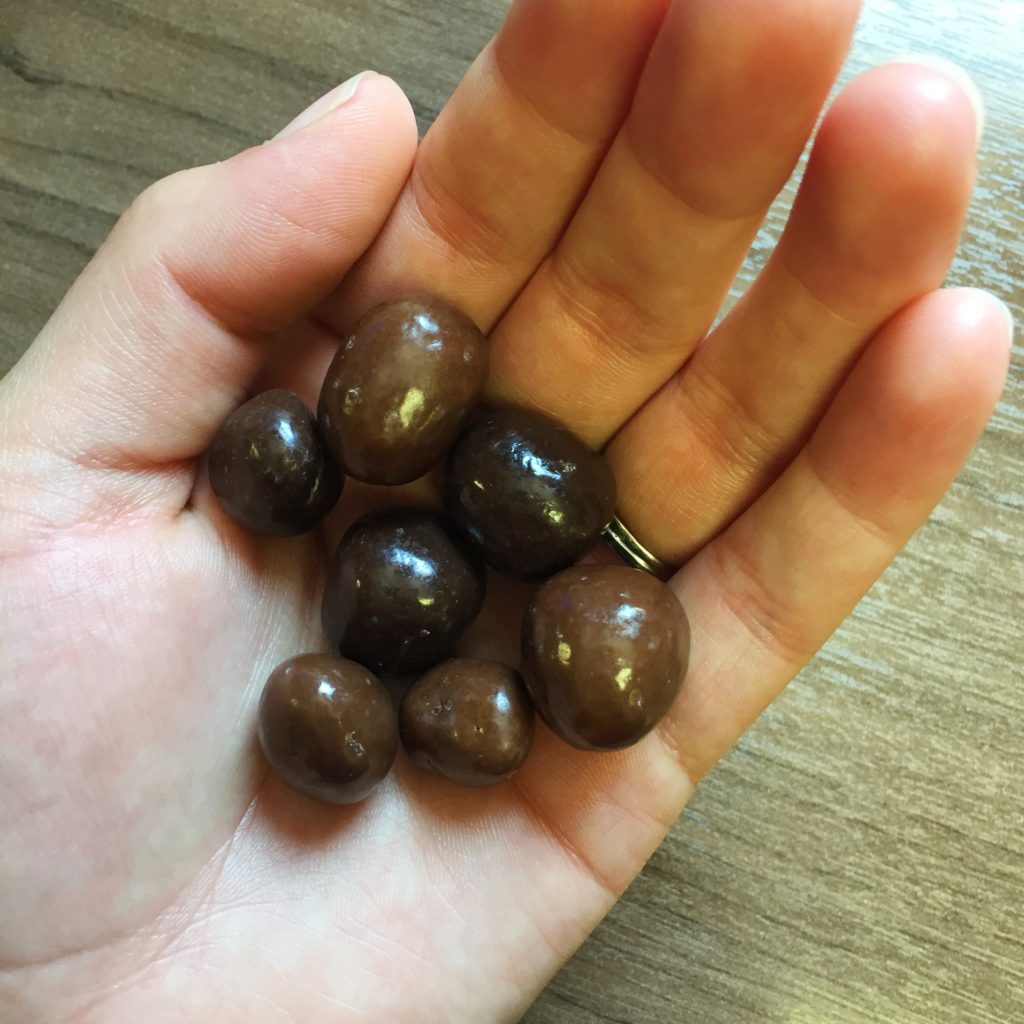 A little after getting back from lunch I had some Bridge Mix. It consists of several random things covered in either dark chocolate or milk chocolate. There are a variety of nuts, caramels, dried fruit and some other things mixed together. It is like a little surprise in each piece! Plus, it gives me my chocolate fix.
3:30pm – Meal #4:
My mid-afternoon meal was more snack-like. I had a peach Oikos Triple Zero Greek yogurt cup, a mixture of cashews & peanuts and a large gala apple.
My stomach gets upset a little more often in the afternoon when I eat. Snacks like this are great because I can eat them in stages. I started with the yogurt and a few nuts, then waited a little while. Then I ate some of the apple and waited… then the rest of the apple and the rest of the nuts. It worked great and didn't give me an upset stomach or indigestion at all!
6:30pm – Meal #5:
I prepared dinner in roughly 4 minutes, no joke. First, I opened a can of black beans and drained it. I took a Xtreme Wellness High Fiber Low Carb tortilla and added 3oz chicken, some shredded cheddar cheese (1-2 tsp or so) and some black beans.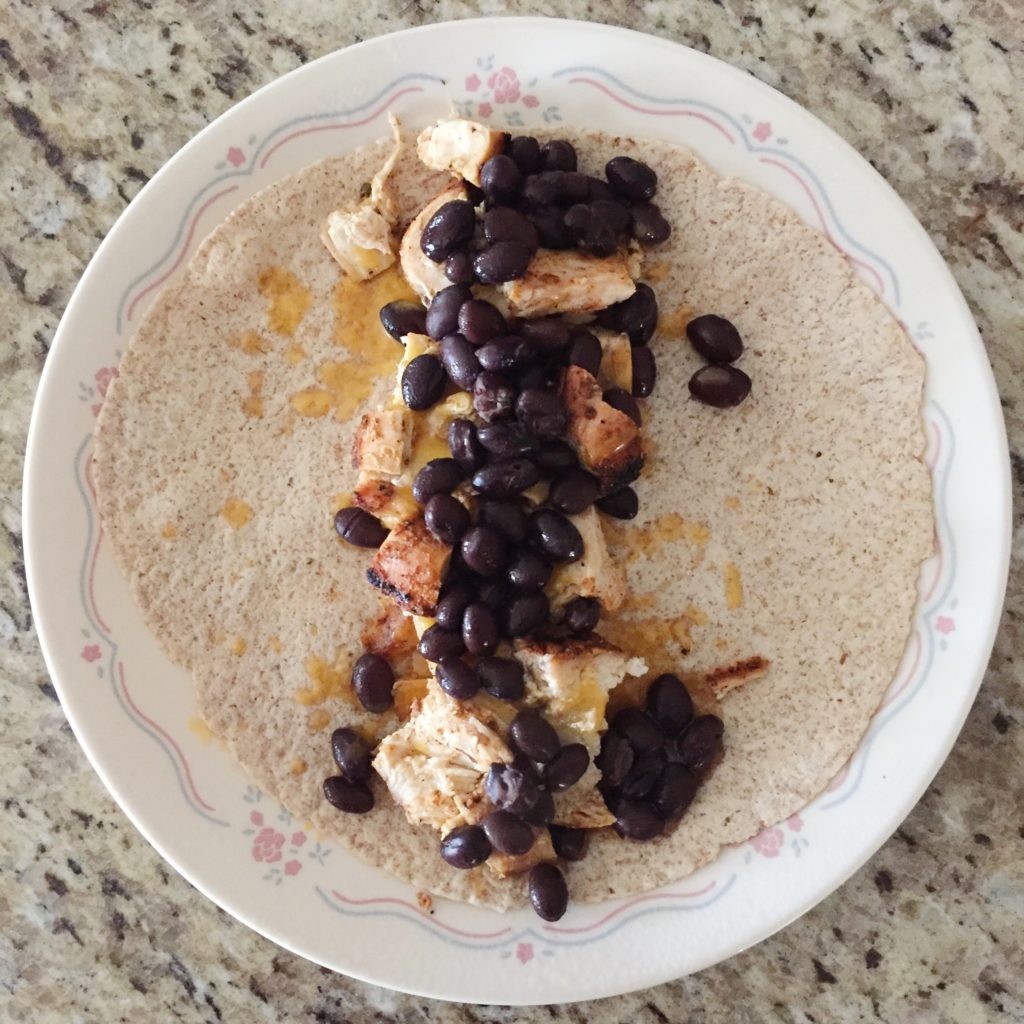 I microwaved that for a minute or so, rolled it up and topped it with Cholula. On the side I had some grilled broccoli.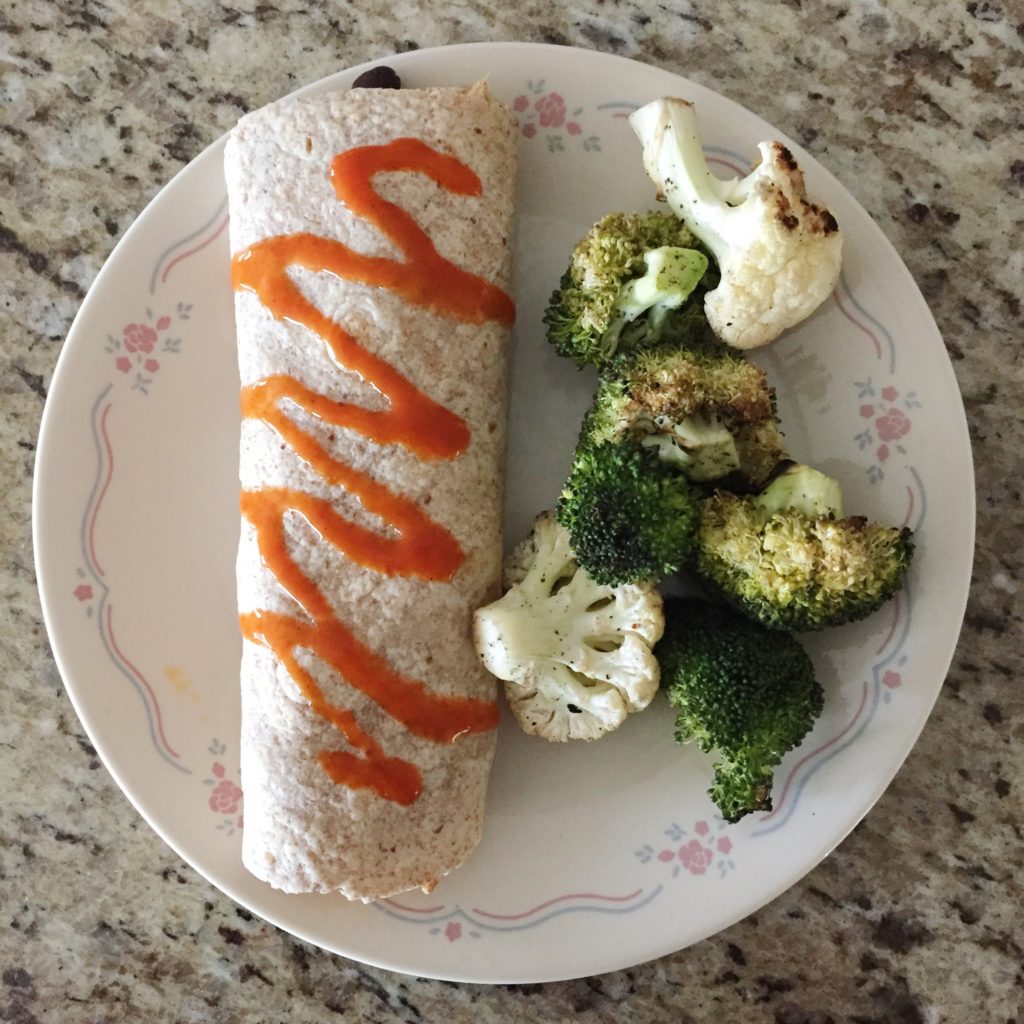 8:00pm – Snack #3: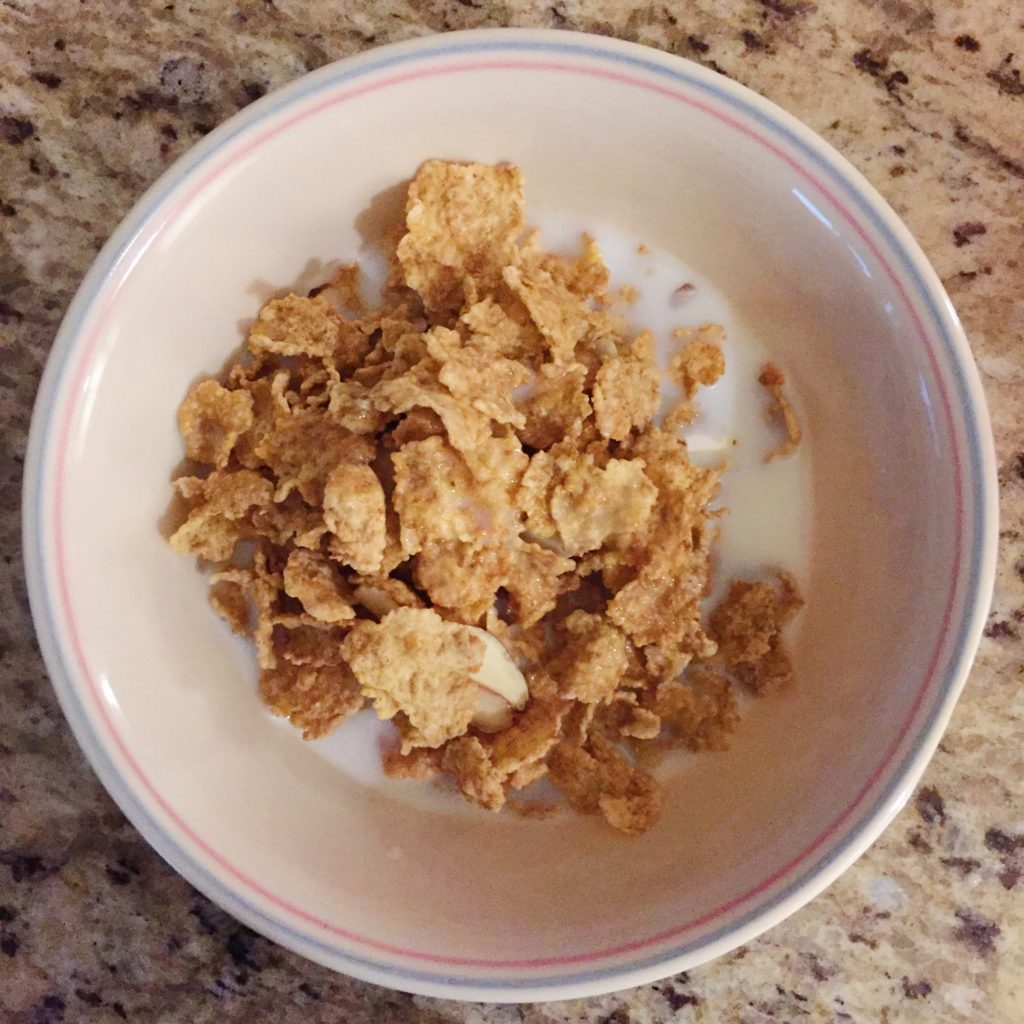 My evening routine lately has included dinner followed by a bowl of cereal a few hours later. No change on this particular evening! I had a bowl of Great Grains Blueberry Almond cereal. I'd never bought this particular flavor before and it is pretty dang good!
Well that was everything in terms of my clean eating meals. If you have any questions then please ask. Email me at eatliftplayrepeat@gmail.com or comment below.
Don't forget to check out this week's Grocery Shopping & Meal Prep Ideas Week 63 post to see how I made some of these meals during meal prep.