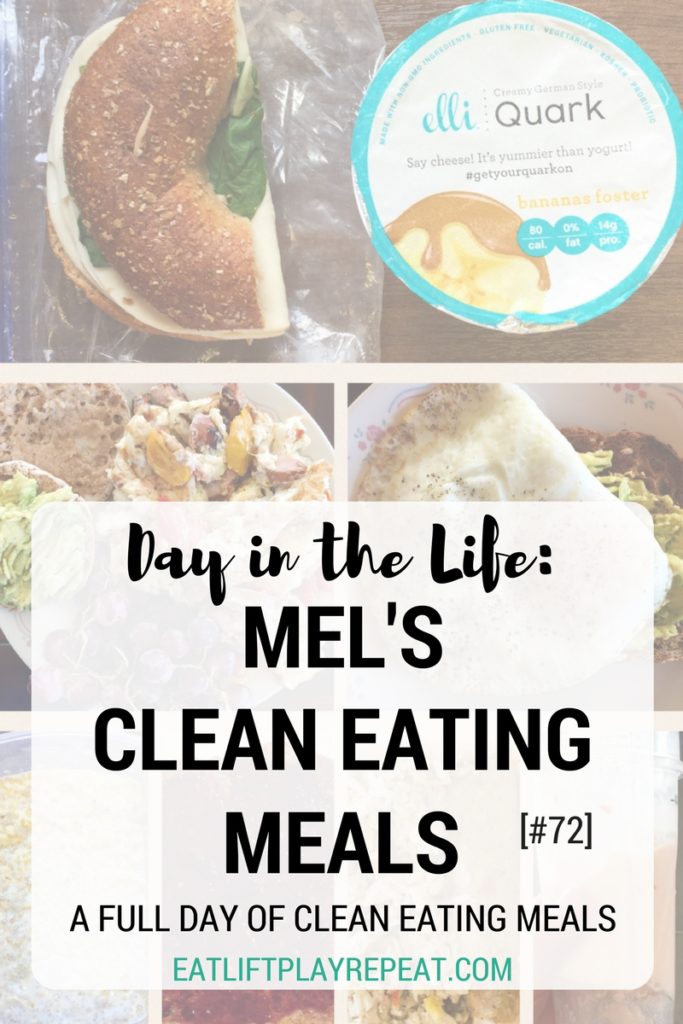 Donny & I were on a quick vacation to see family most of the week. I needed food for two days of work before the weekend, so we did a very tiny shopping trip so that I could create Mel's Clean Eating Meals.
I knew I would go on a normal shopping trip over the weekend, so I didn't want to go too crazy. I am definitely lacking in the fresh fruit and veggies department! Plus, I'm pretty sure I ate 14 breakfasts… well breakfast-like foods 14 times throughout the day.
Even though I did go grocery shopping, I didn't want to get too crazy with meal prep. However, I knew I'd feel better if I packed my meals for the day rather than eating out or grabbing convenient food later. I ended up with some pretty tasty meals for Mel's Clean Eating Meals!
Don't forget to check out this week's Grocery Shopping & Meal Prep Ideas Week 57 post to see what I bought at the grocery store and how I made these easy snacks. If you have questions then please email me at eatliftplayrepeat@gmail.com or comment below.
4:30am – Pre-workout:
I started the day by drinking a liter of water. Technically, I drank about 1/5 of it during the night then the remaining once I woke up for the day. Drinking water has been more difficult for me now that I'm pregnant than it ever was before. I honestly wasn't expecting that side effect, but I am working on it!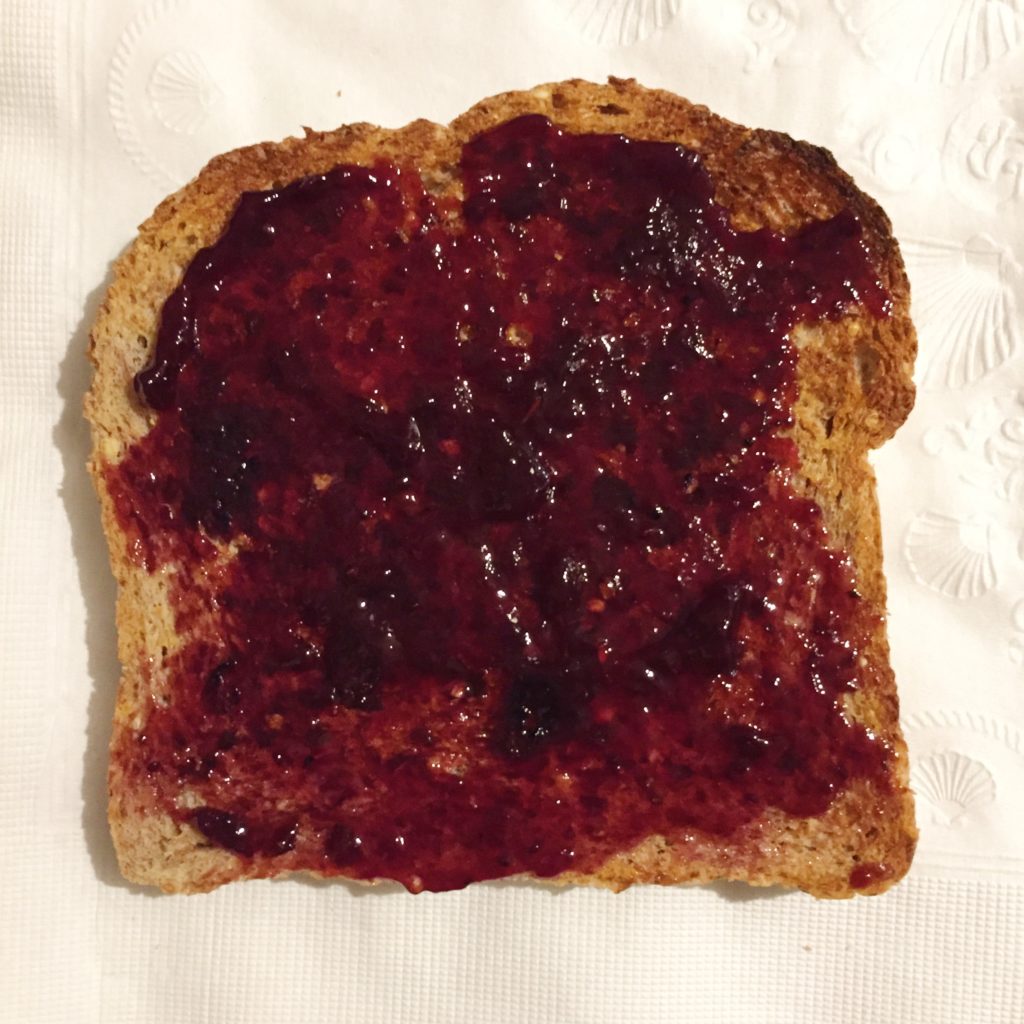 All the bananas were super green when I went grocery shopping so I didn't have any on hand to eat before my workout. Instead I had a slice of Ezekiel toast topped with berry jam. This snack worked great as some quick carbs before lifting.
6:30am – Meal #1: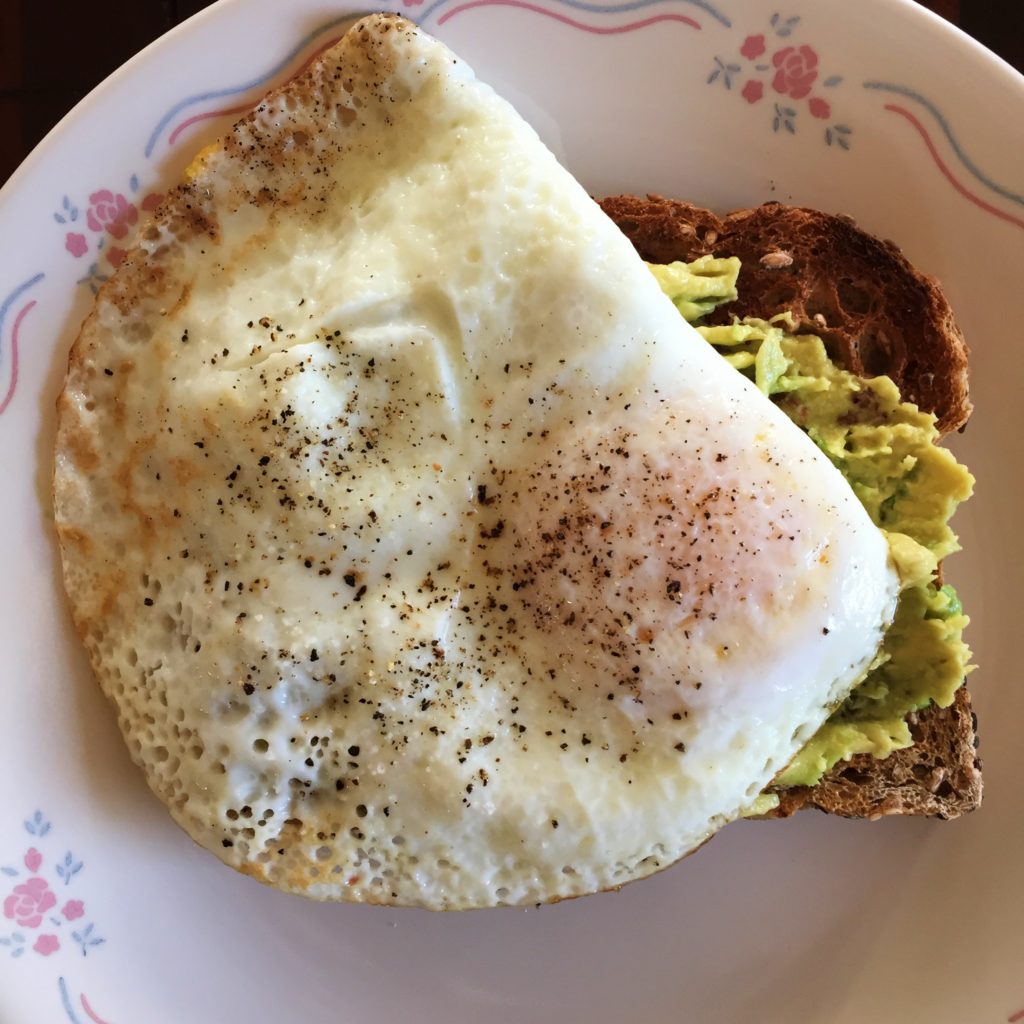 Breakfast was one egg + one egg white cooked over-easy and eaten on top of 1 slice Dave's Killer Bread (Powerseed) and 1/4 mashed avocado. Such a simple, yet delicious breakfast.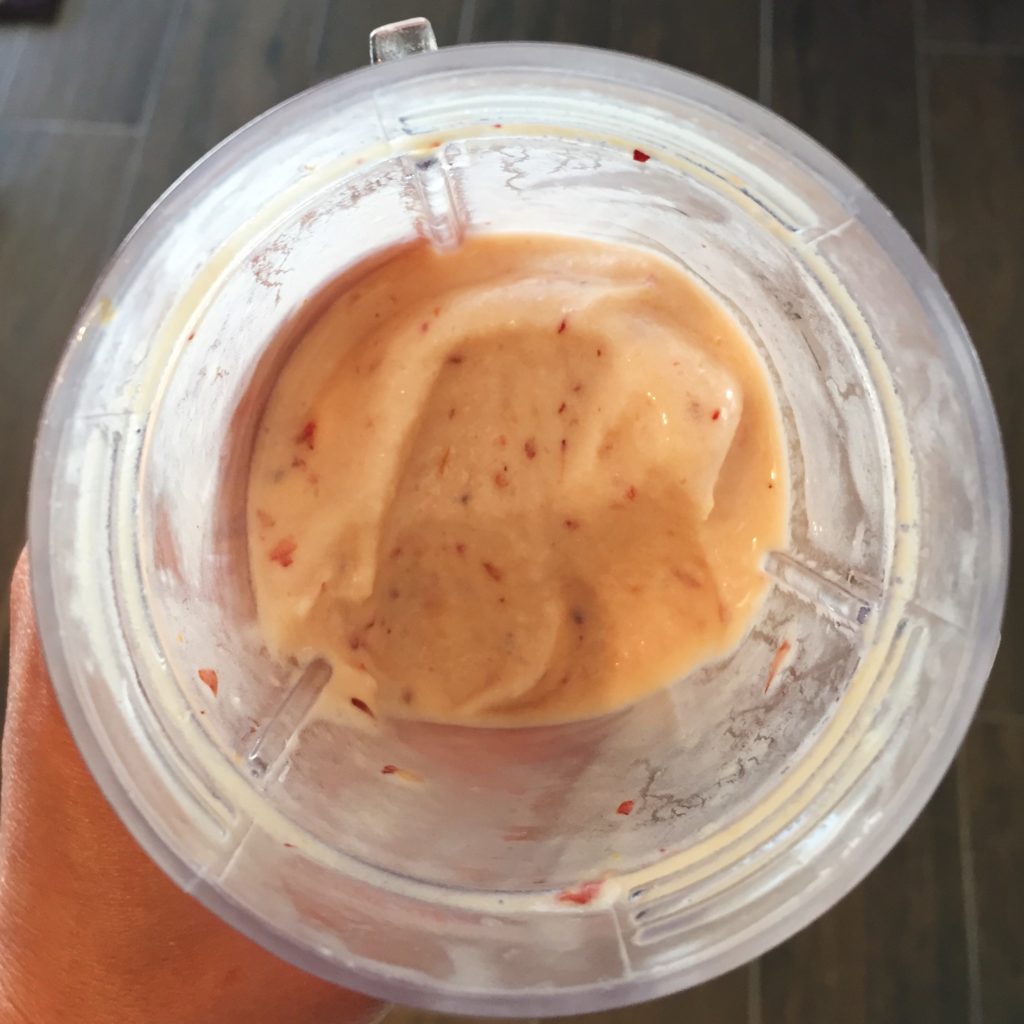 For a little extra protein I had 3/4 scoop vanilla protein powder mixed with unsweetened almond milk. I blended that together with some frozen peaches. I prefer my smoothies to be SUPER thick, so the frozen fruit helps me get the consistency I'm looking for. Check out the first photo… the smoothie didn't even sink down to the bottom. It was so thick it stayed in the middle for quite some time.
9:15am – Meal #2: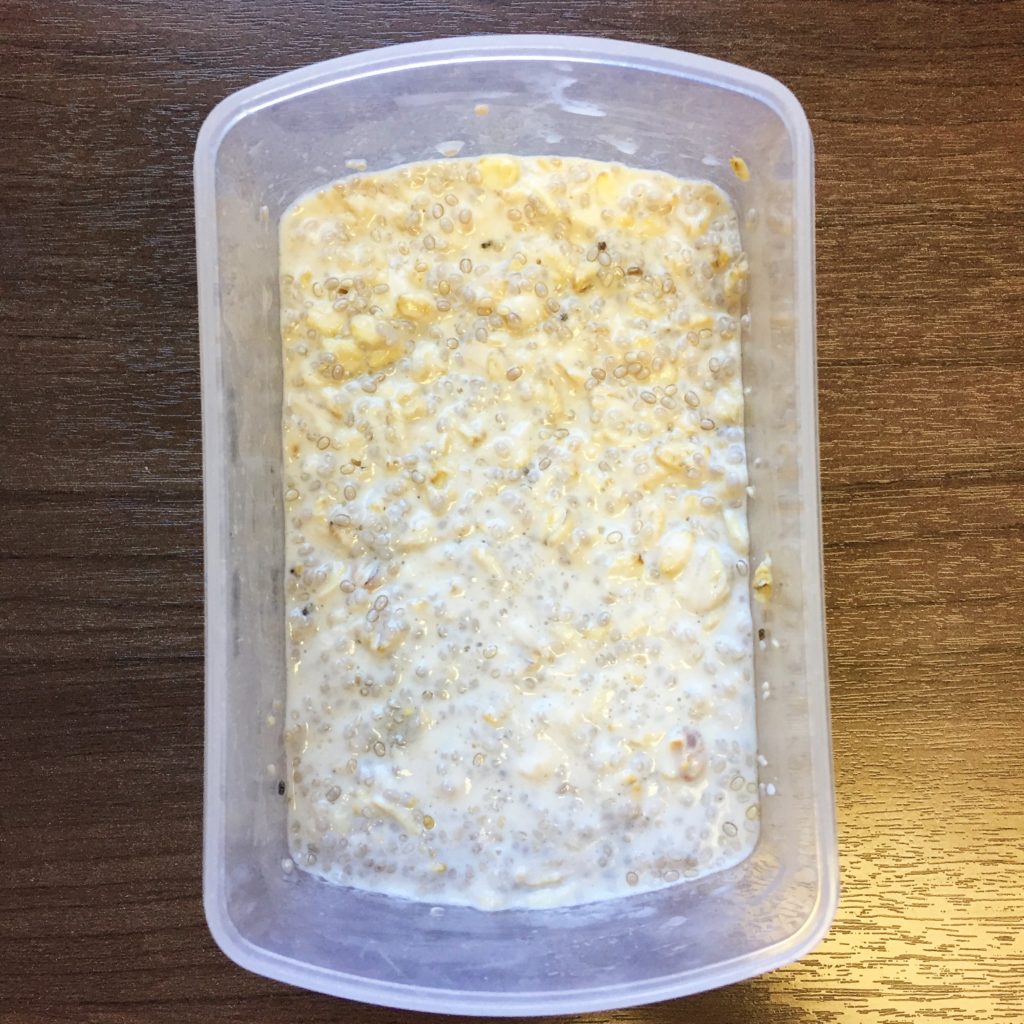 My mid-morning meals was overnight oats. I didn't have any fruit to throw on top (my grocery shopping trip was super small) and I forgot to add any nut butter before packing! It still tasted good, but not a lot going on. Check out how I made the overnight oats in this week's Grocery Shopping & Meal Prep Ideas Week 57 post.
10:30am – Snack #1: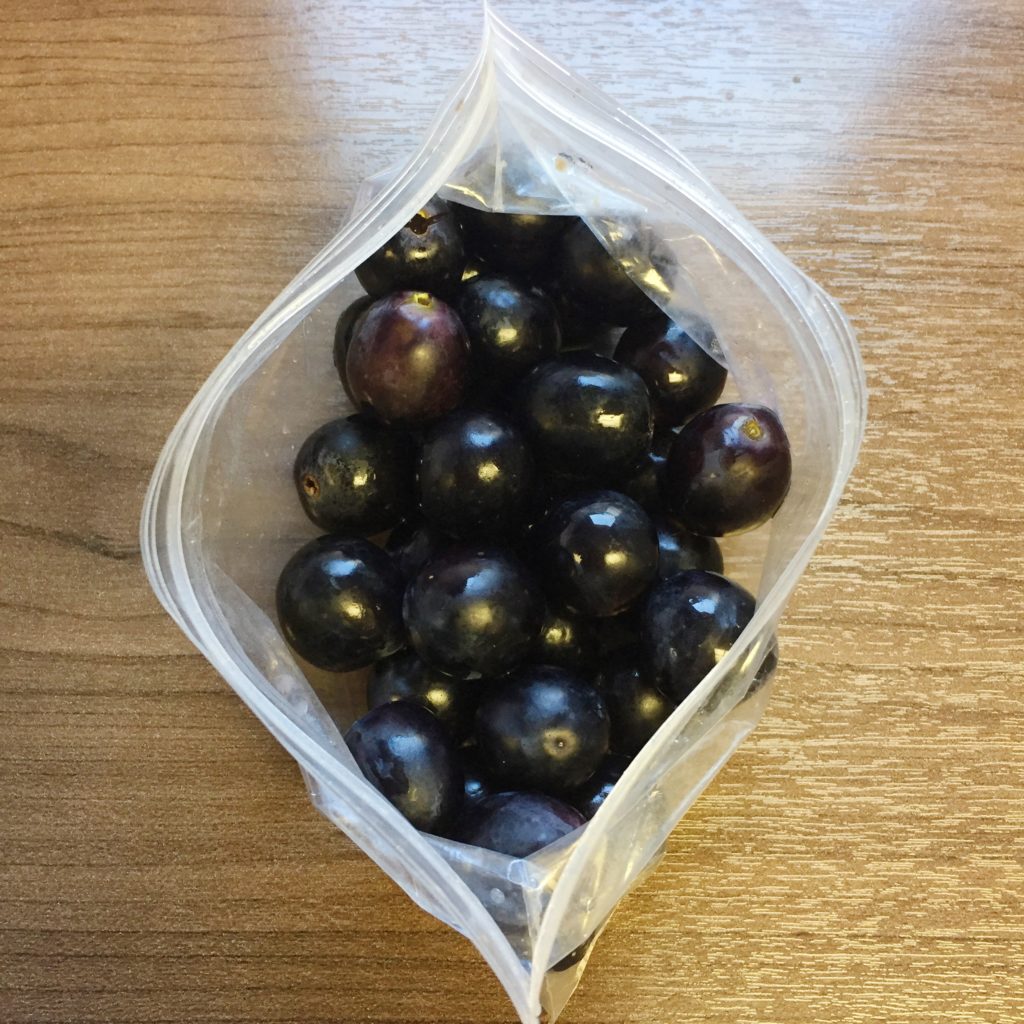 I was really hungry about an hour later so I had some red grapes. I am getting really close to the 3rd trimester of this pregnancy and our baby is HUNGRY!
12:15pm – Meal #3: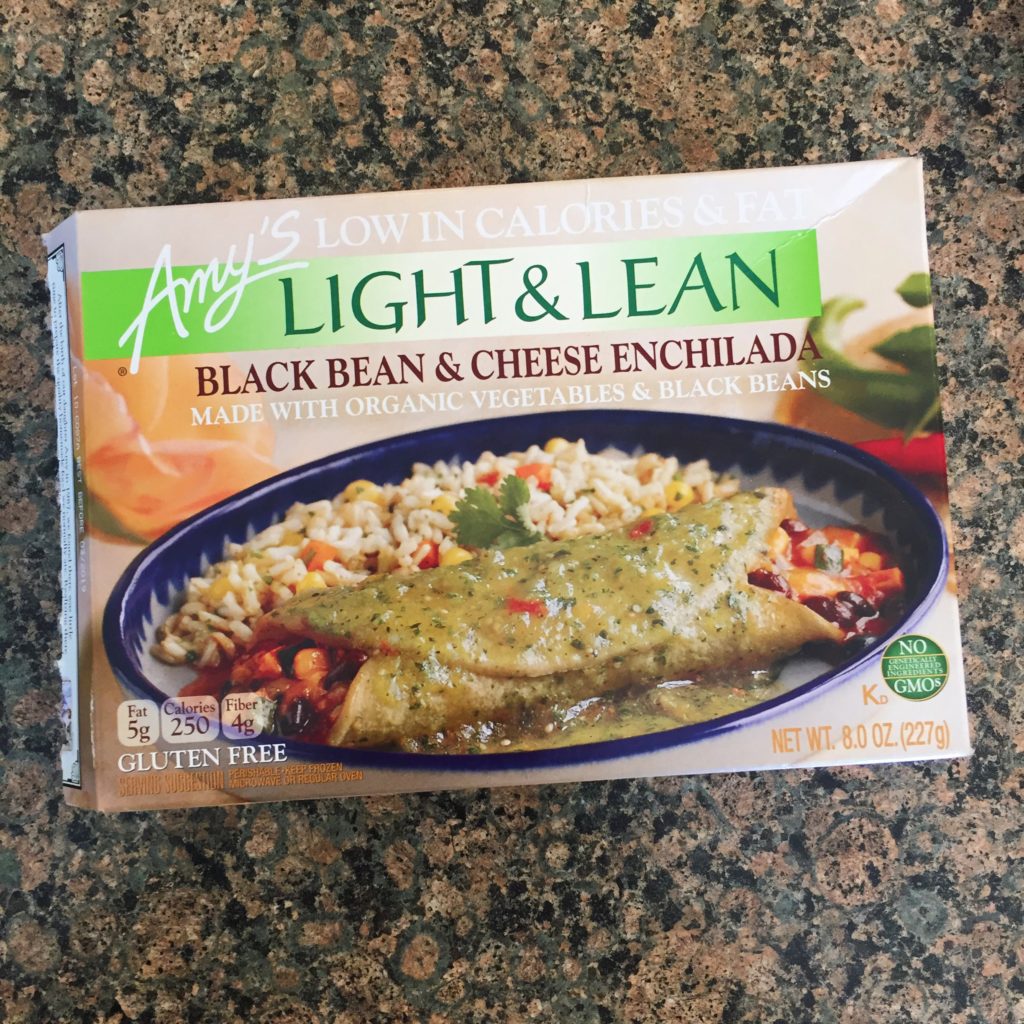 Lunch was a Amy's Light & Lean frozen meal. I chose the black beans & cheese enchilada meal with a rice-veggie blend on the side. Amy's meals are vegetarian, but since I'm not vegetarian I mixed some shredded chicken into the rice.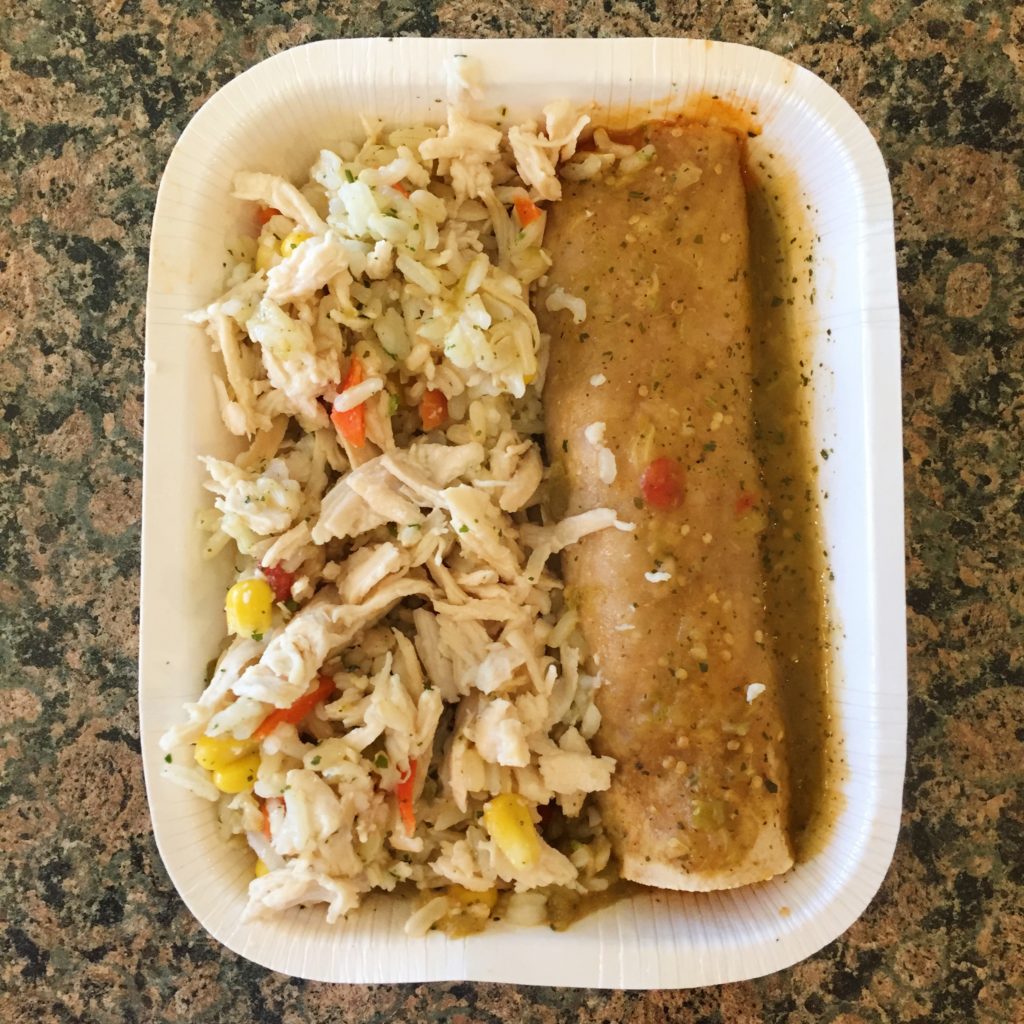 I packed some frozen shredded chicken into a container and let that thaw in the refrigerator before heating in the microwave.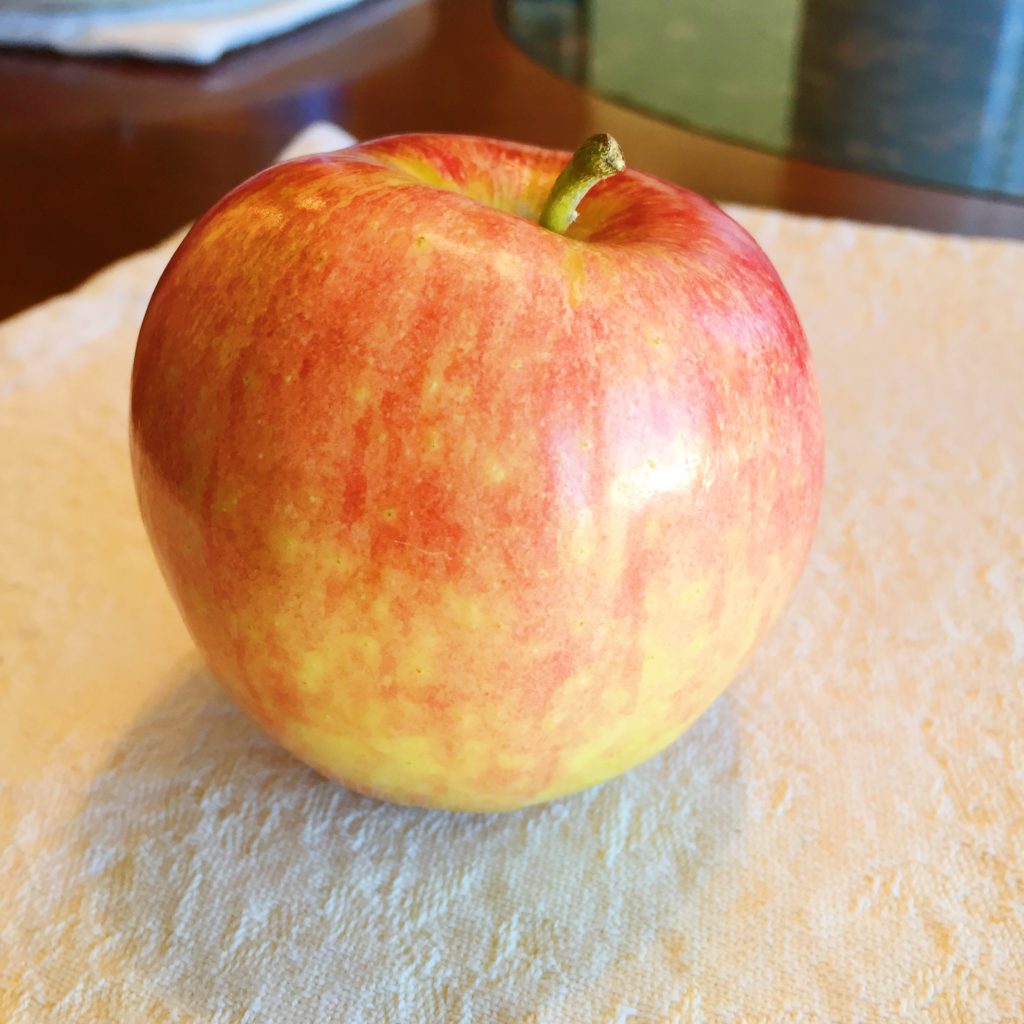 Along with the frozen meal and chicken I also had a small gala apple.
1:30pm: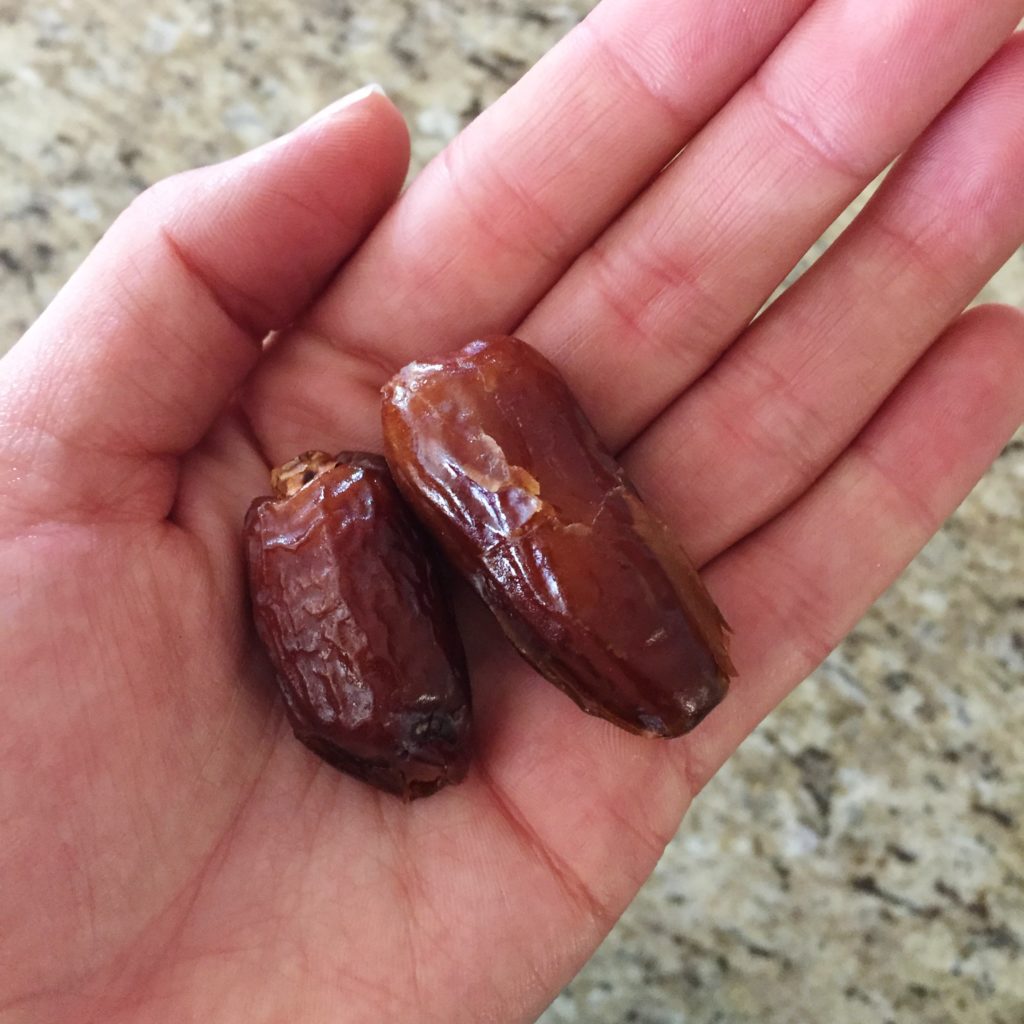 My dogs got haircuts so as I was dropping them off at home I grabbed two small dates as a "dessert".
3:45pm – Meal #4: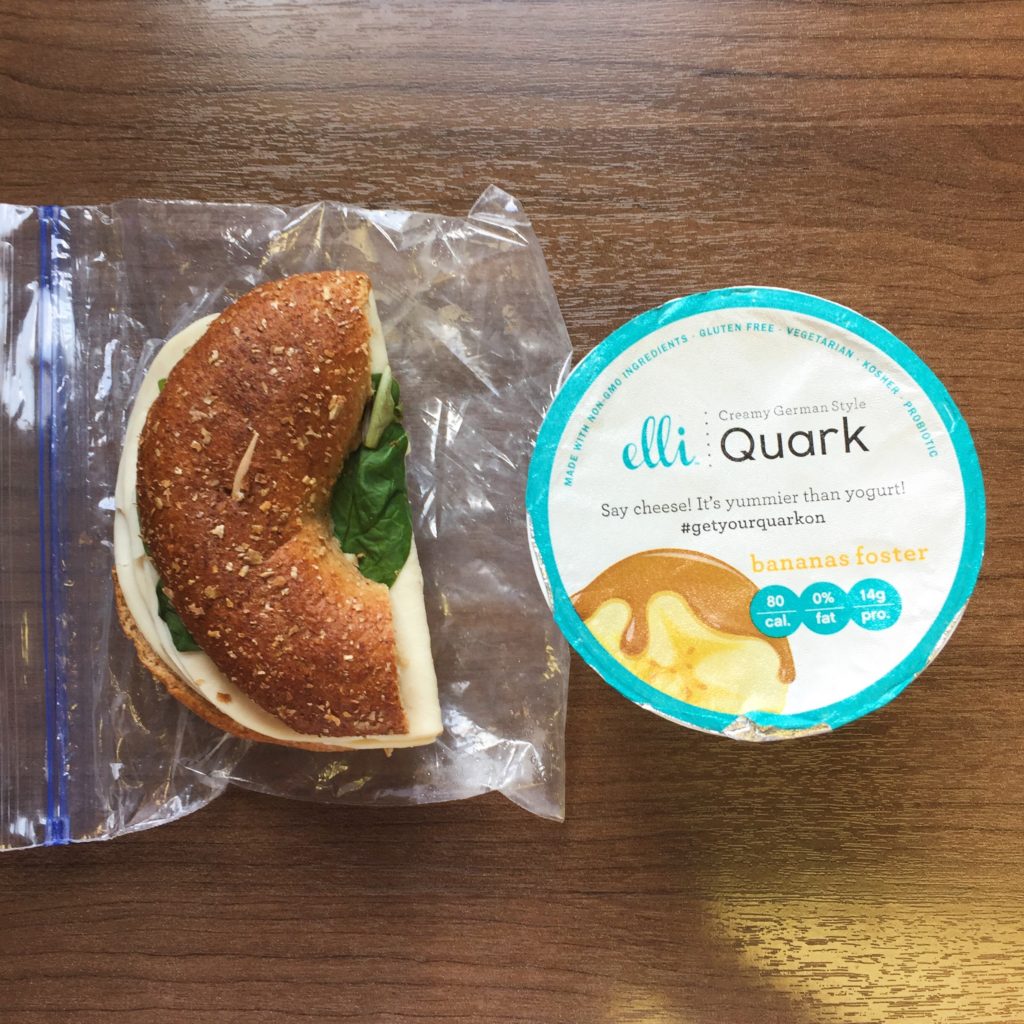 My mid-afternoon meal was half a bagel sandwich with turkey, mixed greens and 1/2 whole wheat bagel. I did add a little yellow mustard to the bagel before eating.
Along with the sandwich I had 1 container of Banana Foster Elli Quark. Quark is similar to yogurt, but it is German and technically a cheese. It is becoming more and more popular here in the United States and I love it. There are several different flavors of Elli Quark to choose from if you come across it.
6:00pm – Meal #5: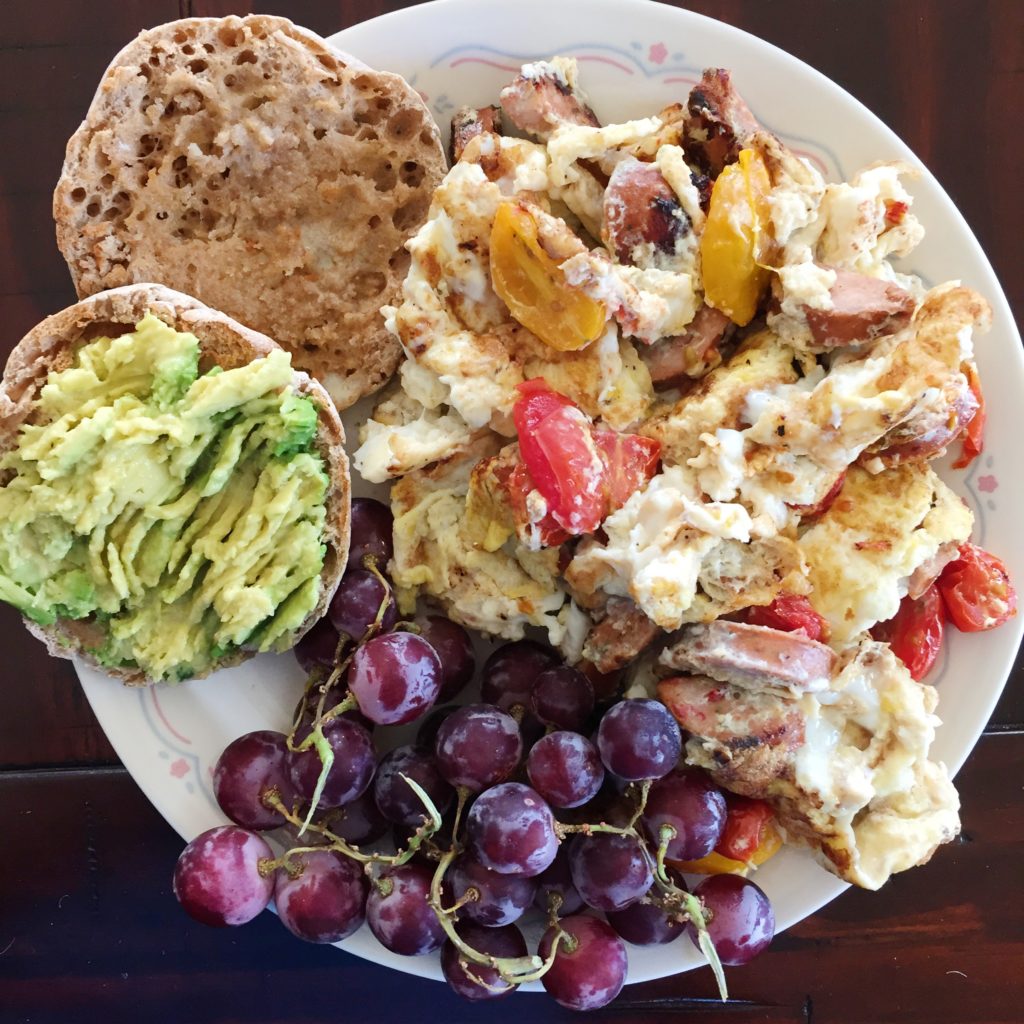 Dinner looks gigantic, but it is a fairly small plate. Plate size can trick your mind into thinking you're eating more than you are!
I scrambled 4 egg whites + 2 whole eggs with 1 link of chicken sausage and a handful of tomatoes. I had one whole wheat English muffin, half topped with 1/4 avocado and 1/2 topped with butter. For a little fruit action I had some more red grapes.
8:00pm – Meal #6: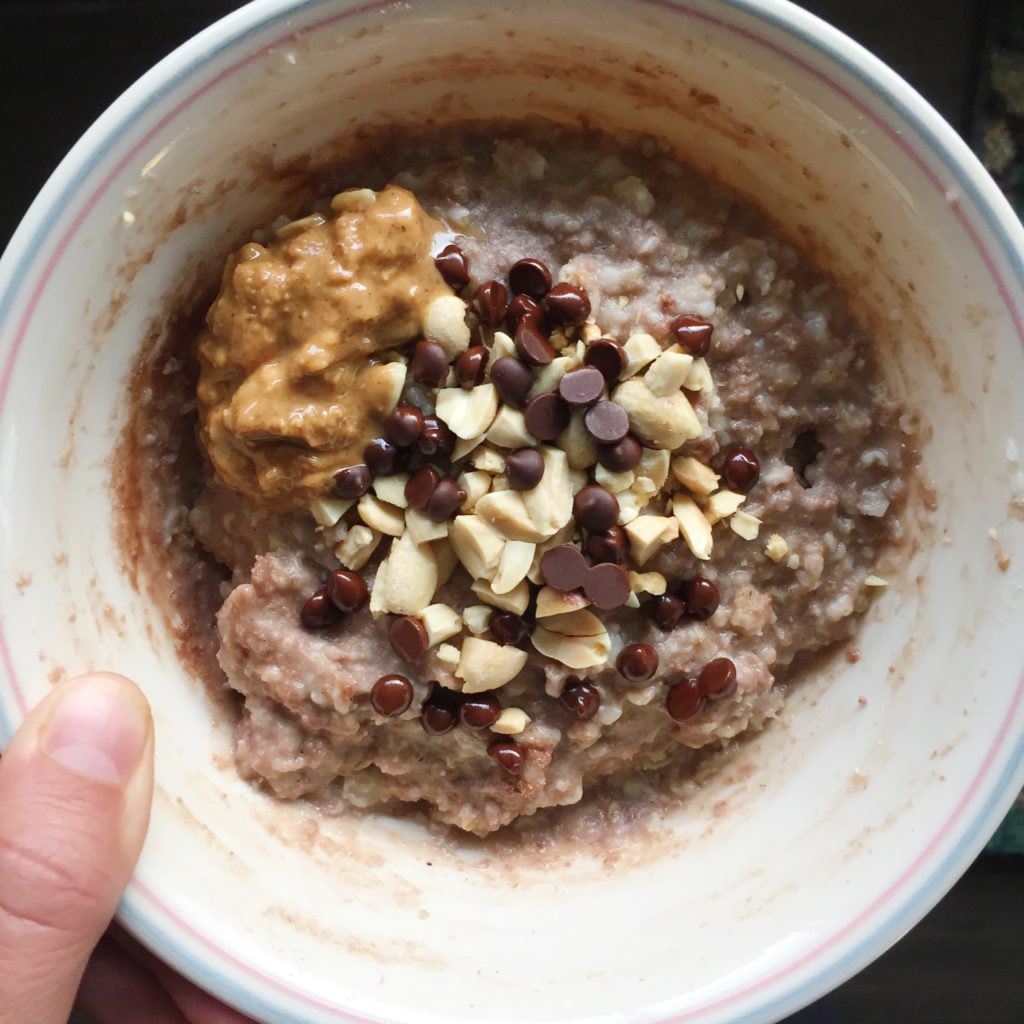 I can definitely tell I am getting close to that third trimester because I am SUPER hungry! Before I went to bed I could feel my tummy growling so I had another meal. To combine dessert with a little more substance I had 1/3c quick oats mixed with 1/2 scoop chocolate peanut butter protein powder. Then I topped the oats with peanut butter, chopped dry roasted peanuts and some Enjoy Life chocolate chips. A little chocolate fix, yet healthy.
Well that was everything for Mel's Clean Eating Meals. I am glad I took the time to do a tiny bit of meal planning and meal prep this week, even thought I only needed two days of food.
I could have easily eaten out for lunch, but I am glad I saved the time and calories by packing my own meals!
Please email me with any questions you have any Mel's Clean Eating Meals. Don't forget to check out this week's Grocery Shopping & Meal Prep Ideas Week 57 post to see how I made these snacks.