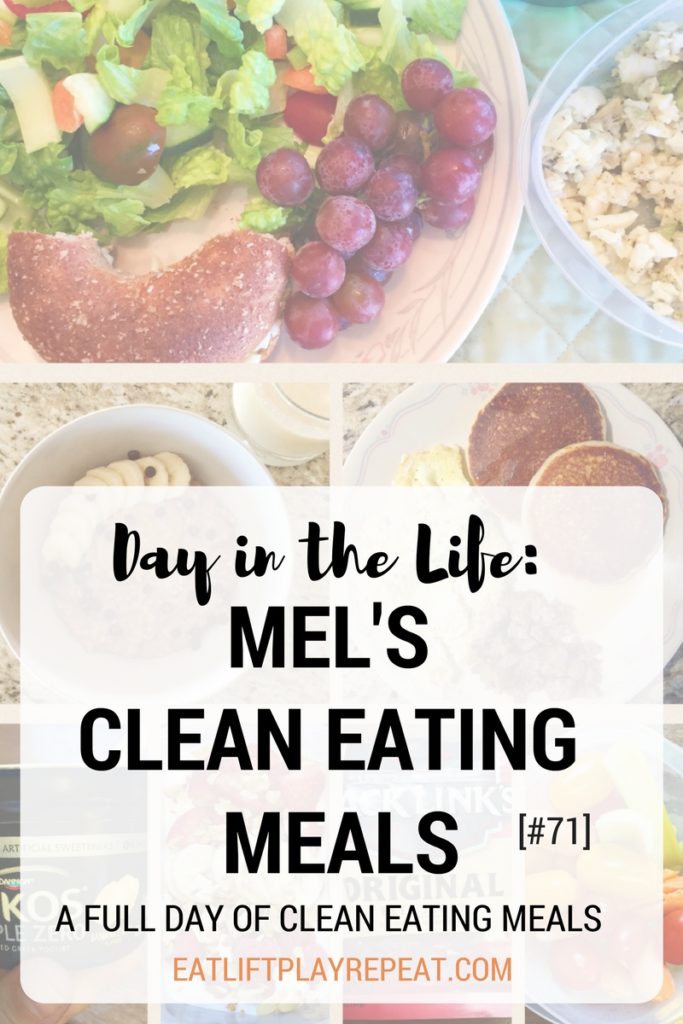 Mel's Clean Eating Meals this week is full of lots of healthy foods! I'm pregnant, but still trying to get as many fruits and vegetables in my diet as possible. Fruits are definitely easier to incorporate than vegetables, but I am working on both.
I'm still trying to get quite a bit of protein daily as well. My workouts still involve lifting weights and that protein helps me maintain my muscle! I made egg salad using whole eggs and egg whites, plus I am snacking on Greek yogurt and beef jerky between meals!
If you have any questions about Mel's Clean Eating Meals then please ask! Feel free to email me at eatliftplayrepeat@gmail.com or comment below. Don't forget to check out this week's Grocery Shopping & Meal Prep Ideas Week 56 post as well. You'll see what groceries I purchased and how I made the meals I'm eating this week!
4:30am – Pre-workout:
My morning started with (attempting to) drink a liter of water. I've been waking up in the middle of the night thirsty so I keep a liter by my bed. Once I wake up for the day I try to finish whatever is left, but I don't always make it.
Before I was pregnant I found it easy to chug a liter of water in the morning, but not so much anymore!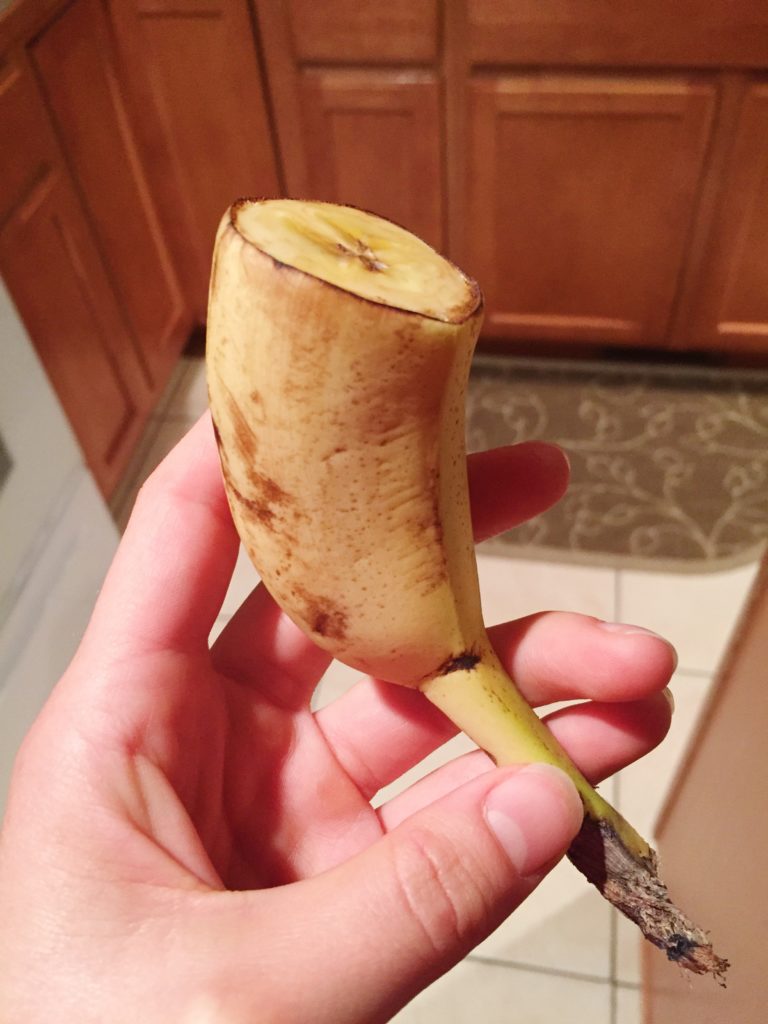 I also had 1/2 banana before my workout.
6:30am – Meal #1: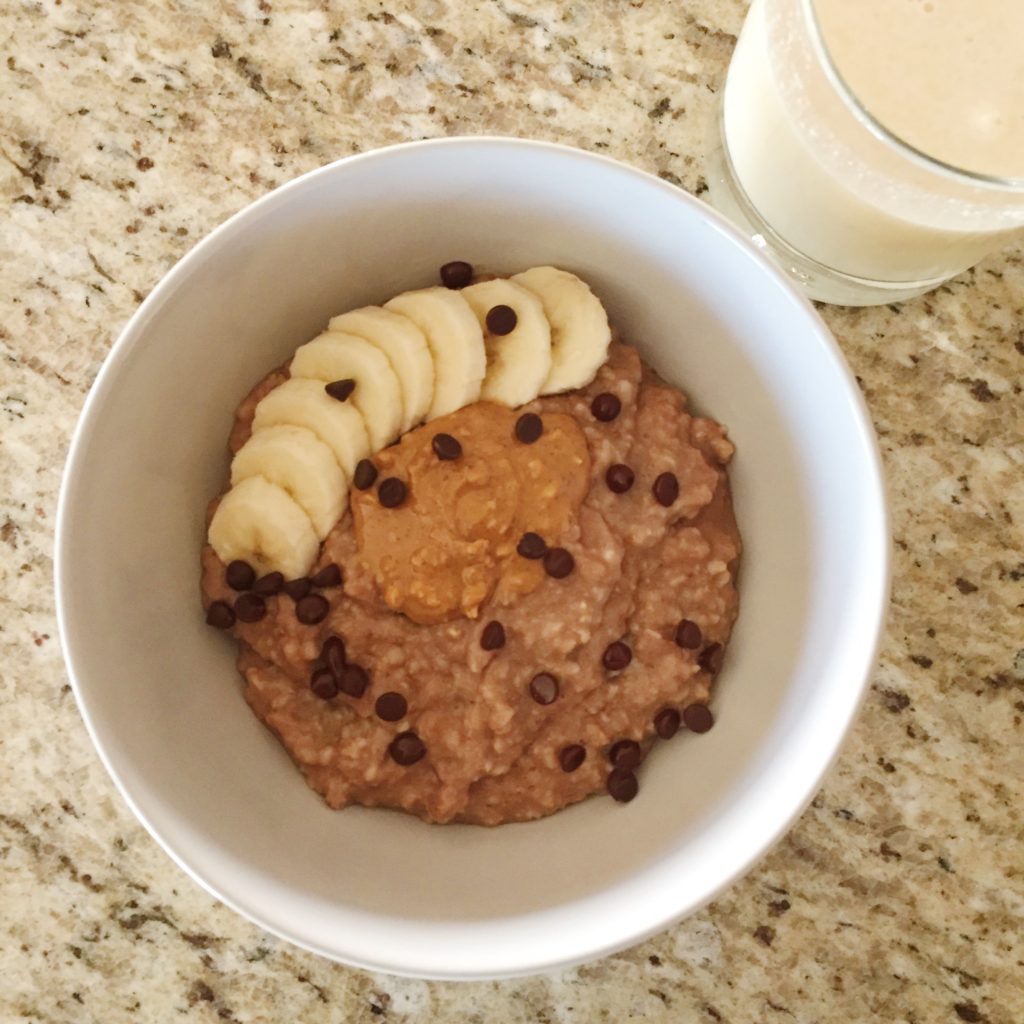 Breakfast was a bowl of oatmeal. Normally in the warmer months I'll do overnight oats and eat them cold. Well I didn't plan well enough this time, yet still wanted oatmeal so I had hot oats.
I mixed 1/2 scoop chocolate-peanut butter protein powder in my oats and topped it with sliced banana, peanut butter and Enjoy Life chocolate chips.
Chocolate for breakfast is fine, right?! Especially when you're pregnant! Everything in moderation….
Along with oatmeal, I had 3/4 scoop vanilla protein powder mixed with 1% milk.
8:45am – Snack #1: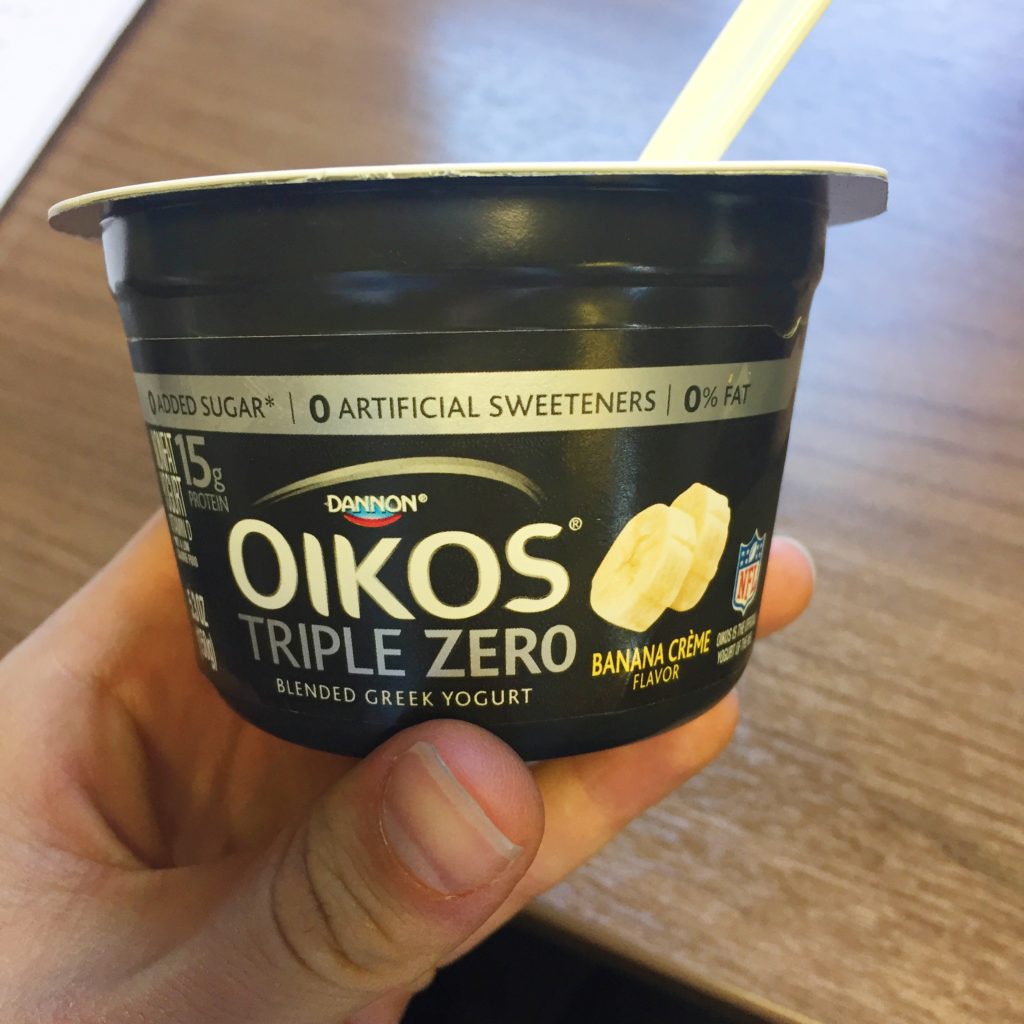 My mornings have been thrown off lately because I've been filling in occasionally at work for one of our employees that had surgery. I don't get to eat in the 9:00am hour, so I had a Banana Crème Oikos Triple Zero Greek yogurt cup to tide me over.
10:30am – Meal #2: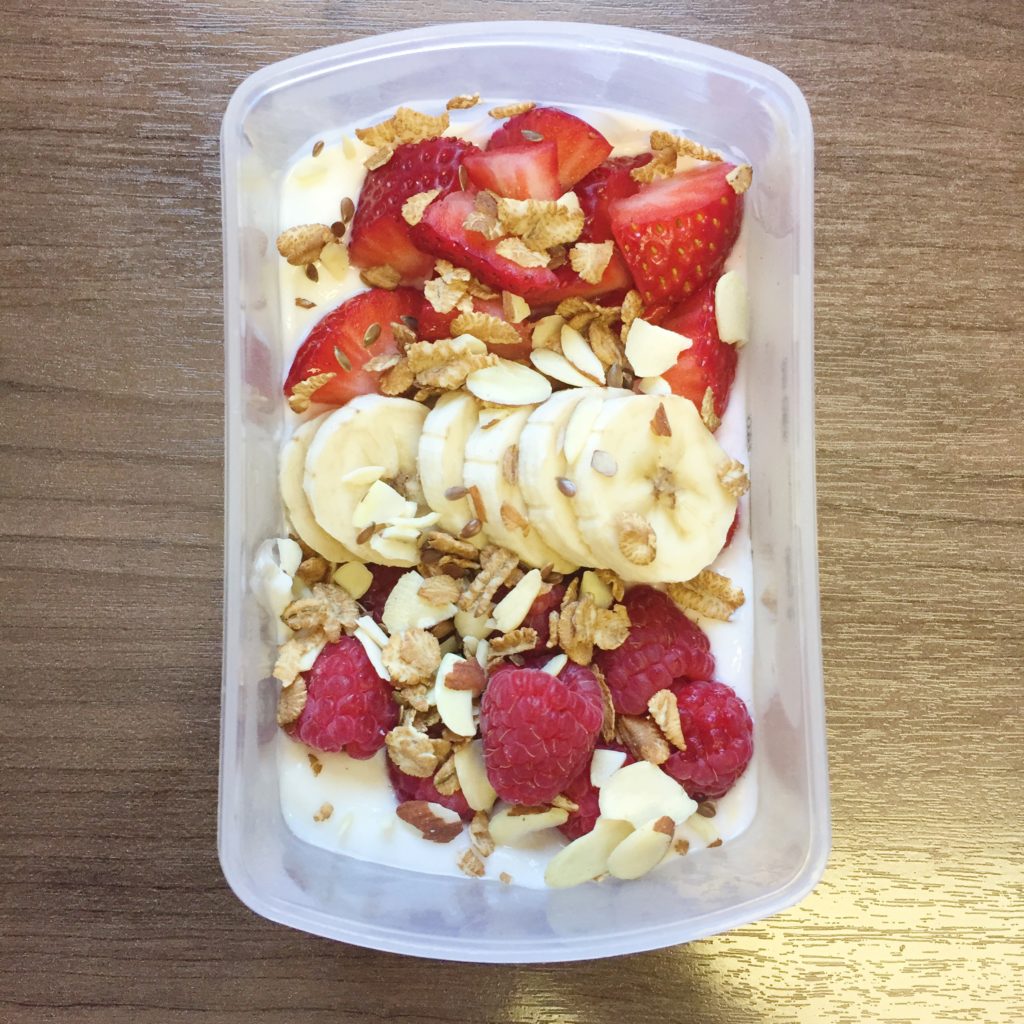 The yogurt held me over for a while and then I had MORE yogurt with my actual meal. I had Greek yogurt (plain) mixed with vanilla protein powder and topped with banana, raspberries and strawberries. I sprinkled Uncle Sam's Wheat Berry Flakes and sliced almonds on top.
Read more about these yogurt parfaits on this week's Grocery Shopping & Meal Prep Ideas post.
12:30pm – Meal #3: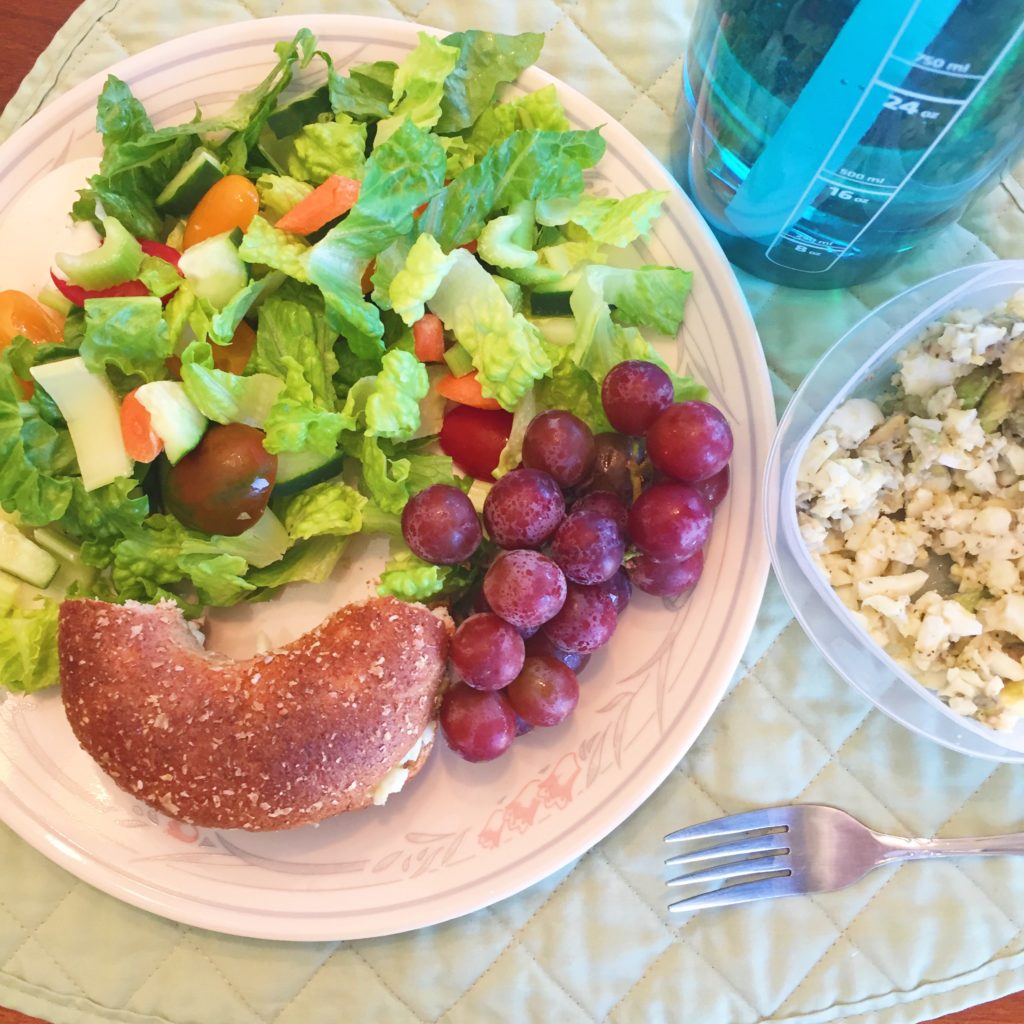 Lunch was a serving of egg salad that I made during meal prep. I spread some of the egg salad on half a whole wheat bagel (whatever could fit) and then ate the rest on the side. I also had some red grapes and a chopped salad with 1/2 Tbsp ranch.
2:00pm – Snack #2: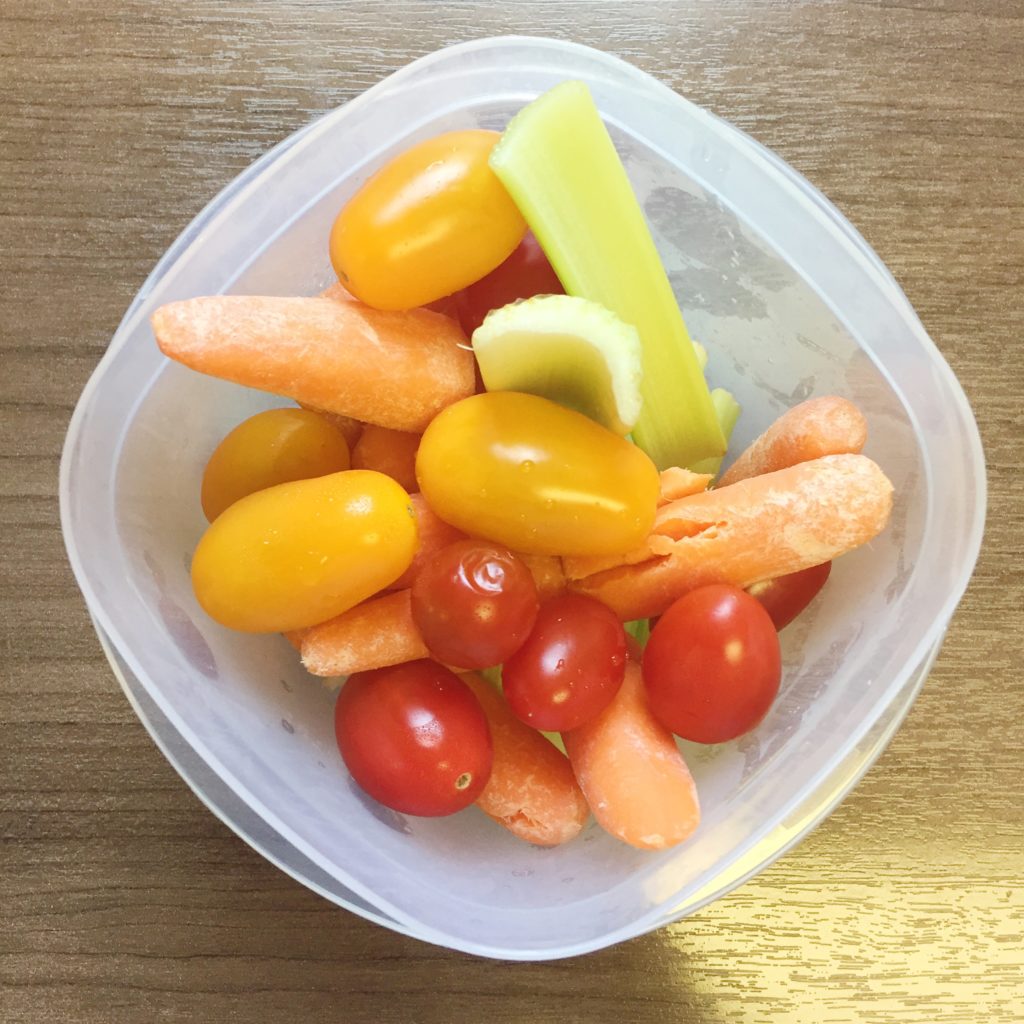 A little while after lunch I got a hungry so I munched on some raw veggies, including baby carrots, celery and cherry tomatoes.
4:30pm – Snack #3: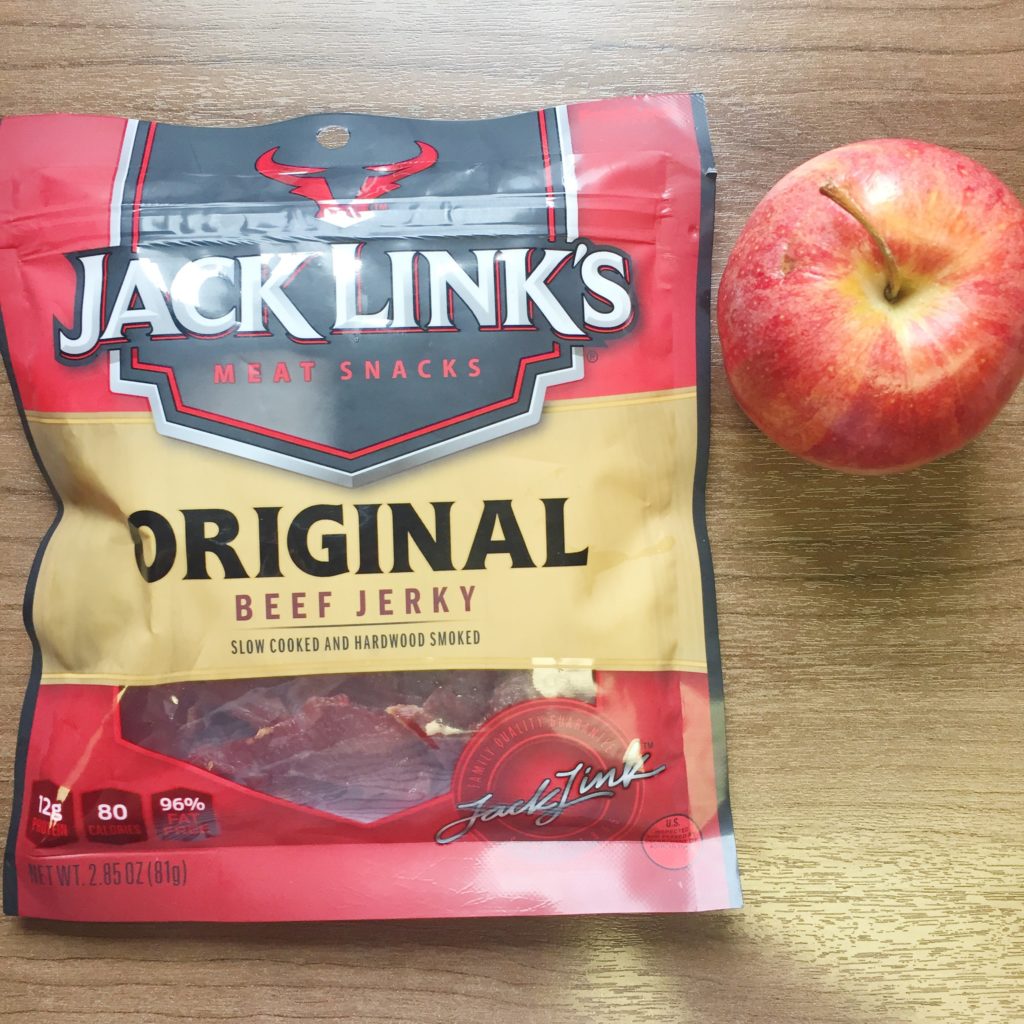 A while later I had some Jack Link's Original Beef Jerky. I ate the whole pack, which is only 240 calories! I love beef jerky and its easy to pack in your desk or purse for a snack.
I was going to have an apple along with the jerky, but my tummy wasn't feeling so hot so I skipped it.
6:30pm – Meal #4: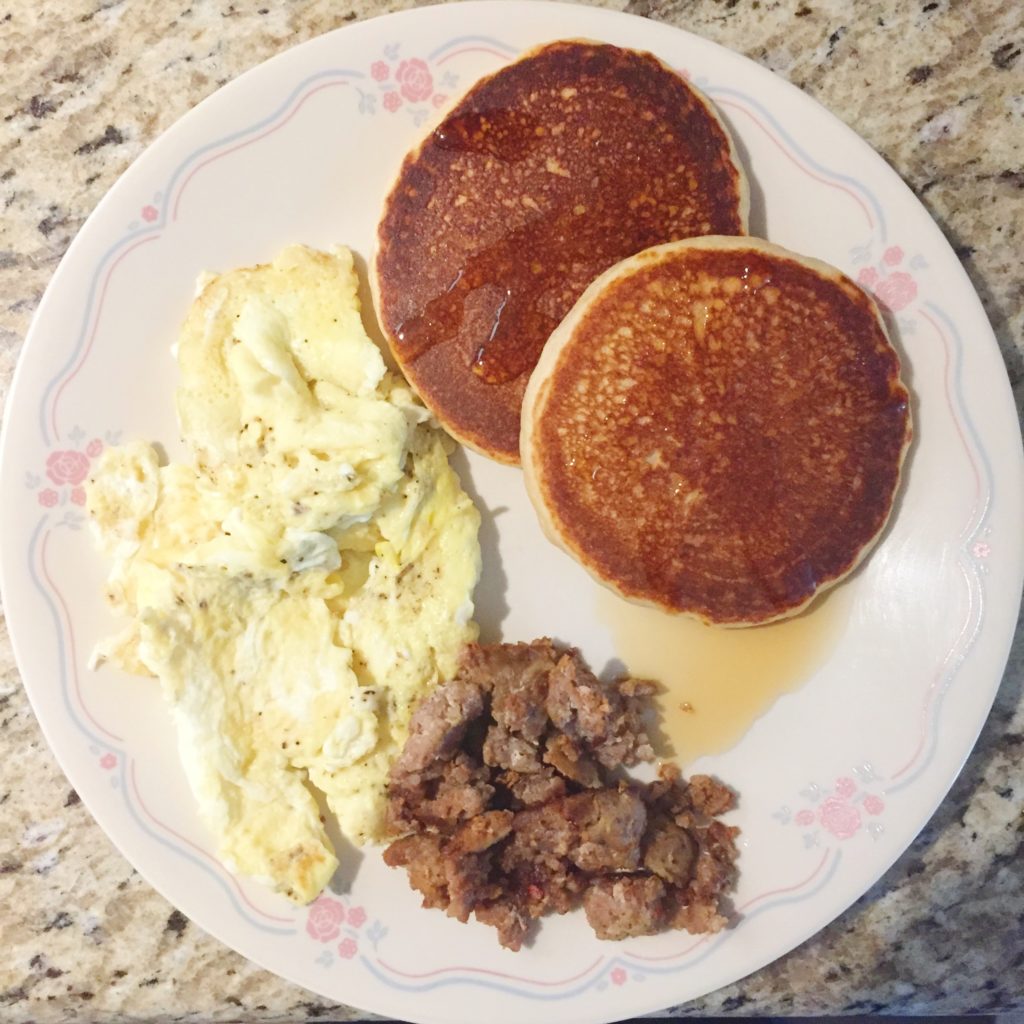 Dinner was actually breakfast for dinner… my favorite! We made pancakes using the Kodiak Cakes Protein pancake mix. I used one egg and milk to mix the batter, which is the best way in my opinion.
On the side I had some bulk breakfast sausage and scrambled eggs (1 whole egg + 3 egg whites). I topped the pancakes with about 1/2 Tbsp of syrup. Yum!
The picture shows two pancakes. I ate this plate while the rest of the pancakes cooked. Then I had another two pancakes with syrup. Very filling, yet healthy dinner!
Well that was everything for Mel's Clean Eating Meals this week. Lately I've occasionally needed some more food right before bed (that dang baby is hungry). However, this particular night I was fine without eating.
If you have any questions about Mel's Clean Eating Meals then please email me at eatliftplayrepeat@gmail.com. Don't forget to check out this week's Grocery Shopping & Meal Prep Ideas post to see how I made some of these foods ahead of time.