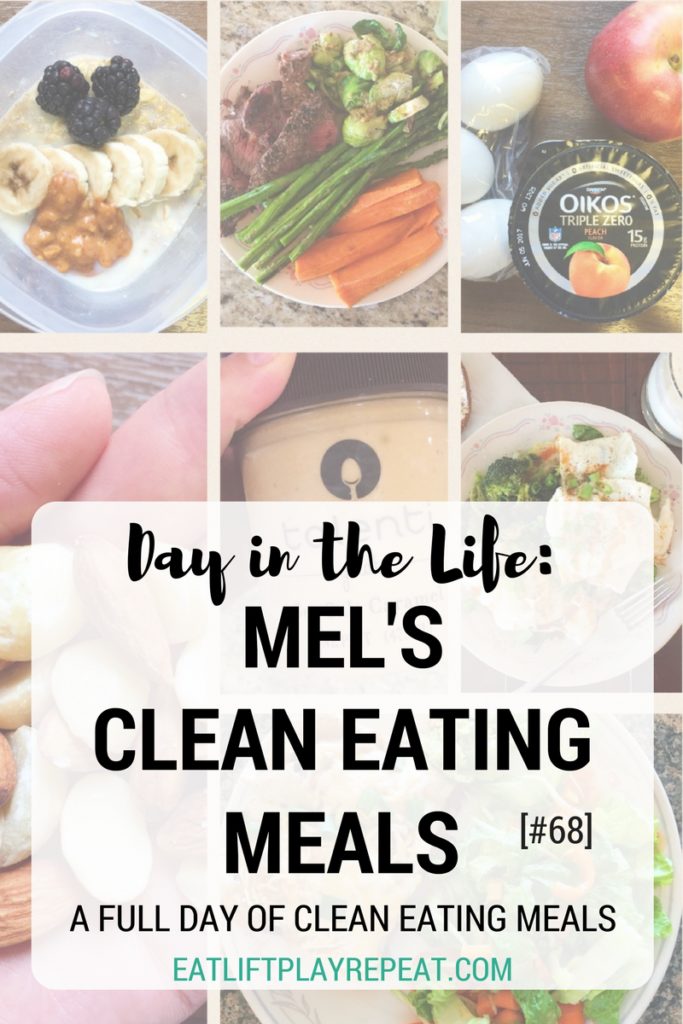 Time to take a look at what my day looks like in terms of eating with Mel's Clean Eating Meals. I've been a lot more hungry lately (I am growing a human being and all…), but my diet hasn't changed too dramatically.
Before I was pregnant I would eat basically 5 smaller meals per day, which is similar to what I do now. I do have to mix in a few more snacks now and then to make sure I am not ravenous or worse, hangry!
I think it helps that I spaced my meals out like that before. My stomach can't hold quite as much food at one sitting, yet I'm really hungry. Spacing out my meals throughout the day has helped me a lot.
If you have any questions about Mel's Clean Eating Meals then email me at eatliftplayrepeat@gmail.com. Don't forget to check out this week's Grocery Shopping & Meal Prep Ideas Week 53 to see what and how I made all this food for the week. I won't lie…the burritos were super easy to make and they are delicious!
4:30am – Pre-Workout:
My day started with almost a full liter of water. I drank the rest of the liter once I got back from the gym. I was really hungry when I woke up, so I had a whole banana rather than half.
6:30am – Meal #1:
Breakfast consisted of broccoli and Brussels sprouts heated in the microwave (they had been grilled the day before). I put two egg whites and two whole eggs (cooked over easy) on top, sprinkled with chopped green onion and some Cholula. I love this combo because it is a way for me to get veggies right off the bat!
On the side I had a 1% milk mixed with 1/2 scoop vanilla protein powder. I also had 1/2 whole wheat bagel with whipped cream cheese and everything-bagel seasoning.
9:30am – Meal #2: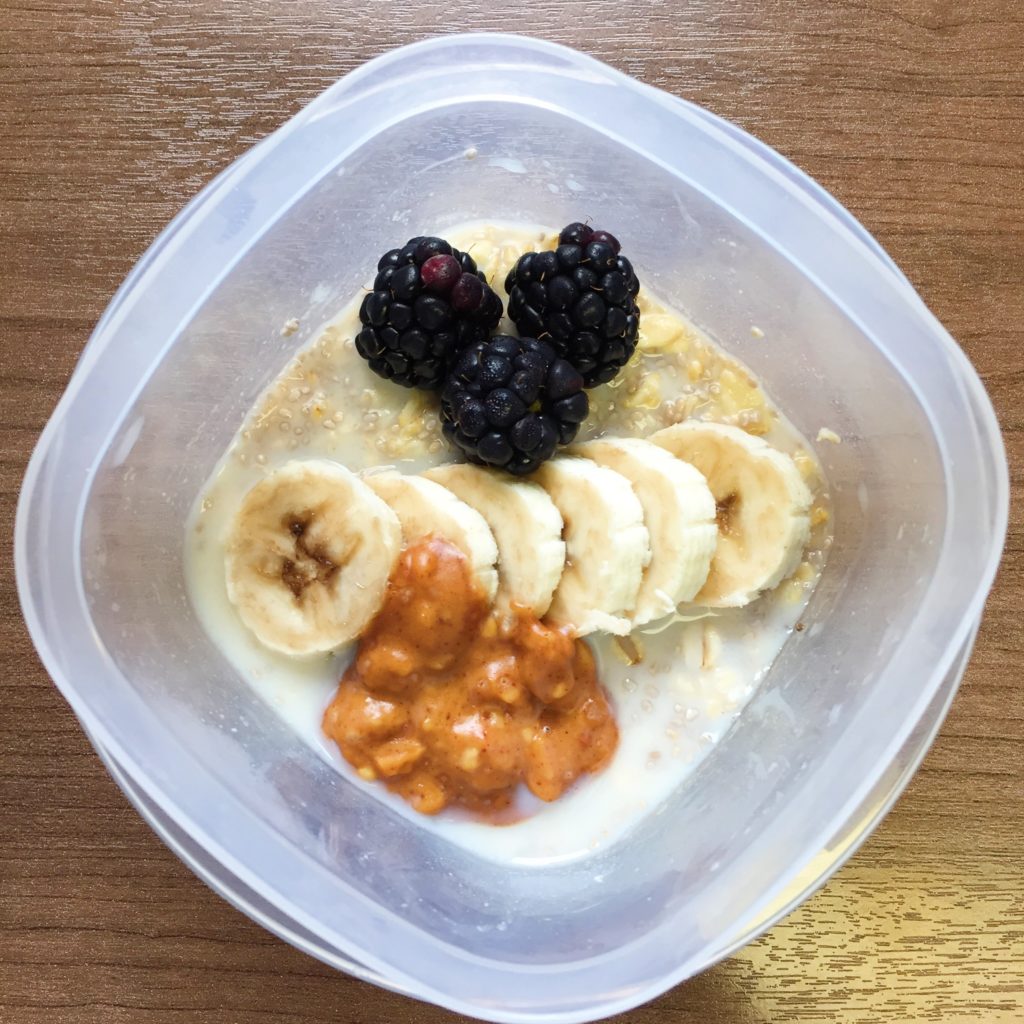 Mid-morning I had a snack of vanilla overnight oats. I made these during meal prep, so you can check out what ingredients I used here. I topped the oats with peanut butter, sliced banana and blackberries.
11:45pm – Meal #3: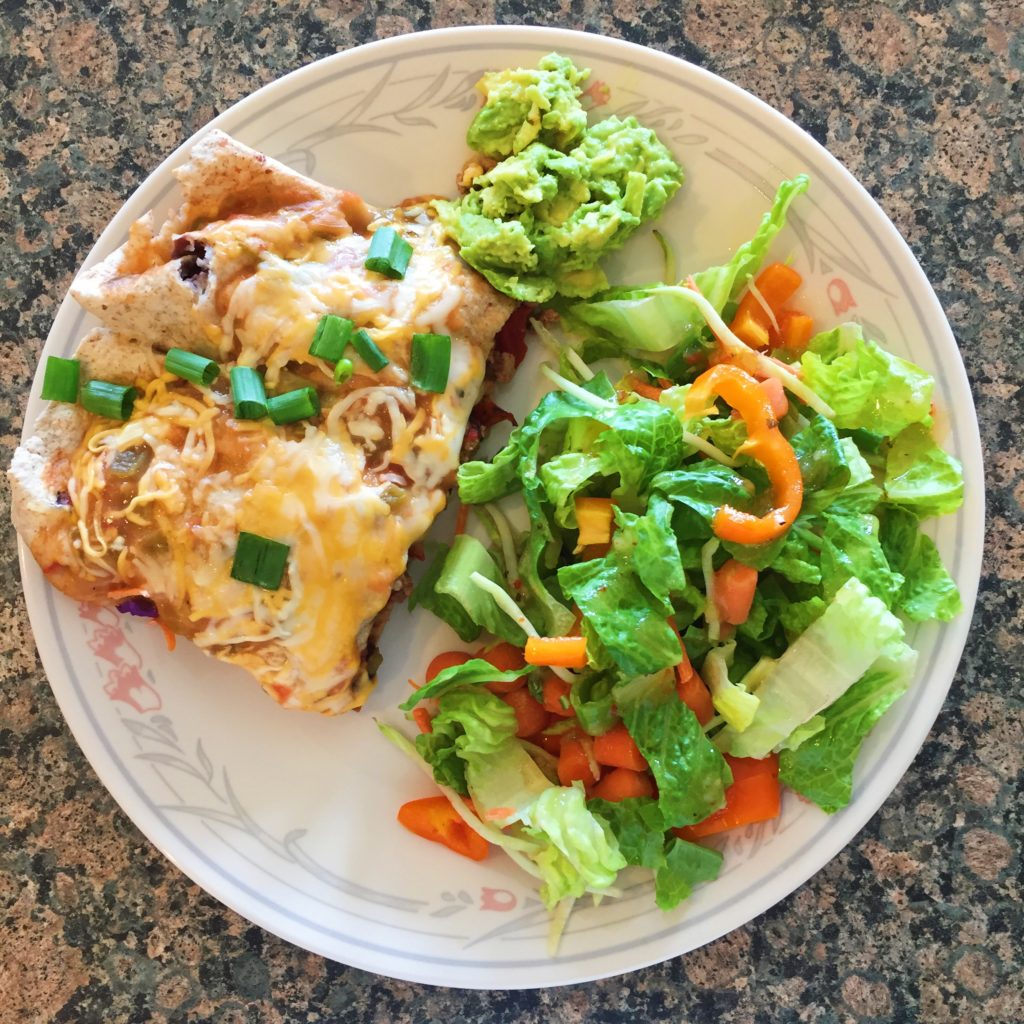 Lunch was a turkey-black bean green chile burrito that I made during meal prep and a side salad topped with a little Italian dressing. Along with the burrito I had 1/4 mashed avocado.
I've been LOVING this lunch this week! So good.
2:00pm – Snack #2:
My lunches fill me up pretty quick, but then I get hungry not too long after. I've been eating an apple or an orange a little bit after lunch to last me to the next meal. Since I was having an apple another time during the day I opted for some raw almonds and macadamia nuts.
4:30pm – Meal #4: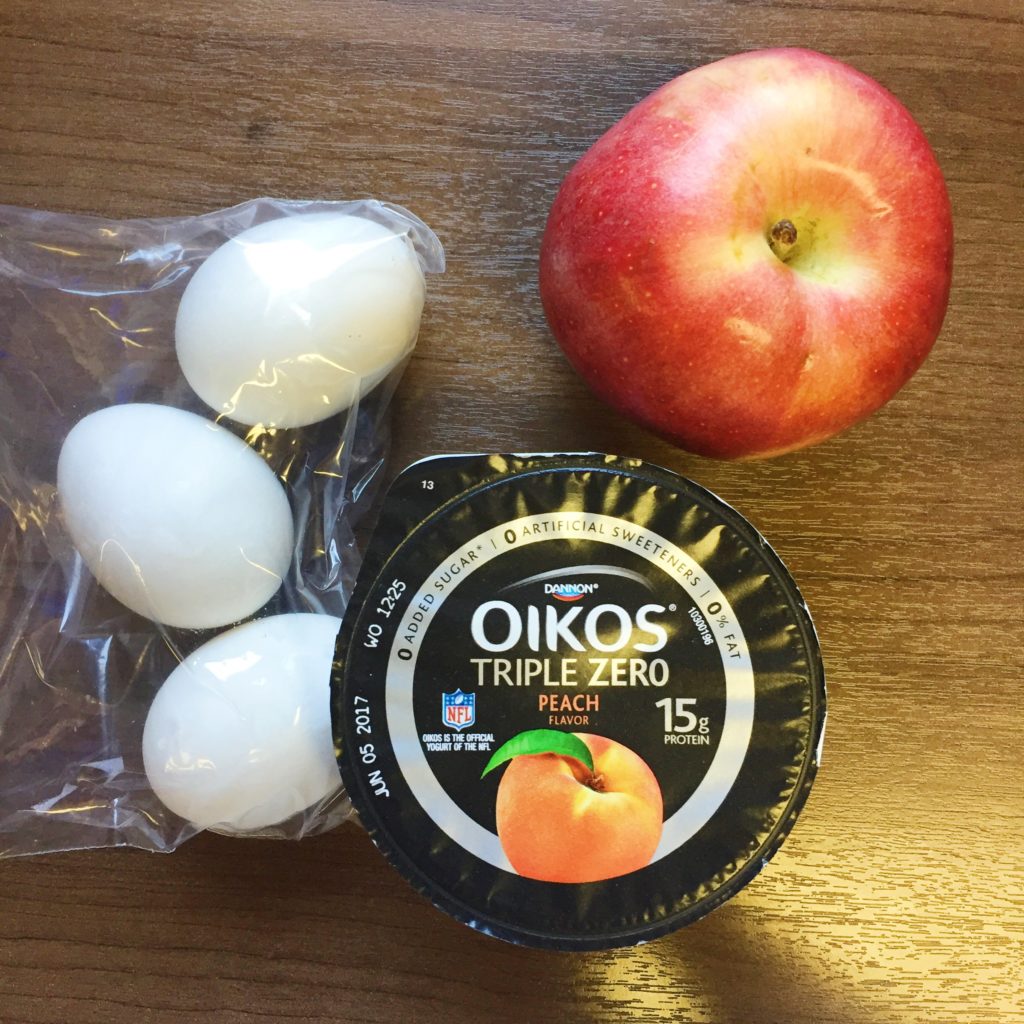 My mid-afternoon meal was basically several snack foods together! I had a medium gala apple, a peach Oikos Triple Zero Greek yogurt, 2 hardboiled egg whites and 1 hardboiled egg.
7:00pm – Meal #5: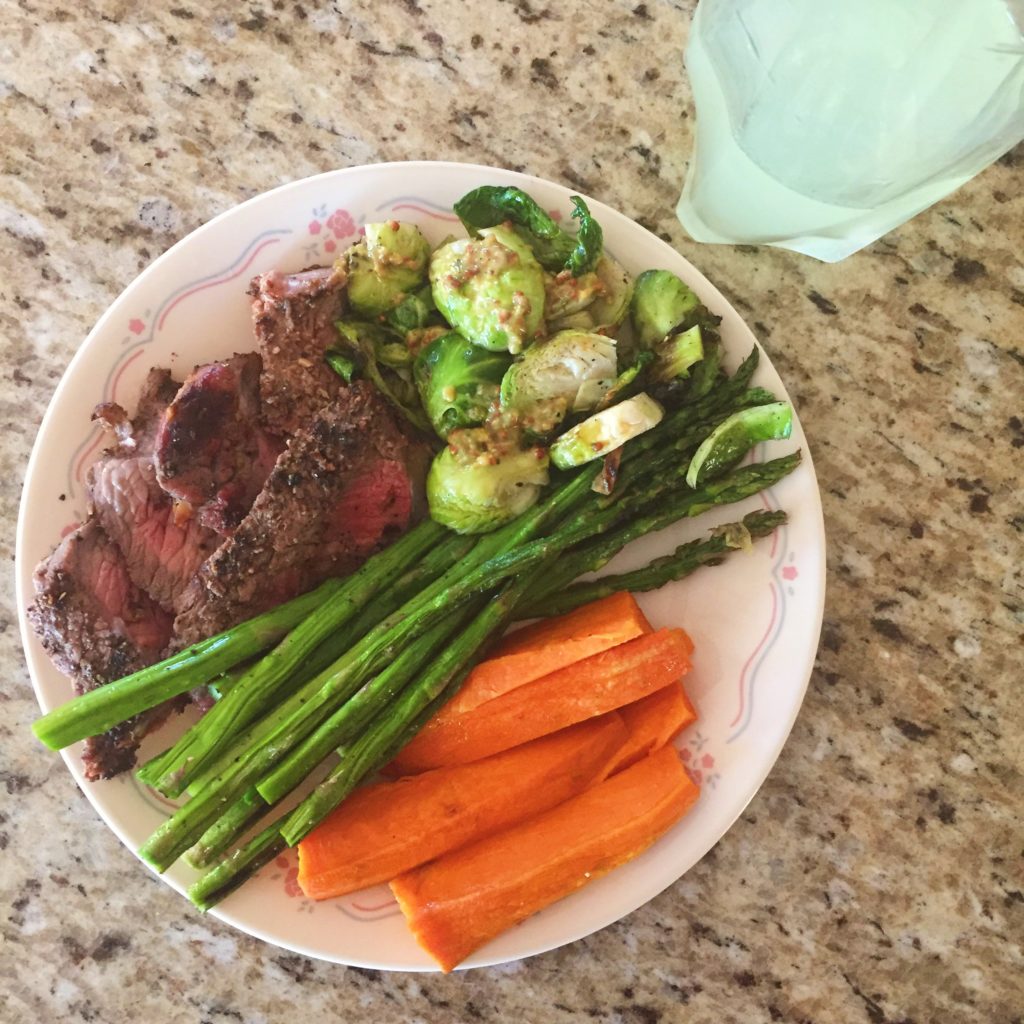 Donny was working on our sprinkler system and I was reading after work so I didn't even get hungry until 7pm! We had a ton of leftovers from Mother's Day so I threw together a plate of steak, sweet potato wedges, asparagus and Brussels sprouts. Donny had mixed up some pesto & stone ground Dijon mustard for a dinner one night and we had some leftover in the fridge. I took a little and spread it on the Brussels sprouts. It was pretty good!
I drank water most of the day, but once I got home I wanted something else. I had a few glasses of Crystal Light Lemonade.
8:15pm – Dessert: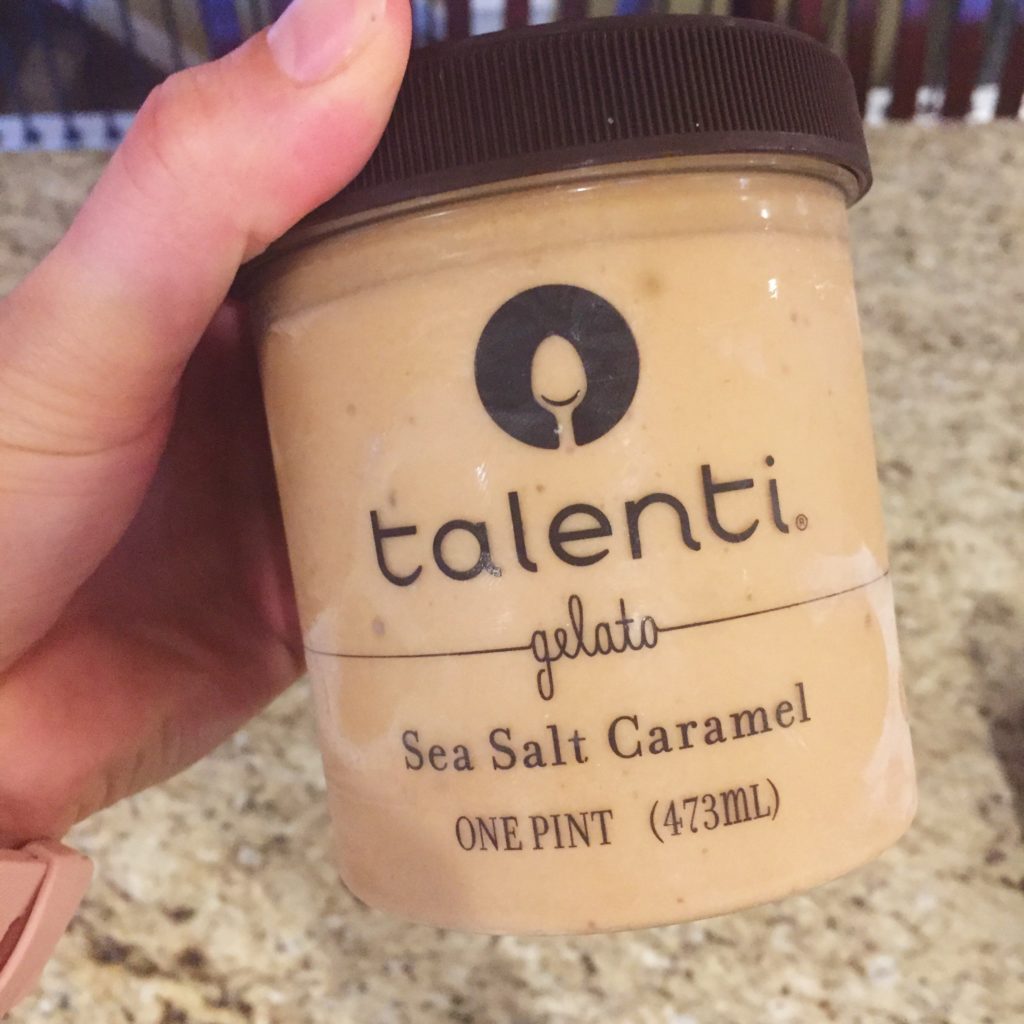 Have you ever had Talenti gelato?! You need to. I personally am in LOVE with the sea salt caramel, but I am guessing the other flavors are just as delicious. I had a few spoonfuls of this a while after dinner. Yes, I ate right out of the container! I feel like I am allowed to do weird things like that when I'm pregnant, right?! Honestly, I plan to eat the entire pint like that… no need for bowls!
Well that was everything I ate throughout the day. If you have any questions about Mel's Clean Eating Meals then please ask! Email me at eatliftplayrepeat@gmail.com. Don't forget to check out yesterday's Grocery Shopping & Meal Prep Ideas Week 53 post to see how I made all these foods!