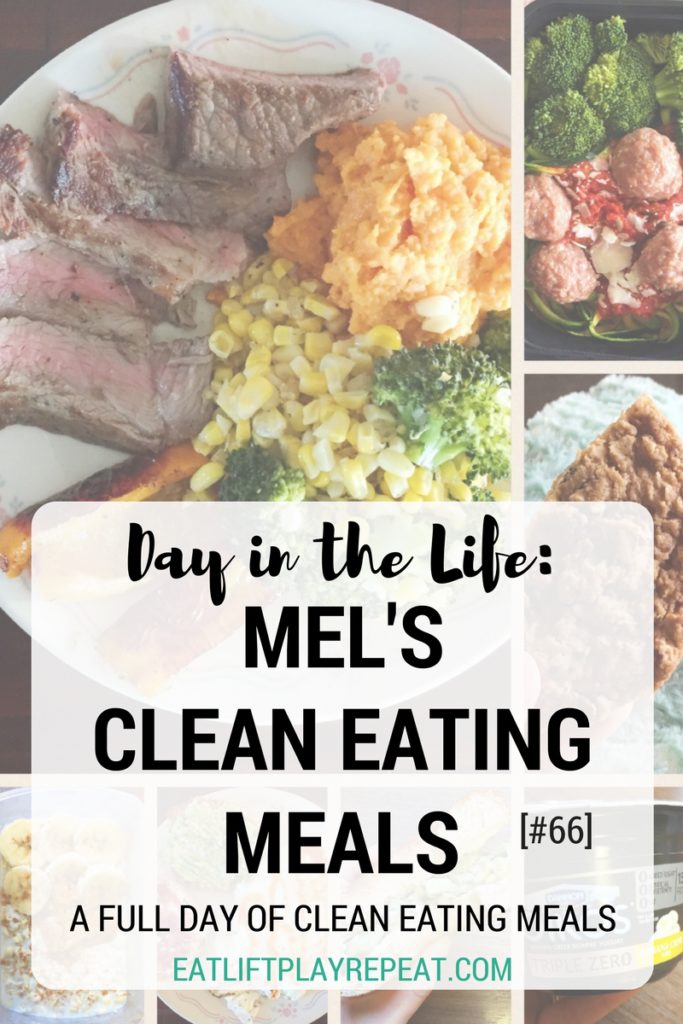 Time for another edition of Day in the Life: Mel's Clean Eating Meals! I share with you everything that I eat and drink throughout the day from start to finish.
Clean eating meals don't have to be hard to prepare or require weird ingredients. I aim to get a variety of fruits and veggies throughout the day, plus adequate protein and some whole grains. I am currently 20 weeks pregnant, so I've changed my diet just a little bit. I'm obviously eating more, but I've also been eating more carbs. So far I am trying to make those carbs either fruit or whole grains, so that I'm getting plenty of fiber in my diet.
If you have any questions about these clean eating meals, either about the foods themselves or how I prepared them then please feel free to ask. Email me at eatliftplayrepeat@gmail.com or comment below. Don't forget to check out this week's Grocery Shopping & Meal Prep Ideas Week 51 post to see how I prepared some of these meals ahead of time.
4:30am – Pre-workout:
My morning started by drinking roughly 3/4 liter of water. I aim for a full liter, but since I've been pregnant this has been difficult for me. Of all the things I thought would change during this time, my water intake was not one of them! I usually drink as much as I can and finish the rest with breakfast.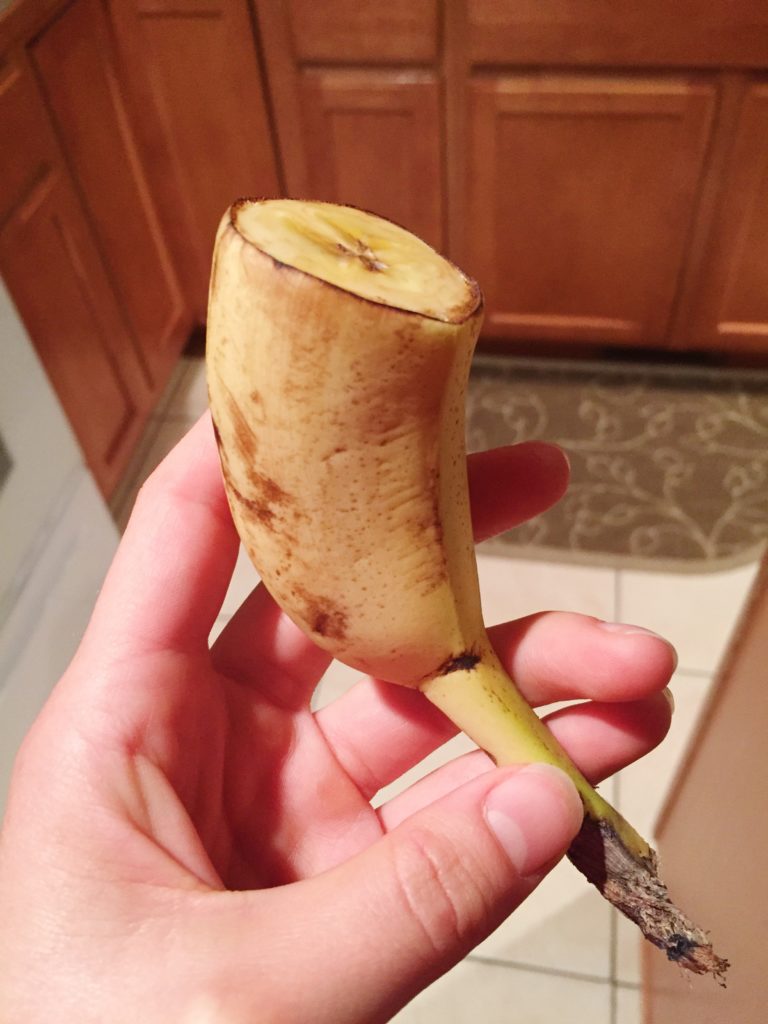 Along with water I also had 1/2 banana.
6:15am – Meal #1: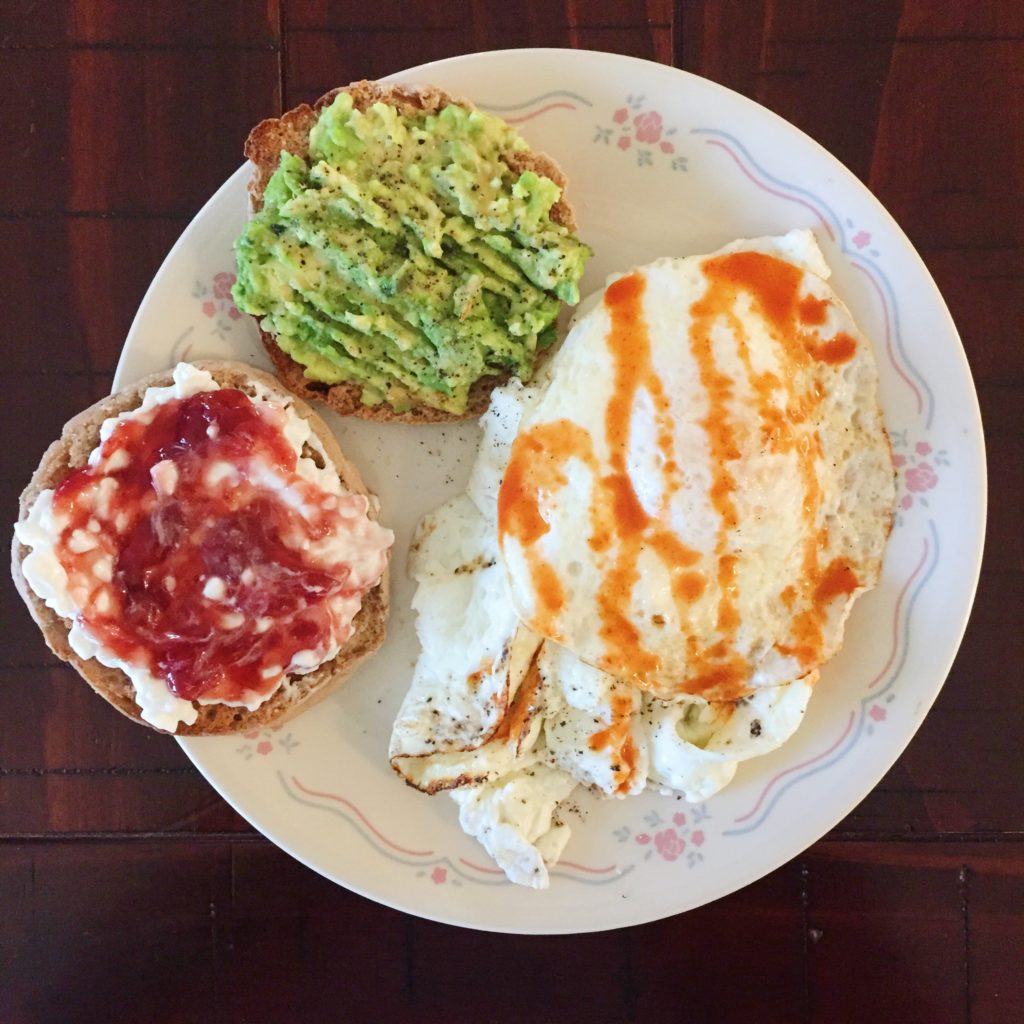 Breakfast was 4 egg whites scrambled and topped with one whole over-easy egg and Cholula. On the side I had a Thomas Whole Wheat English Muffin. Half was topped with 1/4 mashed avocado, salt & pepper while the other half was topped with cottage cheese and strawberry jelly.
I was asked if this cottage cheese-jelly combo was a pregnant craving. It is not! I swear it is delicious and I've been eating it well before Baby Edson.
8:45am – Snack #1: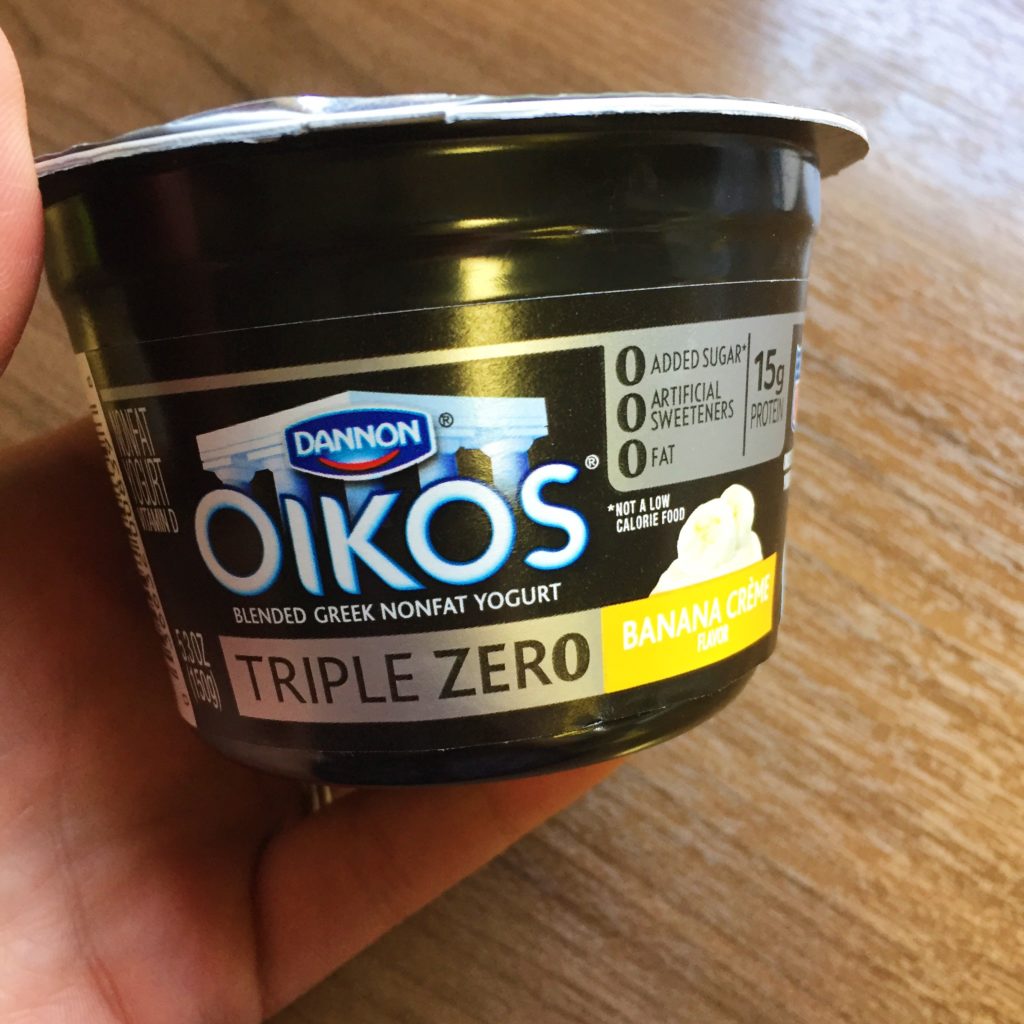 In between meals lately I've needed a little something to eat, without wanting to eat my full meal. I had a Banana Crème Oikos Triple Zero Greek yogurt cup a little while after arriving to work.
I like this particular brand because there are no added sugars! So many other Greek yogurts have added sugars, but these do not. They have several different flavors to choose from and I found them at Safeway.
10:00am – Meal #2: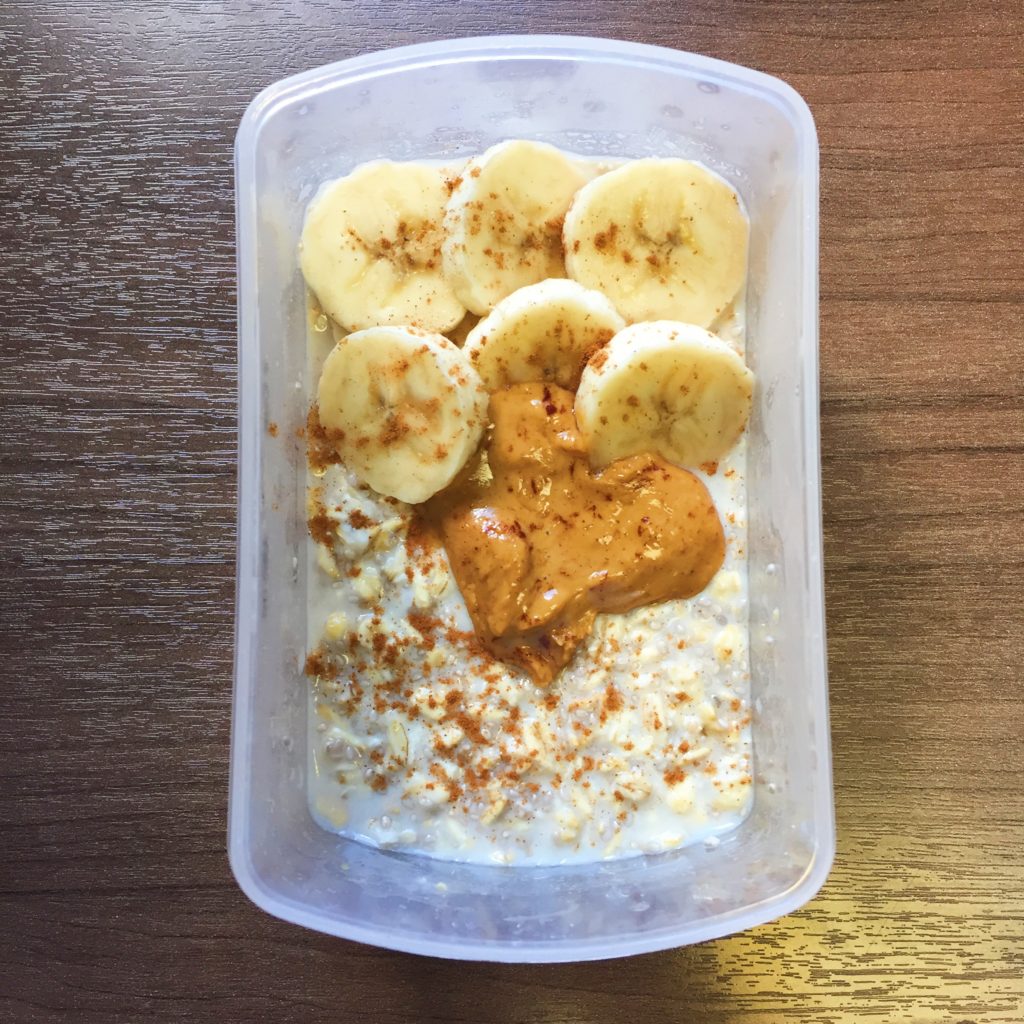 My mid-morning meal was a serving of overnight oats. Find the "recipe" for how I made oats this week in my meal prep post. I topped the oats with peanut butter, banana and cinnamon.
12:15pm – Meal #3: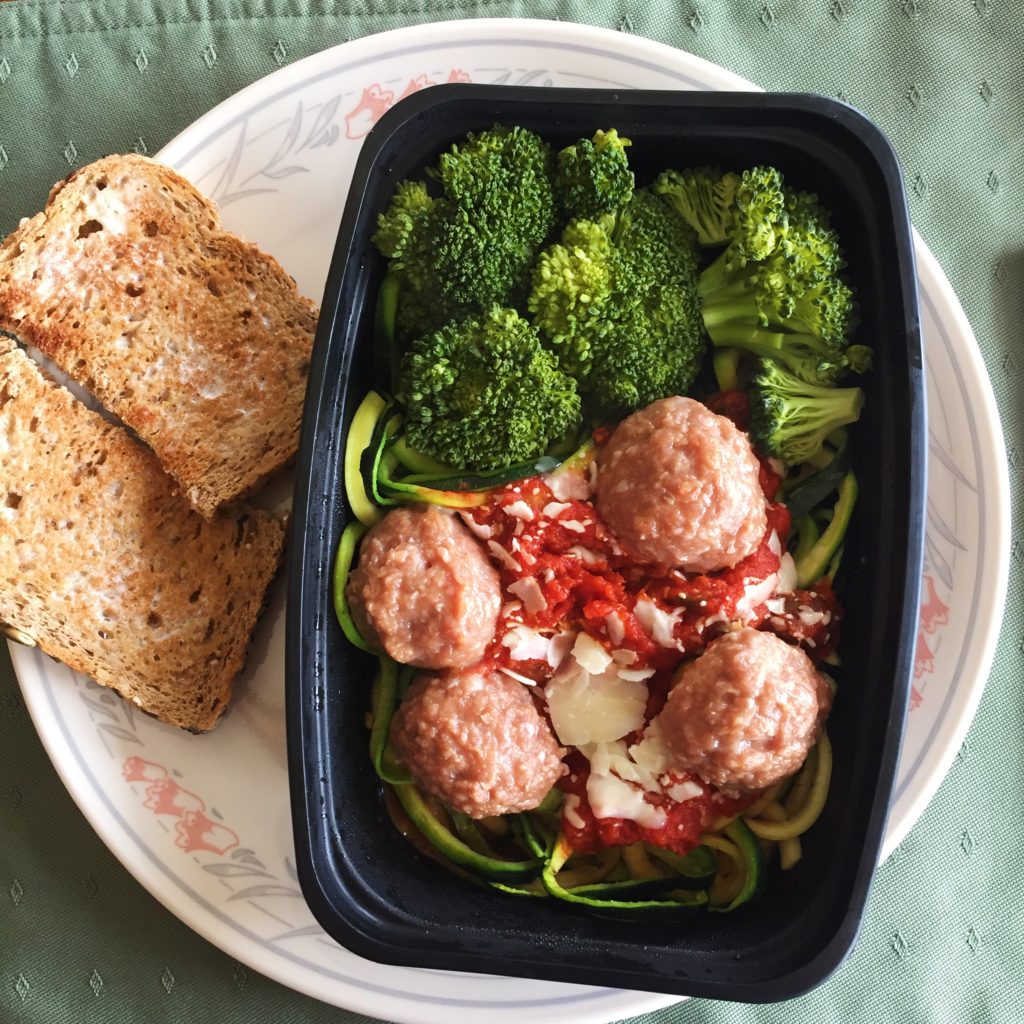 Lunch was zucchini noodles (aka zoodles) topped with jarred marinara, parmesan and four 3-Ingredient Italian Turkey Meatballs. On the side I had broccoli and a slice of Dave's Killer Bread (Powerseed) topped with a little butter.
I've loved having this lunch all week! It has plenty of vegetables, plus protein and a side of carbs. Oh, and it is DELICIOUS!
1:30pm – Snack #2: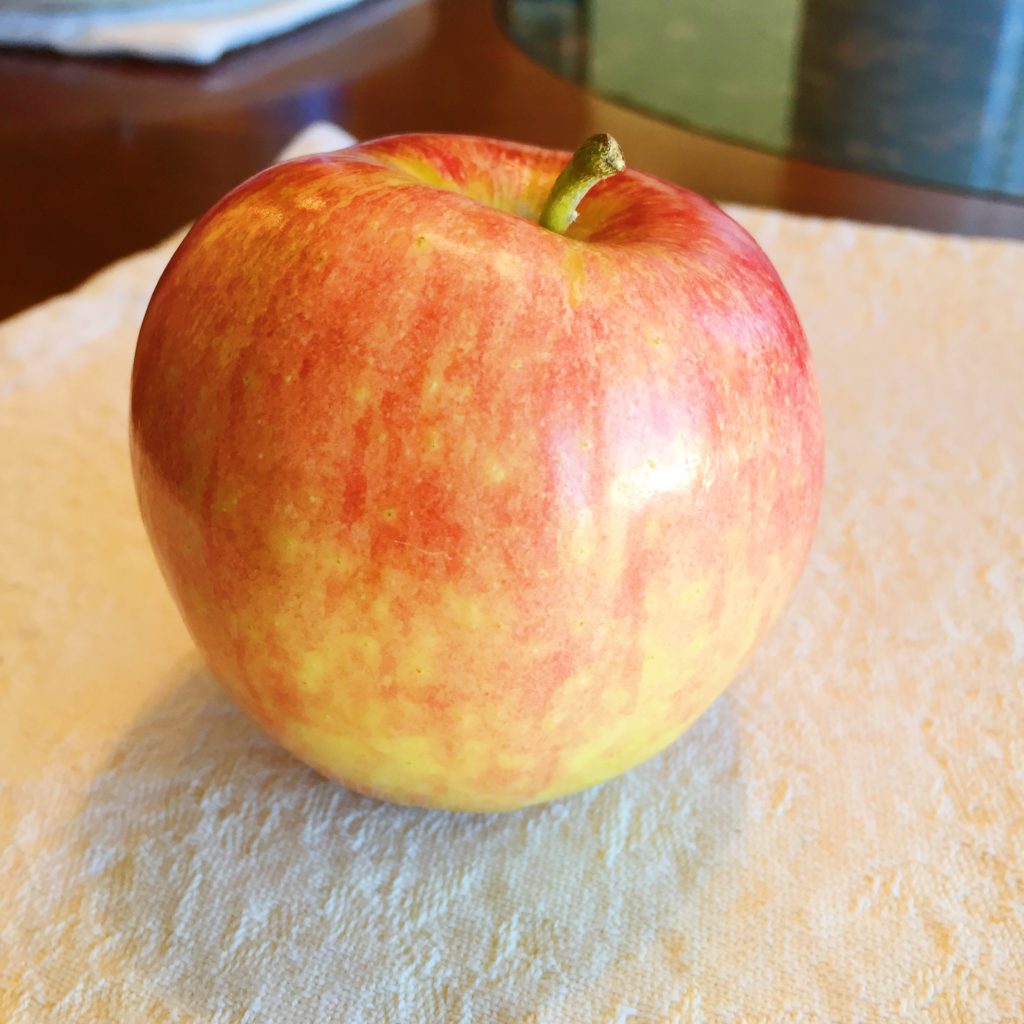 I tend to get full pretty fast at lunch and dinner, so after I got back to the office I had a gala apple to tide me over until my next meal. Fruit has been great for my stomach and I love the extra fiber!
4:00pm – Meal #4: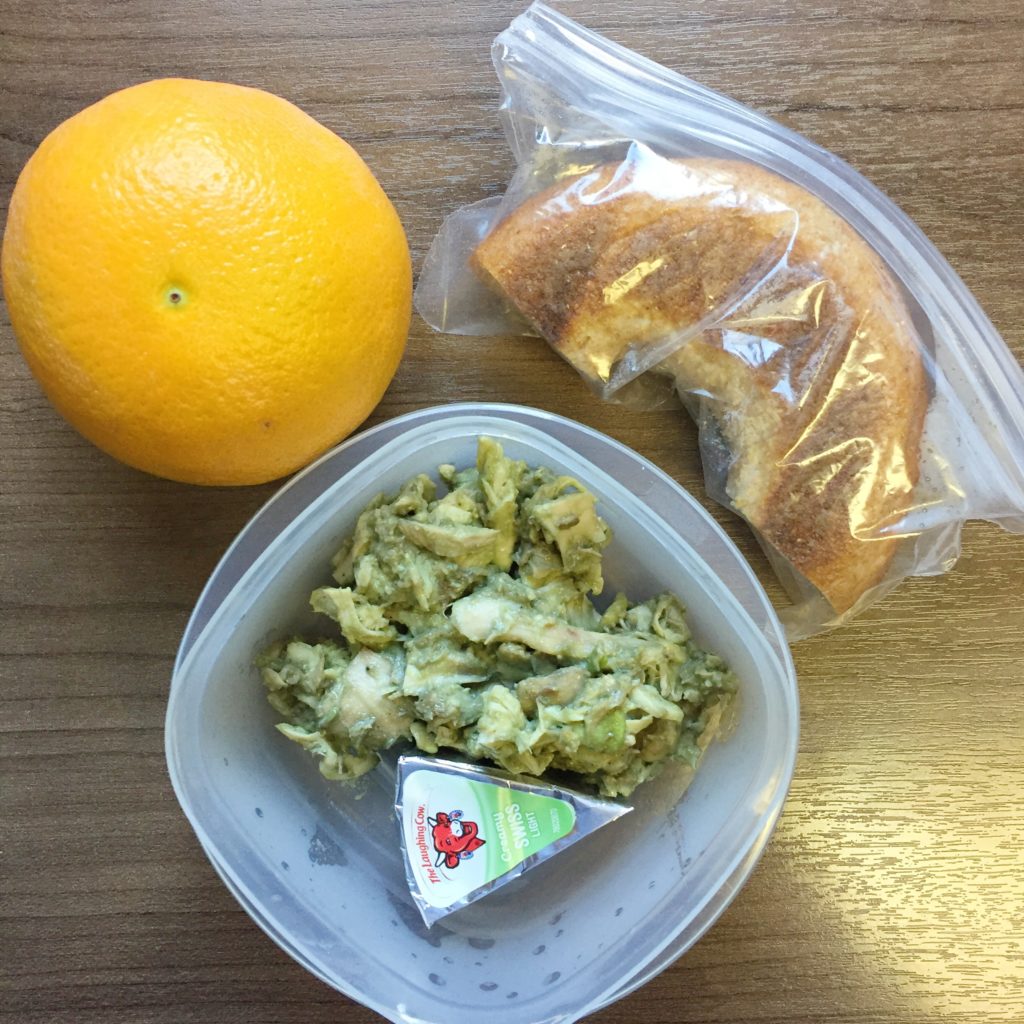 My mid-afternoon meal was avocado-chicken salad spread on half of a whole wheat bagel! So good. I spread 1 wedge Light Swiss Laughing Cow cheese on both sides of the bagel then spread about half the chicken salad on top. I ate the other half with a fork, since it wouldn't fit on the bagel.
I love this chicken salad! It was SUPER easy to make during meal prep and tastes great. Honesty, who doesn't love a bagel sandwich?!?! I'm a big fan.
On the side I also had an orange.
6:30pm – Meal #5: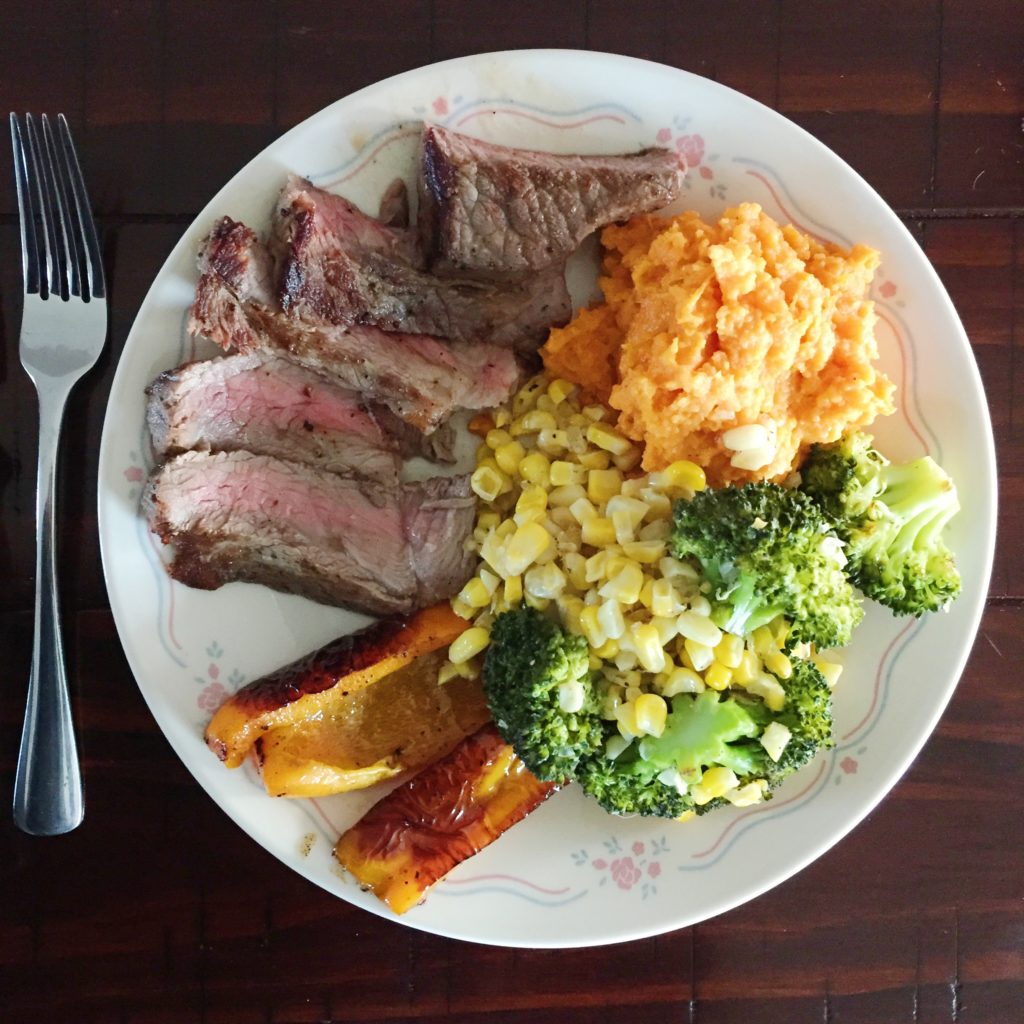 Donny made me dinner that consisted of beef sirloin, grilled bell pepper, mashed sweet potatoes and broccoli and corn mixed together. It was so good and look at those colors! I love eating colorful food.
7:30pm – Dessert: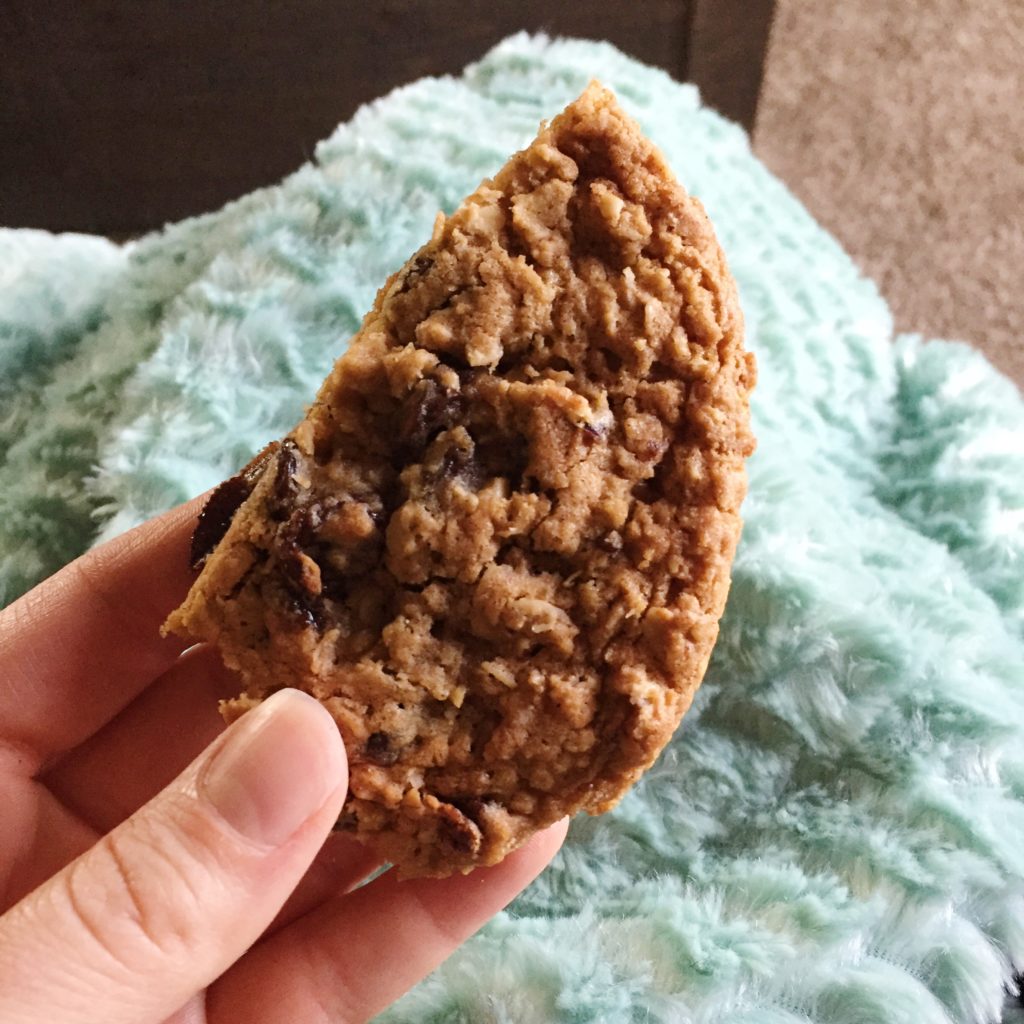 My office had a meeting out of town on this particular day and had Jimmy John's for lunch. I had requested they bring me a cookie. I was nice enough to share half of the oatmeal raisin cookie with Donny and had my half for dessert! These are dangerously good! Not low calorie, not clean eating but amazingly good.
Well that wraps up Mel's Clean Eating Meals for the week. That was everything I ate from start to finish throughout the day. I haven't changed my diet too drastically since becoming pregnant, but I am eating more carbs. I'm trying to keep those carbs either fruit or whole grain carbs to increase my fiber content and keep me full for longer throughout the day. So far it is working for me, but who knows what the next five months will have to say!
If you have any questions about Mel's Clean Eating Meals then please ask! Email me at eatliftplayrepeat@gmail.com or comment below.