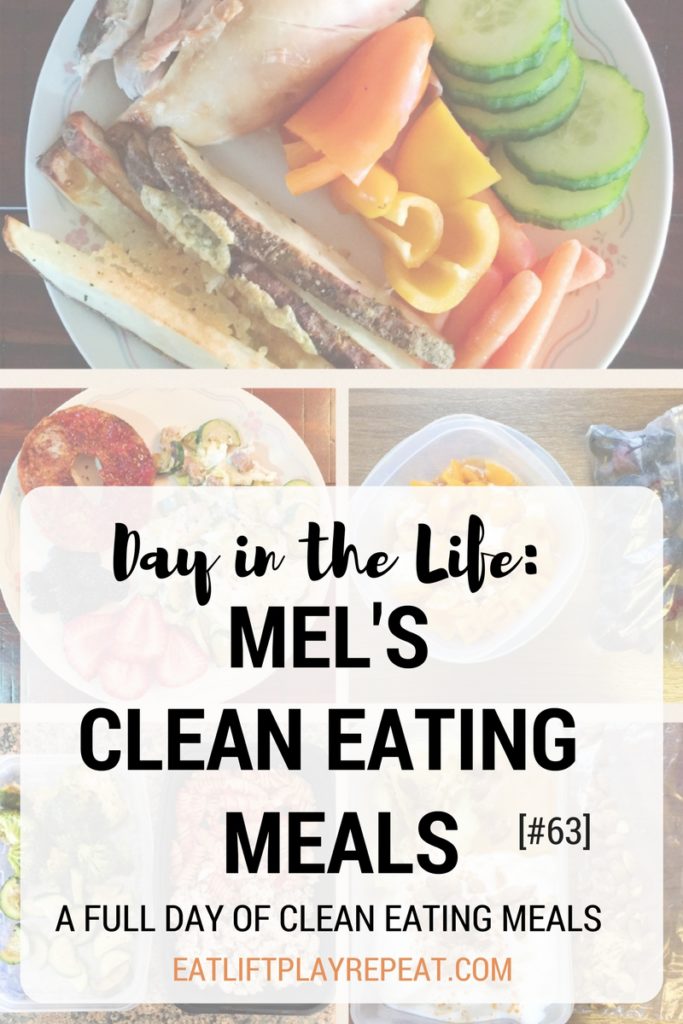 I won't lie, I didn't feel THAT great throughout the day but I still managed to eat healthy, clean eating meals. Honestly, meal prep is the only way that I continue to do that!
Without meal prep, I'd most likely grab unhealthy foods to make me feel better. I'm thinking chips, candy, pop, etc. Instead I ate what I had packed which included lean proteins, healthy carbs, veggies and fruit.
If you have any questions about my clean eating meals then please ask! Email me at eatliftplayrepeat@gmail.com or comment below. Don't forget to check out Grocery Shopping & Meal Prep Ideas Week 48 to see how I prepped all this food.
4:30am – Pre-workout:
I started the day drinking 1/2 liter of water. Lately I've had a hard time drinking the entire liter first thing in the morning. Instead, I drink as much as I can and finish the rest with breakfast!
My stomach wasn't feeling that great when I first woke up, so I skipped eating anything before the gym. I was afraid I would be lacking energy during my workout, but it didn't seem to bother me too much.
6:30am – Meal #1: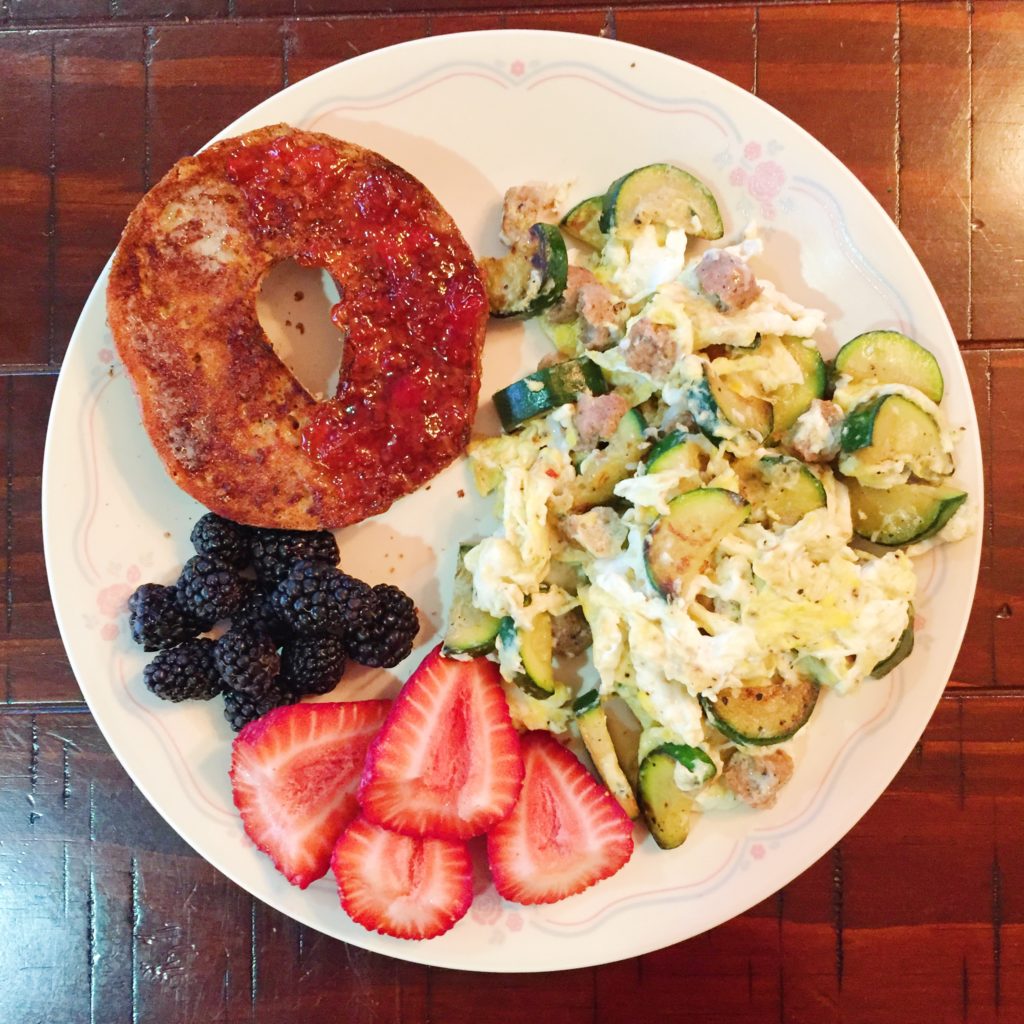 Breakfast was an egg scramble with turkey sausage and zucchini. The sausage links were frozen, so I wrapped them in a paper towel and defrosted them a bit in the microwave. Once they were thawed I cut them into small pieces.
The zucchini was already cooked so I added both the zucchini and sausage to a small sauté pan and cooked them a couple minutes until they were warm. Then I added 2 eggs +2 eggs whites (whipped together) and cooked until the eggs were set, stirring occasionally. I seasoned the egg scramble with salt and pepper.
On the side I had 1/2 Thomas Whole Wheat Bagel, half topped with butter and half with homemade cherry jelly (made by my mother-in-law, not me). I also had a few strawberries and a few blackberries.
10:00am – Meal #2: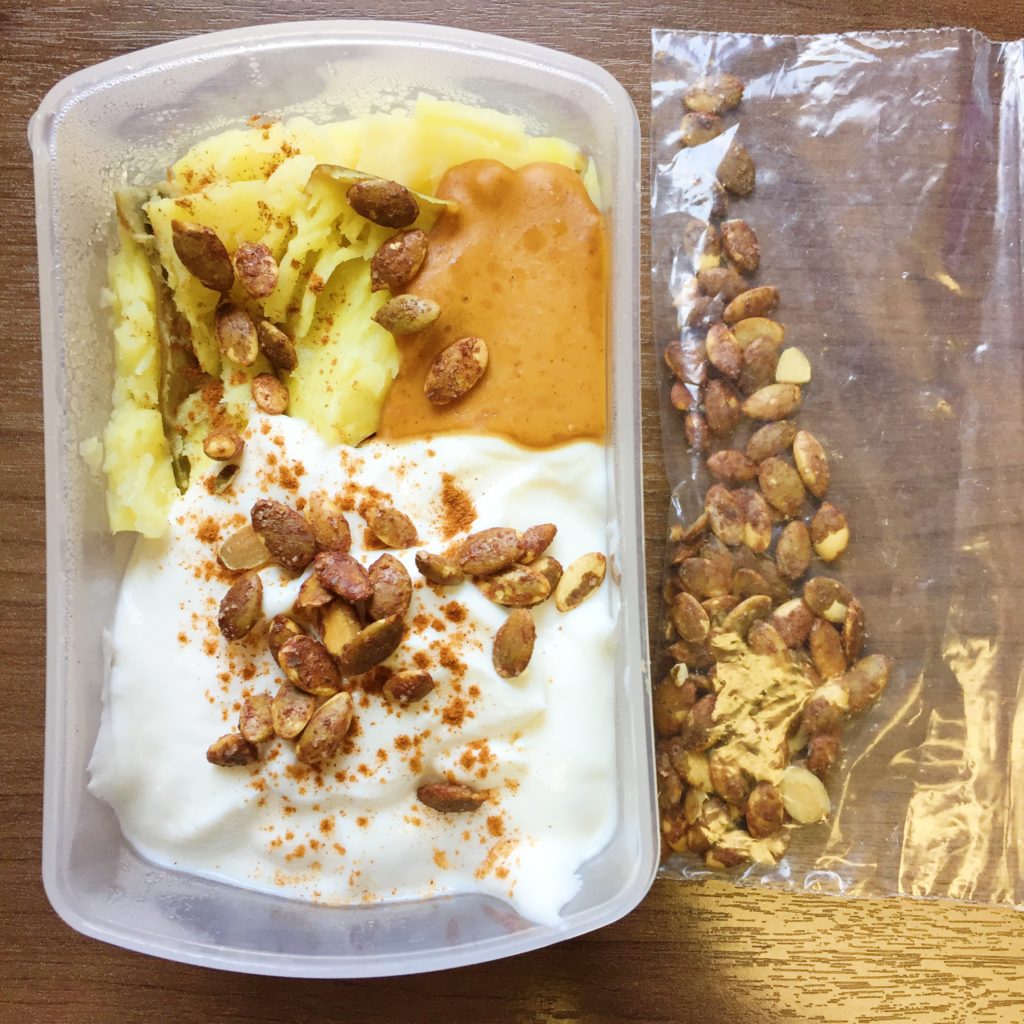 My mid-morning snack was a sweet potato yogurt bowl. I love these dang things! Who knew sweet potatoes and yogurt went so well together! I topped the yogurt and sweet potato with 3/4 Tbsp peanut butter, cinnamon-sugar pepitas and cinnamon. Delicious!
12:00pm – Meal #3: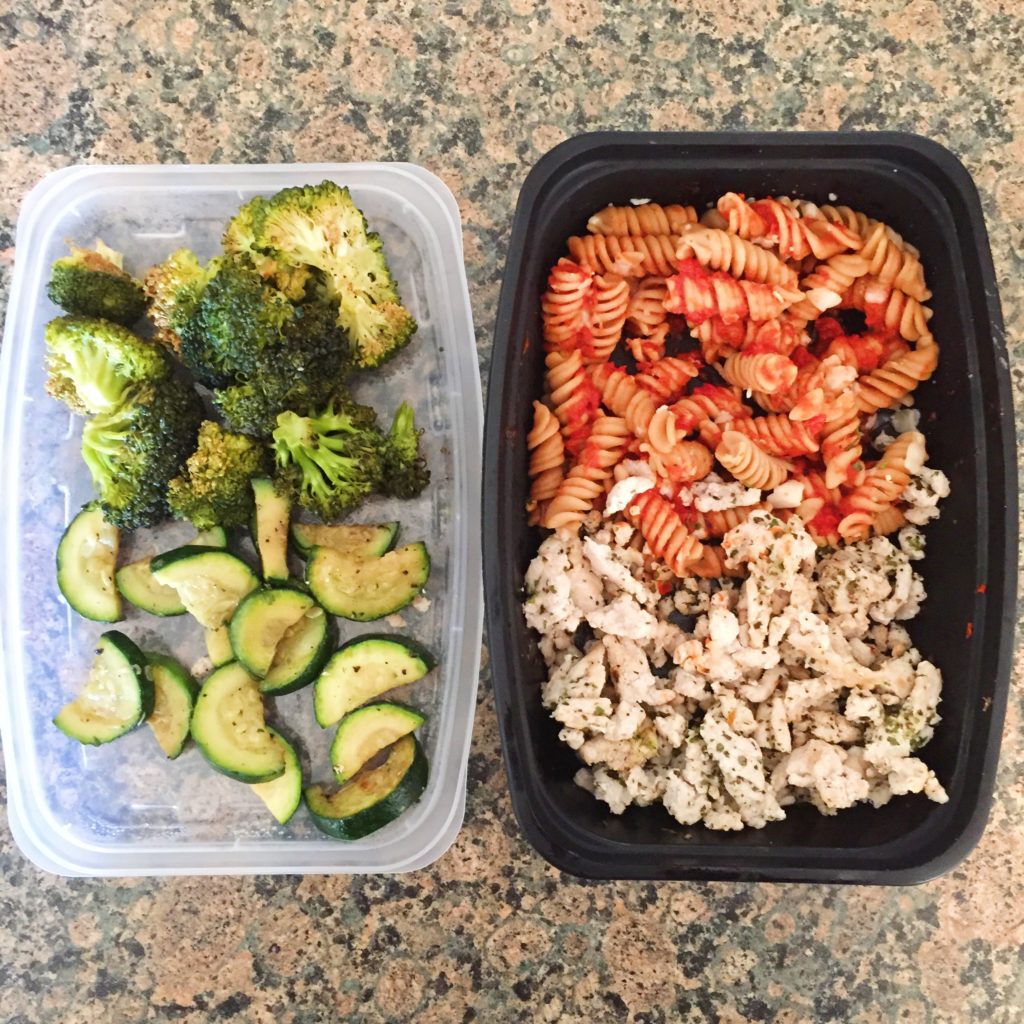 Lunch consisted of extra lean ground turkey, lentil/quinoa pasta with marinara and parmesan, plus cooked zucchini and broccoli. The Ancient Harvest Lentil & Quinoa Pasta isn't my favorite, but if you are gluten-free then it is a decent pasta option.
4:30pm – Meal #4: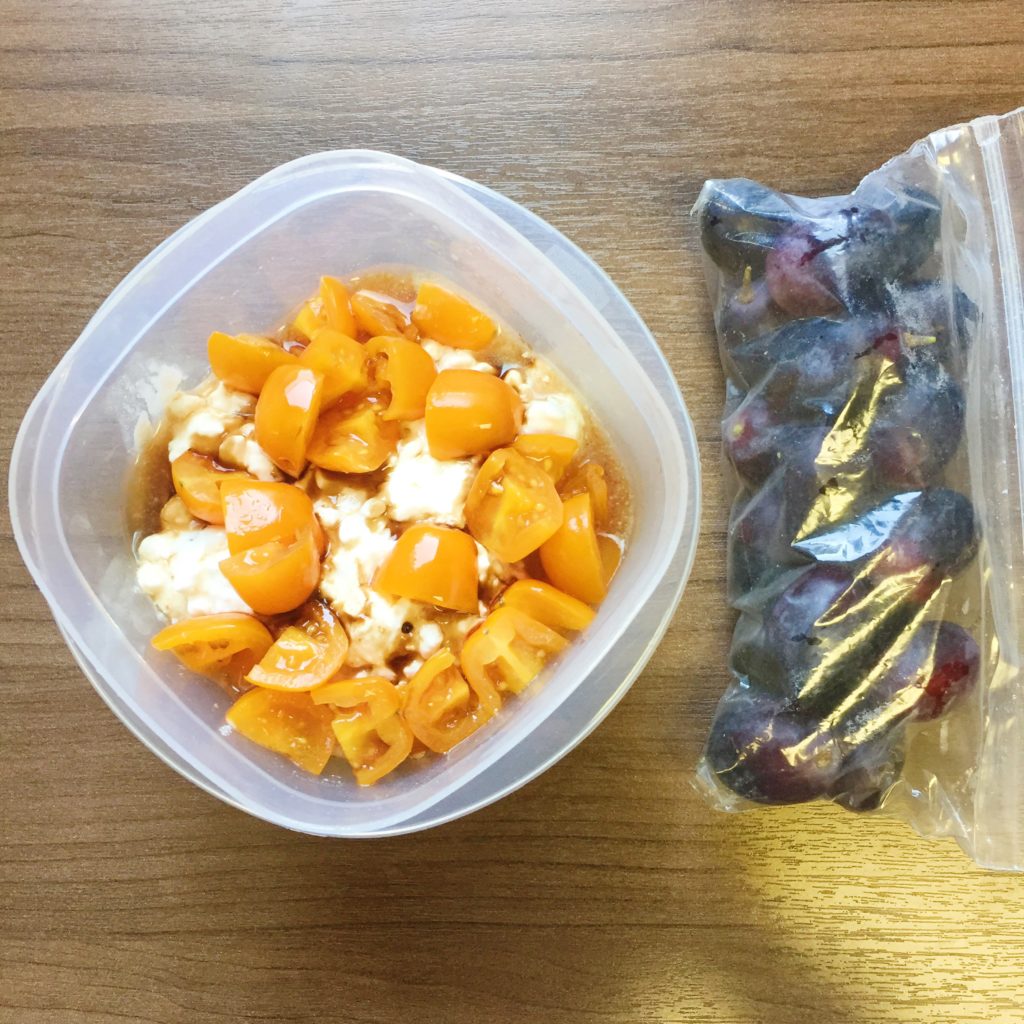 I don't usually like waiting so long between meals (I aim for 2-4 hours) but my stomach was not very happy on this particular day. I did end up eating it before I left work and enjoyed 1 cup 1% cottage cheese topped with chopped cherry tomatoes and a balsamic glaze. On the side I had about 1 cup red grapes.
7:00pm – Meal #5:
Donny picked up a rotisserie chicken for dinner and I made some homemade French fries with parmesan! The fries were SO good. I sliced a russet potato lengthwise and cut them into fries. I tried to get them similar in terms of thickness, but they are all a bit different.
Then I spread them out on a foil-lined baking sheet that I sprayed with non-stick cooking spray then brushed them with about 2 tsp extra-virgin olive oil. I sprinkled them with salt and pepper and baked them at 350° for 30 minutes. After 30 minutes I took them out, sprinkled them with parmesan cheese and set the oven to broil. I broiled the potatoes for an additional 5 minutes and they turned out PERFECT!
I enjoyed the chicken and fries with some raw veggies, including carrots, cucumber and mini bell peppers.
Well that was everything in terms of Mel's Clean Eating Meals! I had a good day of eating even though I didn't feel great. Honestly, I am happy that I meal prep for days like this. When I don't feel that great I'm more apt to grab unhealthy foods like chips and candy rather than eating healthy, whole foods.
If you have any questions about these clean eating meals then please email me at eatliftplayrepeat@gmail.com or comment below. Don't forget to check out how I prepped all this food at Grocery Shopping & Meal Prep Ideas – Week 48.