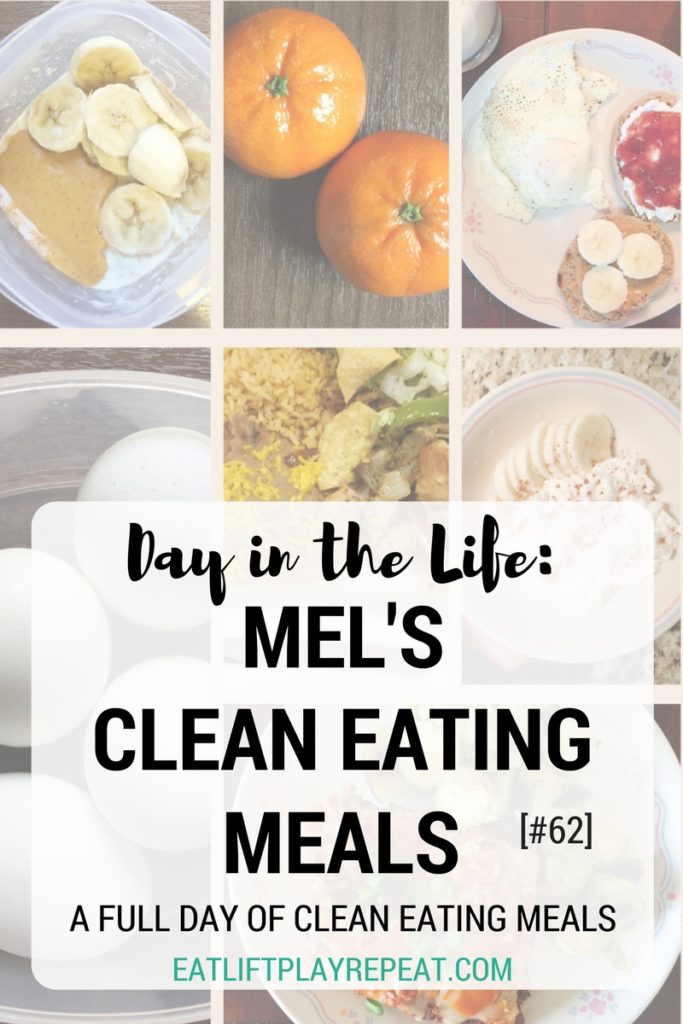 My clean eating meals this week were super simple, but I have not been bored at all! During meal prep I made an enchilada casserole and it has been wonderful to eat for lunch this week. I also forgot how much I like hardboiled eggs! I've been having those as a snack and they are filling, yet low in calories.
Meal prep helps me to eat clean all day long without having to cook every meal. In fact, the only thing I cooked all day was the eggs at breakfast! I keep healthy foods in the fridge ready-to-eat in case I get home late or am too tired to cook.
If you have any questions about Mel's Clean Eating Meals then please email me at eatliftplayrepeat@gmail.com or comment below. Don't forget to check out Grocery Shopping & Meal Prep Ideas Week 47 post to see how I made some of these foods.
Pre-Workout: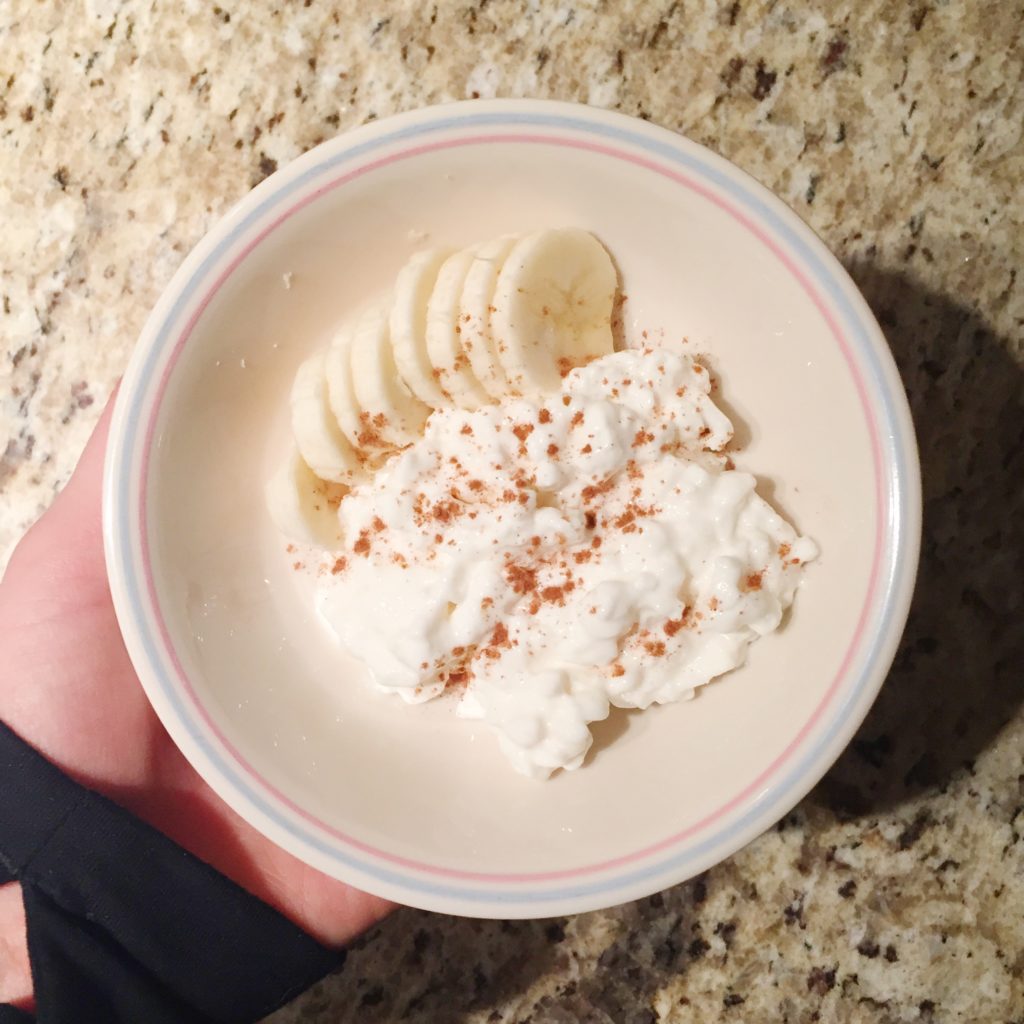 I started the day by drinking 1/2 liter of water. Honestly, I've been struggling drinking the entire liter at once so I'll drink half first thing and finish the other half after my workout. Along with water I also had 1/4 cup 1% cottage cheese mixed with a touch of protein powder, cinnamon and 1/3 banana.
6:30am – Meal #1: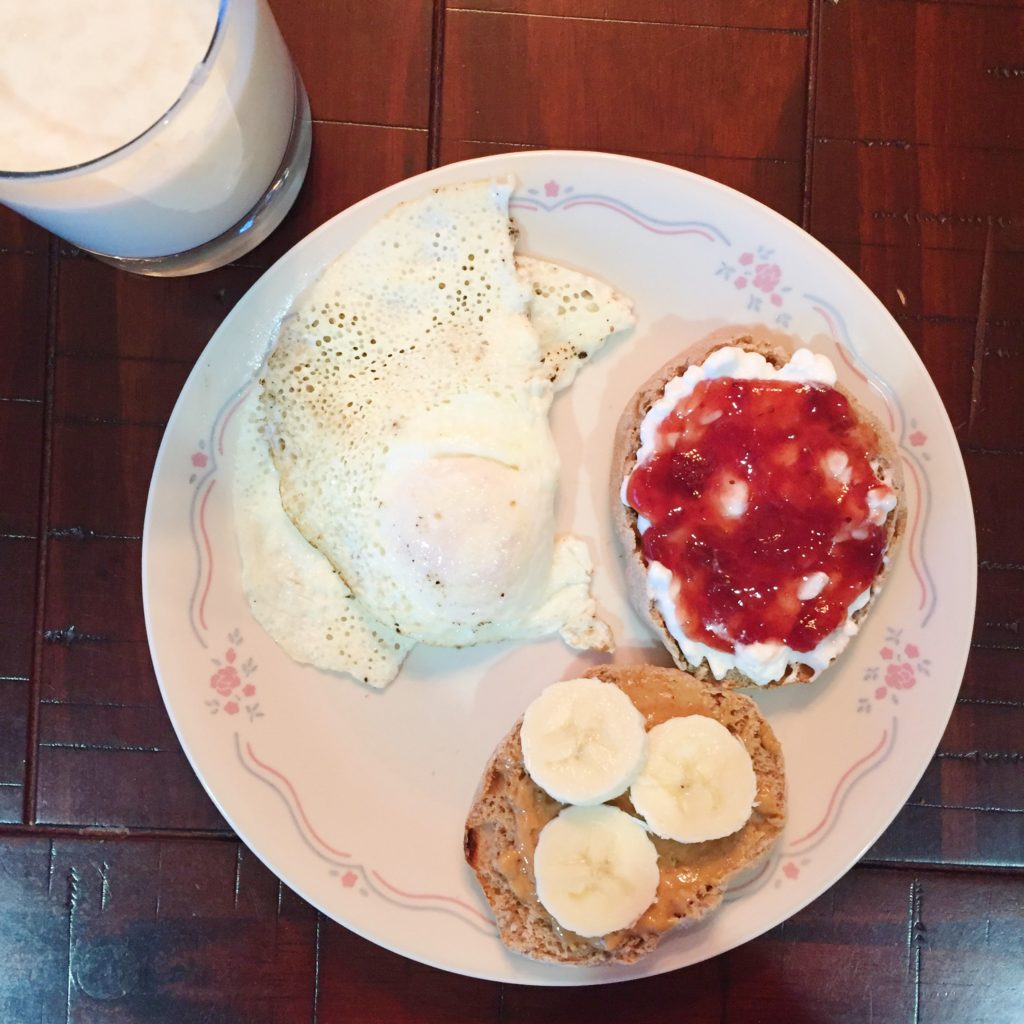 Breakfast was 1 egg + 1 egg white cooked over-easy with salt and pepper. On the side I had one Thomas Whole Wheat English Muffin – half topped with peanut butter and banana while the other half was topped with cottage cheese and strawberry jam. I posted this on Instagram, but cottage cheese and jam together are wonderful! So easy, yet a great flavor combo.
For a little extra protein I had 3/4 scoop vanilla protein powder mixed with 1% milk.
9:45am – Meal #2:
My mid-morning meal was overnight oats that I made during meal prep. I topped them with sliced banana and peanut butter. My PB was super runny so it looks like a TON, but it was about 3/4 Tbsp.
12:15pm – Meal #3: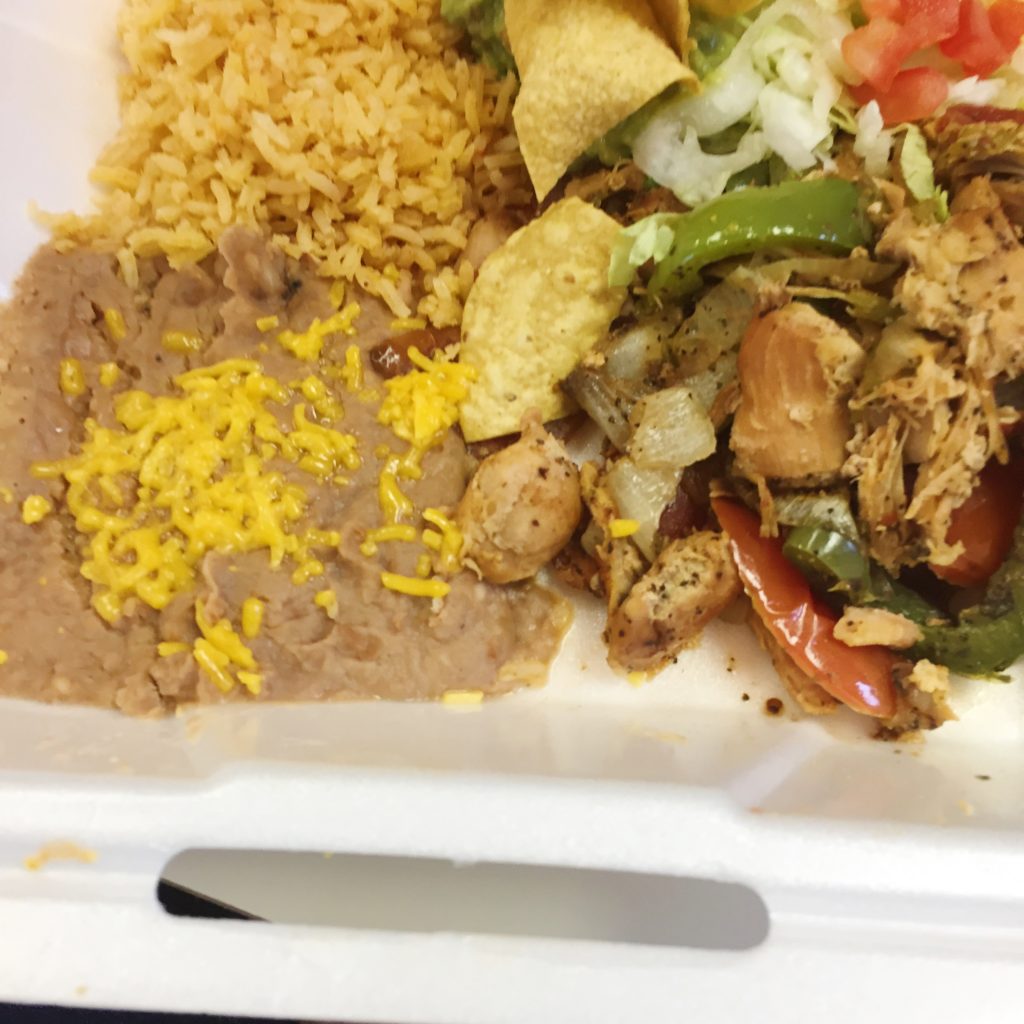 I had to go to our sales staff meeting for work and we ordered food from Santiago's. My lunch was chicken fajitas with guacamole. The picture is awful! I was trying to sneak a pic while the meeting was going on. Under those chips there was about 2 Tbsp guacamole. I ate all the chicken & peppers, plus the guac. However, I didn't eat the chips or the rice, but had a bite or two of the beans.
3:45pm – Meal #4: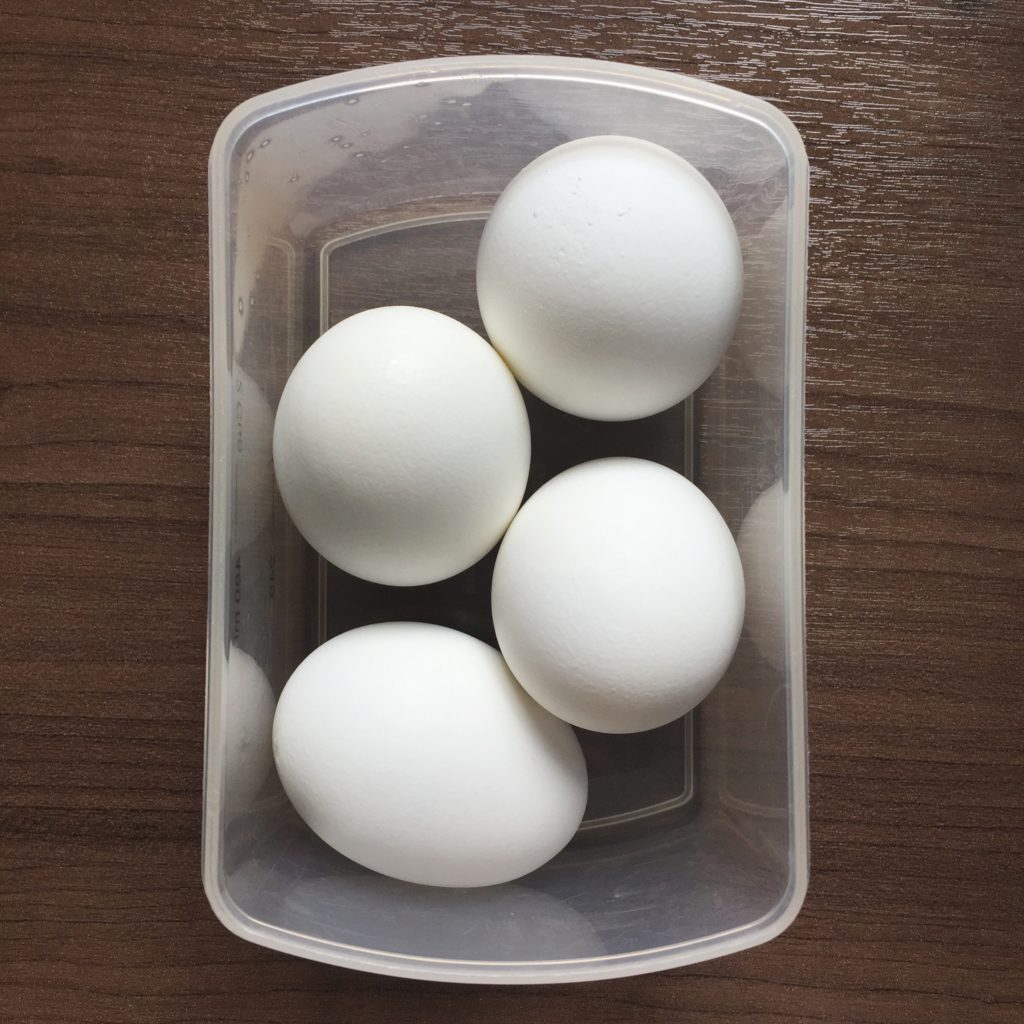 Mid-afternoon I had 2 clementines and 4 hardboiled egg. I ate two whole eggs and two of the egg whites (I just scooped the yolk out and discarded them). It has been a while since I have hardboiled eggs and man, they are delicious!
6:30pm – Meal #5: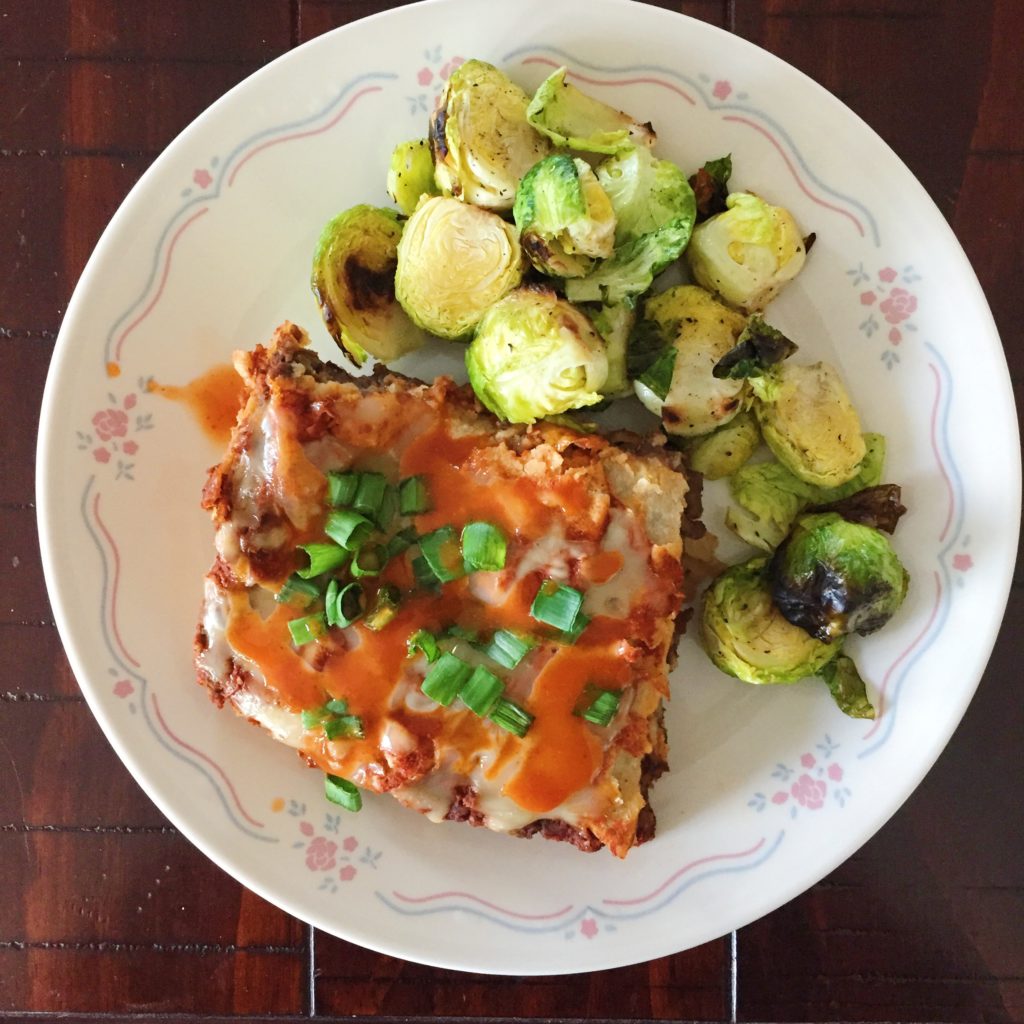 Dinner was super simple! I made an enchilada casserole during meal prep and since I had take-out for lunch I had a piece of the casserole for dinner. It is really good! Along with the casserole, I also had some Brussels sprouts.
Honestly, I had forgotten about my meeting on Monday while I was doing meal prep so I actually packed lunch for that day. Since I didn't need to take it to work I ended up eating it for dinner – it was already portioned out and everything! So easy.
Well that wraps up Mel's Clean Eating Meals. If you have any questions about preparation for these clean eating meals then please feel free to ask! Email me anytime at eatliftplayrepeat@gmail.com or comment below.