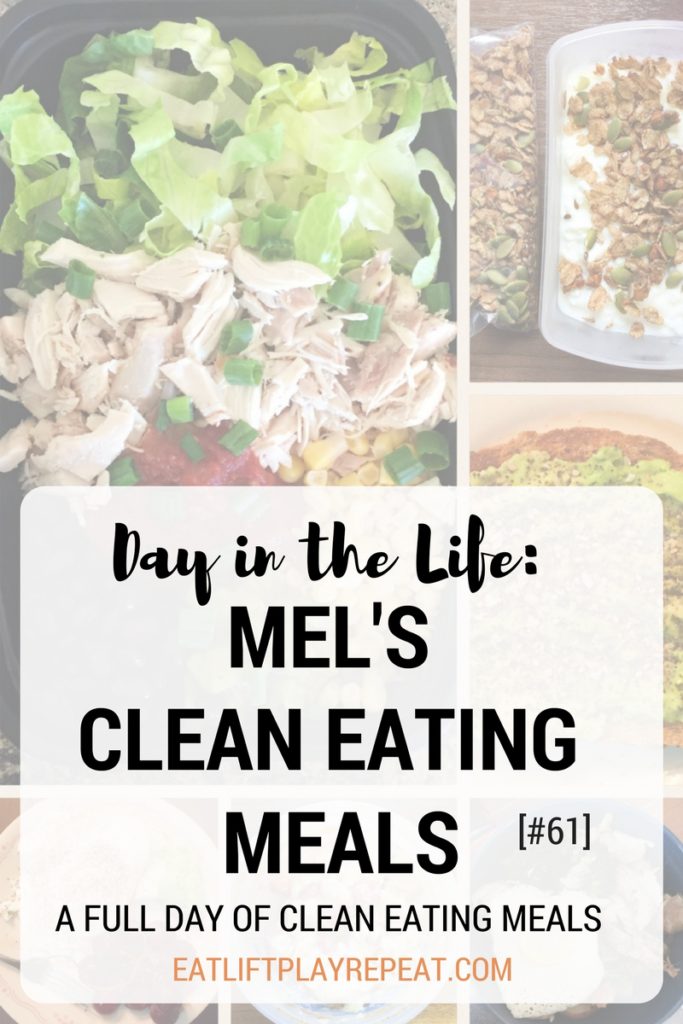 Mel's Clean Eating Meals is a weekly post where I show you what I eat through the entire day. I try to eat healthy foods from start to finish, but I do throw in an occasional treat (especially lately).
Healthy meals can be made without too much effort or weird foods. I tend to gravitate towards the same healthy foods, but I enjoy them so it is alright. I switch up the vegetables occasionally, but stay true to the basic lean proteins like chicken and eggs.
If you have any questions about my clean eating meals then please ask! Email me at eatliftplayrepeat@gmail.com or comment below. Don't forget to check out this week's Grocery Shopping & Meal Prep Ideas – Week 46 post to see what and how I meal prepped this week!
4:30am – Pre-Workout:
I started the day by drinking 1/2 liter of water. Normally I'll try to drink a full liter, but it wasn't happening this particular day. I finished the other half once I got back from the gym.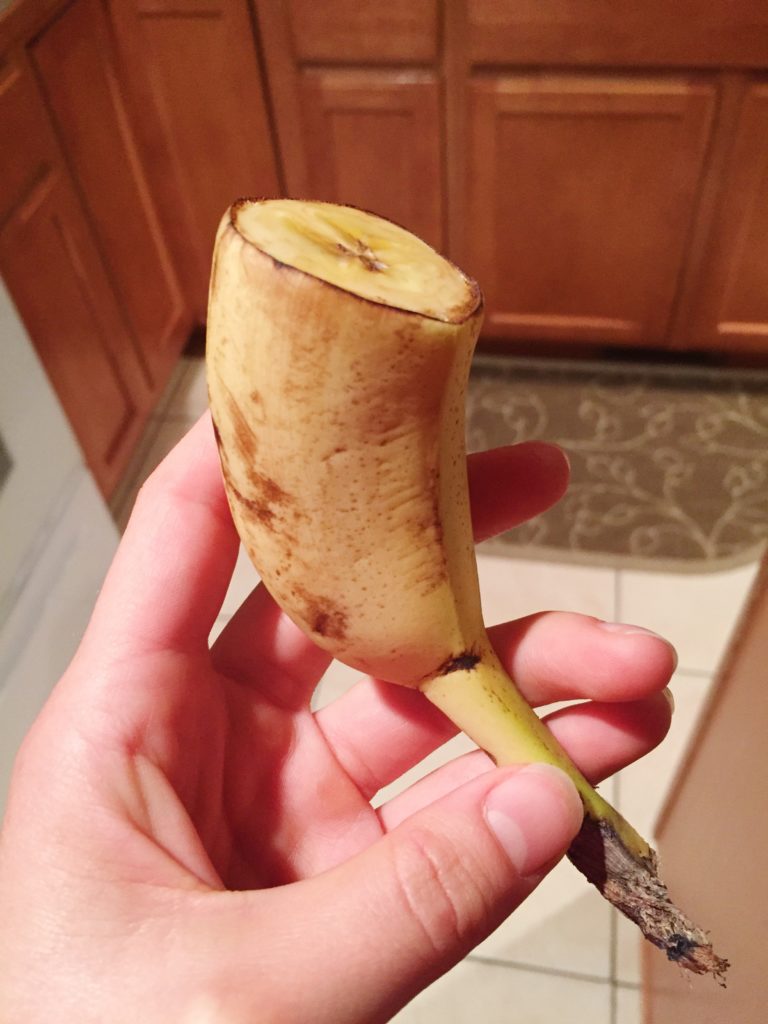 I also had 1/2 banana before my workout. Bananas give me quick energy without weighing me down during a workout. I don't need much in my belly, but it helps to have a little something.
6:30am – Meal #1:
Breakfast was quite delicious actually. I cooked five egg whites by themselves, then one whole egg over-easy right after. I like the mixture of egg whites and runny yolk. Yum!
I also had 1/2 avocado and some red grapes. Part of the mashed avocado I ate along with the eggs.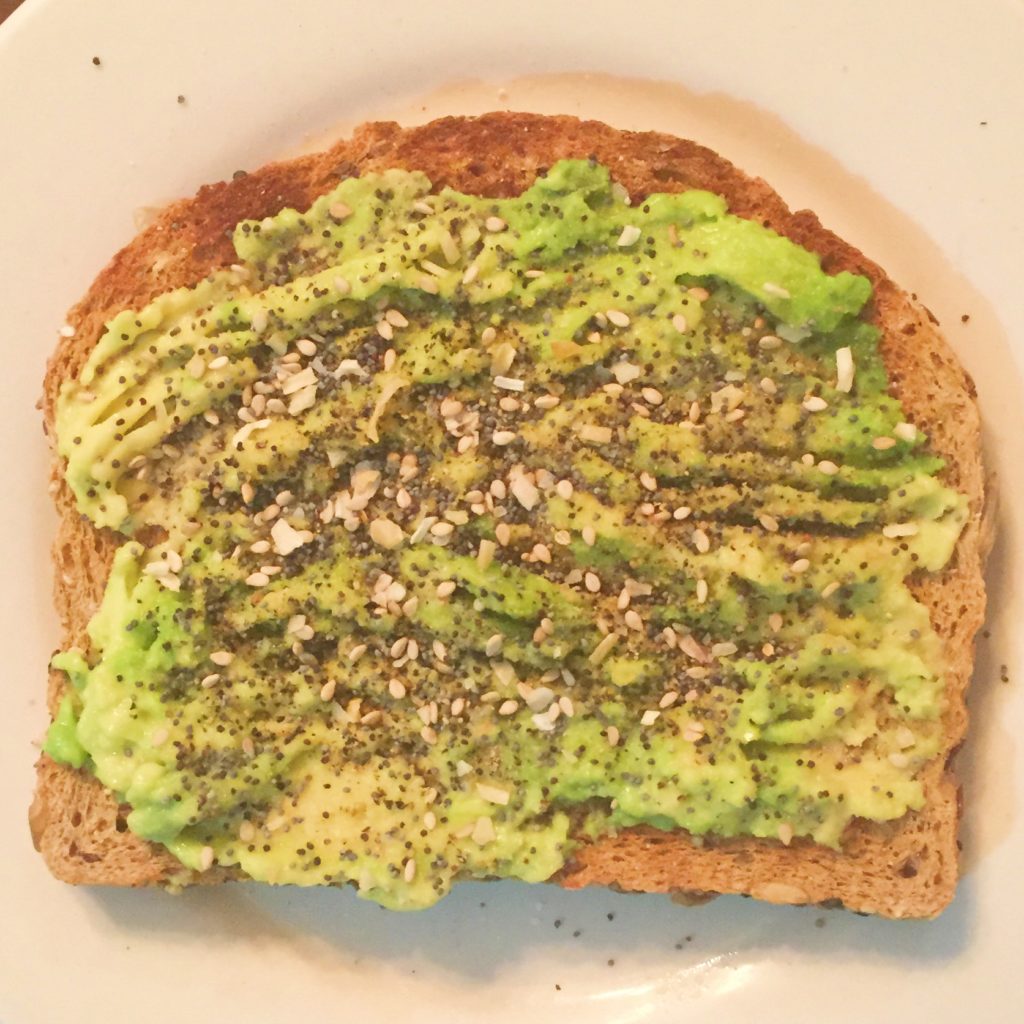 The other part of avocado I spread on top of a slice of Dave's Killer Bread (powerseed). I sprinkled "everything-bagel seasoning" on both the eggs and the toast. Nom nom nom. So good and quite filling.
7:45am – Snack #1: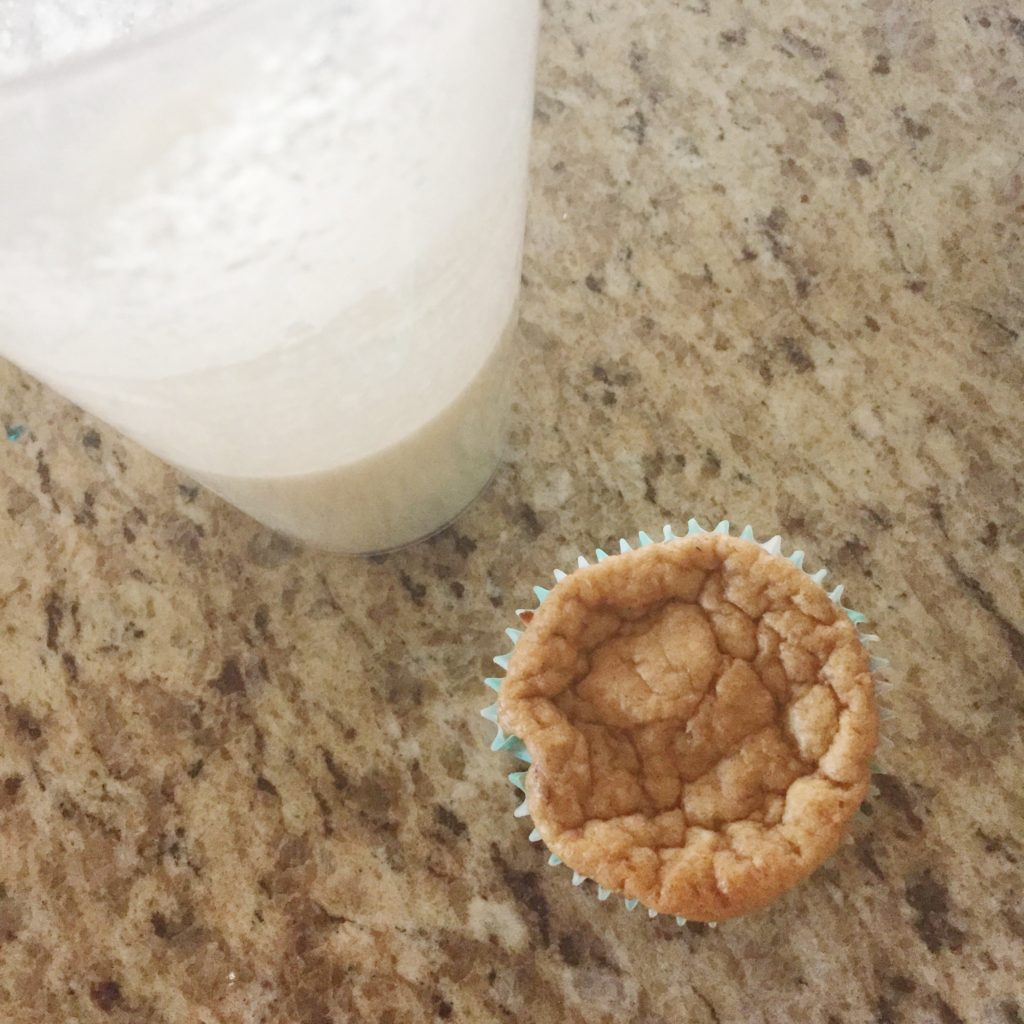 On my way to work I enjoyed 1/2 scoop vanilla protein powder mixed with 1% milk and banana nut muffin. I made these muffins over the weekend and used a recipe from Running with Spoons for Banana Oat Greek Yogurt Muffins. I omitted the chocolate chips, but added pecans and sliced almonds. I also ended up with smaller muffins, so I got 15 out of the recipe rather than 12.
10:00am – Meal #2: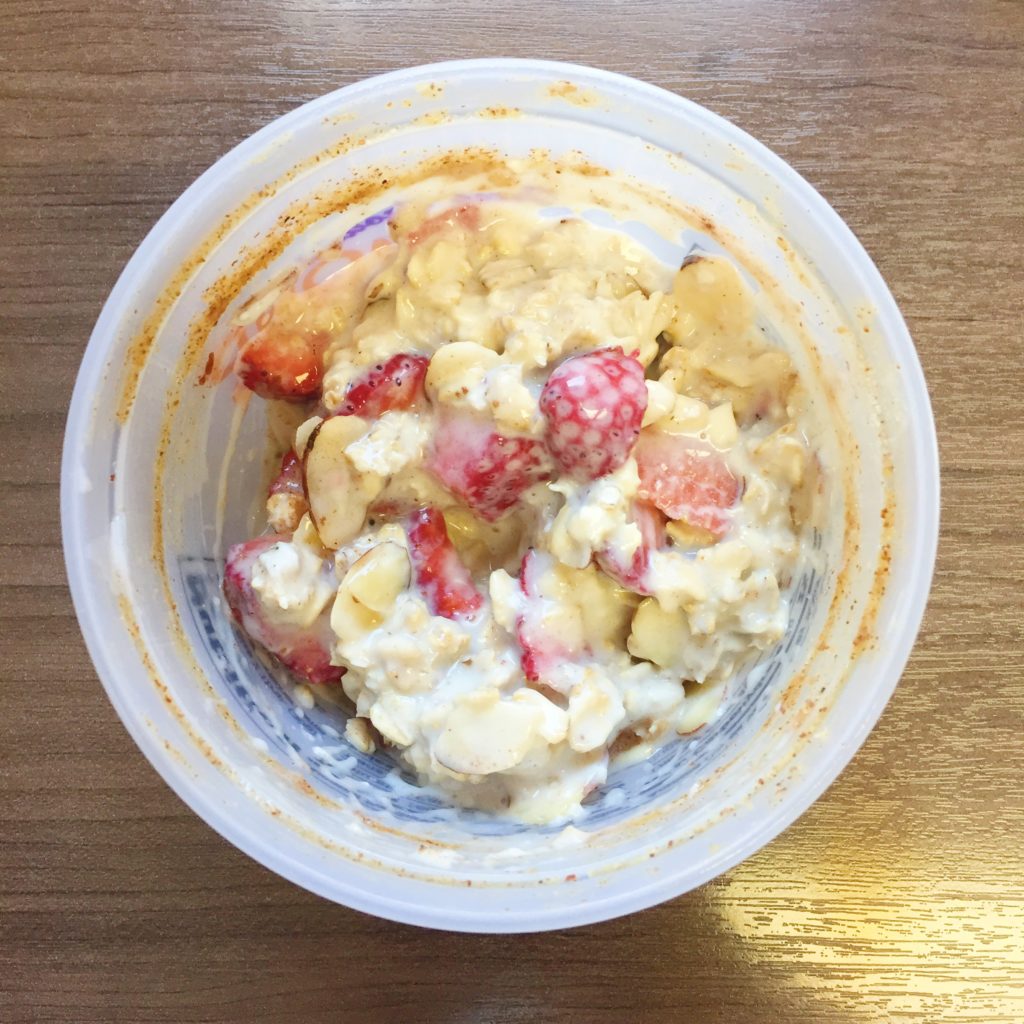 My mid-morning snack was overnight oats that I made during meal prep. I topped them with sliced strawberries, sliced almonds and cinnamon. It was really good!
These oats were mixed in an empty almond butter tub so it made them EXTRA delicious.
12:00pm – Meal #3: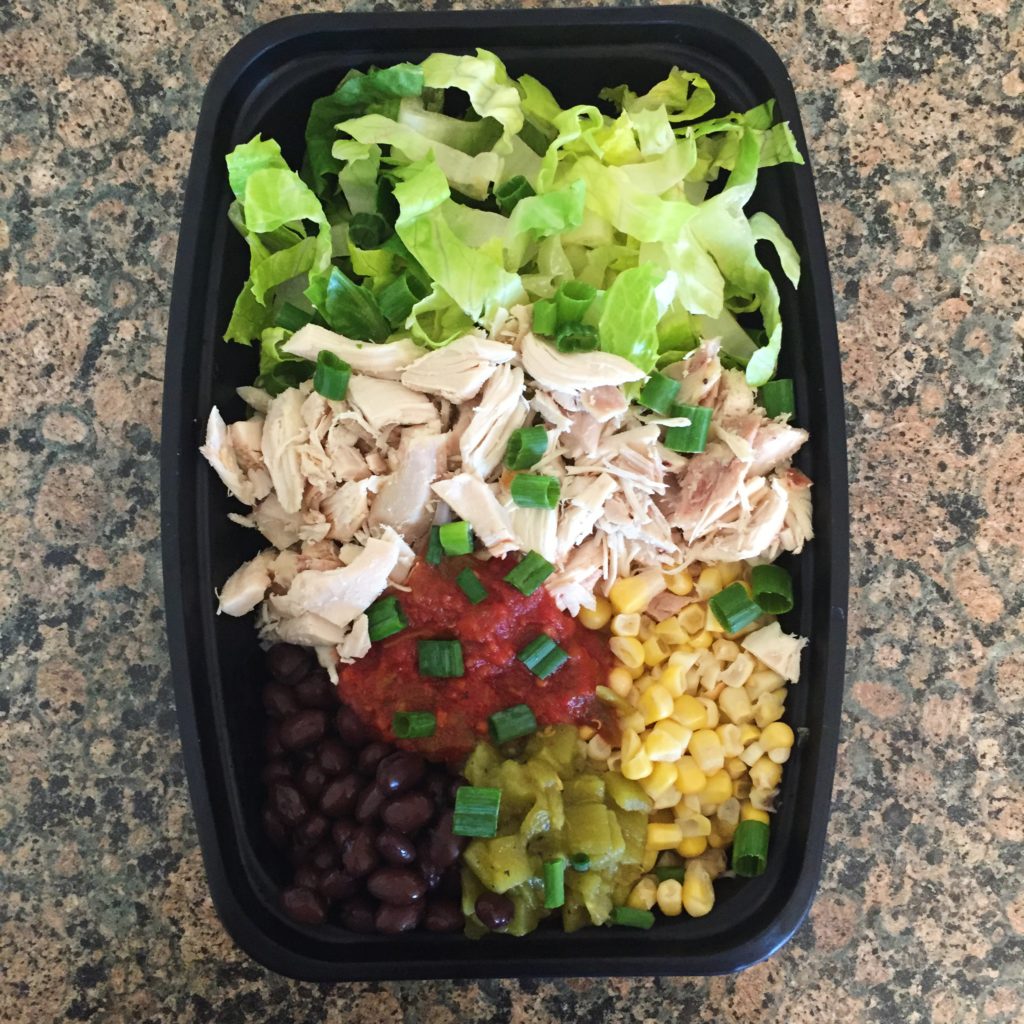 My lunch was a No-Cook Meal Prep Burrito Bowl. I removed the lettuce from the container, then microwaved the rest for 90 seconds. Then I stirred it all up and scooped it out onto the bed of lettuce. It is a fantastic lunch. I recommend making it soon!
2:45pm – Snack #2: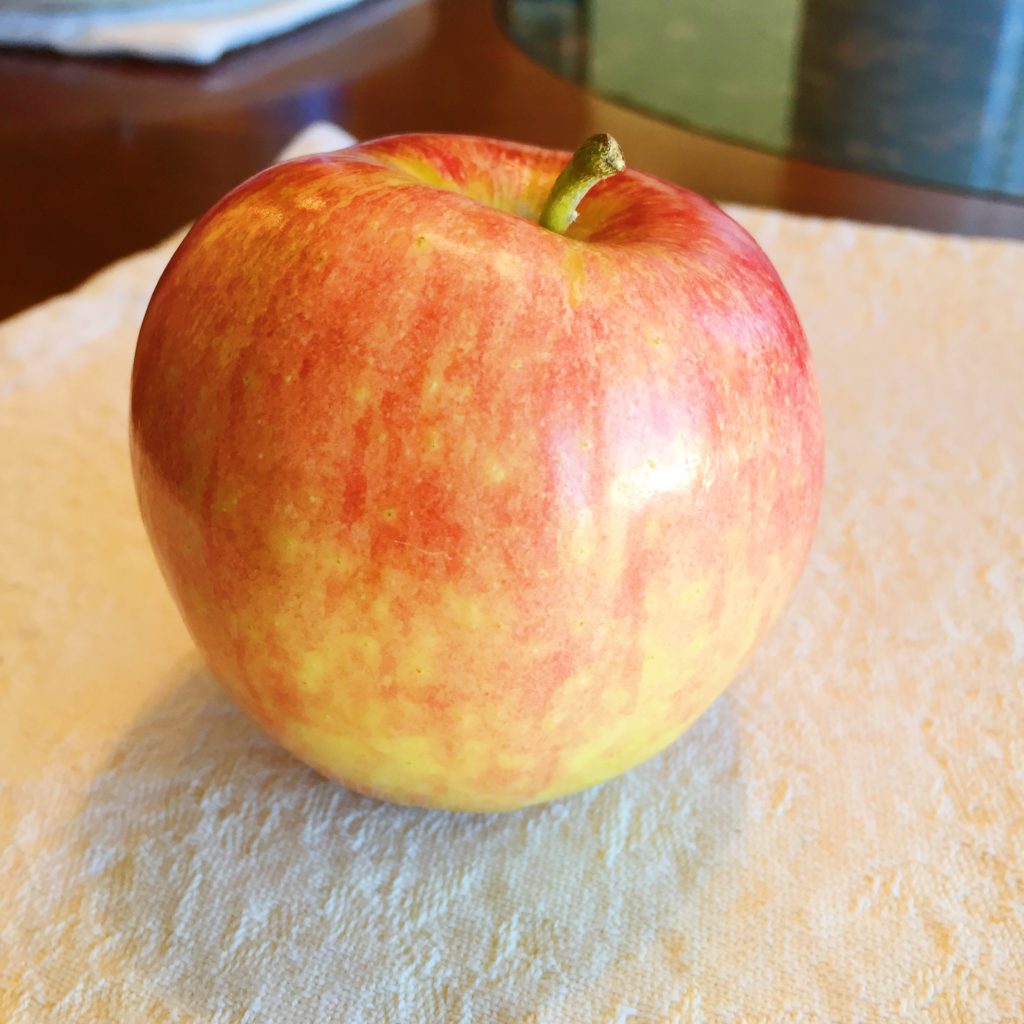 Mid-afternoon I started to get a little hungry, but not enough to eat my cottage cheese so I ate a medium-large gala apple.
3:30pm – Meal #4: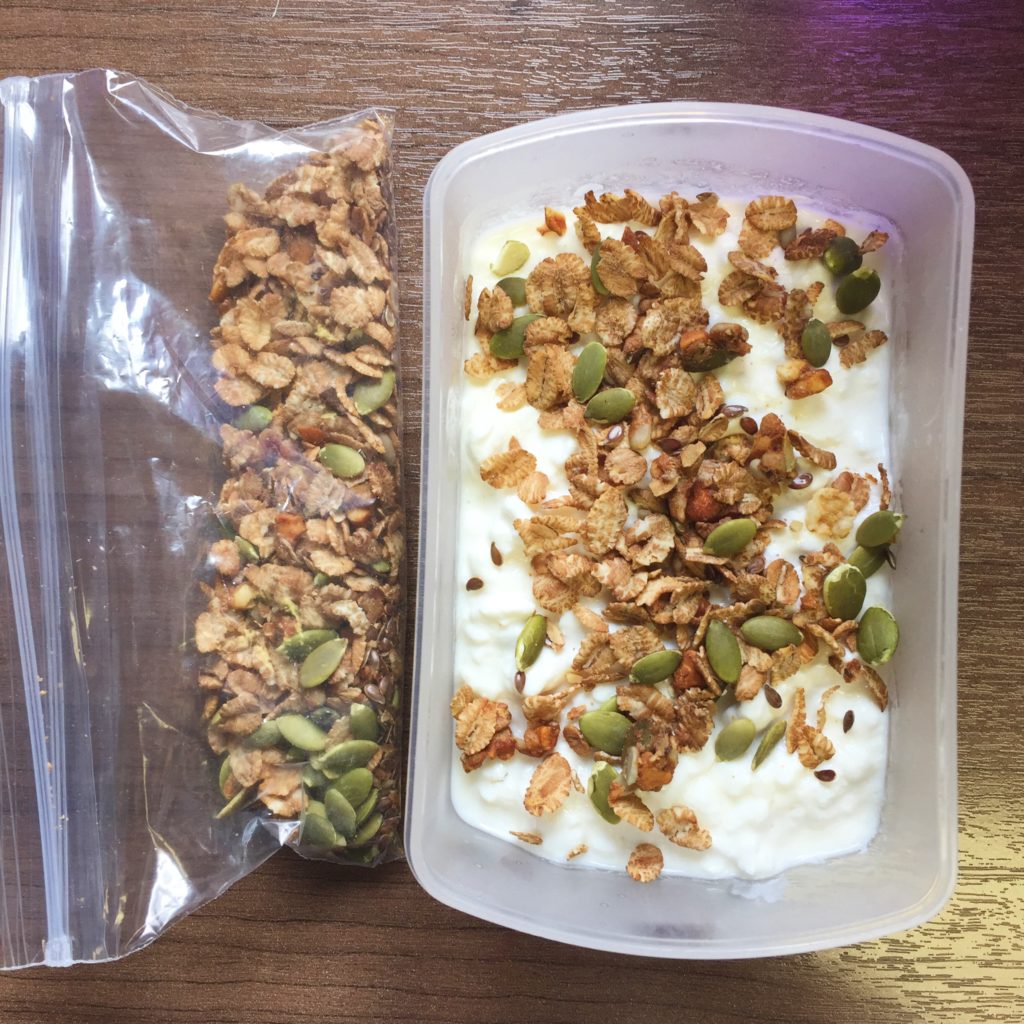 Mid-afternoon I had 1 cup 1% cottage cheese mixed with 1/3 scoop vanilla protein powder. On top I sprinkled 1 Tbsp pepitas, 1 Tbsp Purely Elizabeth granola and 1/4 cup Uncle Sam's Whole Wheat Berry Flakes (the cereal contains flax too). It is a great snack and takes 5 minutes to whip up a batch for the week.
7:00pm – Meal #5: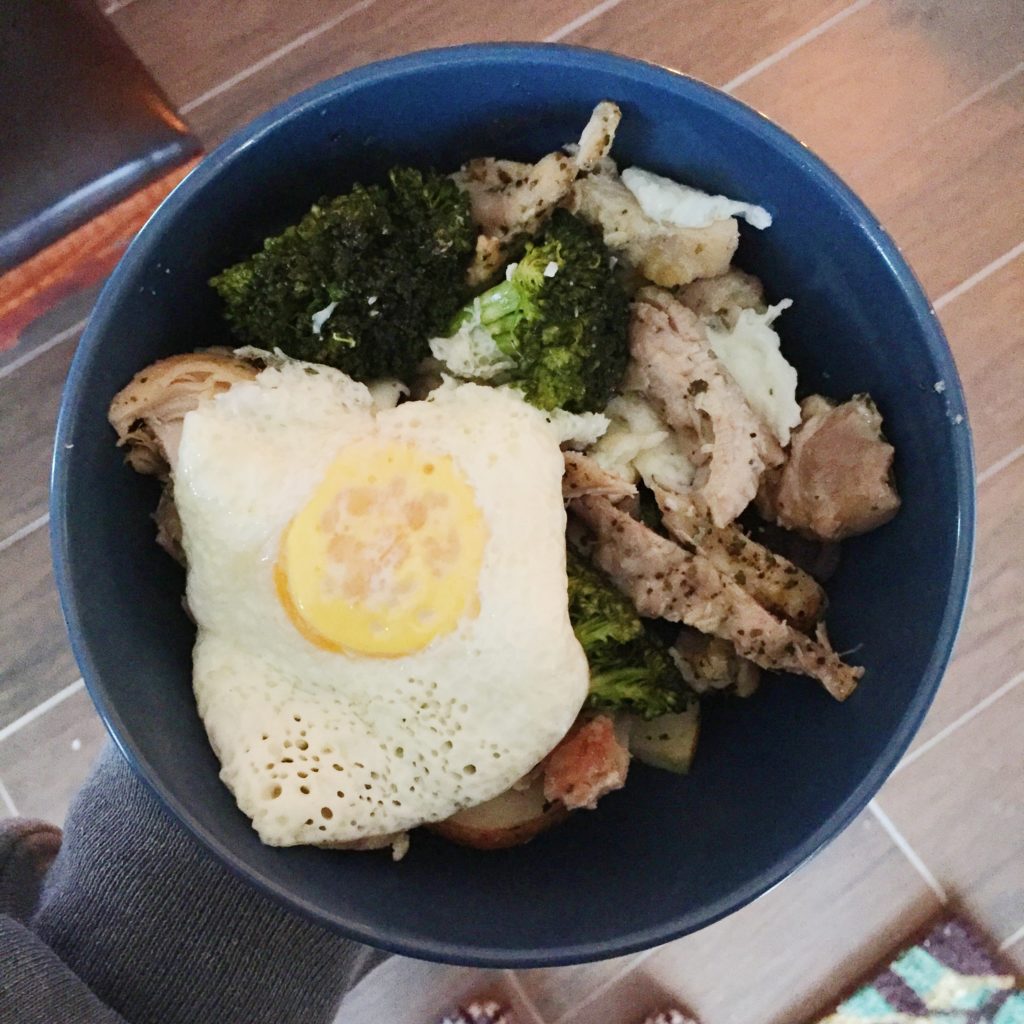 My stomach wasn't feeling great once I got home from work and Donny had been sick. When I finally got around to putting something together for dinner it was later than normal.
I took the Italian one-pan chicken, potatoes and veggies mixture that I made during meal prep and heated some up in the microwave. Then I cooked an egg white and one whole egg over-easy and put it on top. Amazing! I know it doesn't look like much, but it was SO good.
8:00pm – Dessert: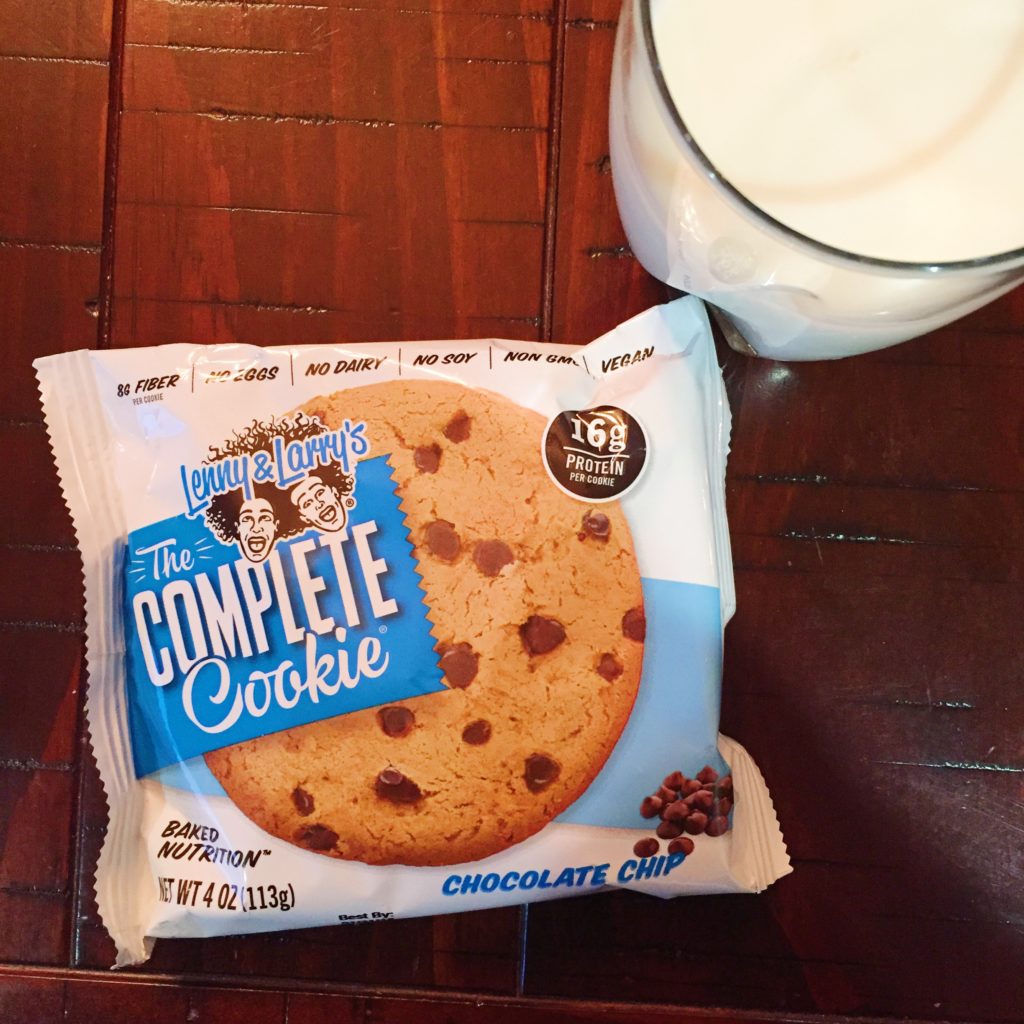 Lately I've been really diggin' milk. I like to drink a little bit before bed. Well this particular night I decided to have part of a Lenny & Larry's Chocolate Chip Cookie with it.
One serving is 1/2 a cookie and I actually only ate a 1/4 of the cookies, so half a serving. I've tried a few different varieties of the Lenny & Larry's cookies, but I think the Snickerdoodle is the best that I've had. I'll have to keep working my way through the flavors!
Well that was everything I ate in terms of Mel's Clean Eating Meals. If you have questions then please feel free to ask! Email me at eatliftplayrepeat@gmail.com. I love talking about food and offering any tips that I've picked up along the way.