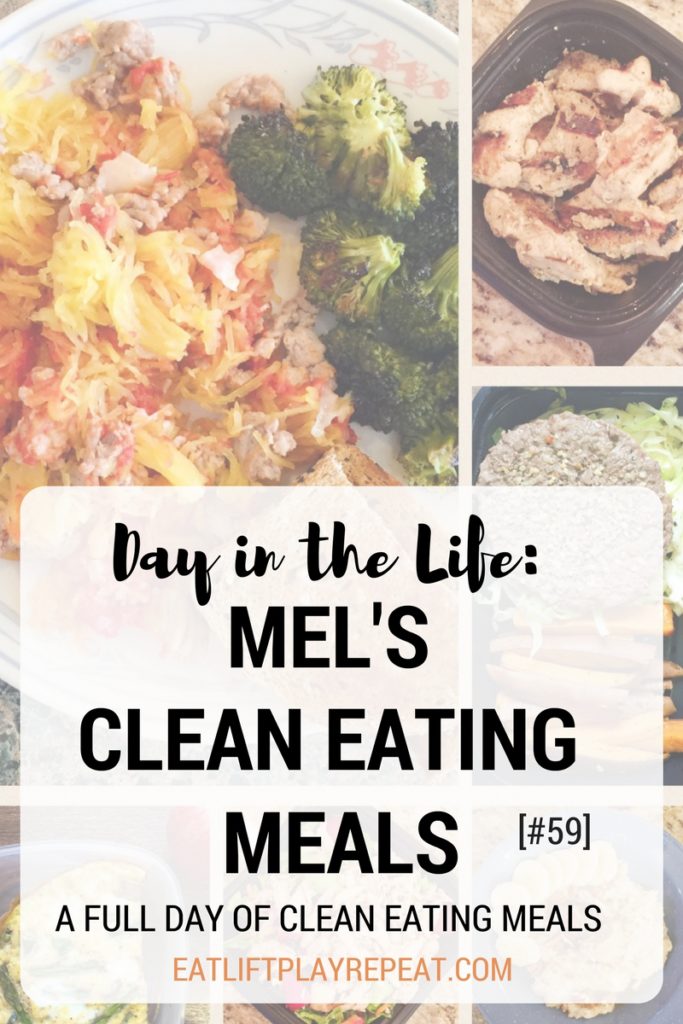 I am back to a normal eating schedule for me. When we were remodeling our kitchen I was eating a little different in terms of meals. I was still eating healthy meals, but they were more snack-like and more frequent. I definitely prefer eating actual meals compared to snacking. They keep me full longer than snacks so I don't go crazy at night eating every. single. thing.
Most of these meals are made during meal prep. Meal prep helps me to eat healthy, clean eating meals throughout the day without having to worry about preparing food. It is already done! It saves me time and also money from not eating out when I am starving. It has become a staple in my weekend routine and I definitely recommend it to anyone.
If you have any questions about my clean eating meals then please feel free to ask! Comment below or send me an email at eatliftplayrepeat@gmail.com.
4:30am – Pre-workout: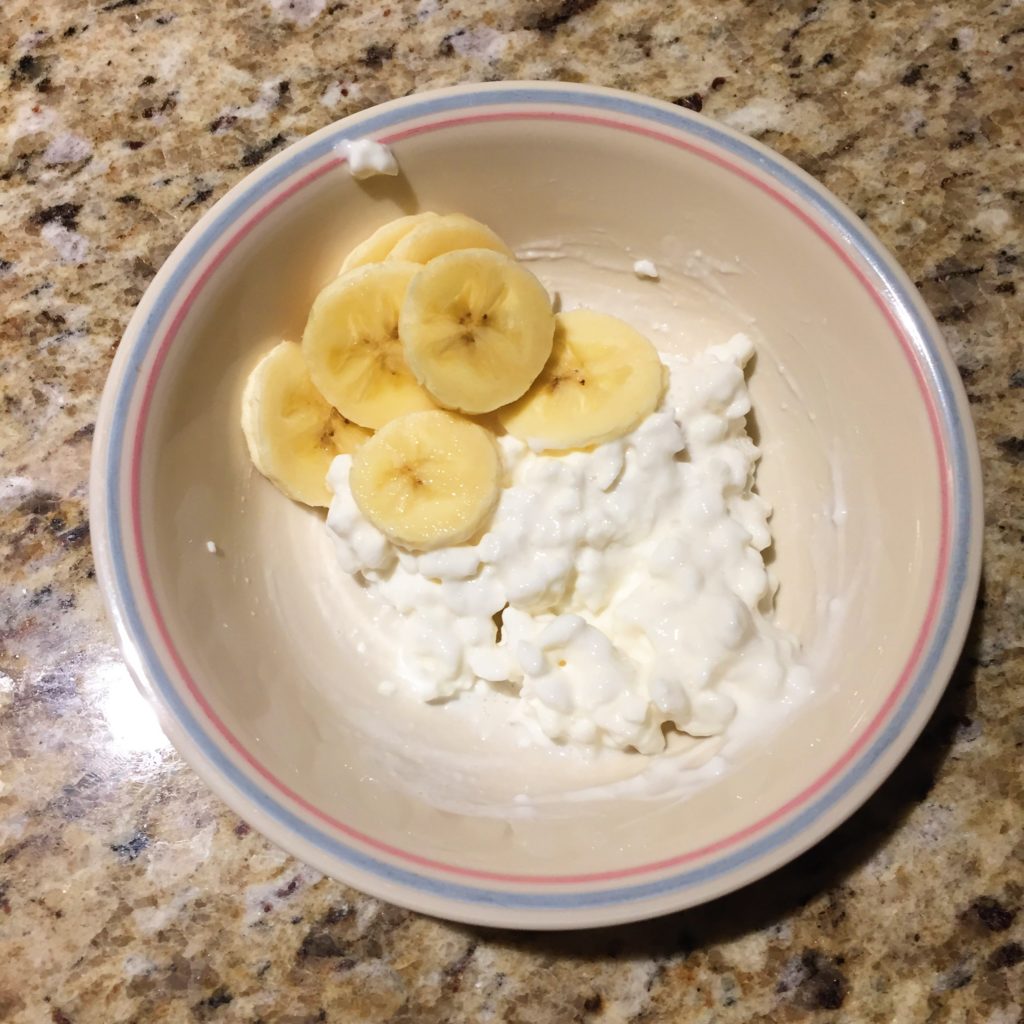 I started the day with 1 liter of water, plus a small snack before heading to the gym. My snack was 1/4c 1% cottage cheese with 1/2 small banana. Cottage cheese gives me a little protein and the banana gives me some quick carbs to use for the workout. This combo is great for me to eat before exercising.
6:30am – Meal #1:
Since I have eggs for my mid-morning snack, I have been having hot oats for breakfast each morning. I am NOT mad about it at all.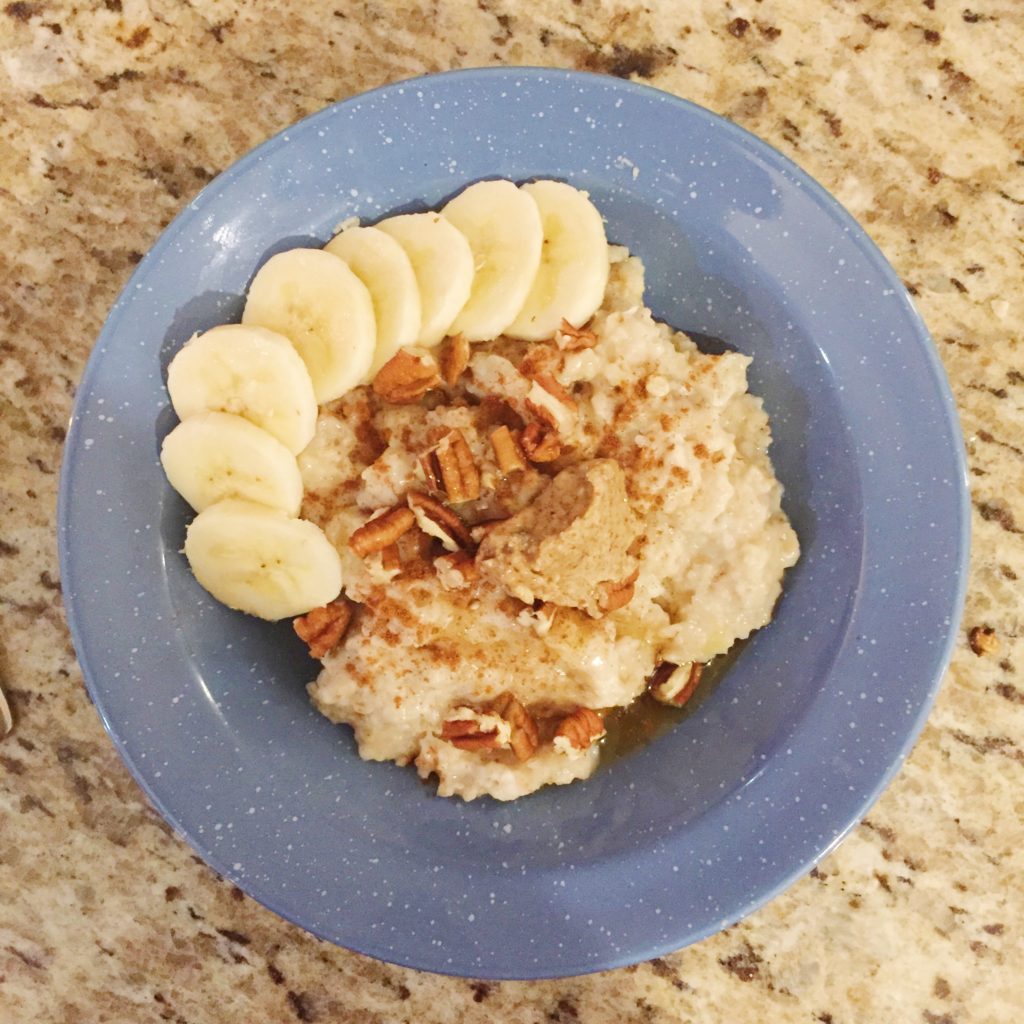 I had quick oats mixed with 1 whipped egg white. Then I mixed in 1/3 scoop vanilla protein powder. On top I added chopped pecans, almond butter, sliced banana and cinnamon. I LOVED the combo of pecans and almond butter. Yum! On the side I had a scoop of vanilla protein mixed with 1% milk.
9:30am – Meal #2: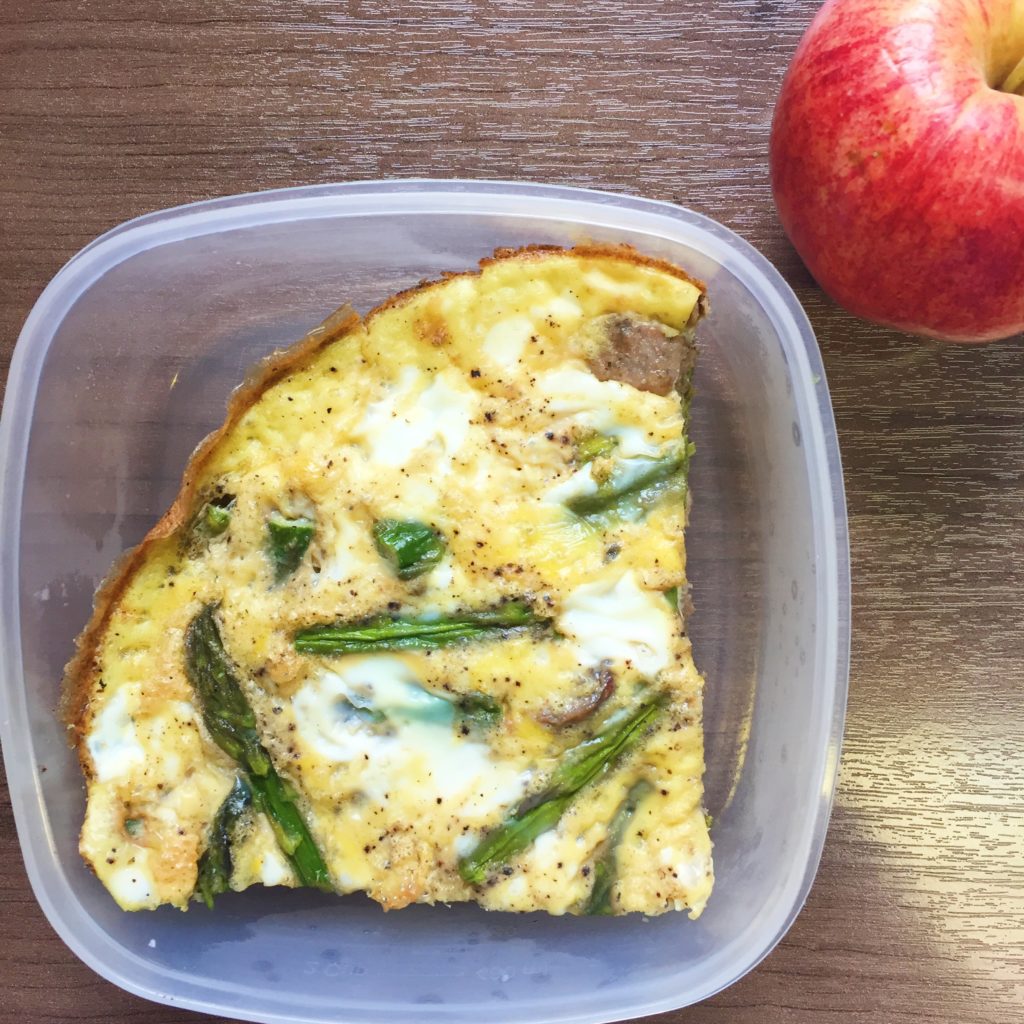 My mid-morning meal was 1/5 of the frittata that I made during meal prep. I drizzled 1 packet of Cholula on top and had 1 small gala apple on the side. The frittata was made with turkey breakfast sausage, asparagus, eggs, egg whites and a touch of milk. It is really good! Check out how I made it in yesterday's Grocery Shopping & Meal Prep Ideas Week 44 post!
12:30pm – Meal #3: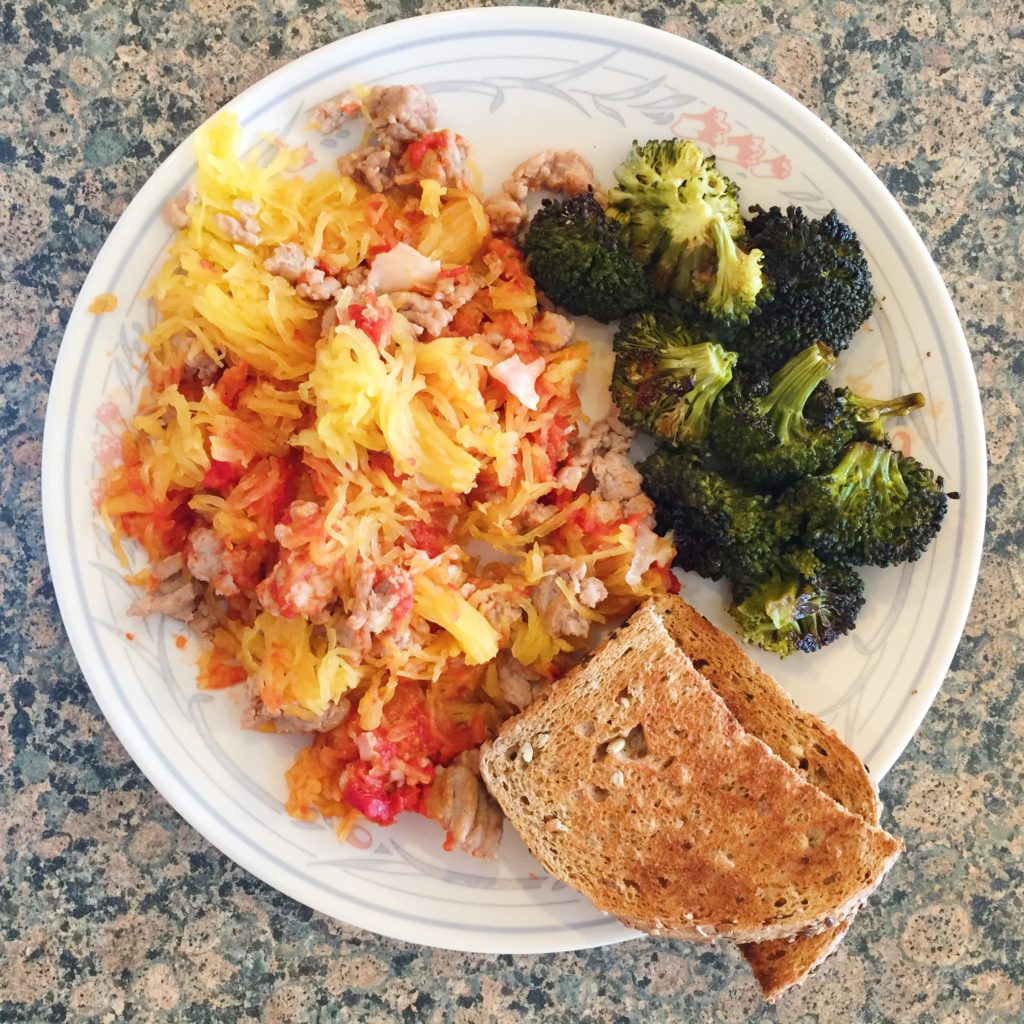 My lunch for the day was spaghetti squash with jarred marinara, Parmesan cheese, Italian-seasoned ground turkey and roasted broccoli. On the side I had one slice of Dave's Killer Powerseed Bread. I love this stinkin' bread… so good!
4:00pm – Meal #4: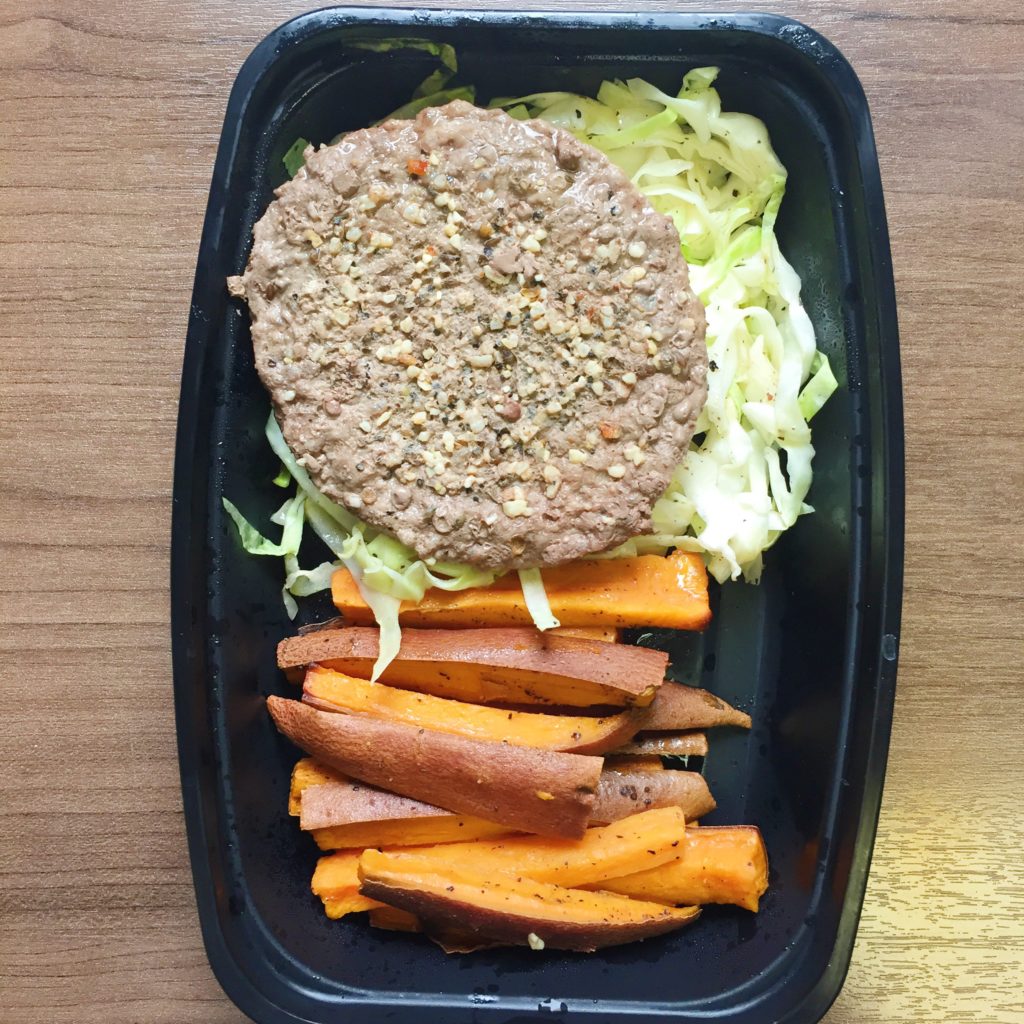 My mid-afternoon meal consisted on 1 lean hamburger patty along with sautéed cabbage and sweet potato fries. The sweet potato fries hit the spot….like they always do!
7:00pm – Meal #5: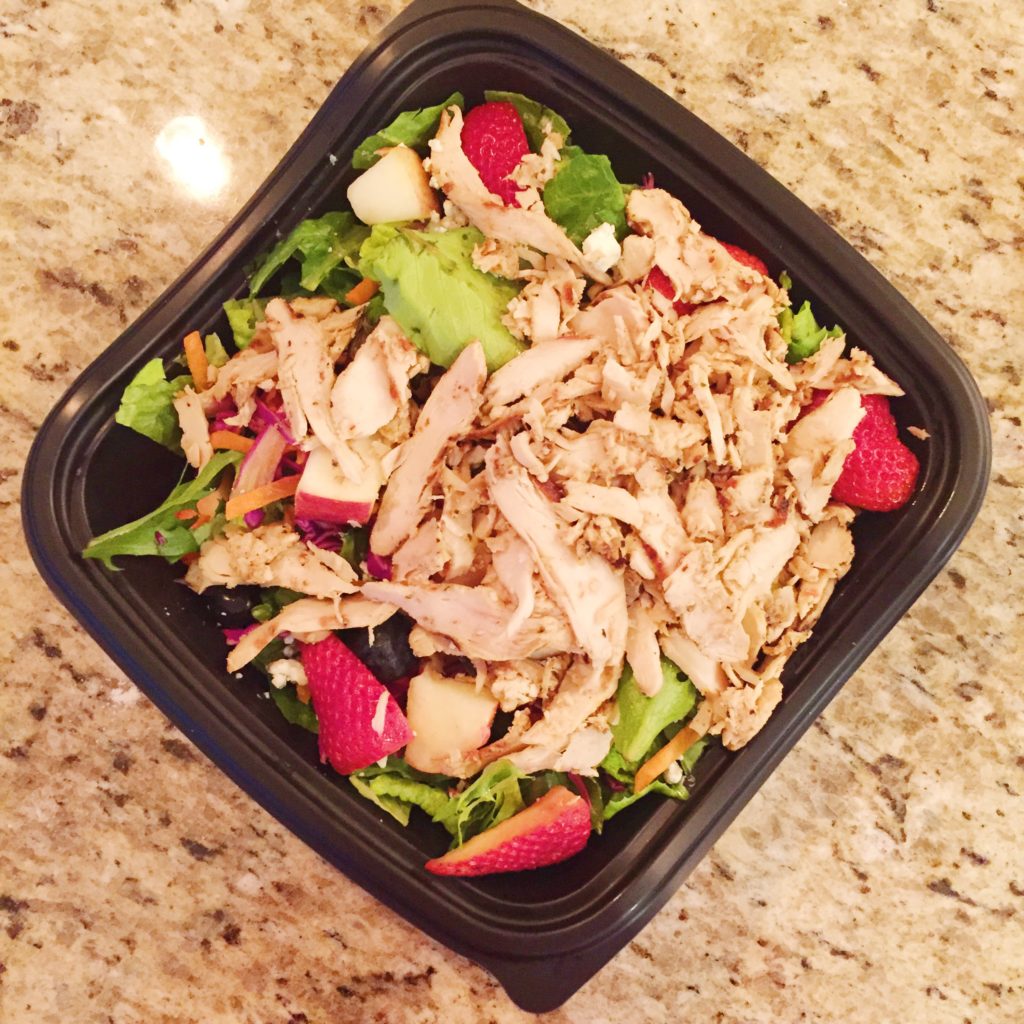 I went to yoga on Monday night so I was late getting home. Donny got back from a trip that afternoon so he picked up Chick fil A for us! I am in love with the Market Salad from Chick fil A. It has strawberries, blueberries, apples, a bed of leafy greens and of course, chicken! I drizzled some low-fat honey mustard on the salad as well. When you order the salad it comes with a packet of granola and a packet of nuts. I skipped those and put them in the cabinet to use later.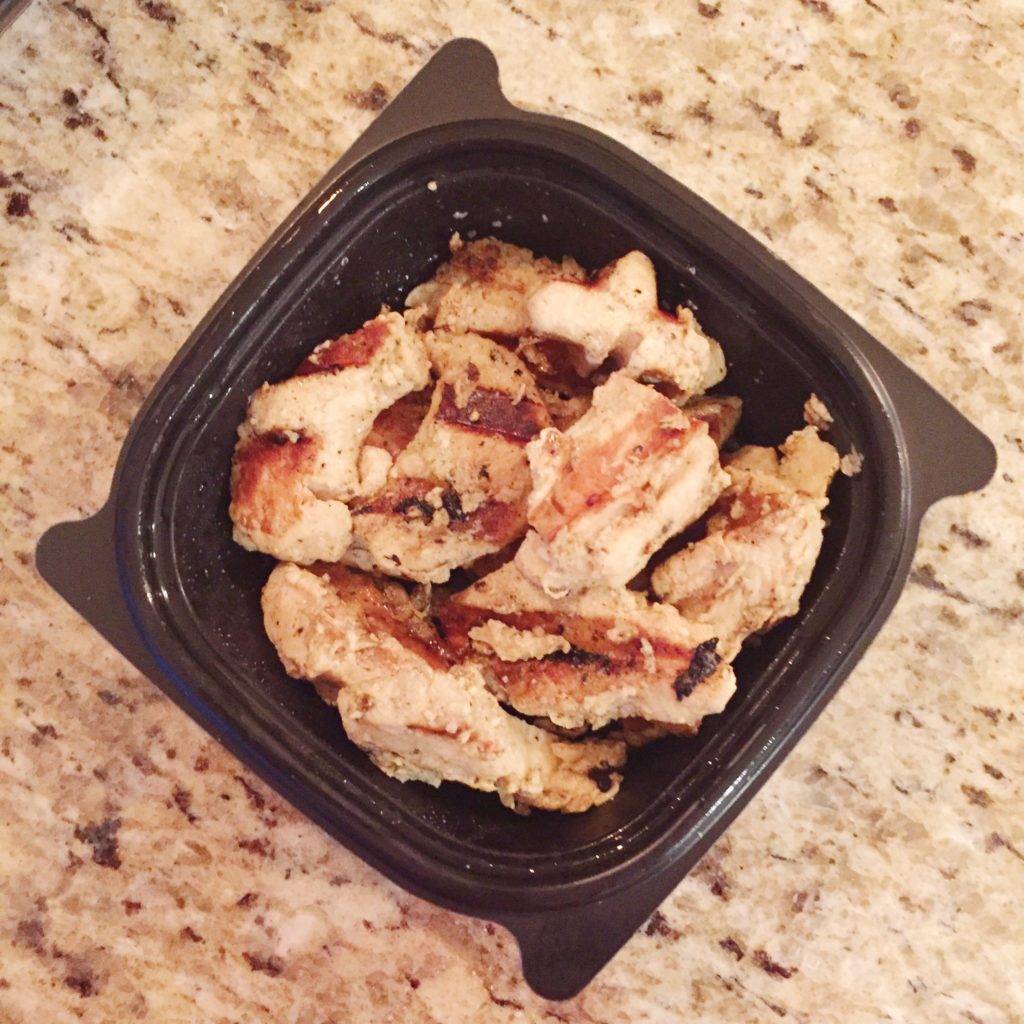 On the side I had a little more protein. I had the 8-piece grilled chicken nuggets with some Chick fil A sauce. Chick fil A sauce is not clean eating friendly, but SO dang good. I can never pass up on eating it with the nuggets!
Well that was all the clean eating meals that I ate throughout the day. If you have any questions about these meals or how I prepared them, then please let me know. Don't forget to check out Monday's Meal Prep Series post about Crock Pot meals and also yesterday's meal prep post.