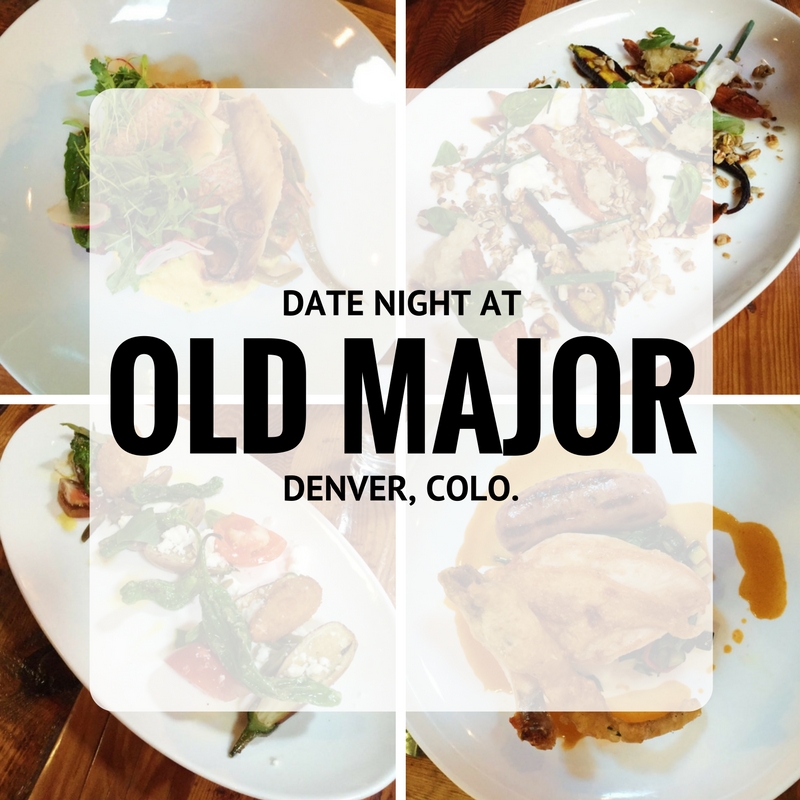 Donny & I had a date night at Old Major this last weekend. We sort of drew another restaurant out of our cigar box. I say sort of because I was doing inventory of the restaurants in order to take out any we'd been to now and we decided to draw one out. Donny picked Pizza Republica, but immediately knew he didn't want pizza for our date night. Technically we aren't suppose to do that, but I let it slide this time because I didn't want pizza either!
His second pick was Old Major, which he'd been to but I had not. It is a really cool place in the Highlands area of Denver. Basically they love meat and they love seafood at Old Major and it shows! They even cure their own meats in house. The bar area has red brick all over the walls, which I love, and the other parts have the walls covered with reclaimed wood. All the chairs/stools look homemade, but in a classy way.
Donny is still doing his weight loss challenge and I am always up for eating healthy, so we were pretty good on this date night. We thought long and hard about starting with oysters, but chose to skip it for once. Those would have been a healthy option honestly, but we didn't want to eat too much.
Instead, we chose four vegetable-based appetizers/small plate options and they were all three fantastic!
We started with the Cure Farm Carrots. I LOVE cooked carrots and this dish was really good. It had burrata, basil and a sunflower seed granola sprinkled on top along with some fennel jam. Donny didn't like the fennel jam, but I liked it when it was with the other foods.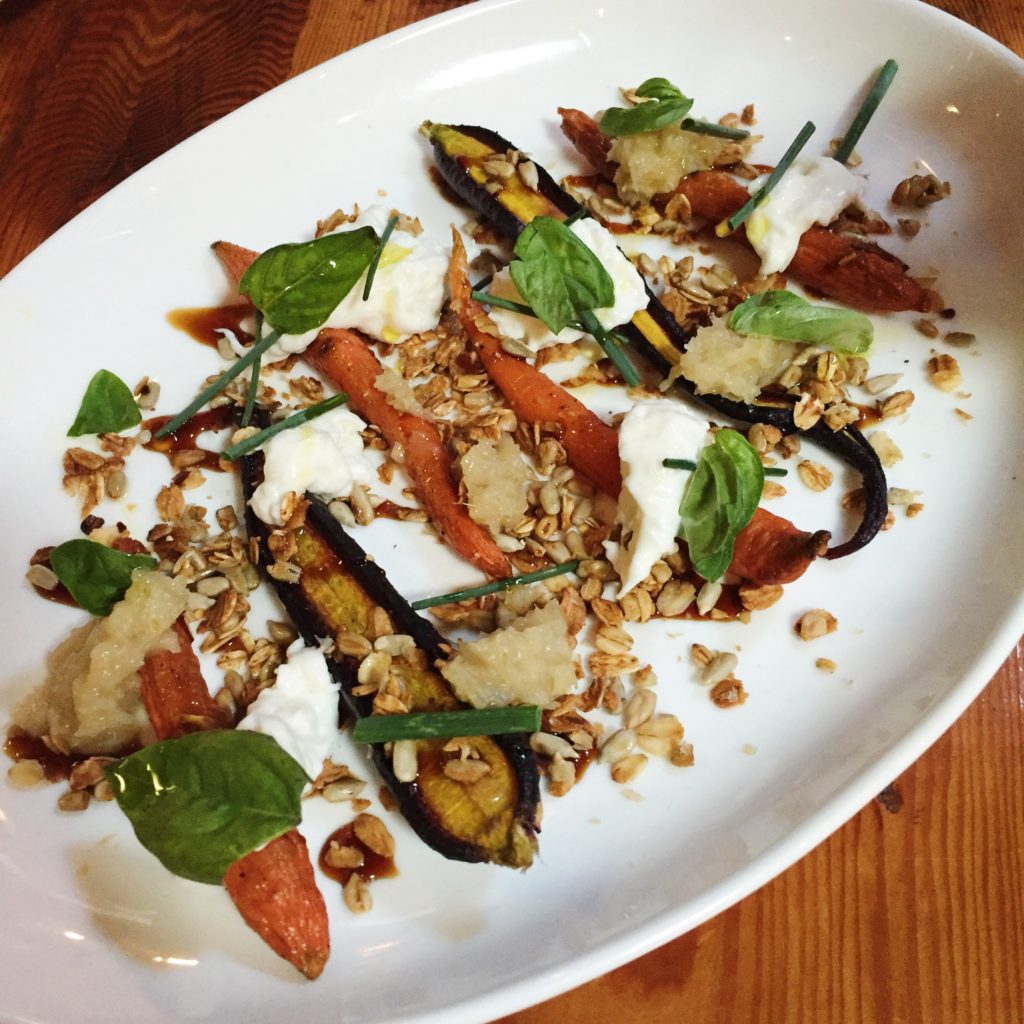 Our second dish was the Zucchini Salad. The zucchini was cut into thick ribbons (cooked slightly) and placed over a romesco sauce. On top was arugula and fried green tomatoes. I usually love the idea of fried green tomatoes, but then end up disappointed in the lack of flavor. However, these fried green tomatoes were on point! They were SO good.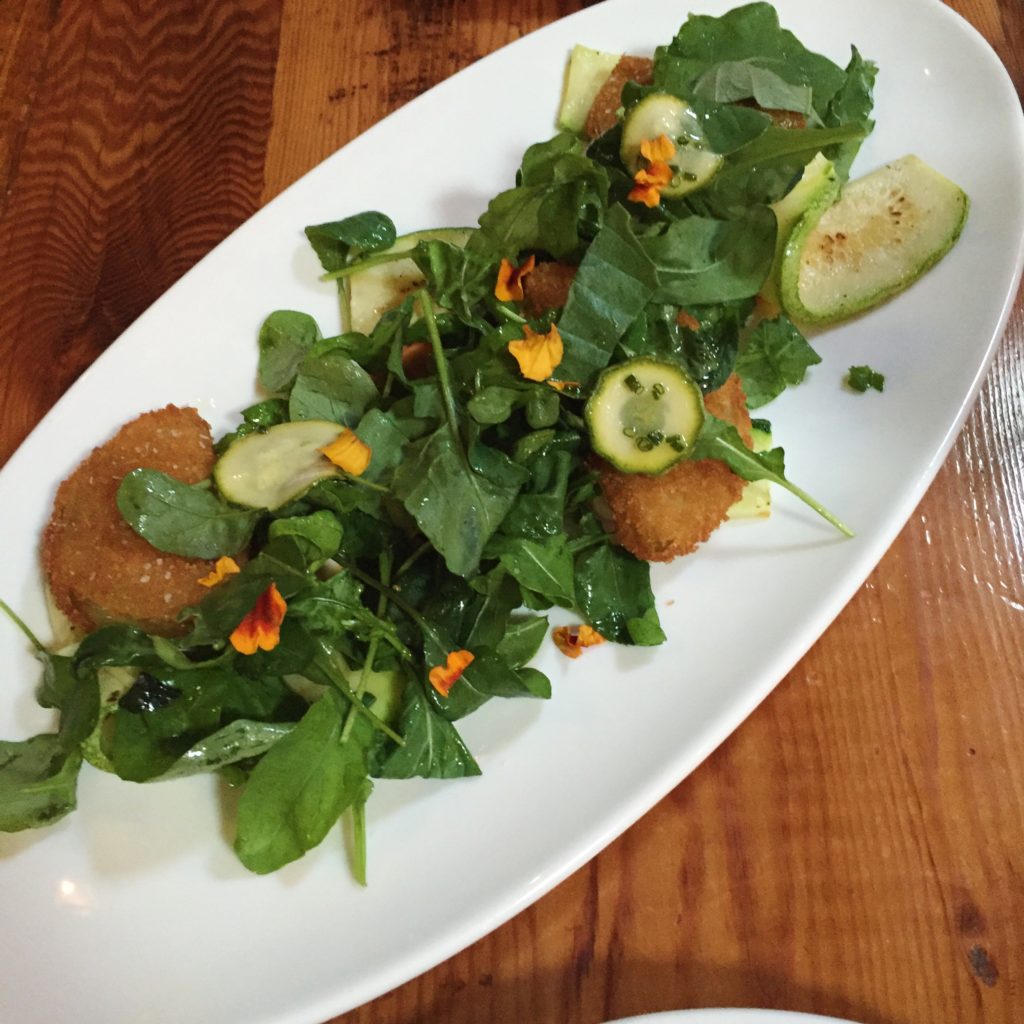 Our final appetizer was Fairy Tale Eggplants which were these miniature eggplants mixed with heirloom tomatoes, charred shishito peppers, diced green olive and feta. A couple of the eggplants had been battered and fried. Both the regular and the fried eggplants were delicious!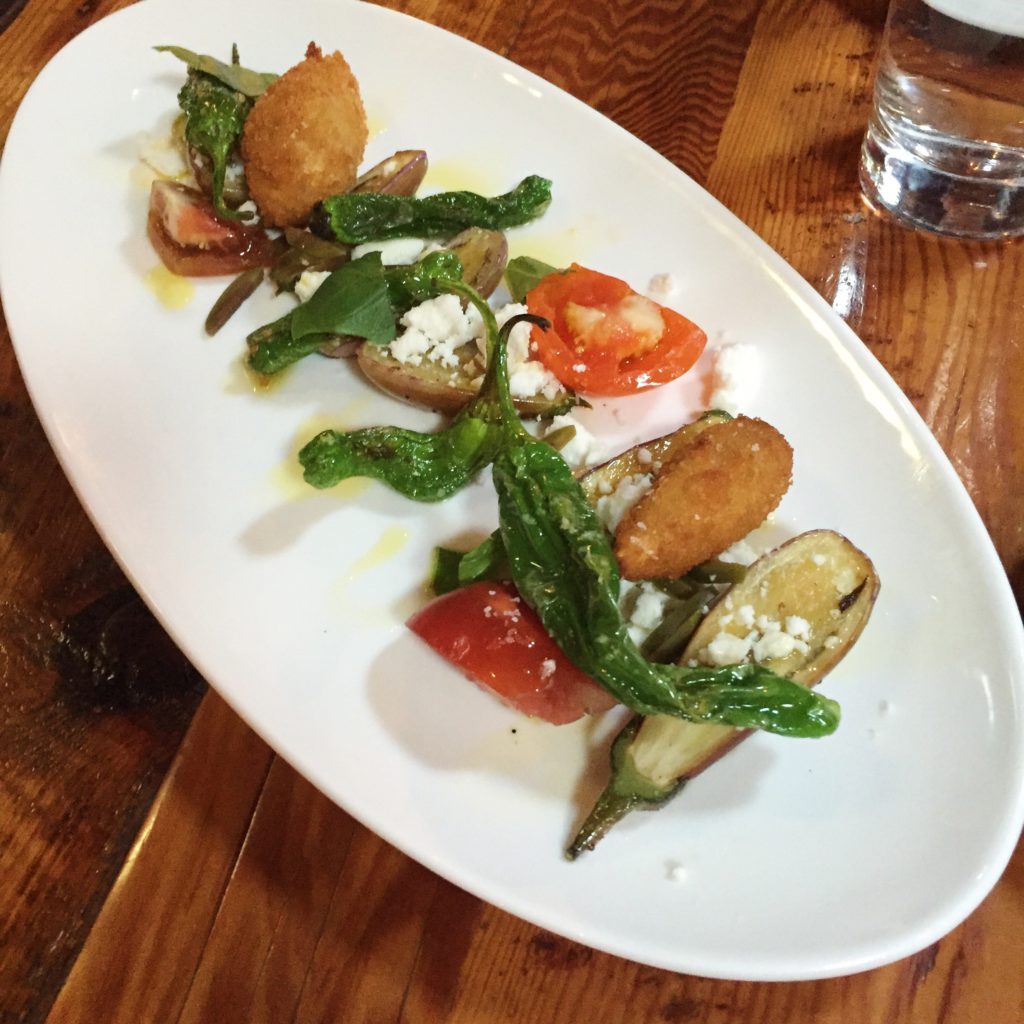 We both thought all three dishes were awesome. Donny asked what my favorite was and my most-to-least favorite was the exact opposite of his! My favorite appetizer was the carrot dish, while that was Donny's least favorite. We are usually fairly similar in tastes, but not this time! I would order all three of those again though. Very well done.
We debated in terms of entrees. We thought we'd get three starters and share an entrée, but then couldn't decide (shocker) between the High Plains Poultry Chicken and the Red Snapper. Again, we didn't want to eat TOO much, but didn't want to leave hungry either. After discussing with the waitress we went ahead and ordered both.
It was a good thing we did, because we would have gone with the chicken and we both ended up liking the snapper better!
The High Plains Poultry Chicken came "airline-style" as Donny taught me, with the leg still attached to the breast of the chicken. The dish also came with a link of chicken and pork sausage, cooked greens with zucchini and a squash blossom that was fried in tempura batter. The sauce that the chicken came on was good, but really salty. The chicken by itself was really moist and delicious, but with the sauce it was a little too salty.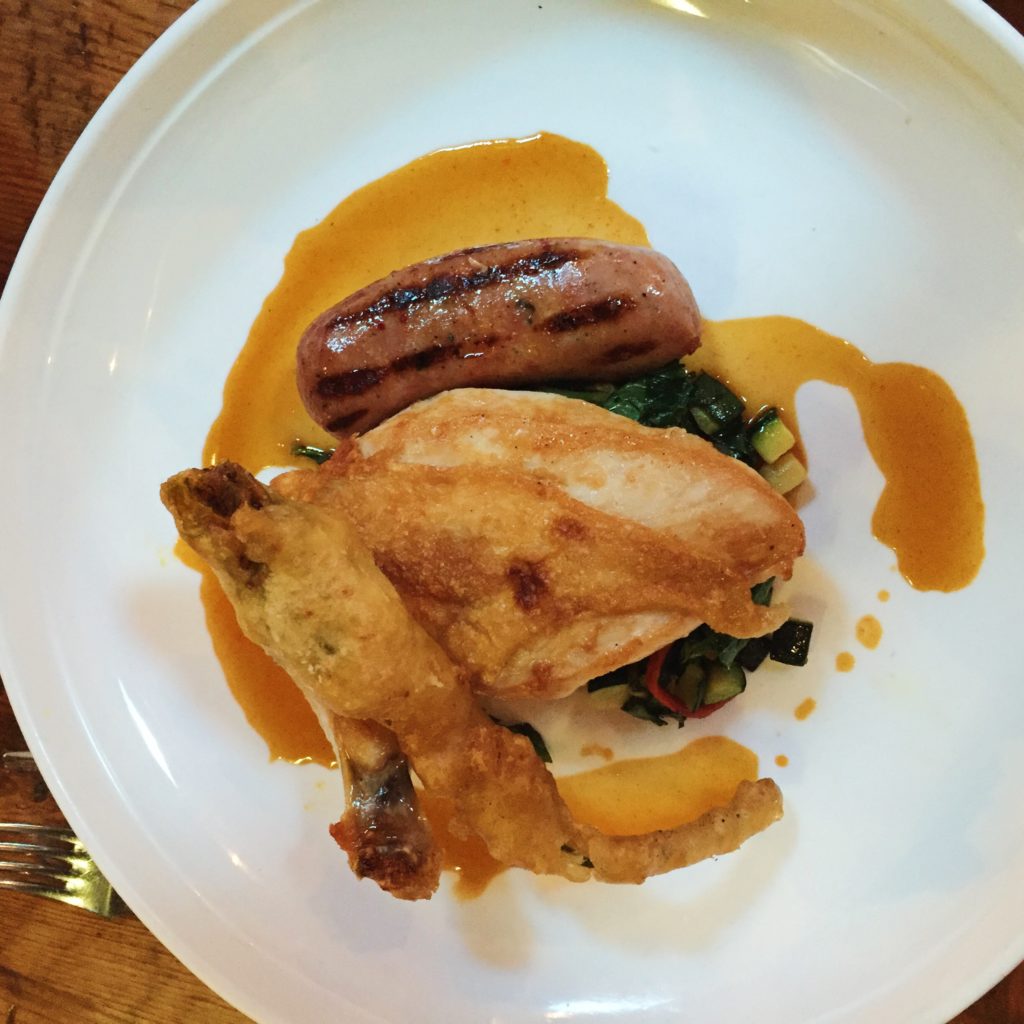 The Red Snapper was something else. In fact, Donny said it was one of his favorite meals all year! The snapper was pan seared and was laid on top of creamed sweet corn mixed with tomato braised summer beans. I was not familiar with the summer beans, which were similar to green beans only bigger. The combination of the sweet corn with the snapper and the tomato-sauce the beans were cooked in was amazing! It was so dang good.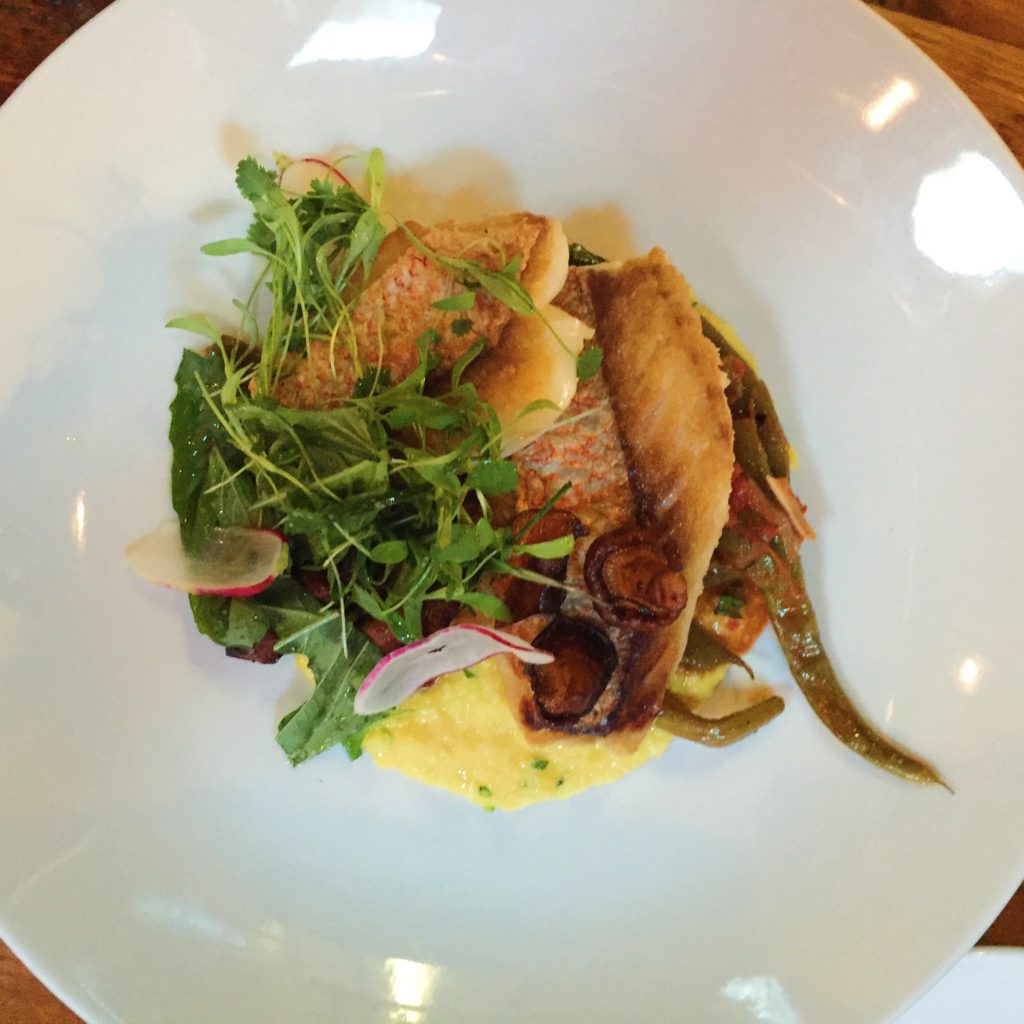 One thing on the menu that we didn't try was the Ham and Biscuits. We sat by the kitchen and saw several orders get sent out. It was basically a slider made with a homemade cheddar biscuit and house smoked ham. They looked awesome! The order came with two and we seriously discussed asking our server if we could just share one to try it! We never did, which means we have to go back! Darn it.
All in all, I loved Old Major. It was a very relaxed atmosphere with amazing food – my favorite! I definitely recommend it. If you go and order the biscuits then please report back!