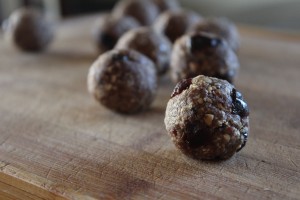 Energy bites are one of my favorite quick recipes and they are super easy to make. You can eat them for a snack or even as a healthy dessert if you have a sweet tooth (like I do!).
For this recipe you'll need a food processor. First, I put raw cashews, rolled oats, and cocoa powder in the food processor.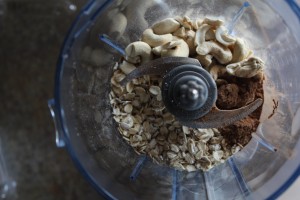 Pulse until you get a grainy texture (about 20 seconds) – not too much or it will be flour like. I tend to like the crunchiness and there is still more processing to do…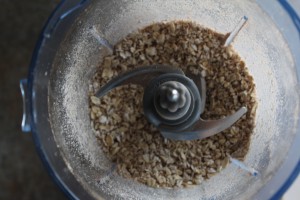 Next add the dates. I love love love dates. They are a great healthy dessert if you are trying to eat clean and they add natural sweetness to these bites.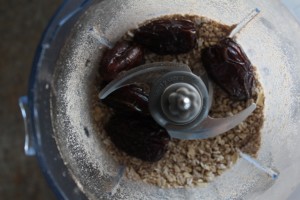 Pulse again until the dates are chopped. I then added a tiny bit of water and a little coconut oil to get things moving a little more in the food processor. The mixture needs to be slightly sticky, but not too sticky. You want to be able to roll this mixture into little balls without it falling apart. Next up: cherries.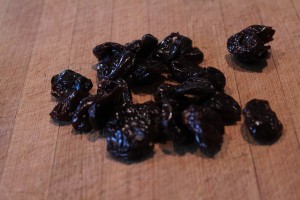 Donny trades specialty commodities for a living so he occasionally has products for me to try. He brought me a mixture of dried cherries and dried strawberries. My mom is a huge fan for the chocolate-cherry combination, so I thought I'd give it a whirl. You could leave the cherries out or substitute with cranberries, blueberries, strawberries, etc. I didn't snap a picture, but I roughly chopped these cherries into smaller pieces.
Once the cherries were added to the mixture, I spooned out a tablespoon and rolled it into a ball. The consistency was perfect for what I wanted but you could change it up however you would like – make it less crunchy, more crunchy, whatever you prefer.
This recipe made 10 energy bites and each one is less than 80 calories.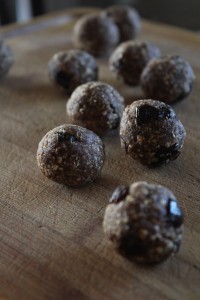 I keep mine in a food storage container in the refrigerator….well, I store whatever I have leftover and whatever I haven't eaten right away!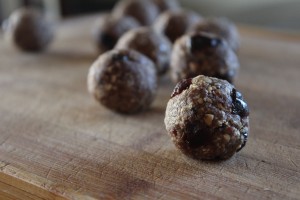 Chocolate-Cherry Energy Bites
2014-09-10 22:10:11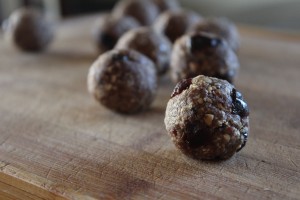 Serves 10
Ingredients
1/2 cup rolled oats
1/3 cup raw cashews
1 tbsp cocoa
5 medjool dates, with pits removed
1/4 tsp pink Himalayan salt
1 tbsp water
1/4 tsp coconut oil
1/4 cup dried cherries, roughly chopped
Instructions
Combine oats, cashews, and cocoa in a food processor. Pulse 20 seconds. Add dates and salt. Pulse another 20-30 seconds. Add water and coconut oil. Pulse until the desired consistency is reached. Add cherries to mixture. Roll mixture into 1-inch balls (about 1 tbsp each). Keep refrigerated.
Eat. Lift. Play. Repeat. http://eatliftplayrepeat.com/
What is your favorite quick snack?