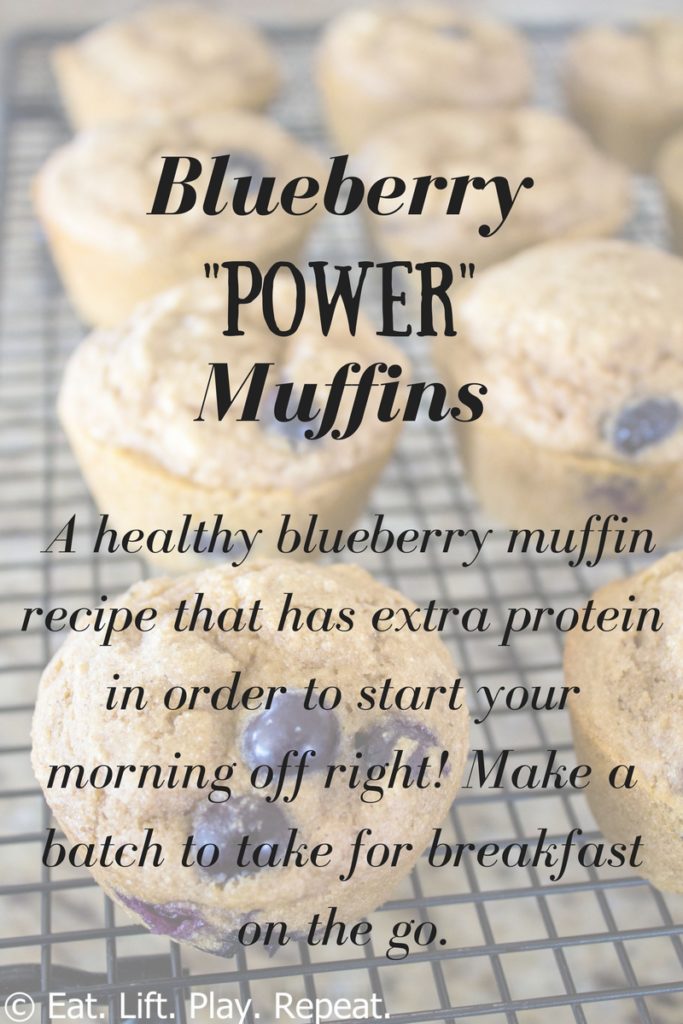 Some mornings I have plenty of time to whip up a healthy breakfast and other mornings I am running around like a chicken with my head cut off!
Can you relate?
If so, I suggest making a batch of these Blueberry "Power" Muffins so you'll have a healthy option for those headless-chicken mornings! You can grab one or two of these healthy muffins and be out the door in no time! Pair them with a protein shake for a complete breakfast in minutes!
The key ingredient to these muffins is Kodiak Cakes Power Cakes Flapjack & Waffle Mix. Instead of mixing together flour, baking soda/powder, salt, etc the Kodiak Cakes mix already has those ingredients combined!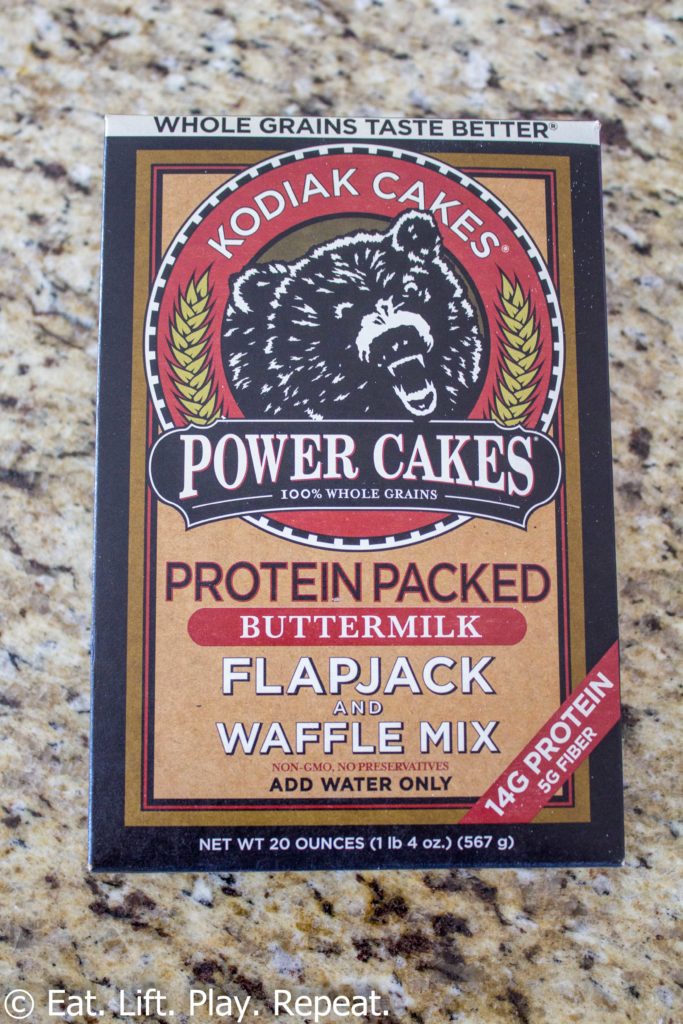 One 1/2 cup serving of the mix has 14 grams of protein and 5 grams of fiber, hence the power cakes. All you do is mix with water or milk and you're pancake or waffle mix is good to go! Simple, yet healthy.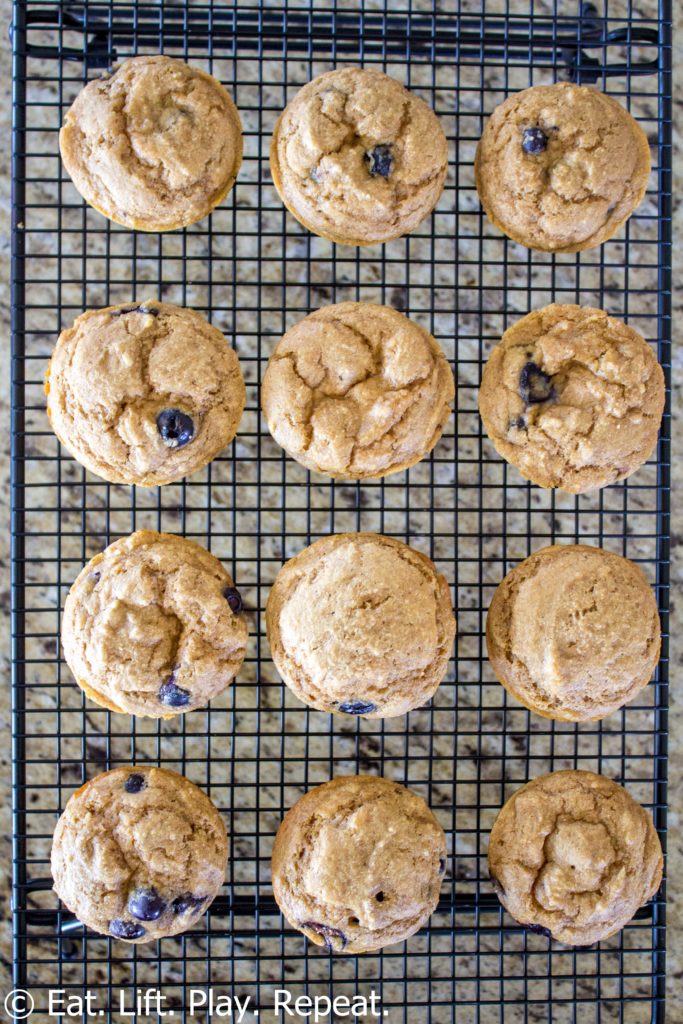 We use the Kodiak Cakes mix quite often in our house to make pancakes and waffles, but it also works great for muffins!
There is a muffin recipe on the back of the box, but I adjusted it so that it was clean eating friendly. I decided to make blueberry muffins, but you could make chocolate chip, banana nut, strawberry almond, apple cinnamon….. the options are endless!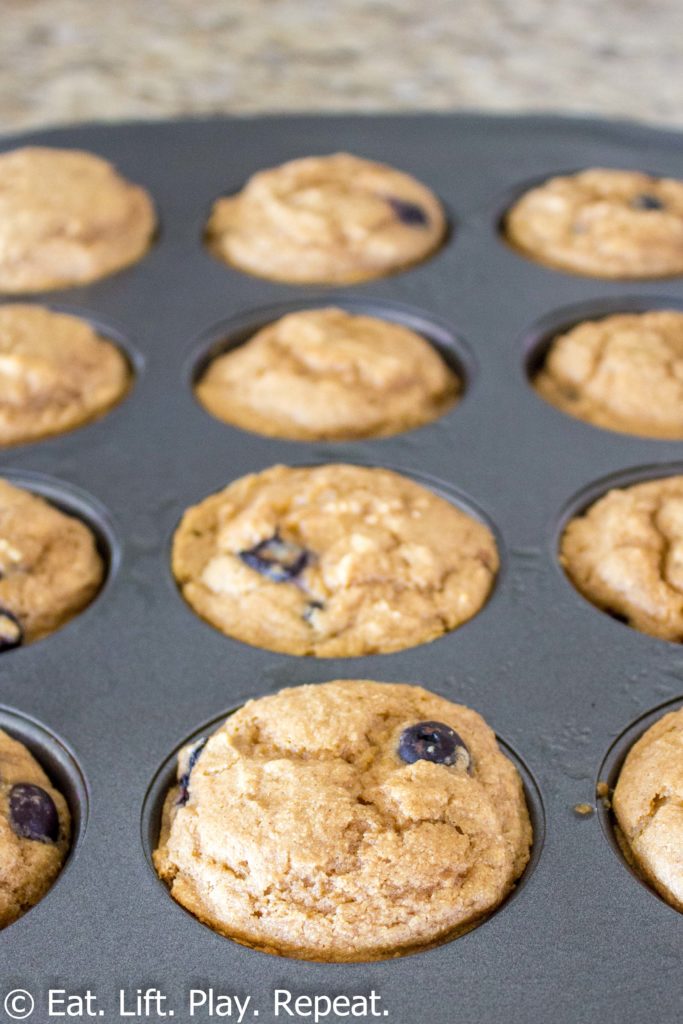 These Blueberry "Power" Muffins would be great to serve if you host a get-together for breakfast or brunch. No one has to know that they are healthy!
I love that these muffins are healthy, but they also only require one bowl to mix them in! Some recipes call for you to mix different ingredients in different bowls. Before you know it, your kitchen is covered in dirty dishes! That's not the case with this muffin recipe….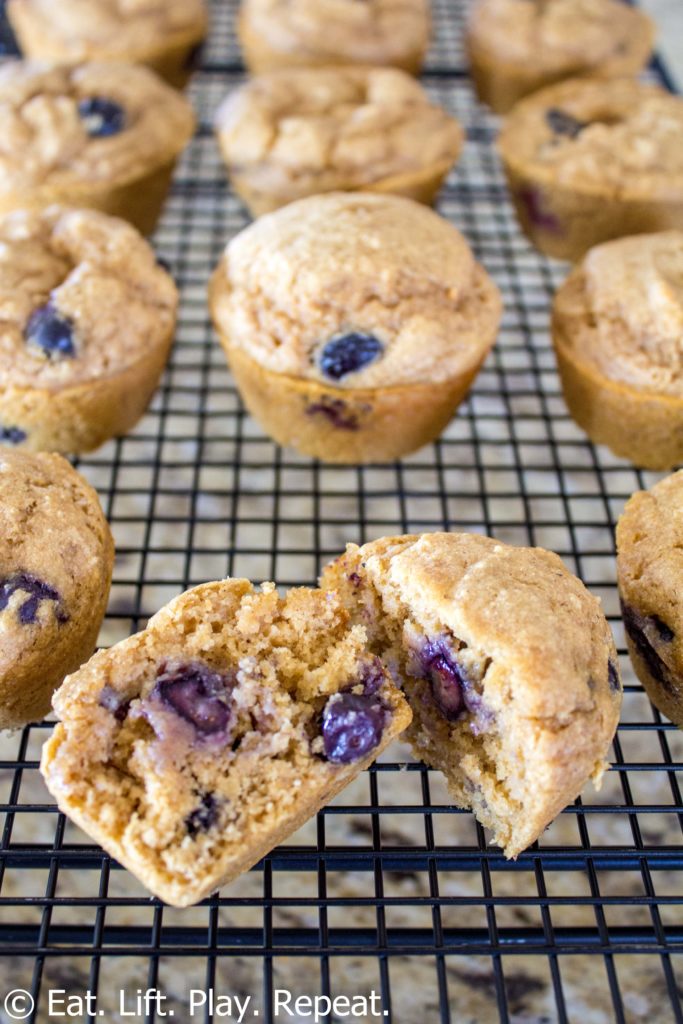 To make these Blueberry "Power" Muffins you dump all the ingredients (except your mix-ins) into a large bowl, stir to combine and fold in your mix-ins. No need to dirty 100 dishes!
Add these Blueberry "Power" Muffins to your next meal prep session so that you have them on hand if need be. If you have extras, then freeze them for later! Baked goods, such as muffins or quick breads, freeze very well. Pull one or two out of the freezer and defrost before enjoying!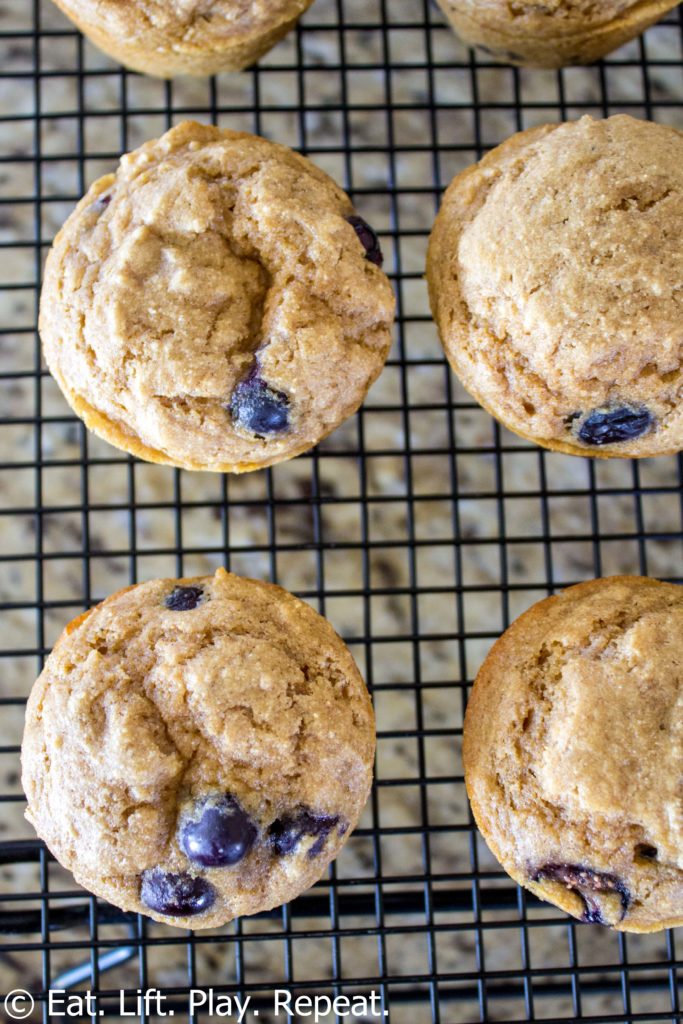 For other healthy muffin recipes check out Strawberry Banana Mini Muffins & Banana French Toast Muffins.
Blueberry "Power" Muffins
2017-10-16 14:15:52
Serves 12
A healthy blueberry muffin recipe that is loaded with protein! Make a batch during meal prep to have breakfast on-the-go all week!
Ingredients
2 cups Kodiak Cakes Buttermilk Flapjack & Waffle Mix
1/4 cup coconut sugar
1 tsp cinnamon
3/4 cup milk*
1/4 cup butter, softened
1/4 cup unsweetened applesauce
1 egg
2 Tbsp maple syrup
1 tsp vanilla extract
1 cup blueberries, frozen**
Instructions
Preheat oven to 350 degrees. Spray a muffin pan with nonstick cooking spray or use paper liners.
Combine all ingredients, except the blueberries, in a large mixing bowl and stir using a whisk or wooden spoon. Once ingredients are all evenly distributed fold in the blueberries.
Evenly divide mixture among the 12 muffin cups. Bake at 350 degrees for 15 minutes, or until a toothpick comes out clean when inserted into the center of a muffin.
Allow to cool slightly before removing the muffins and transferring them to a wire cooling rack.
Store in an airtight container or freeze in freezer food storage bags for later.
Notes
*use milk of choice including skim, 1%, 2% or almond milk
**fresh blueberries can be used, but the blue color may bleed more throughout the muffins
Eat. Lift. Play. Repeat. http://eatliftplayrepeat.com/