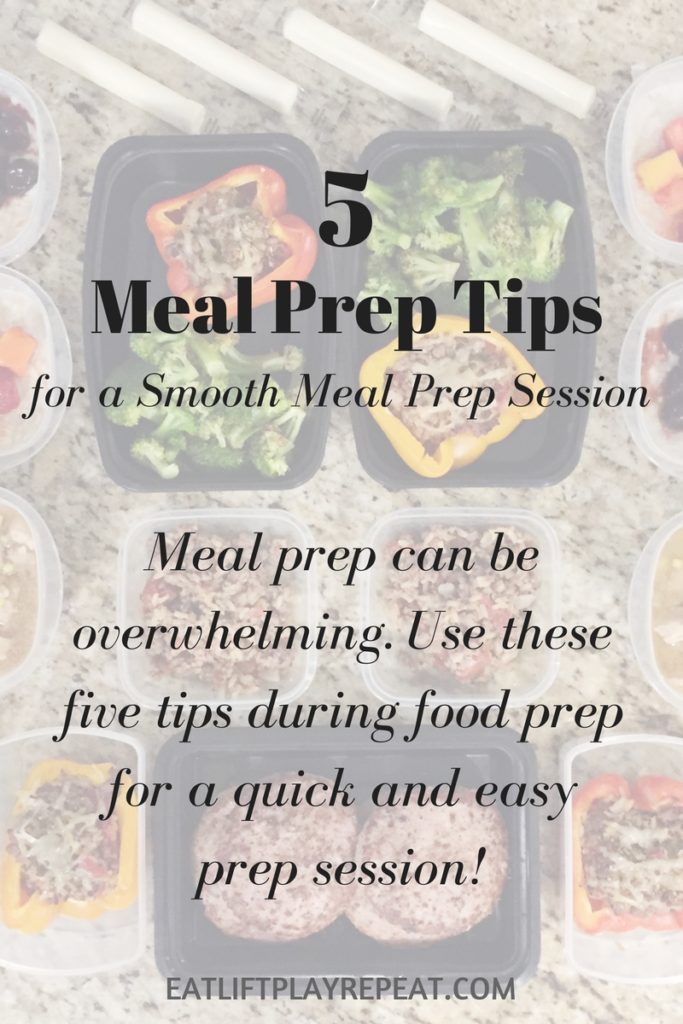 Meal prep can save you time and money in the long run. However, you do need to set aside a block of time to prep all your food in advance.
If you are hesitant to start prepping food and meals, then check out 5 Reasons To Meal Prep. You'll find out why I fit meal prep into my weekly routine.
In order to maximize that allotted amount of time you set aside, I've got 5 meal prep tips for a smooth food prep session.
It might seems overwhelming at first, but meal prep can be great for your wallet, your waistline and your sanity. It keeps me on track diet-wise, but also makes me less stressed. I don't have to panic because I know I have healthy food already prepared in the fridge.
If you are new to meal prep or are struggling to find a rhythm, then check out these 5 meal prep tips for a smooth food prep session.
First and foremost, you need a plan. Once you have that plan in mind you will need to gather recipes, grocery shop, make a food prep to-do list and store your food once it is complete.
Sound intense? I promise it is easy. To help with the process, here are my five meal prep tips for a smooth food prep session.
Have a plan. I am a HUGE planner. On Sunday evenings I'll quiz my husband about what we have coming up that week and the following weekend. Sometimes we'll go through several upcoming weekends in order to get an idea of what is ahead. I like to know what is coming up and how I can make things go smooth.
The planning trait has helped me immensely when it comes to food prep. I take a few minutes on Friday or Saturday to see what the weekend looks like. I figure out how much time I will have to cook and what meals I will need for the following week.
If my afternoons look busy then I'll plan to take a protein bar or something grab-and-go so that I can easily eat it even if I am not at the office. I also look at my schedule in terms of lunch to see how many days I will need to take one with me.
Lately, I've even had to plan ahead for breakfast! I know that mornings get crazy in a hurry, so I plan out what type of breakfast I'll eat ahead of time.
Not only do I plan what means to make, but also how to cook them. If my weekend if packed with things to do, then I incorporate recipes that use one or more of these meal prep hacks. Plan to use your slow cooker to save time or make a one-pot or sheet pan recipe so you can cook everything at once.
Making a plan is by far the most important aspect to meal prep.
You wouldn't go on a vacation without picking a location, choosing your transportation or packing your bags, would you? Then don't try to go into meal prep without a plan.
Gather recipes. Once you have a plan, then you can figure out exactly what kind of foods you'll need. Once you decide on what food to eat, then you can pick out the exact recipes.
If I want to have soup for lunch, then I need to decide if I will buy canned soup, make my own using the stovetop or cooking one in the slow cooker. You'll need to pick recipes based on the amount of time you will have to cook.
If you have limited time, then don't plan to make an intense recipe that requires 30 minutes of prep work plus an hour in the oven. If your time is limited, you might want to make a recipe using your slow cooker so you don't even have to be home while your meal cooks!
Just to clarify, I don't always work off exact recipes, but I do make a "recipe" in my head of what ingredients I'll need to each meal.
For example, I might want to make meal prep overnight oats but I need to decide what toppings to add. I already know the recipe of overnight oats by heart, but I need to get a little more specific so I can start making a grocery shopping list. Do I want banana bread overnight oats? Then I better grab extra bananas and some pecans. Cinnamon raisin overnight oats? I'll need to make sure I have raisins on hand.
While you gather your recipes you should start making a grocery shopping list. Do inventory of your pantry staples to make sure you have the basics, then add any other special ingredients for each recipe to the list.
Grocery shop the day before. If at all possible, grocery shop on a different day than you meal prep. Some weekends I can swing this, while others I have to grocery shop the same day as I meal prep.
I find that meal prep goes much more smoothly if I shop on a different day. Meal prep is important to me, but so is a little rest on the weekends. I hate to feel rushed and like I spent all day shopping and cooking. Rather than doing it all in one day, split it into two. I prefer to grocery shop the day before I meal prep.
I try not to shop too many days in advance however, because food (especially produce) tends to spoil. It is nice to wake up Sunday morning with all the food I need for my meal prep recipes already in the house. Then I can start to prep food whenever I have time or whenever I feel like it. I'm not as rushed as I would be if I still needed to buy everything.
Make a to-do list. You've already "made a plan", but actually put this plan down on paper.
Writing down all my meal prep tasks helps me take that "plan" a step further. Not only do I make a plan for what to cook, but also in what order to cook it.
I have been food prepping for several years now. I find it goes much more smoothly if I plan what to do and when to do it. It will also save me time, because I know what to do next and what to do during the in between times.
Start by writing down everything you want to make and how you are going to make it.
For example:
cook chicken thighs (oven)
roast broccoli
bake potatoes
make overnight oats
scramble eggs
Write down the tasks you need to complete and decide what order you will complete them.
Think about HOW you are going to cook these foods. If you are putting something in the oven to bake, then you'll have time to prep the next food for the oven or even make the foods that don't require the oven.
For this example, you would save time if you prepare the chicken (trim fat, season and put on a baking sheet), prepare the broccoli (chop, season and put on a baking sheet) and get the potatoes ready (pierce with a fork and wrap in foil) all while the oven preheats.
Once all of those foods are oven-ready, then you can start cooking them. Bake the chicken first and while it is in the oven you can make your overnight oats. Once the chicken is done, then add the broccoli to the oven and, depending on how much broccoli you are roasting, you could add the potatoes at the same time***. Once the broccoli and/or potatoes in the oven, you can start to scramble your eggs.
***Save time by baking all the foods at the same temperature. If this isn't an option, then change the oven temperature before cooking the next item.
Go through each item you are cooking a write it down. Once you have each step you'll need to complete, then you can put them in the order you are going to complete them. If you do this, then you won't be flying the seat of your pants and wasting precious time.
It will take an extra 5 minutes to make this to-do list, but trust me, it saves a ton of time in the long run. Sometimes my list is super long and other times it is rather short. Either way I make that to-do list.
Have plenty of clean food storage containers. This might sound silly, but it helps to have plenty of things to store the cooked food in once it's done.
I've gotten things cooked and ready to pack up, then realize most of my containers of already being used! I hate having to go to Plan B for storing food and I definitely don't want to have to wash the containers. Who wants to wash the containers and then immediately get them dirty again?!? Not this girl.
Take inventory of your storage containers, preferably the day before, so you can wash anything you might need to use.
While taking inventory of your containers, you could also take a look at the refrigerator. Throw out any old food and items that might have spoiled. It'll open up space in your refrigerator and also free up your food storage containers!
Well there you have it, five meal prep tips for a smooth food prep session.
Your number one priority should be to have a plan. Once your plan is made, you need to gather recipes, make a grocery shopping list, shop, make a to-do list of cooking tasks and store your food properly.
Food prep can be overwhelming, but it is 100x easier if you plan ahead. Taking a few extra minutes to do these five things will save you lots of time and stress in the long run.
Things might change along the way, but keep these five tips in mind for quick and easy food prep.
For questions about these meal prep tips for a smooth food prep session, email me at eatliftplayrepeat@gmail.com.